---
Are you looking for couple things to do in NYC?
---
My husband and I live in London, England – but the other city we spend the most time in (and absolutely adore) is NYC. We visit NYC probably 2/3 times a year, it's where we got engaged, where we nearly got married, and it's a such a special place to both of us. Every time we're in the city, we always try and find new couple things to do in NYC together, and I've finally put together a list of our favourites!
If you and your partner are visiting the big apple soon and your planning some couple things to do in NYC (by that I mean, things to do for couples!) – hopefully this list will help!
Top tip! If you plan on ticking off even a few of these suggestions, it's well worth buy an NYC explorer pass. You basically pay one price for the 'pass' and then you get free access to all the attractions on their list. It's really good value – and well worth it. Click here to buy yours. 
---
Have a rooftop pool day
---
This a really cool couple things to do in NYC. At The Williamsburg Hotel in Brooklyn, they have an amazing rooftop pool which is open to non-guests (for a fee) during spring and summer. If you fancy a day sat by a pool, feeling like a celebrity – this is it! You have to email them to book in, but it's totally worth the extra bit of effort.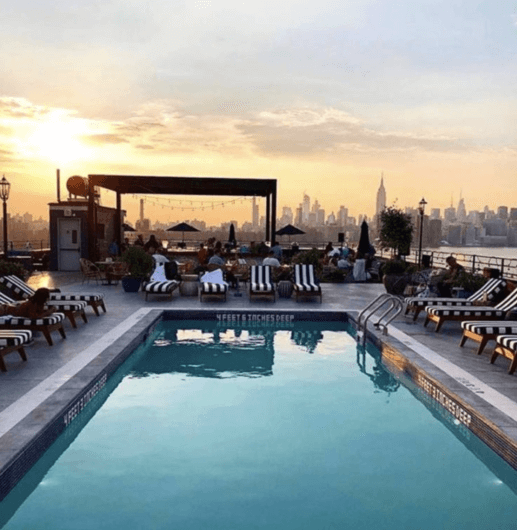 ---
Take a stroll through Central Park
---
Did you even visit NYC, if you didn't take a stroll through Central Park? I usually like to visit a few times while we're in NYC, and it's such a big place that you could walk there every day for a week and not cross over the same paths. Personally, I like to start in the lower east corner of the park (near The Plaza hotel) and work my way past Sheep Meadow and up through the middle to Bow Bridge (where the photo below was taken).
If you don't feel like walking, you could always do a horse and carriage ride (click here to book) or a bike tour of the park (click here to book).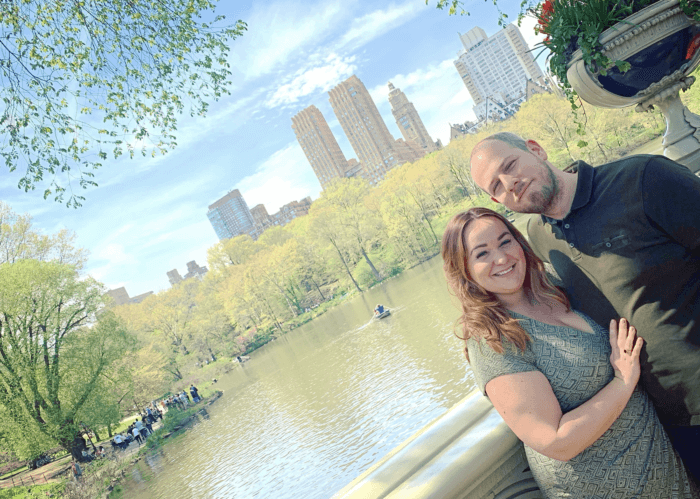 ---
Climb 'The Vessel' in Hudson Yards
---
Next up on my list of couple things to do in NYC, The Vessel is an awesome new 'vertical park' / sculpture that sits in the newly regenerated part of the city 'Hudson Yards'. It's this incredible structure made out of intertwining staircases, and climbing it together offers the most amazing views of the city. The climb isn't as hard as it looks, I was surprised how pleasant the walk to the top level was. It's quite romantic actually, which I never thought I'd say about climbing stairs!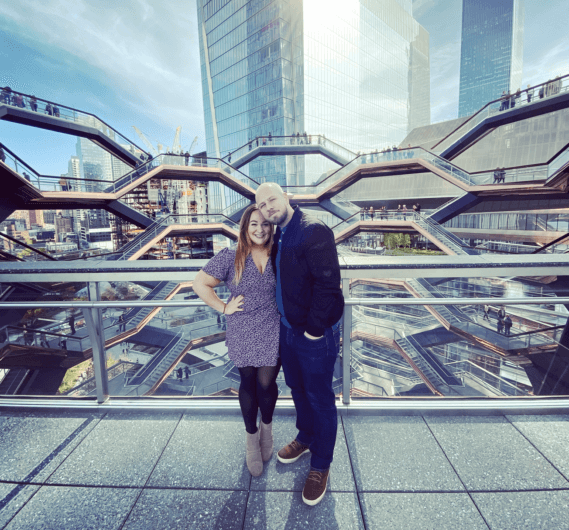 ---
Walk along the riverfront
---
One of my favourite walks in the city is definitely from around Pier 35, down to the Brooklyn Bridge. It's just full of lovely walkways, and amazing views of the bridges (like the photo I took below). It's a nice place to go on a clear, sunny day and just relax!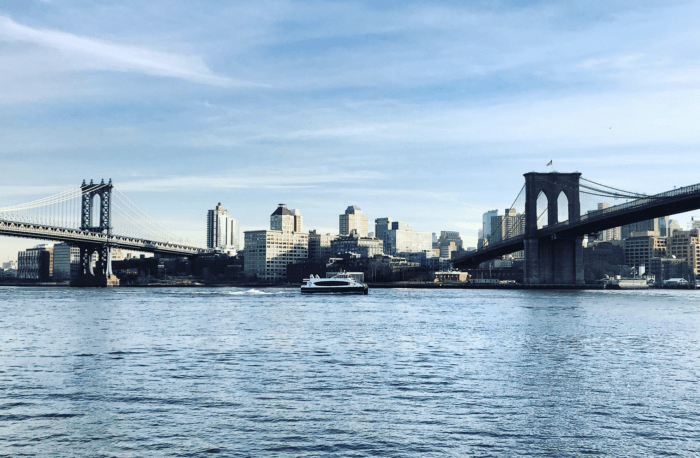 ---
Go on a food tour of NYC
---
If NYC is known for anything, it's the amazing food scene! If it's your first time in the city you might feel a bit overwhelmed by all the food choices, so going on a food tour can really help you narrow down your choices! If you're a seasoned New Yorker – a food tour is still worth doing as it might help you discover some new places. I've done food tours in many of my favourite cities, and I always enjoy them so much – you try so much delicious food, and learn loads too.
---
Watch a sports game (my favourite is NFL!)
---
Next up on my list of couple things to do in NYC… A sports game! If we're in NYC during NFL season (September – January) we'll always try and squeeze in an NFL game. The New York Giants are the most local NFL to the city, and the trip over to the stadium isn't too long (or difficult). You literally just jump on two trains and follow everyone wearing blue Giant's jerseys! It's such a fun day out, even if you don't know much about the game, it's great to go and enjoy the atmosphere and the food!
---
Do the classic 'Open top bus tour'
---
It might be touristy, it might be predictable, but it's actually really fun! We put off doing the open top bus tour for ages, and when we finally did it, we couldn't believe how entertaining it was. The tour guides are great, they tell you loads of stuff, and it literally takes you to all the key spots of the city. It's a great way to see 'everything' and it's also just a really good way of getting around the city too (especially if the subway confuses you).
---
Walk across the Brooklyn Bridge
---
Next on my list of couple things to do in NYC… the Brooklyn Bridge, of course! A classic couple things to do in NYC, walking across the Brooklyn Bridge is a must-do. I recommend going in the morning when it's not to busy, or even during a slightly overcast or cloudy day (like my photo below) because it'll be pretty quiet and you'll be able to enjoy it more.
---
Visit the Time Out Market (and more importantly, the rooftop!)
---
The Time Out Market is located in DUMBO just opposite the Brooklyn Bridge. It's a fab market with some of NYC's best cult restaurants and food stores inside, serving up their best dishes. If you both love food, then this is a no brainer! Most importantly though, located on the top floor of the Time Out Market, is their rooftop bar. The rooftop bar has insane views (see below) and makes the perfect place for a night of drinking and eating!
---
Try food you've never tried before
---
While we're on the subject of food, NYC is a city that literally has every and any kind of food you can imagine. My husband and I like to pick out random restaurants, or find cuisines we've never tried and book ourselves a table to try it out. NYC is the best city to be adventurous with your food, because there's so much choice here! One of my favourite NYC discoveries was actually Korean BBQ. We had never had it before visiting NYC one year, and now it's one of our favourite cuisines! If you fancy hitting up a Korean BBQ place – our favourite is Kunjip in Koreatown (not far from Macy's).
Another way to try new food, is to book yourself onto a food tour! I recommend this tour!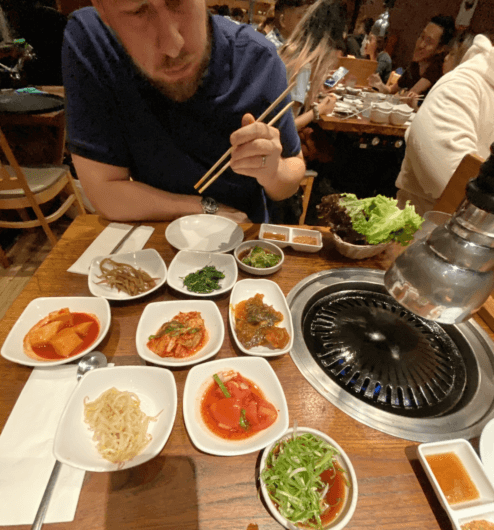 ---
Head up to an Observation Deck
---
There are loads of observation decks in the city, so it's totally your choice which one you opt for. The photo below was taken at the One World Observatory deck, which is a good choice is you want to be really high up (the highest in NYC in fact). Another great choice is the Rockefeller Observation deck called 'Top of the Rock' – this is a good choice as it has the most epic views of the Empire State which is about 20 blocks away. There is also the Empire State itself too – which is classic and iconic (but the views aren't as good as the previously mentioned locations, in my opinion!).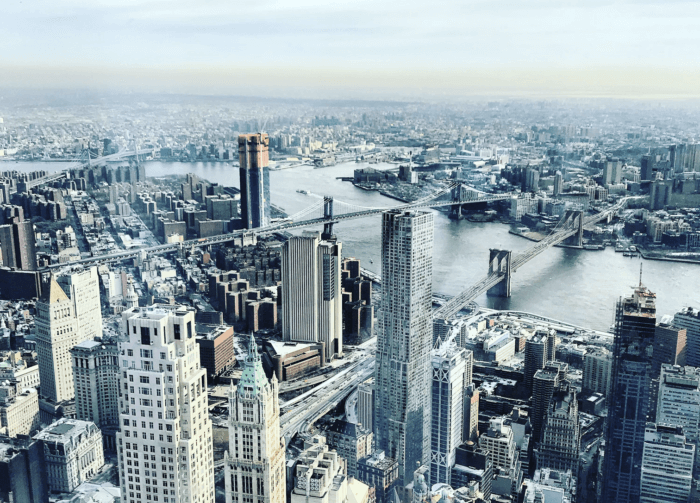 ---
Ride the Roosevelt Island Tram
---
This is a pretty cool couple things to do in NYC, and it's also a pretty affordable one too! The tram line ride lasts for about 8-10 minutes (no long!) but it's only a few dollars (or included in your metrocard). There are some pretty awesome views once your onboard, and you can also explore Roosevelt Island once you reach the other side too!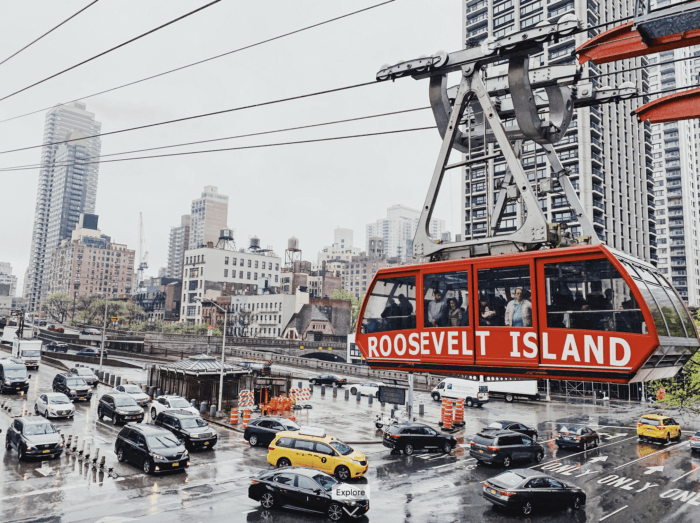 ---
Take a boat tour / river cruise
---
This is one of those couple things to do in NYC activities that's good all year round! Taking a boat tour around Manhattan is such a great way to see the city, and it lets you see it from all kinds of new angles too. One of the things I loved the most was seeing the riverside apartment buildings – the kind of dream of living in one day! There are loads of photo opportunities, and if you take a guided tour, you'll also learn loads about the city too. I recommend booking this tour – as you'll get great views of the island.
---
Have a spa day
---
My favourite spa in the city (hands down, no competition) is Aire Ancient Baths in downtown. It is insanely magical and I can't visit the city now without paying it a visit. It's just amazing. It's like entering another world (far away from the city) and you go underground into this peaceful, mysterious room full of pools and hot tubs. It's really hard to describe it – but just trust me when I say it's incredible.
---
Watch a show
---
ANY SHOW! There are soooo many shows in NYC – it'd be impossible for me to recommend just one! I will say this, if you're visiting in the festive season (November – January) it's worth booking tickets to the Rockettes Christmas Spectacular. It's just classic New York and it's like a right-of-passage. Other shows I love; Chicago, Wicked, The Lion King, Book of Mormon, Frozen and Hamilton. A couple I'm dying to see are; Come From Away and Moulin Rouge.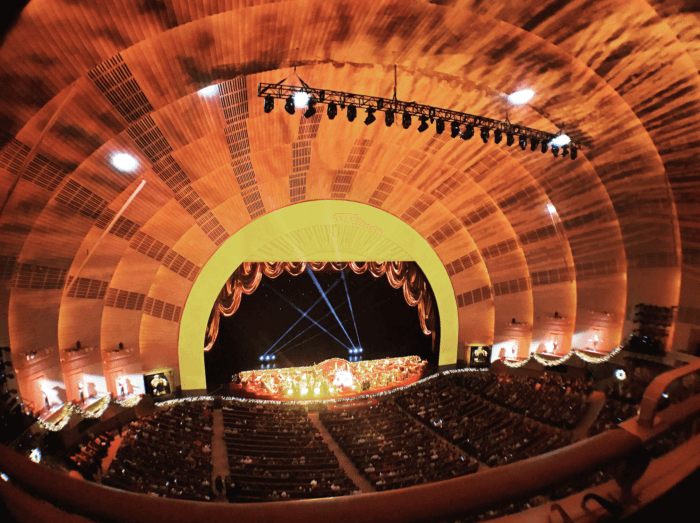 ---
Go for romantic sunset cocktails
---
This is a classic couple things to do in NYC. There are loads of amazing bars in the city where you can enjoy a view of the city while you sip on cocktails. The photo below was taken inside the 'Top of the Standard' bar in the Standard Hotel, but there are plenty of other options too. I actually wrote another blog post about rooftop bars in NYC, you can read that by clicking here.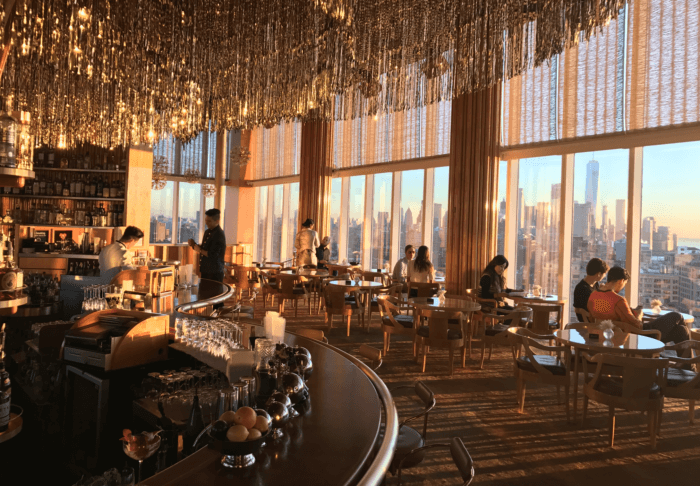 ---
Take a helicopter tour over NYC
---
This is one of the most epic and romantic couple things to do in NYC! A helicopter tour of NYC is pretty much the most once-in-a-lifetime, beautiful, mesmerising experience you can have in the city. It's really something special to be able to see the city from a helicopter, and I honestly can't recommend it enough. It was just pure magic – I loved every second.
Click here to book tickets (I definitely recommend booking ahead).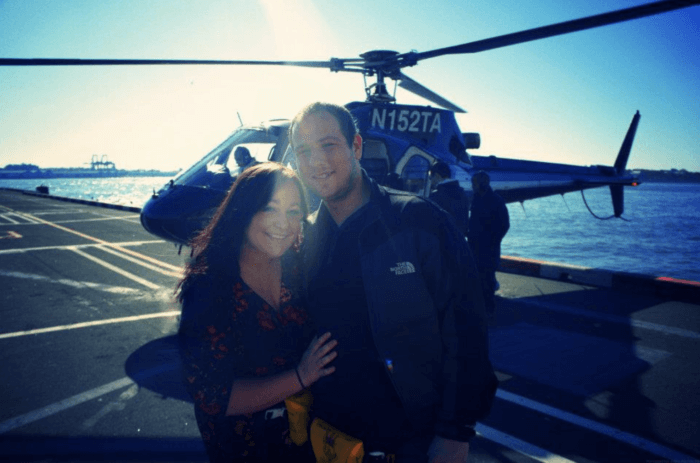 ---
Do a haunted ghost tour of NYC
---
Not for every couple, but I for sure would enjoy this, and I know lots of other couples who would too! A haunted tour of NYC is a little spooky, a little different – and it's definitely an excuse to hold hands and have a cuddle! It's a different way to explore the city, and it definitely gets you out of your comfort zone too! I recommend the Greenwich Village Ghost tour (click here to book).
---
Go apartment hunting
---
This might not be for everyone, but it's definitely one of my favourite things to do in the city. Basically, the rental market in NYC is a little different – and it's very easy to go in and view apartments. My husband and I found this out last year (we were actually looking) but we were surprised and a bit shocked that you didn't need to prebook appointments or anything. You just show up at the apartment building you're interested in, and let the rental office or concierge / front desk know that you're interested in seeing any empty units. You'll need to leave your ID with the front desk while you look at the apartment, but it's as easy as that.
Top tip! If you're not actually looking (and just being nosy) you might want to come up with a back-story (move-in date, reason for moving, etc) incase they ask! 
---
Ditch your map and get lost
---
I know it sounds cliched, but one of the best things to do in NYC, is get lost. Put your map away (or your phone!) and just enjoy walking wherever your feet take you. It's fun to discover little cafes or shops completely by accident, and just let your instinct tell you where you want to go next. Some of my favourite places in the city where discovered this way.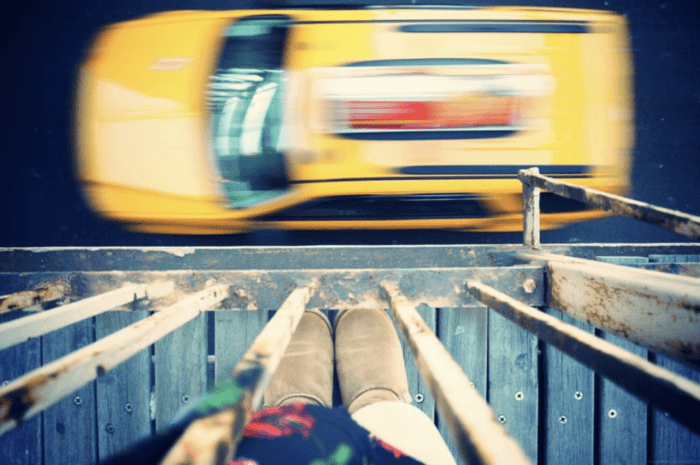 ---
Hunt out the city's movie / TV locations
---
Sooo many TV shows and movies have been filmed in NYC, and there are so many places in the city where you can track down the exact spot your favourite film or TV was filmed. A classic choice is the Ghost Buster fire station or the Friends apartment building. Another good one is Carrie's front steps from Sex and the City.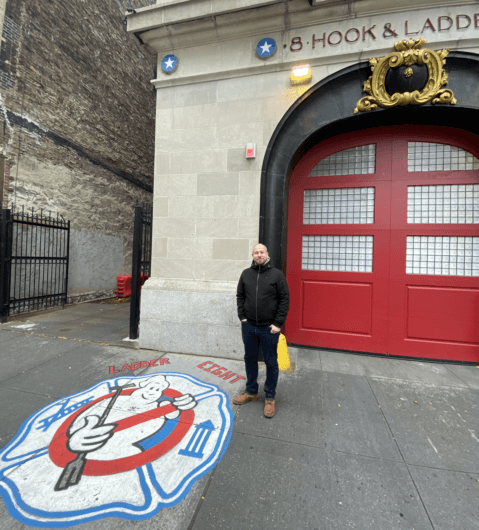 ---
Go to the cinema
---
A bit of a lame one, but me and my husband really like going to the cinema in NYC. I don't know why, it's just different from UK cinemas (the snacks and sweets are different!) and we really love it that people clap at the end of a showing. I know this won't be everyone's cup of tea, but it's something we love doing together when we're in the city.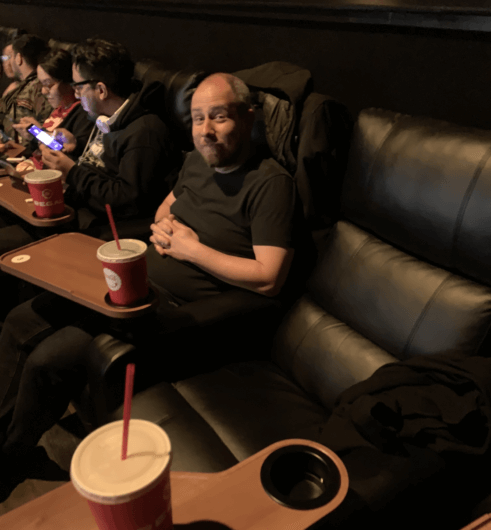 ---
Visit Coney Island
---
This is only really if you're visiting during the spring or summer, but Coney Island is such a fun day out from NYC. It's easy to get to (just train it all the way) and it's the perfect mix of cheesy, cute, nostalgic and romantic! Book tickets for Coney Island by clicking here. 
---
Find a weird museum
---
There are some really weird museums in NYC, one of the strangest has to be the 'Museum of Sex'. There is also a Museum of Food, Museum of Mathematics, and even the The Elevator Historical Society. Seriously, go digging for weird museums and I think you'll find a few bizarre ways to spend a few hours!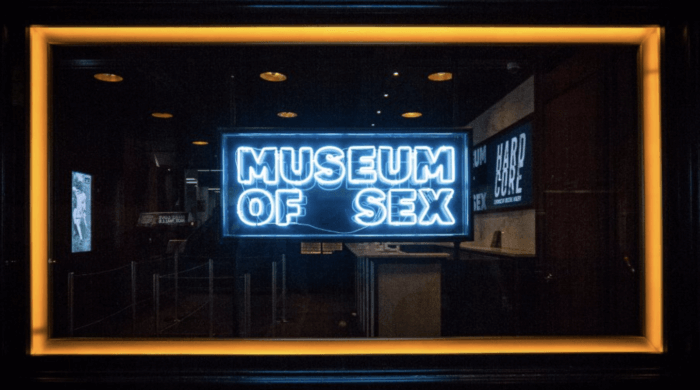 ---
Here are some other useful blog posts I have written about NYC, that might be useful during your trip!
---
The ultimate New York City Travel Guide
The best ways to view the Statue of Liberty
Famous restaurants in NYC from movies and TV shows
Things to do for couples in NYC
The best outdoor rooftop bars in NYC
The best art galleries in Chelsea, NYC
Best places to take photos in NYC at night time
How to take a great photo in Times Square
Secret places to take amazing photos in NYC 
Hidden gem and neighbourhood restaurants in NYC