Sicily is a captivating Mediterranean island filled with charm. Providing almost everything nature has to offer, including nearby volcanic islands, incredible mountains and beautiful, clear blue seas on all sides, this spectacular island really does have something for everyone.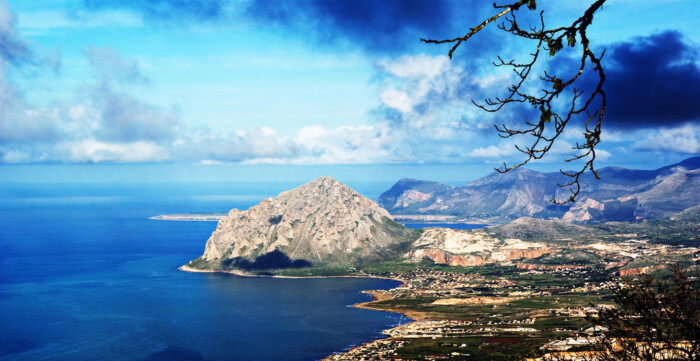 Image credit: mariocutroneo
For anyone thinking of travelling to Sicily, we've put together our recommended itinerary, including three stops that are on my very own bucket list:
Palermo
We recommend your trip start in the city of Palermo, Sicily's capital. As the largest city in Sicily, Palermo has plenty to offer visitors, with a vibrant street life and beautiful architecture to admire!
For accommodation during your stay in Palermo, The Alma Hotel is an excellent choice and is considered one of the best in the region. Located ideally in the centre of Palermo, The Alma Hotel allows you to explore the wonders of the city on foot.
Some of Palermo's top attractions are within walking distance of the hotel. Some of our suggestions include the Teatro Massimo, the Quattro Canti, the Cathedral, the Martorana, Piazza Pretoria, the Palatine Chapel and the Norman Palace. There is also a large market in the area, where you'll be able to find a range of traditional Sicilian products.
Lonely Planet rates the number one place to visit in Palermo as the Cappella Palatina. An incredible chapel located on the mid-level of Palazzo dei Normanni's three-tiered loggia. This is a place you definitely don't want to miss off your list.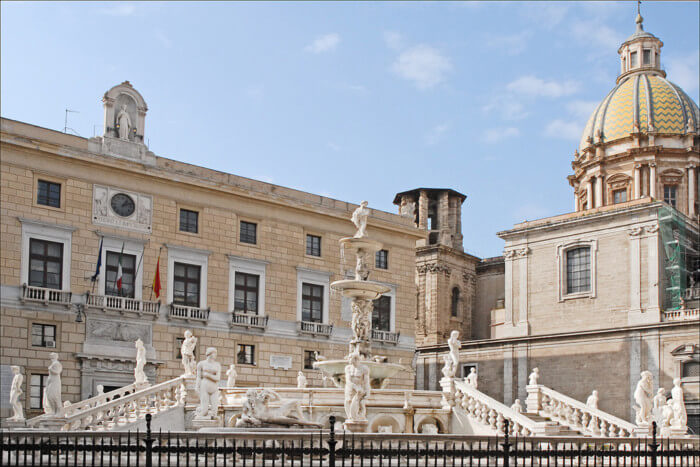 Image credit: Jean-Pierre Dalbéra
Taormina 
Taormina is the next stop on your Sicilian adventure, an ancient, picturesque town that is perched on the edge of a mountain. With a wealth of ancient architecture to explore and admire, Taormina is a must-visit for any traveller in Sicily.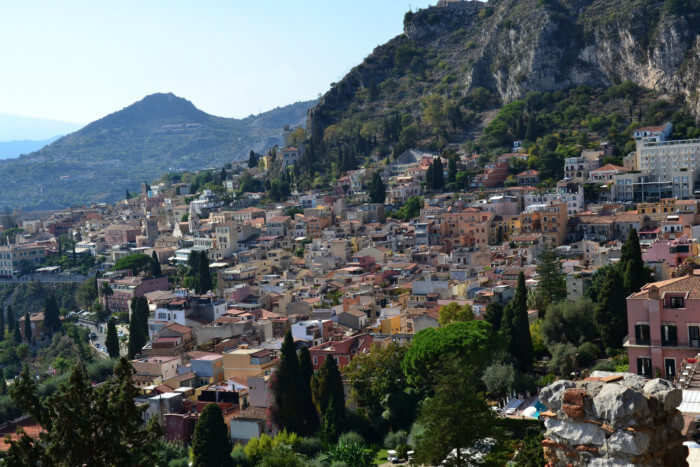 Image credit: Jeanne Menjoulet
To truly immerse yourself in the local way of life, we'd recommend skipping the hotels on this leg of the journey and opting for a home rental instead. Home Away alone offer more than 300 rentals, including everything from cottages to castles, so there's plenty to choose from and you're guaranteed to find a property that suits the whole family.
Whilst staying in Taormina, you should absolutely visit the Greek Theatre (Teatro Greco), originally built in the third century BC, eventually being re-built under Roman rule in the second century BC.
The Greek Theatre is just one of Taormina's ancient structures, in fact for a lot of visitors, the town itself is the greatest appeal. The unique architecture of the beautiful buildings makes Taormina a pleasure to explore.
Syracuse
For the final stop on your Sicilian trip we recommend visiting Syracuse. Here are The Hotel Guru's top hotel choices in Syracuse. Encapsulating the beauty of Sicily, Syracuse is the perfect place to end your holiday.
Syracuse is a fantastic cultural destination that is recognized with a UNESCO heritage listing. Home to one of the largest theatres in the world, the Greek Theatre of Syracuse has a diameter of almost 140m. If you plan your visit around the months of May and June you'll have the chance to experience the theatre as it was originally intended as it becomes home to a festival of classic Greek plays.
Similarly to Taormina you will also find plenty of ancient buildings, natural beauties and other attractions to admire on your journey here, including The Duomo, Fontana Aretusa, Parco Archeologico della Neapolis and Musei Archeologico Regionale Paolo Orsi, just to name a few.
If you're a foodie then Syracuse is going to be a haven. Finish off your trip with a visit to one of the town's many friendly restaurants offering tasty dishes packed full of fresh, local produce.