Mexico is a vast, 761,606-square-mile country, and one of the best ways to really get out and explore it is on a bike. If you own CT real estate, and plan to fly from one of the international airports nearby, like JFK in New York or Boston's Logan Airport, be sure to check with Alaska Airlines as it's currently the cheapest for those who want to take their own bike along, with sports equipment like bicycles accepted as checked baggage.
While there are multiple bike tours available throughout Mexico, for those who want to head out on their own, these are the best destinations for traveling by bike.
Tulum, Yucatan
If gorgeous Caribbean coastal scenery and archaeological sites sound appealing to you, head to Tulum. Biking is incredibly popular here, and it makes getting around town and going to the beach a lot easier. You can also bike to numerous impressive sights, including ruins and cenotes that are all within a few miles of the town center. The Tulum Ruins are less than a two-mile ride away, mostly on a bike path separate from traffic – just plan to leave early to avoid the crowds. You can hit the beaches by taking the Tulum bike path that runs down Avenida Coba, which will bring you to your choice of any one of several beautiful beaches.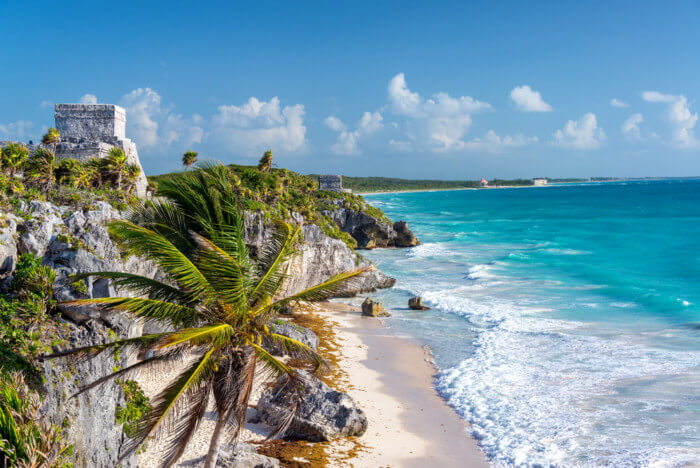 La Paz, Baja California Sur
The cosmopolitan city of La Paz has dedicated bike lanes along its most popular thoroughfare, the Malecon, a beachfront promenade on one side, with shops and eateries on the other. It offers a pleasant if easy biking experience with beautiful scenery and fun stops along the way. For those looking for more of a challenge, the 18-mile trip from La Paz to the Tecolote beaches are ideal, while the 230-mile coastal loop trail north of the city on the Pichilingue Peninsula is also great for a self-guided ride, offering plenty of secluded beaches along the way for swimming.
Mexico City
Mexico City may be one of the largest urban areas in the world but it's a great place to tour on a bike. For several hours on Sundays, Paseo de la Reforma boulevard is shut down to motor vehicles, providing plenty of space for bicyclists and a fun atmosphere to enjoy while taking in some of the most popular sights. Parque Alameda, in the heart of the city, is a perfect spot for a quick cycle, especially early in the morning, or head to the outskirts just west of the city to Desierto de los Leones, a national park in the Sierra de las Cruces Mountains. Here, mountain bikers can enjoy trails that wind through the forest.