As someone who is positively obsessed with photography – when we decided to visit San Francisco, one of the thing I was most excited for was getting some great shots of The Golden Gate Bridge.
But, as someone who is neither a local to San Fran, or a Lonely Planet geek, I had absolutely no idea where I was going to get the best view of Golden Gate Bridge.
So after my own trip to the city and tracking down some incredible views, I decided to make a list! I'm guessing that if I spent hour googling the best spots to take photos of the Golden Gate Bridge, that there are other people out there doing it too – so here are all the places I found that offered up amazing views of the Golden Gate Bridge.
I made the little map below to help explain it a bit more. Each number on the map corresponds to a place in the list below. Hope this helps!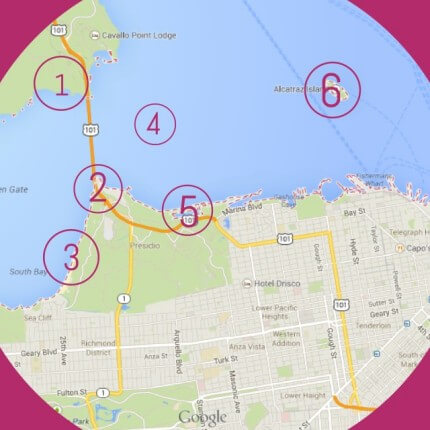 1) Battery Spencer 
If you don't mind the wind, and the hike, Battery Spencer offers some of the most incredible up-close views you could ask for. You're basically eye-level with the bridge and it's right there in front of you with no obstructions, and there's an awesome viewing platform with lots of space (no need to elbow in for the best view). It's a great place to watch the sunset too – as you'll get the sun setting over the ocean right next to the bridge.
2) Fort Point
Fort Point was really popular with bikers when we were up there, and it's a little bit of a walk up, but not a difficult one. Our friends Matt and Nic pushed a pram up and didn't struggle – so it's no big deal.
Once you've walked up and taken your first bunch of photos, you can then follow a path down and round to Chrissy Fields, which offers a few more picture perfect opportunities along the way. I recommend this view for those people who want to do a bit of walking – but don't fancy arriving at the top sweaty and out of breath! The view of Golden Gate Bridge from this spot is beautiful… of course!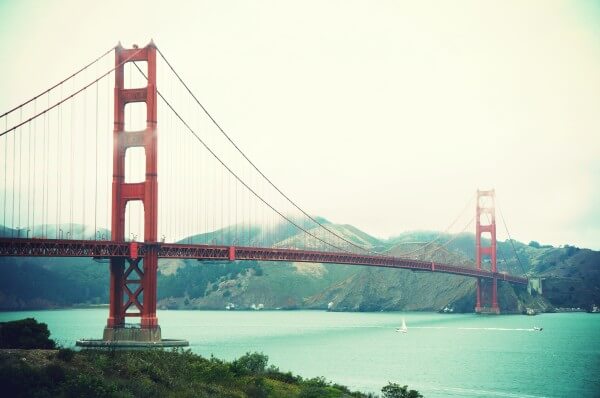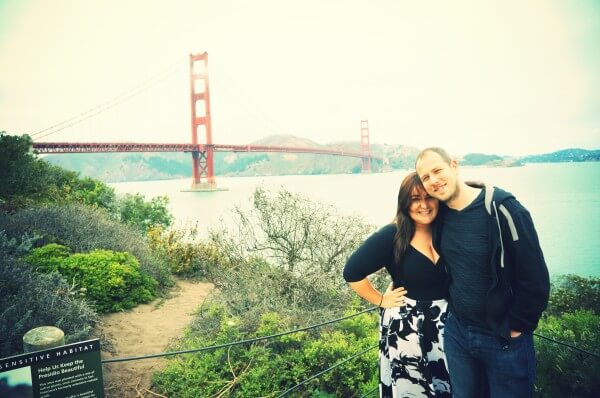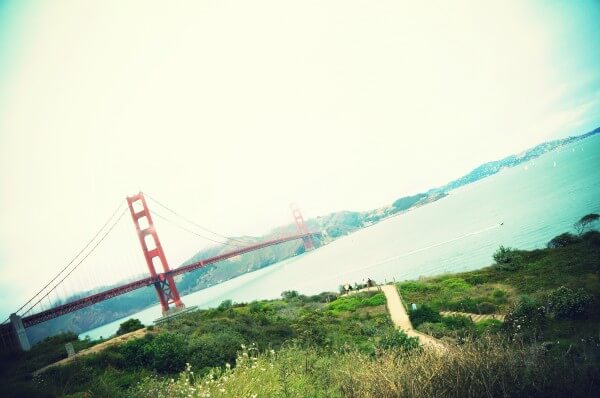 3) Marshall Beach
Now, we didn't actually go to Marshall Beach as we didn't have time – but it's one of the reasons I'd give myself to visit San Francisco again. I wish we'd had the chance to visit and enjoy the view of Golden Gate Bridge from this spot! It offers something a bit different to the other views, as it's from the other side of the bay.
Here's a gorgeous photo I found from blogger Gaizattheworld who did have time to visit the beach and take some incredible photos!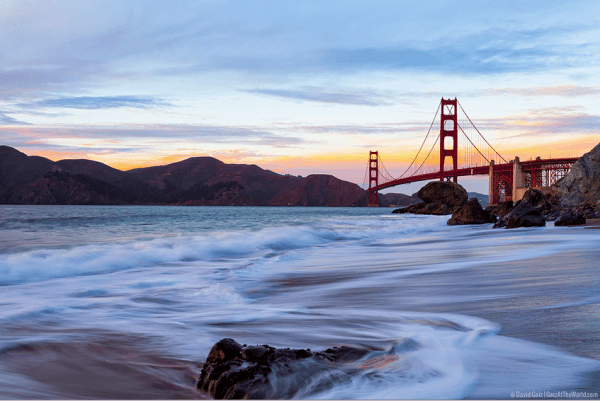 4) Take a boat tour around the bay
On our second night in the city we took a boat tour around the bay (we booked the Red and White Fleet Cruise through Attraction Tickets Direct). The boat tour lasted a few hours (there was food too!) and left from Fisherman's Wharf – which is quite a touristy area and pretty easy to get to. Because you're moving around on the boat tour, you get loads of shots of the bridge from a millions different angles, so it's perfect for people who want to get a massive variety of photos.
Our cruise was the sunset cruise too – so the colours were just perfection. It was one of our highlights of the whole trip, incredibly romantic and just beautiful. Even Pad got his phone out and took some photos – and when that happens I know the view must be amazing.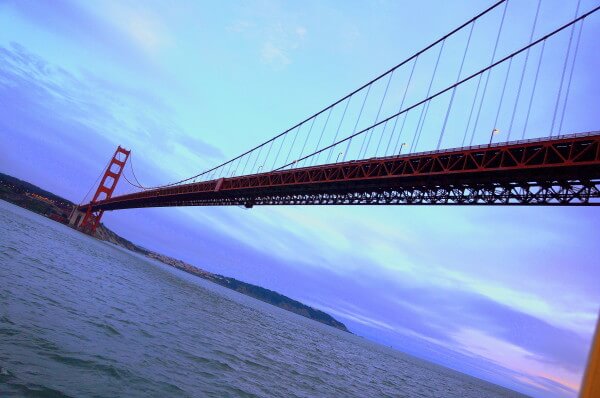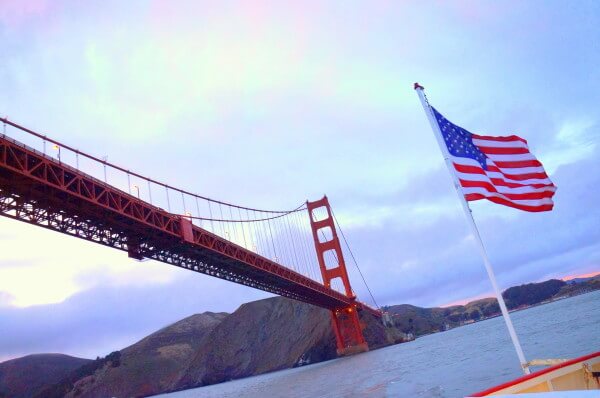 Just remember to take a coat or a jacket – because holy crap did it get cold once the sun went down!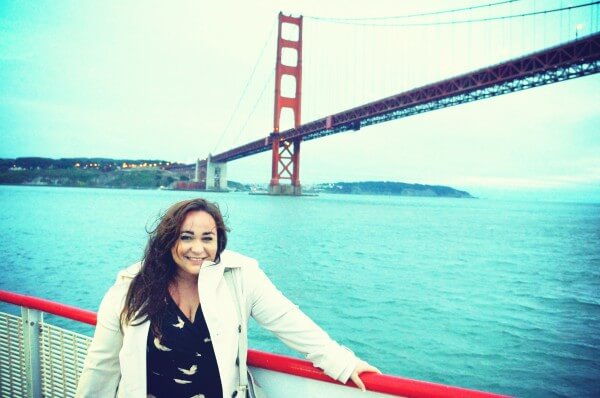 5) Chrissy Fields
You could do Chrissy Fields and Fort Point in a couple of hours – so it's a nice idea to do both of these spots together. If you walk down from Fort point, you'll end up in Chrissy Fields, so it makes for a nice route to take. That's what we did anyway 🙂
Chrissy Fields is a beach and public park (don't worry – you don't need to pay!) that stretches along the bit of coastline after the bridge, and before you get to the city. It's beautiful, and there are some lovely lifeboat houses to see, and even a little cafe you can stop at and grab lunch or a drink.
The views might not be as epic as some of the other higher-up vistas, but they're equally as beautiful. At Chrissy Fields you'll get photos of the bridge in the context of people and life. Whether it being a couple of dogs playing on the beach, or a few wind-surfers catching waves.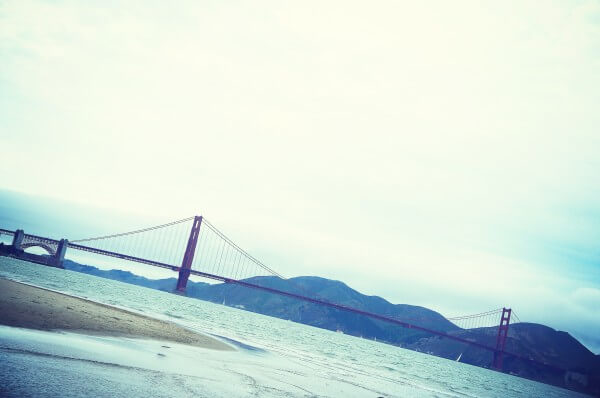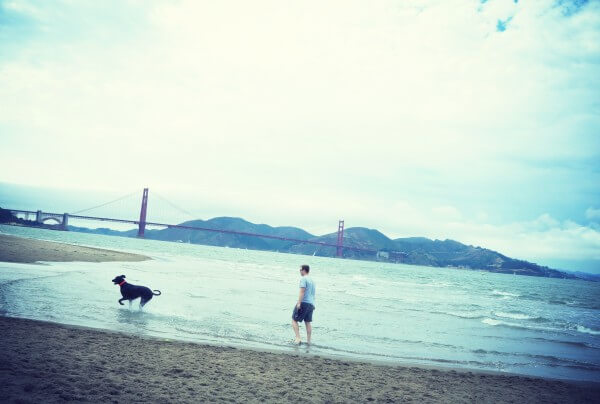 6) Alcatraz Island
The one thing I could believe when we visited Alcatraz was how AMAZING the views were across the city and over to the bridge. It was one of the most stunning views of the bridge we found, and it must've been torture for the prisoners, to live captive in the prison, having incredible outlooks like that. The phrase 'so close yet so far' never rang more true.
When you do the prison tour you get taken out into the outdoor recreational area that the prisoners used. From this area you literally have the most stunning view of the bridge imaginable. Funny how the lowest society in San Francisco once had the best view – money couldn't even buy.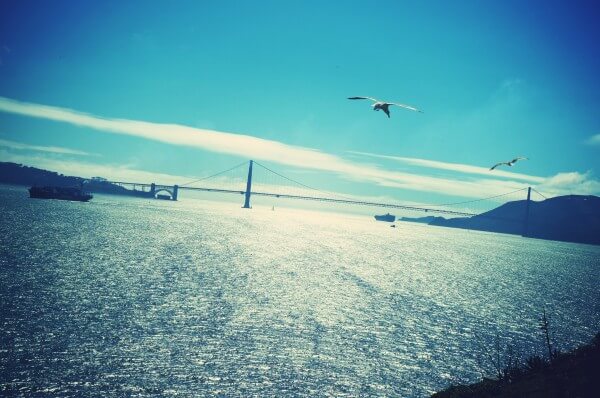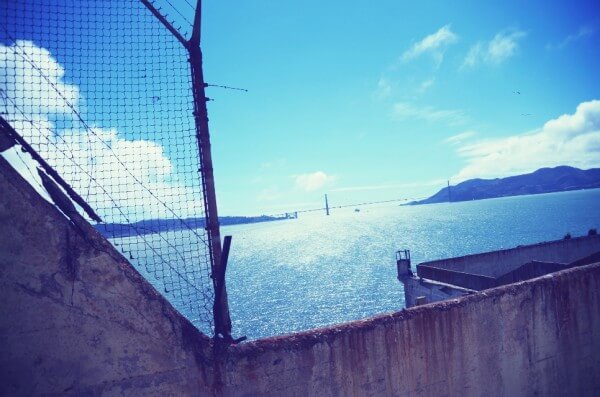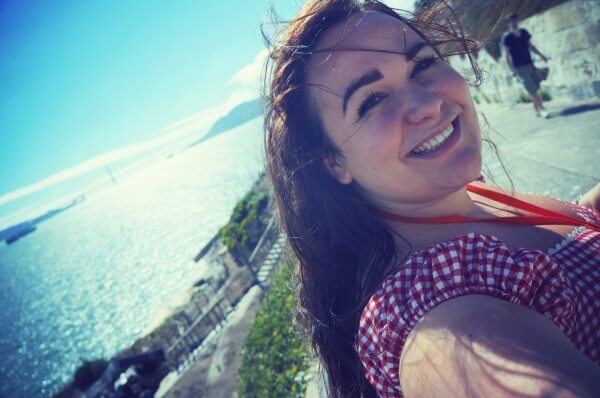 7) Book a city centre hotel with a view
There are loads of hotels in the city which offers incredible views of the Golden Gate Bridge. I'd recommend looking at expedia.co.uk and filtering by city views. Always make sure you look at the different room types available too – if a hotel has a 'bridge view' room it'll usually cost more – so be ready for that.
Check out these other blog posts from San Francisco, which might be useful!
Photos of Beautiful San Francisco Streets
Behind bars: My trip to Alcatraz Prison
If you're booking your trip soon, I'd recommend the following websites for great deals and prices:
tripadvisor.com (hotels and reviews)
expedia.co.uk (hotels)
agoda.com (hotels and tours)
skyscanner.net (flights)
Remote Working Travel Tip: If like me you're a remote worker – San Fran is one of the hottest cities for remote working! While enjoying the Golden gate bridge in San francisco, there are times when you simply have to work, the city has tons of coffee shops with WiFi – which is great news. Having a hosted Citrix XenDesktop can make your travel more productive too. For other hosted software products visit, Apps4Rent . Take a risk free trial today !