Those seeking adventure in the UK need look no further than a fantastic tour through Wonderland via a handful of Britain's legendary hotels. 150 years ago, Lewis Carroll's immensely popular and influential novel Alice's Adventures in Wonderland was released and it has gone on to become one of the most well known and adored stories ever created.
Alice's Story
The tale tells the story of a young girl called Alice, who falls through a rabbit hole into a fantasy world populated with odd anthromorphic creatures. The narrative structure, imagery, bizarre characters and play with logic have made it popular with adults and children and it remains a crucial piece of work in popular culture, most notably in the fantasy genre.
Celebrate the Novel's Birthday
The brilliant and surreal story has been re-imagined countless times over the years, but those that consider themselves fans of Carroll's work can envelope themselves within this world at a number of classic British hotels this summer. Not only is this an excellent way to celebrate the novel's 150th birthday, but it is also a chance to see some of Britain's most breathtaking scenery whilst staying at landmark hotels.
Classic British Hotels has 10 hotels around Britain, all of which enable you to follow Alice and her adventure through the hotels that they have on offer. Explore stunning grade II listed gardens in South Devon reminiscent of the Queen of Hearts' garden, uncover the Welsh town of Llandudno and the sites inspired by Carroll's tale, enjoy afternoon tea in a small luxury hotel near the magical hillside setting that inspired Beatrix Potter – another famed British author. At each hotel you will find a fun and unique way to celebrate the magical story against a beautiful backdrop.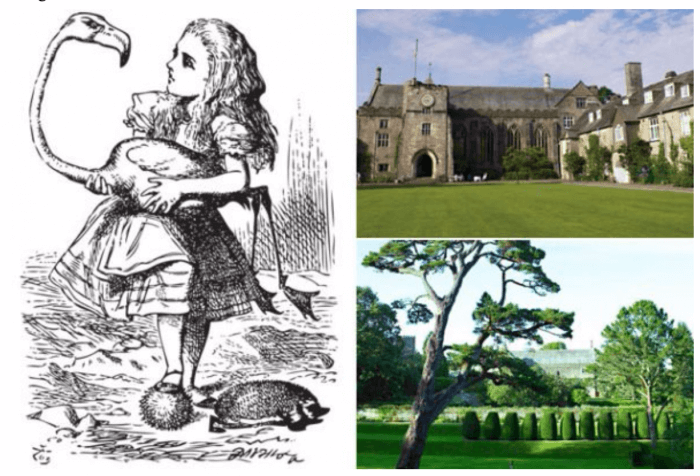 Britain's Own Wonderland
Visiting these hotels and the stunning natural surroundings; you will soon see how Lewis Carroll could be inspired to create such a magical and mesmerising world for Alice's great adventure to unfold in. Whilst the major cities around Britain have a lot to offer for visitors and will be many explorers first port of call; the countryside and smaller towns provide a wonderful insight into the true beauty of the country with rolling green hills, colourful flowers, diverse wildlife and clear blues skies.
Follow in Her Footsteps
For any real adventurer, Alice in Wonderland will be an important story which awakens the explorer in you. As popular with adults as it is children, the fantasy world that Alice explores and the characters that she encounters is symbolic of travelling and adventure. This makes following her adventure through a handful of Britain's most famous and stunning hotels the perfect way to celebrate the 150th birthday of Lewis Carroll's seminal creation.