As someone who isn't the biggest fan of flying, trains journeys and road trips are still a very big part of the grown-up traveler lifestyle for me. Making a trip in a car is always more fun for me, as it means I can avoid the stress and anxiety of air travel. It also means I get a chance to see more of the country I'm visiting (for lots of destination inspiration check out this site), which is such a huge bonus – especially when you love photography and love capturing scneery along the way.
There are of course, a few road trip do's and don'ts – a few of which I'll talk about below.
Here's how to make the most out of your roadtrip:
It's Not Just About the Destination, It's About the Journey
Regarding getting from Queenstown to Christchurch in New Zealand, I found that out of all of the ways to tackle this journey, driving was the most satisfying. There is so much to experience, and beautiful scenery to see along the way, that you would just miss out on if you chose to fly instead.
In general, New Zealand and Australia are countries that are greatly enhanced when experienced by road trips. As long as you plan out a good route with plenty to see along the way, and are sharing the trip with a really good co-pilot (make sure this person is fun, a good DJ, and can see you at your worst), then the journey itself can be just as wonderful of an experience as the destination. So, don't just disregard the road trip approach and jump on a plane, or you will miss out on a lot of things in between.
Another thing to remember when planning the journey, is to book yourself a nice car! A comfortable ride is going to enhance the journey for you, so if you can afford to, pick a car you're going to enjoy driving.
Making the Best Experience Should Include Planning for the Worst
Of course just jumping in a car with a map and starting out on the open road isn't a practical approach to road trips. Unlike the romantic "show up at the airport and pick a destination and just go" approach, a road trip requires some less romantic but very essential prep work. This means changing the oil and filter, refilling the windshield fluid and checking the tire pressure! Filling up your tires with air can not only help save you on the petrol costs, but can be essential in keeping you on the road and reaching your destination.
Remember to also keep other spare parts and essentials packed in the car at all times. There are even many great websites to pick up bits and pieces from if you never have the time to shop in person. Mister Auto are a good place to start, as they have items for safety, security, comfort, gosh… even wheel bearings can be picked up (provided you or someone else knows how to fit them). Take a look here if you need to pick up something specific or just want to browse before your trip. In any case, it's a good idea to include a spare tire and jack, jumper cables, first aid kit, torch, as well as water bottles and muesli bars, quite literally anything you might need in case of emergency. Also, check to make sure the vehicle's manual is there to consult if any unusual engine lights come on. Perhaps most importantly, a sat-nav is more or less a lifesaver for any driver! Be sure you have some kind of plan B and road side assistance to call if you do break down and need to call for a tow.
Embrace the Freedom
Part of why you are making a road trip to begin with instead of flying or taking a bus, is because you want to take advantage of the freedom. So while being prepared for anything is good practice, as far as your actual plans go for where you are stopping, eating, and sleeping… leave this open to chance and intrigue! Be open to improvising. You can obviously plan a few steps along the way that you thought of beforehand, but don't research everything and create a rigid, impossible schedule with no room for flexibility. Sometimes the detours will be the most rewarding and memorable parts!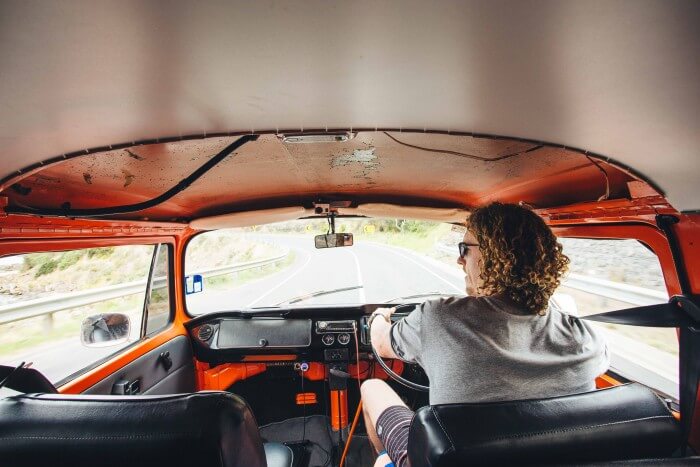 Get out of the car!
Don't forget to actually get out of the car and explore. Find a good place to pull over and enjoy actually getting out and stretching your legs. Roadtrips shouldn't just be about getting from point A to point B, they should be about relaxing into it, stopping if you see something amazing, and using the car to explore places that would otherwise be out of your reach.