I know Las Vegas isn't everyones cup of tea, but when it comes to ranking USA vacation destinations… it has to be the top of the list. It's a city I love though, and as someone who's only ever been as part of a couple, I think it's the perfect location for a romantic couple getaway because there are so many things to do for couples in Las Vegas. Las Vegas is a fantastic couples destination!
I thought I'd put together a list of my top things to do in Las Vegas for couples, as I know there are probably a lot of couples out there trying to decide whether or not a holiday to Las Vegas is right for them. Let me tell you right now – it is! It's an amazing city, with lots to do and see, plenty of romantic bars, restaurants and nightclubs (if that's your thing!).
Hopefully this list will convince you it's awesome (because that's pretty much my own opinion!) and that there are plenty of things to do in Las Vegas for couples! My husband and I visit every year and we adore it.
Top Tip: Come Prepared
It's worth coming prepared and buying yourself an entertainment pass for your time in the city. This not only saves you money, but gives you endless suggestions for how to spend your time. I recommend the one by Get Your Guide (click here to buy). It can save you a load of money on tickets, and can even help you jump the queue in some attractions too.
Go Shopping
I know you might be shaking your head reading this first suggestion, but trust me! Las Vegas is the only place in the world my husband will actually agree to shop, and enjoy it. The malls are huge, and usually themed (which makes it fun!) and there are shops to suit just about every taste and budget. My favourite has to be the Forum Shops at Caesars Palace Hotel – it's full of handbag shops, jewellery shops, all the main high street stores. It's unlike any mall you've ever been in, just see the photos below. There are also some amazing outlet malls in the city to check out – and some amazing discounts to be found!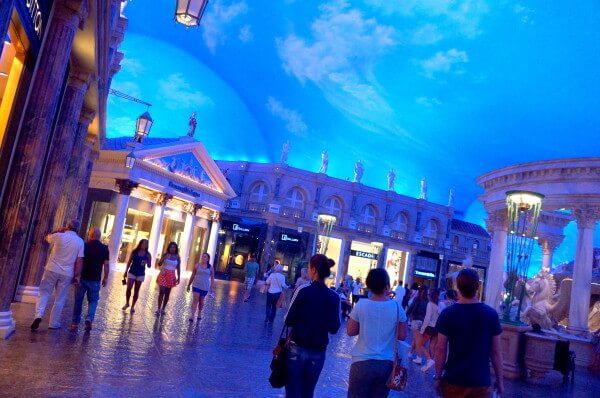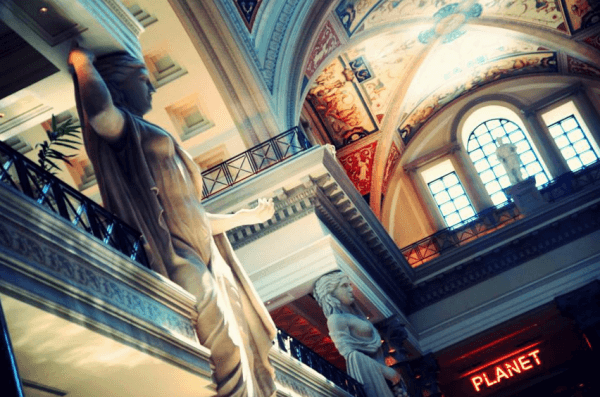 Take a helicopter ride over the strip
Las Vegas is the kind of city where you go big, or go home. So why not take a helicopter ride? It's such a romantic thing to do as a couple in Las Vegas, and it's definitely something you'll never forget. It's easy to see the strip from the ground (just take a stroll!) but seeing it from the air is something else – as you really get to see how big some of the hotels and monuments are. I'd highly recommend it.
If you REALLY want to push the boat out on the 'romance' it might be worth booking a helicopter ride that also includes the Grand Canyon (for my recommendation: click here). Helicopter is the BEST way to get there (and the fastest) and you get to enjoy the views from the most amazing view-point in the sky too.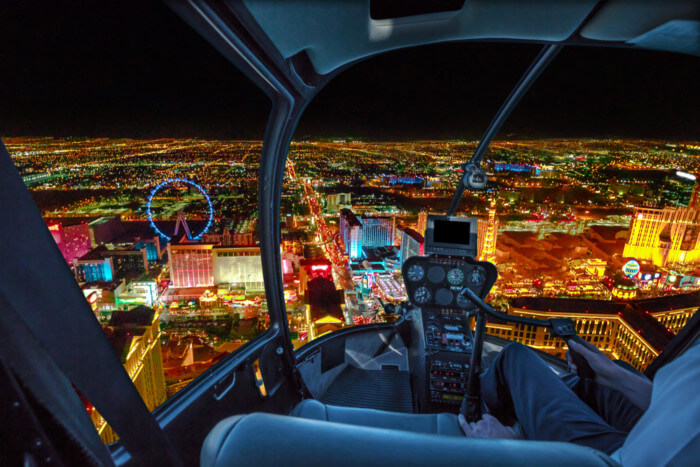 Do a hot air balloon ride
If you're really trying to 'wow' your other half and you plan on surprising them with some special… this could be the perfect thing to do in Las Vegas for you both. I don't know anyone who wouldn't be amazing and in awe during a hot air balloon ride, and doing a sunrise flight over las vegas is next-level cool. This is the ultimate bucket-list item for anyone – and such a gorgeous activity for a couple visiting Las Vegas. Perfect for a proposal too – if you were planning on popping the question! Here's a great tour company offering sunrise hot air balloon rides in Las Vegas.
Go on a hotel-crawl
Las Vegas has no shortage of hotels, and just making your rounds and seeing them all is a whole day of fun. They're all themed, and usually have their own special lobby area of attraction. My top picks for couples would be The Paris Hotel (of course!), Caesars Palace (the mall and shows are SO GOOD!), Bellagio, The Wynn (it's like stepping into a Disney movie), New York New York, The Cosmopolitan (new, sophisticated) and The Venetian. You could even book yourself onto a VIP night tour of the city and see the hotels while experiencing the nightlife too!
Experience the High Roller
One of Las Vegas's newer attractions, the High Roller is a great thing do to for couples in Las Vegas. It's fun during the day or night too – as both times will offer lots of different views. You can also buy 'skip the line' passes too for those hot summer days, when you don't want to be queuing in the heat. I'd definitely recommend booking ahead as it can get busy! But the views are worth it… I promise!
Go for cocktails at The Foundation Room, Mandalay Bay
Looking for somewhere glamorous, exclusive and romantic? The Foundation Room is all of those things. It was the highlight of my last trip to Vegas, and my boyfriend and I drank for hours, just talking and enjoying the epic view. You literally won't find a view to rival the view from Mandalay Bay, there is no other place quite as romantic, and it's simply magical. The nice thing about The Foundation Room is the vibe it has too – it's mostly couples and small groups – so you don't need to worry about a huge stag-do or hen-party coming in and ruining the music / atmosphere or standing in the way of your view over the city.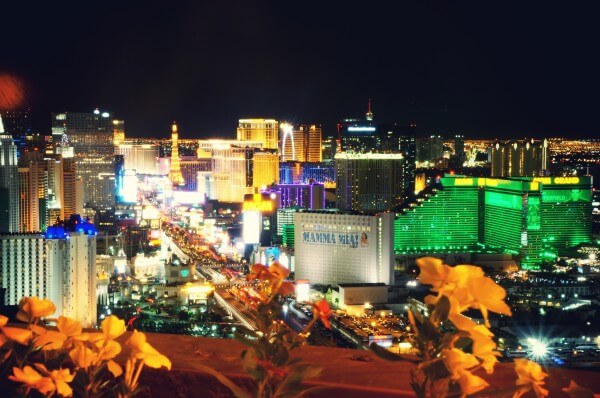 Book a photoshoot
If you're together on honeymoon (or maybe you're planning to propose) a great activity for an afternoon is to schedule a private photoshoot with a professional photographer. Photographs make the BEST souvenirs, and Las Vegas has so many cute photo backdrops. To take the stress out of finding a photographer, here's a ready-made package you can easily book (just click here). Professional photographers will take better photos than any selfie, and you'll get a gorgeous set of images to help you remember to trip of a lifetime forever!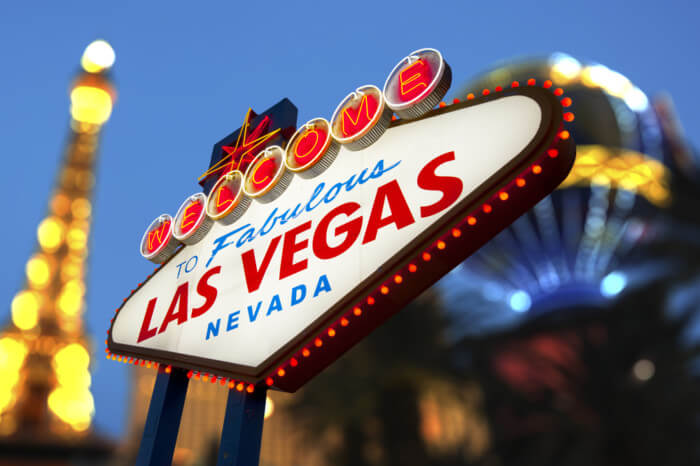 Watch The Bellagio Fountains
The Bellagio Fountains are just stunning, and definitely something to make time for. Head there around 8pm, and find yourself a good spot under the trees and towards the centre of the fountains – and you'll find it's easy to waste away a couple of hours just watching the fountains come and go every 15 minutes.
For a slightly different outlook, walk up towards the Bellagio Hotel and watch the fountains from the back instead. You'll get the view that you see in the photo below. You'll find a bit more space watching the fountains from over there too which is nice, and the view is just as good!
Take an open top bus tour
Open top bus tours might seem a bit touristy – but they're a great way to see the city and a good way of getting around too. The tour lasts for 3 hours, and it flies by – there's so much to see. This tour also takes you to Fremont Street in Downtown Las vegas – which is a mega fun part of the city and ideal for couples who are visiting.
Visit the Block 16 Food Hall at the Cosmopolitan Hotel
This food hall is new for 2019, but it's full of delicious food options and makes an ideal thing to do as a couple in las vegas. There are SO MANY food choices, there will be no arguments about what to eat or what to try! It's also pretty cool to have such affordable food right in the heart of the strip too.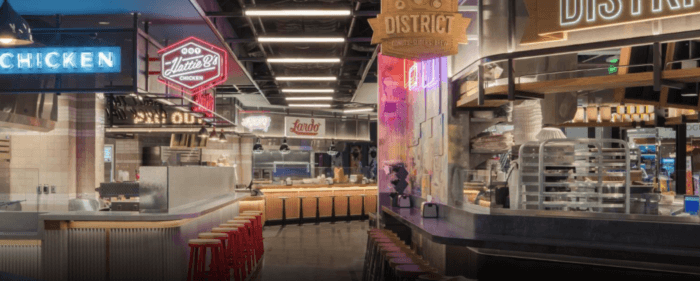 Visit The Neon Museum
For something a little different, venture out of the main strip and explore The Neon Museum in downtown Vegas. The tour takes about an hour to walk around (it's guided) and it's so fun to see all the old neon signs that once stood pride of place in the city. I'm going to do a full review of the tour sometime soon – so stay tuned for more photos and information! In short though, we loved it and it was such a fun way to spend the afternoon. Especially nice because we got to venture out of the normal Vegas tourist areas!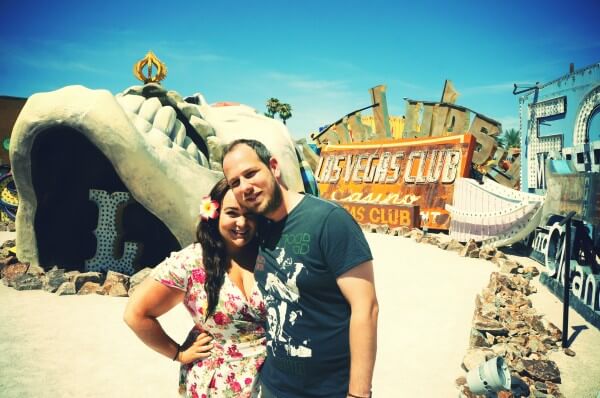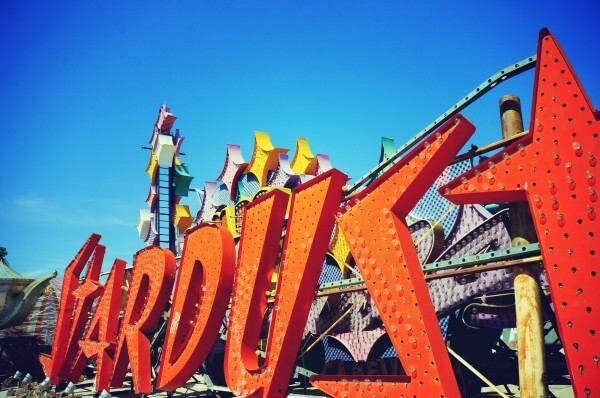 Experience some fine dining
On our most recent trip to Vegas we were lucky enough to visit the restaurant Alize, found at the top of Palms Hotels and Casino. The view from up there is pretty incredible (you can see right along the strip) and it's very romantic, if that's the vibe you're after. We had the tasting menu which worked out to be about 10 course each and let me tell you, it was epic. The courses are all small portions (so no need to worry about unbuckling your trousers at the table…) and all beautifully presented. I tried caviar for the first time too, and (unexpectedly) loved it.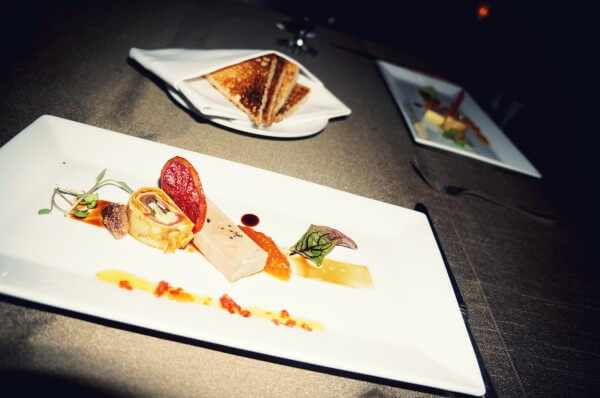 Watch a Cirque du Soliel Show 
My Favourite show is 'O' – there is honestly nothing like it anywhere in the world. I've seen most of the shows on the strip (including La Reve at the Wynn) and 'O' is THE BEST (you can book cheap tickets here). Honestly, if you're considering a show is Las Vegas, 'O' is the most romantic. It is magical, beautiful and just mind-bendingly impossible. It has you laughing, on the edge of your seat, gasping – it's just incredible. Have I raved about enough? Hopefully. Every time we're in the city with friends we take them to this show and every time they come out after with their jaws on the floor. If you're going to see a show in Las Vegas – make this it.
Hit up a buffet
YOU CAN'T VISIT VEGAS AND NOT VISIT A BUFFET. SO FIND ONE AND GO.
I've reviewed The Wynn buffet and The Aria Hotel buffet. Both were awesome!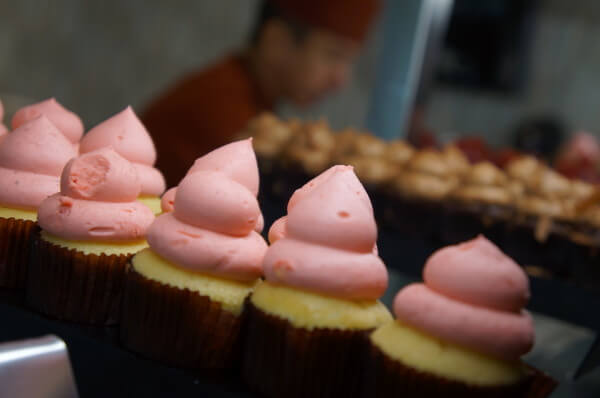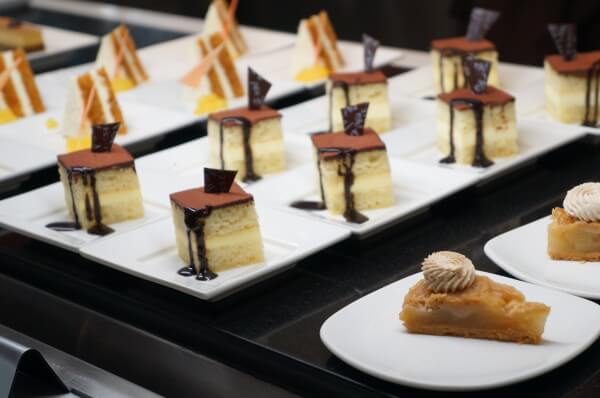 Have an ADVENTURE
Las Vegas is an incredible city, but it's also surrounded by some of the most amazing landscapes – perfect for adventures. Embrace your wild side with this full-day ATV tour in the historic Eldorado Canyon, and explore the outskirts of the city alongside an adrenaline rush. You will get to enjoy scenic desert view as you navigate the extreme terrain on paths originally used by mules in the mining boom of the 1800s.
Hire a private pool cabana for the day 
You can visit any hotel and use their pool facilities, as long as you pay the resort fee. A great idea (for something a little more special) is to hire a private cabana for the day. At The Aria Hotel (pictured below) that'll cost you about $500 depending on the time of year. I love the pool area at The Aria and it's one of the best in Las Vegas – as the hotel is modern and relatively new, they've really built the pool area to feel like a retreat. Another I'd recommend is The Venetian.
In Las Vegas, where you'll find beyond plenty of things to do in the evening and during the night, sometimes it can be nice just to relax and pamper yourself during the day. Relaxing poolside is the perfect way to do that.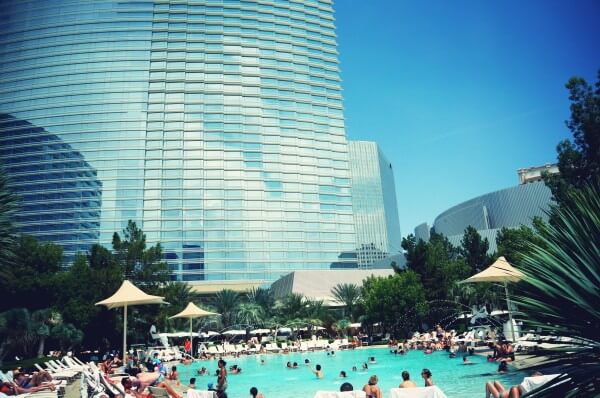 Get greeted at the airport by a limo
When you arrive in Las Vegas, there is only one way to be greeted – and that's by a limo. It's the perfect start to your holiday and it's the perfect surprise too (if you're the kind of person who likes to plan romantic gestures). We've always booked ours through Presidential Limousines  and it's always great, they even keep track of the flight numbers incase you've been delayed or held up. Your limo driver will be waiting for you at baggage claim to help carry the bags out, and then once you get into the car there is a bottle of champagne (maybe beer too!) waiting for you.
Can you think of any better welcome after a long haul flight? 😉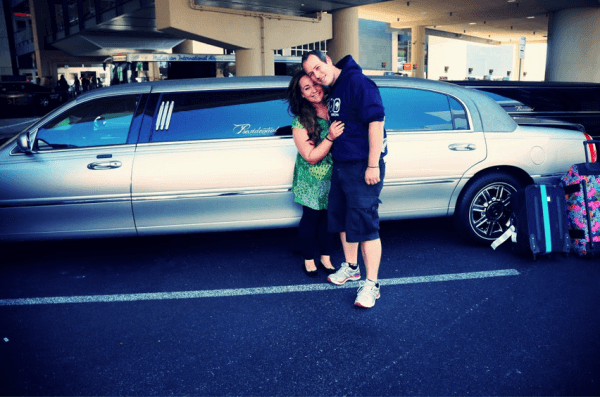 Gamble! 
You're in Vegas, so why not do a bit of gambling? My boyfriend and I took to making it a bit of a competition, to see who could come out on top after a night on the roulette table. He won the first night, I won the second night. Maybe we'll do the tiebreaker next time we visit…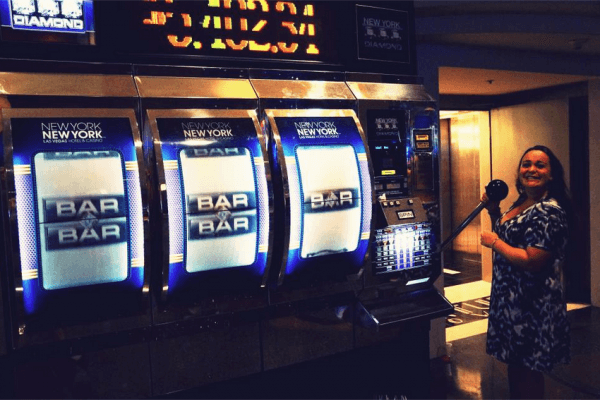 Do a Grand Canyon day trip 
It's a long day as tours usually leave vegas around 7am, and return about 8pm – but it's so worth it (especially if you've never been before). As a couple, it's a fab thing to do as you can spend the day soaking in the amazing views together. I recommend this tour company – so if you're going to Las Vegas as a couple – these are the people you'll want to book with (click here).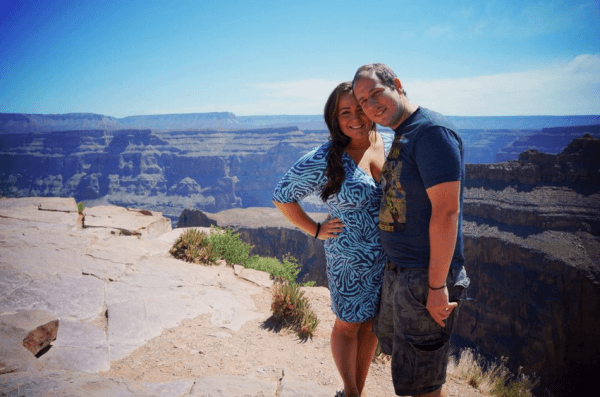 Upgrade your room! 
You're there as a couple – so chances are you'll be spending some time in the bedroom. In Vegas you can upgrade your room when you check in for like half the price you'd usually pay. So don't forget to ask about whether or not they have upgrades available! In 2013 we upgraded our standard room in the Venetian to a huge suite, with a dining room, office, spa bathroom, massive bedroom and living area… and we only paid an extra $25 a night for it.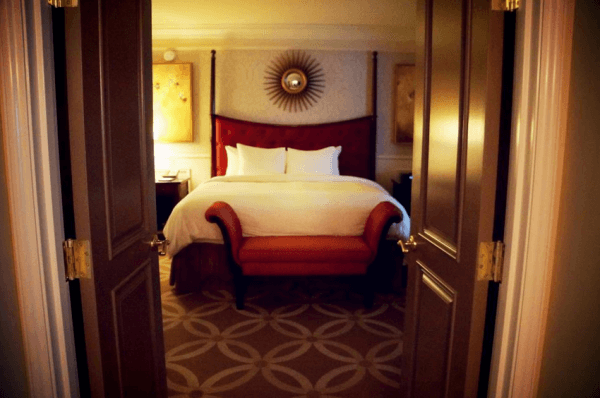 Visit the Mob Museum
A museum trip might not be the first thing that springs to mind when you think of things to do in Las Vegas for couples – but actually the Mob Museum is a lot of fun and great for anyone remotely interested in the gangsters / mob era of the city. It's a fascinating museum and it's a good break away from the strip for a few hours too. I would recommend booking in advance, and you can book tickets here.
For more suggestions and advice about visiting Las Vegas – check out my other blog posts below – they will probably be really helpful! Have fun!
The best way to explore The Grand Canyon when staying in Las Vegas
Review and photos: 1923 Bourbon and Burlesque Bar in Las Vegas
Review and photos: The Aria Hotel, Las Vegas
Review and photos: The Foundation Room Bar in Las Vegas
Review and photos: The Wynn Buffet in Las Vegas
Review and photos: The Aria Buffet in Las Vegas