I know Vegas isn't everyones cup of tea, and even those who love it may file the city into the 'stag-do and 21st birthday only' category. It's a city I love though, and as someone who's only ever been as part of a couple, I think it's the perfect location for a romantic couple getaway.
I thought I'd put together a list of my top things to do in Las Vegas for couples, as I know there are probably a lot of couples out there trying to decide whether or not a holiday to Las Vegas is right for them. Hopefully this list will convince you it's awesome (because that's pretty much my own opinion!) and that there are plenty of things to do in Las Vegas for couples!
1) Shopping
I know you might be shaking your head reading this first suggestion, but trust me! Las Vegas is the only place in the world my boyfriend will actually agree to shop, and enjoy it. The malls are huge, and usually themed (which makes it fun!) and there are shops to suit just about every taste and budget. My favourite has to be the Forum Shops at Caesars Palace Hotel – it's full of handbag shops, jewellery shops, all the main highstreet stores (including plus size stores too) . It's unlike any mall you've ever been in, just see the photos below.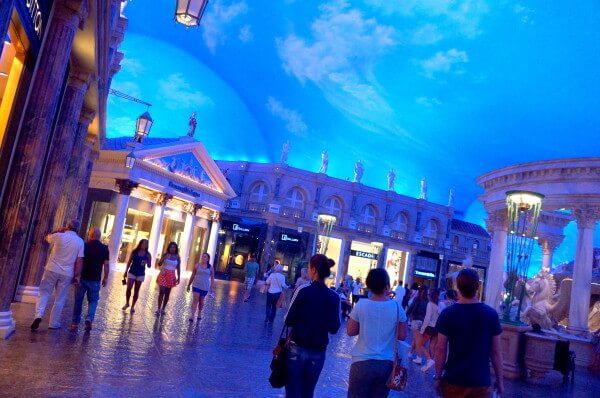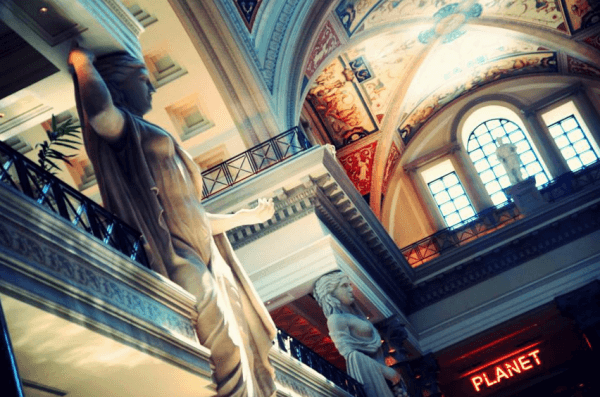 2) Go on a hotel-crawl
Las Vegas has no shortage of hotels, and just making your rounds and seeing them all is a whole day of fun. They're all themed, and usually have their own special lobby area of attraction. My top picks for couples would be The Paris Hotel (of course!), Caesars Palace (the mall and shows are SO GOOD!), Bellagio, The Wynn (it's like stepping into a Disney movie), New York New York, The Cosmopolitan (new, sophisticated) and The Venetian. Once you've found the hotels you enjoy, you can head back all dressed up in the evening and try out their nightlife, cocktail bars and casino!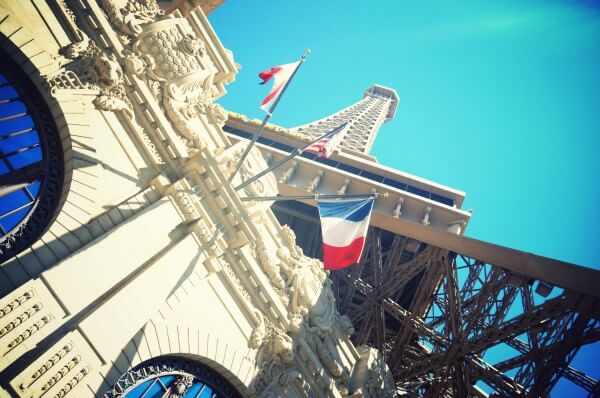 3) Go for cocktails at The Foundation Room, Mandalay Bay
Looking for somewhere glamorous, exclusive and romantic? The Foundation Room is all of those things. It was the highlight of my last trip to Vegas, and my boyfriend and I drank for hours, just talking and enjoying the epic view. You literally won't find a view to rival the view from Mandalay Bay, there is no other place quite as romantic, and it's simply magical. The nice thing about The Foundation Room is the vibe it has too – it's mostly couples and small groups – so you don't need to worry about a huge stag-do or hen-party coming in and ruining the music / atmosphere or standing in the way of your view over the city.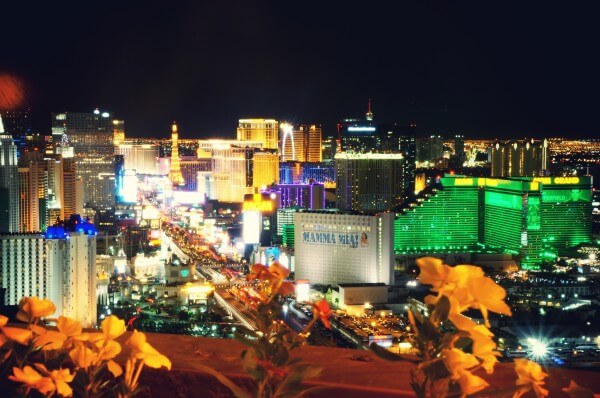 4) Watch The Bellagio Fountains
The Bellagio Fountains are just stunning, and definitely something to make time for. Head there around 8pm, and find yourself a good spot under the trees and towards the centre of the fountains – and you'll find it's easy to waste away a couple of hours just watching the fountains come and go every 15 minutes.
For a slightly different outlook, walk up towards the Bellagio Hotel and watch the fountains from the back instead. You'll get the view that you see in the photo below. You'll find a bit more space watching the fountains from over there too which is nice, and the view is just as good!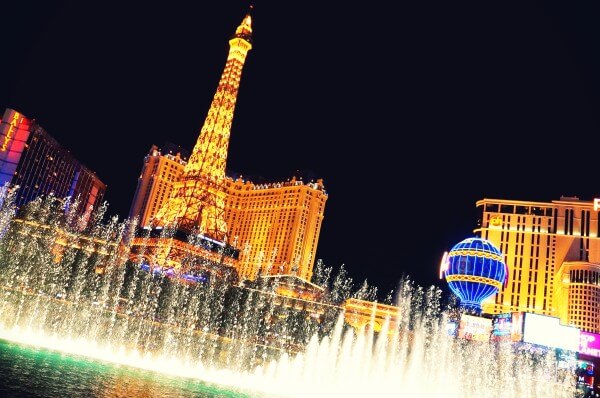 5) Visit The Neon Museum
For something a little different, venture out of the main strip and explore The Neon Museum in downtown Vegas. The tour takes about an hour to walk around (it's guided) and it's so fun to see all the old neon signs that once stood pride of place in the city. I'm going to do a full review of the tour sometime soon – so stay tuned for more photos and information! In short though, we loved it and it was such a fun way to spend the afternoon. Especially nice because we got to venture out of the normal Vegas tourist areas!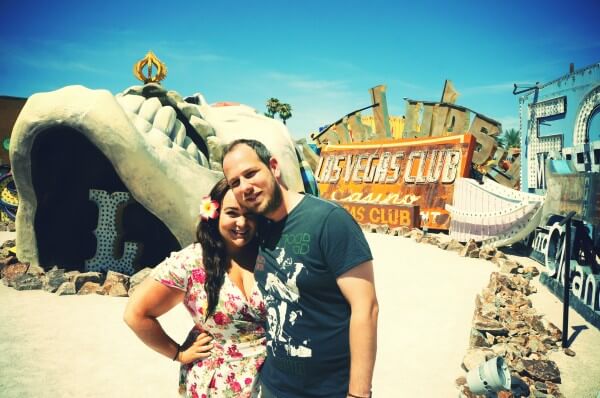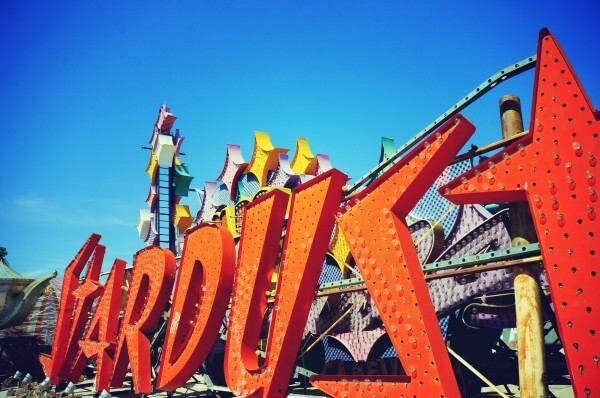 6) Experience some fine dining
On our most recent trip to Vegas we were lucky enough to visit the restaurant Alize, found at the top of Palms Hotels and Casino. The view from up there is pretty incredible (you can see right along the strip) and it's very romantic, if that's the vibe you're after. We had the tasting menu which worked out to be about 10 course each and let me tell you, it was epic. The courses are all small portions (so no need to worry about unbuckling your trousers at the table…) and all beautifully presented. I tried caviar for the first time too, and (unexpectedly) loved it.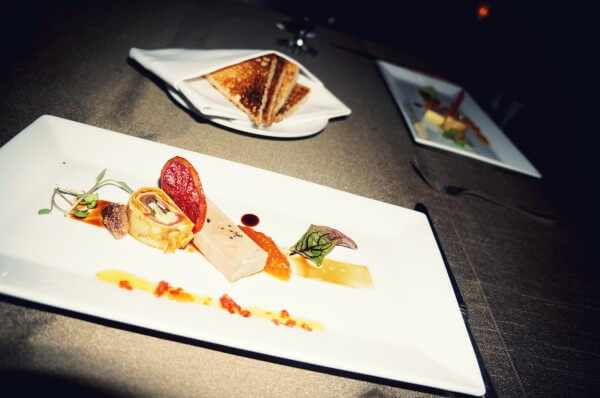 7) Visit a burlesque show 
As a couple, you may not be keen on visiting a strip club, but visiting a burlesque show is a happy medium. We went to 1923 Bourbon and Burlesque in The Mandalay Bay and it was so much fun. It was mainly couples in the bar anyway, so you'll feel right at home. If you're a little shy, I'd recommend sitting a bit further away from the bar area (as the performers do occasionally come into the audience) but if you're happy with the idea of being danced with, then the closer the better. The girls are beautiful and amazing dancers – and have so much personality and skill.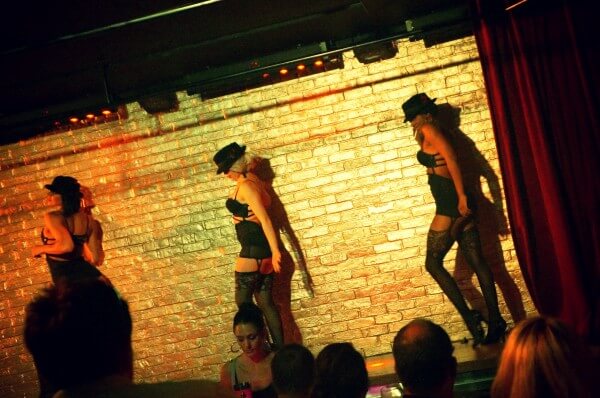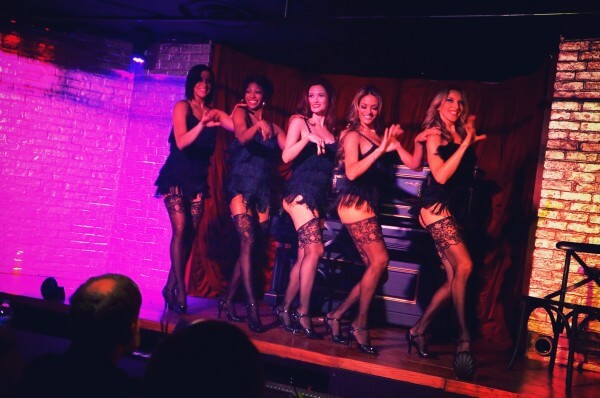 8) Hit up a buffet
YOU CAN'T VISIT VEGAS AND NOT VISIT A BUFFET. SO FIND ONE AND GO.
I've reviewed The Wynn buffet and The Aria Hotel buffet. Both were awesome!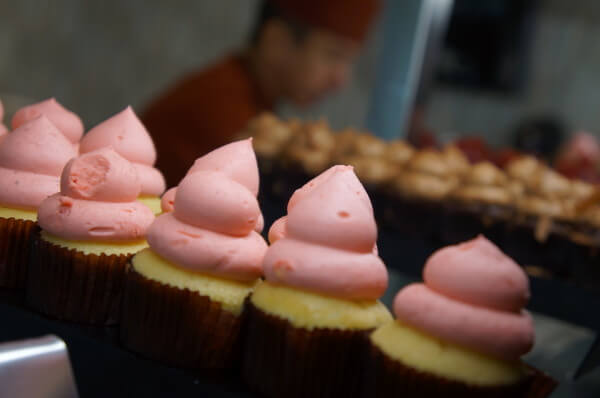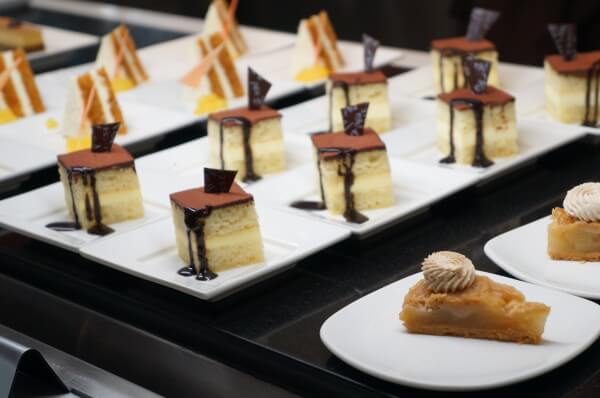 9) Hire a private pool cabana for the day 
You can visit any hotel and use their pool facilities, as long as you pay the resort fee. A great idea (for something a little more special) is to hire a private cabana for the day. At The Aria Hotel (pictured below) that'll cost you about $500 depending on the time of year. I love the pool area at The Aria and it's one of the best in Las Vegas – as the hotel is modern and relatively new, they've really built the pool area to feel like a retreat. Another I'd recommend is The Venetian.
In Las Vegas, where you'll find beyond plenty of things to do in the evening and during the night, sometimes it can be nice just to relax and pamper yourself during the day. Relaxing poolside is the perfect way to do that.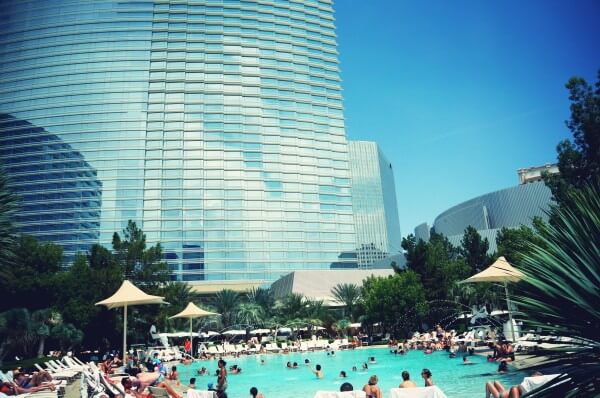 10) Get greeted at the airport by a limo
When you arrive in Las Vegas, there is only one way to be greeted – and that's by a limo. It's the perfect start to your holiday and it's the perfect surprise too (if you're the kind of person who likes to plan romantic gestures). We've always booked ours through Presidential Limousines  and it's always great, they even keep track of the flight numbers incase you've been delayed or held up. Your limo driver will be waiting for you at baggage claim to help carry the bags out, and then once you get into the car there is a bottle of champagne (maybe beer too!) waiting for you.
Can you think of any better welcome after a long haul flight? 😉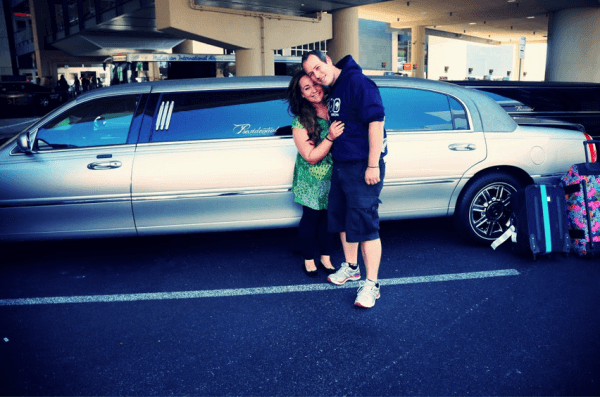 11) Book tickets to one of Las Vegas's many shows
If you want to treat yourself and see a show whilst in Vegas, you couldn't have picked a better city to do it in. Las Vegas has more shows than you'd ever be able to watch! For something truly 'Las Vegas' I'd personally recommend anything by Cirque Du Soliel (anything they do is mind blowing), or one of the iconic headliners such as Shania Twain or Penn and Teller. I've seen both of those, and they were amazing. The picture below is the theatre from the Shania Twain show (she comes out into the audience… so aisle seats are extra special!) and the photo below that is of the Penn and Teller magic show we saw.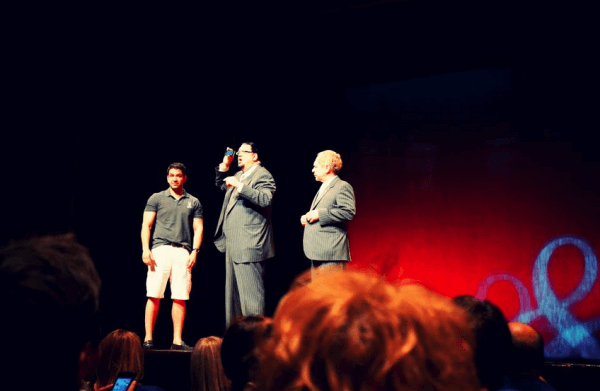 12) Gamble! 
You're in Vegas, so why not do a bit of gambling? My boyfriend and I took to making it a bit of a competition, to see who could come out on top after a night on the roulette table. He won the first night, I won the second night. Maybe we'll do the tiebreaker next time we visit…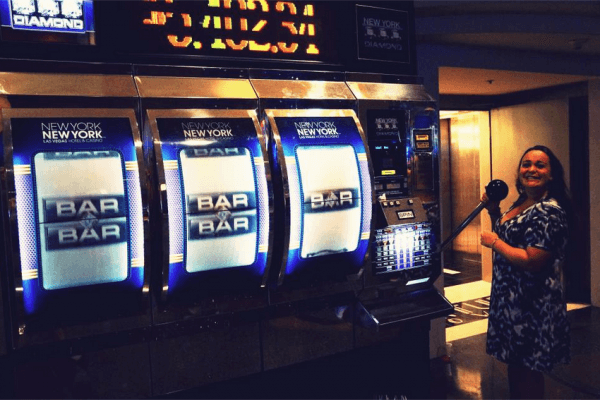 13) Do a Grand Canyon day trip 
It's a long day as tours usually leave vegas around 7am, and return about 8pm – but it's so worth it (especially if you've never been before). We went with Pink Jeep Tours and it was amazing. The tour group is relatively small compared to most, and the jeep that you travel in is comfortable and spacious, which makes the journey time so much more bearable.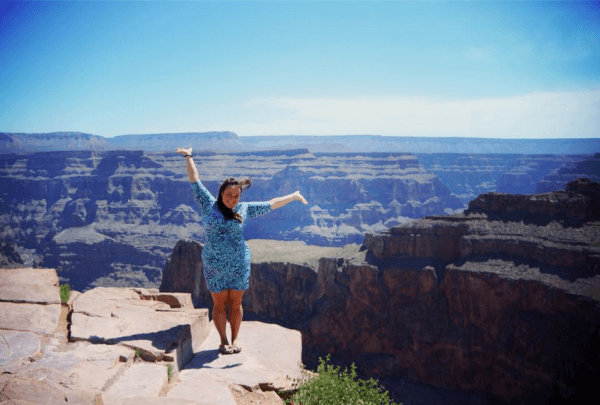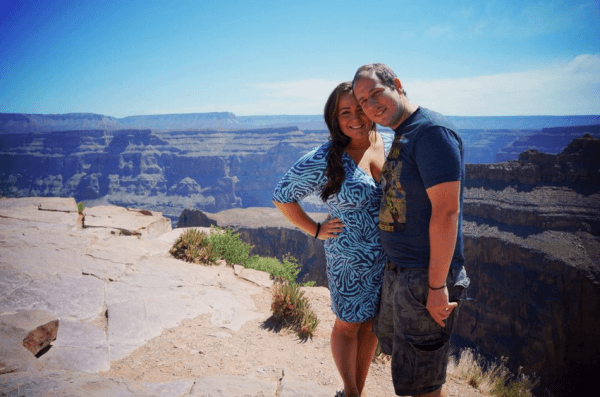 14) And lastly… Upgrade your room! 
You're there as a couple – so chances are you'll be spending some time in the bedroom. In Vegas you can upgrade your room when you check in for like half the price you'd usually pay. So don't forget to ask about whether or not they have upgrades available! In 2013 we upgraded our standard room in the Venetian to a huge suite, with a dining room, office, spa bathroom, massive bedroom and living area… and we only paid an extra $25 a night for it.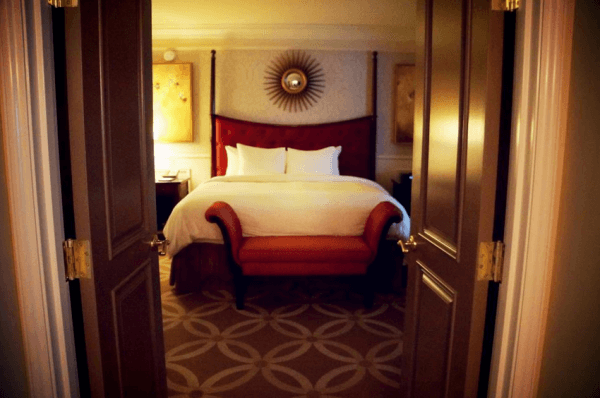 If you're booking your trip soon, I'd recommend the following websites for great deals and prices:
tripadvisor.com (hotels and reviews)
expedia.co.uk (hotels)
agoda.com (hotels and tours)
skyscanner.net (flights)
For more suggestions and advice about visiting Las Vegas – check out my other blog posts below – they'll probably be really helpful! Have fun!
Every reason I absolutely adore Las Vegas
The best way to explore The Grand Canyon when staying in Las Vegas
Review and photos: 1923 Bourbon and Burlesque Bar in Las Vegas
Review and photos: The Aria Hotel, Las Vegas
Review and photos: The Foundation Room Bar in Las Vegas
Review and photos: The Wynn Buffet in Las Vegas
Review and photos: The Aria Buffet in Las Vegas