For an idyllic travel, are you checking out for places where you can have bustling life, amazing picturesque views, charming nightlife and tantalising nature? It's a dream of every traveller to voyage over such a spot which simply keeps the journey ongoing.
Visiting a place for the first time always give birth to undecided feelings in the heart. We continue guessing about the location by seeing and listening from others. However, the reality about the country or city comes in front when you truly experience it.
For your expedition, the place Peru is the ultimate location in western South America for your trip. Wasting time on considering multiple places simply flickers you, leading to no solution. Just for your vacations, we have this awesome location where you can experience travel paradise.
Peru is generally rich in natural resources and dip in culture along with some breath-taking activities.
Machu Picchu
Machu Picchu is one of the most fascinating places, visiting it, you cannot dare to ignore. Its meaning is "Old Mountain" built in the 15th century. This place is known as the iconic ruins of an Inca citadel.
In general terms, it has been considered as a mysterious place and had many discoveries in its time. Coming on Machu Picchu trip would not only let you know about the roots of this place; however, you can try hiking and explore the beauty of Machu Picchu. You can have religious touch by paying a visit to Huayana Picchu, Putucusi and Temple of the Moon.
This place will allure you the most if you plan to explore something out of the shell in the trip. You will uncover the new things which you don't know earlier. Most of the tourists visit Peru and feel like a new place.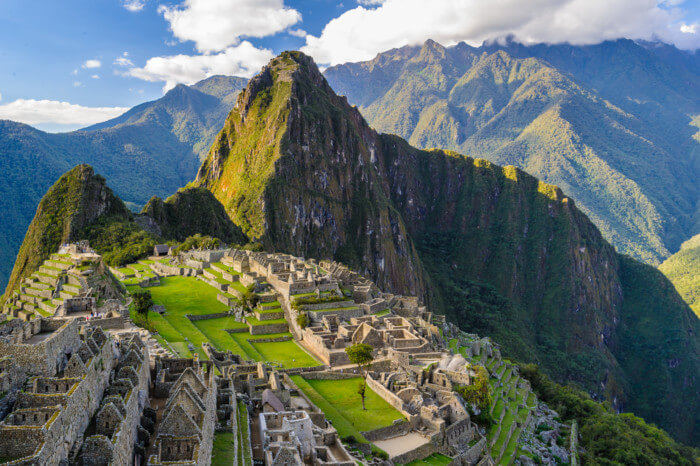 Lima
To travel, one can have multiple options to decide on a place. Wonderful charms all over the globe attract us to see and spend time. Another place to go is Lima, which is the capital of Peru having a lively ambience.
Several tourist flocks here to enjoy Lima sightseeing and to miss it could be a mistake. This city will offer you to have a glimpse of museums, colonial buildings and bars. The colonial centre is preserved, and it has been established as a busy urban city.
To more for your fascination, the world's best cuisine is served in Lima and staying here would definitely make you go wow. The lovers of food can comfortably live here and savour the delicious food.
However, those who are not foodie, they can visit Miraflores district to see adorable part of Lima where sunset point will stun you. The adventure travellers can have at Lima is paragliding, which would not be less than an adrenaline rush.
Holiday-makers can visit here as wanderlust or for a family gateway to enjoy something which they have never seen earlier. Make sure after reaching Lima; you enjoy a walking tour to discover new expedition.
As we visit a lot of bustling places around the cities every day, to escape from all and have some fun, reaching Lima will take you to pool paradise where a day spent worth it. A perfect way to chill and relax from hustling life.
Being on a voyage at Lima, how can you miss to travel to Larcomar, which exert a pull on thousands of travellers. For the shopping spree, get into this shopping mall and buy some souvenirs and native gifts for your home country friends. After that, get along with your family for a bicycle tour and explore the city in your way.
Maras
How do you feel when something new is itself in search of you? Well, the place named Maras in Peru where you come across Maras Salt Mines from Incan times. It is a must visit tourist destination located in the Sacred Valley of Incas.
Over time, this place is becoming even more popular among travellers, and they visit here to see Salt Mines and picturesque landscapes. Without wasting your much precious time, get to know the things which you don't know and improve your knowledge with this.
Be a part of this unique history adventure trip, if planning to fly with Air Canada, get the Air Canada flight information and book it right away for your trip. It is a must to keep yourself well-versed with some of the IMPORTANT TRAVELLING THINGS as well.
For a hassle-free air booking, consider Faremart.com, a reliable user-friendly platform providing satisfactory air travel services and assistance, having access to more than 450 airlines which operate globally.
Colca Canyon
For all the dare lovers and trippers, being in Peru and ignoring Colca Canyon is a no way deal. It is merely a mesmerising location, and you can witness the biggest bird of Earth, condors flying here all around. Being here in Colca Canyon is no less than an opportunity for the voyager.
After a breath-taking view of bird watching, go for water rafting at Colca River where you can have the real world of you. You will reinvigorate your energies at Colca Canyon. Then, for some adrenaline admirers, how about going for mountain biking?
To charge your batteries in Peru, go for mountain biking and experience the excitement. As the fun will not end here, hiking can be the next activity where you can go in steep canyons and a beautiful view in combination.
If you desire to have new actions, hang out in the oasis, go for thermal baths or the fascinating adventure can be horseback riding. All the things will challenge you, but even give a fantastic chance to be in an exotic place.
Take a journey to a new level!
Cordillera Blanca
Every place has its charm allowing exploring it to the fullest. Trip to Peru would even be somehow the same where history is blended with adventure. To surprise the adventure seekers, Cordillera Blanca bestows an opportunity for hiking. The mountains here are quite exciting to test your skills.
Not only this, but tourists can even enjoy biking, trekking, and if you are for a long time in Peru, then don't go without learning mountaineering. A course, to let you know, the deep downs of enjoyable activities with the magnificent scenic views.
Let's make life an adventure here!
Sacred Valley
Being in a historical country where diverse colours welcome you, with that, Sacred valley is a limitless serene place in Incas where the culture and history is the main attraction. At present, it is a favourite tourist spot where they taste the Inca tradition and have an insight into Peruvian history.
To deem of the things you can do and see in the sacred valley is Ollantaytambo Ruins where you can witness the preserved history of fight. After that, to get in colours of art and Peru culture, visit the town of Chinchero where they weave the art of textiles being inherited from the Incas. This is a fantastic experience which itinerants get being here.
Have you heard about sky lodge adventure suites? You might have always lived in luxury suites and expensive ones. But if you want something uncommon, it makes another reason for you to be in the sacred valley where air suspended hotels are available for daring explorers.
It is a mishmash of adventure activity and stays. To be in this suspended hotel, tourists have to move here by zip line to reach, and almost 12 members can stay in this. So, it can be an amazing chance for family fun living above 1300 feet from the ground.
To Sum Up the Peru Journey
So, what are your plans? Are you convinced about such an amazing place? As every spot is unique in its way, the same goes for Peru.
Going to a single location every time may at certain places do not bring that appeal which by visiting a new area. Therefore, just don't spend time on pondering over this and rush for Peru. It is seriously a fun place where new features are there to unearth.
Besides, Peru holds the taste of every individual be it an adventure, history seeker, foodie, and shopping lovers. In a trip of a few days, you will make your journey supreme and will visit here to search more.
Therefore, if the backpacks are ready and shoes are tied, what is left? Get up and be a part of Peru aboriginals!