Lake Tahoe is a perfect place for a vacation in the summer and winter. There are lots of things to do here such as water sports in the summer and snowboarding in the winter.
This article describes 10 ways to have a great experience at the picturesque mountain lake that shares a border with both California and Nevada.
1# Stay Somewhere Nice:
Splash out and stay at one of the nice vacation rentals in Lake Tahoe. You have a few options to choose from and almost everywhere has a great view. It's always nice to get a luxurious place that overlooks the wonderful scenery. Imagine waking up in the morning and overlooking that lake?
2# Visit Both Sides of the Lake:
Lake Tahoe is in California and Nevada States and both have very different vibes. In fact, you're going to have a completely different experience depending on which side you're at. The Californian side is more about relaxing and enjoying the tranquillity. Nevada, on the other hand, has several casinos and lots of entertainment at all hours of the day and night. If you have the time, visit both sides.
3# Rent a Bicycle:
Cycling is a great form of exercise. It's even better when you're cycling around the lake and admiring the scenery. Renting a bike is possible and a highly enjoyable activity during the warmer months of the year. And, it's one of the nicest ways to get around and enjoy the nature. Remember to take plenty of food and water and to pack your camera.
4# Take a Road Trip:
If cycling isn't your thing or you're spending a week or so at Lake Tahoe, you could take a mini-road trip. There are several towns around the side of the lake, some are pretty and quaint whereas others have a more historical charm. It's nice to get out and see some of these places if you have the chance to.
Read more about Lake Tahoe: The Ultimate Lake Tahoe Winter Guide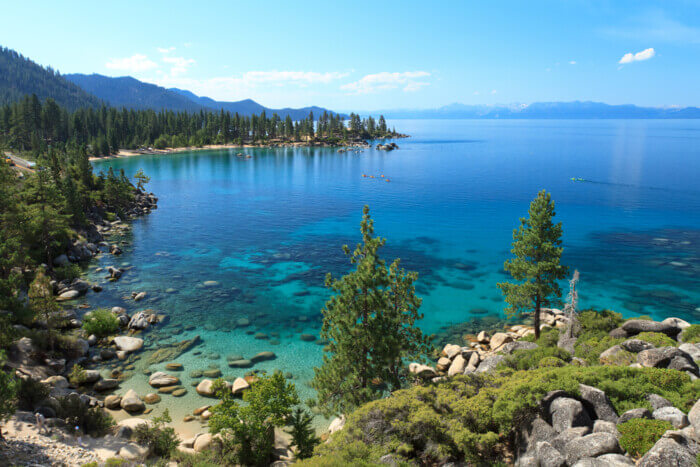 5# Go Jet Skiing:
Jet Skiing is a fun sport for anyone at any age. During the summer months when the temperature is warmer, water sports are popular. You can rent a jet ski and spend the afternoon on the lake. Or, why not enjoy some of the other water sports including kayaking or sailing. There are lots of places to rent equipment. If this isn't your thing, swimming in the lake is also a popular thing to do.
6# See the Sunset:
The sunset at Lake Tahoe is one of the most beautiful ones that I've ever seen. You could be sat on your balcony enjoying a glass of wine with a loved one or sat near the edge of the water with a cold beer. Wherever you are, the sunset in this picturesque setting is unforgettable. The sunrise is also worth seeing if you can wake up early enough.
7# Go Hiking:
The Lake is surrounded by mountains. Some have trails and you can hike all day every day if you want to. Some tourists come here just so that they can go hiking. If you do, stay on designated trails and remember to tell someone where you're going. Another quick thing to point out is that there are bears living in the mountains. Though most are harmless and will only approach you if you're carrying food.
Read more about Lake Tahoe: The best dog-friendly beaches in Lake Tahoe
8# Have a Break From Technology:
We're addicted to technology in our daily lives. The phone, tablet, and laptop. Sometimes we need to use them to check our emails for work or use our phone for business calls. Go technology free and recuperate.
9# Come Back in a Different Season:
If you have the time or are living near the lake, it's a good idea to return again when the season changes. The views, atmosphere and activities change with the seasons. Spring or fall is a perfect time if you want to avoid the crowds and still have pleasant weather. Summer is for water sports and the skiers come after the first snow. The scenery is also very different and you're certain to have a different experience.
Read more about Lake Tahoe: 15 restaurants open on Christmas Day in Lake Tahoe
10# Learn How to Ski:
When we were children, some us dreamed of gliding down those slopes on skis or looking as cool as the snowboarders. But, as we age, dreams start to fade. Why not reignite that youthful passion and return again and learn how to ski or snowboard? It's a perfect place around January when the snow has accumulated and there are plenty of places to learn and rent equipment. You can also bring the family to enjoy the winter wonderland.
Read more about Lake Tahoe: 18 things to do in Incline Village, Lake Tahoe
The Takeaway Message:
If you're planning a trip to Lake Tahoe this year, follow some of my suggestions to make sure you have the best trip. It's not essential to do everything, especially if you're on a time budget. Use these 10 ways to help you plan your perfect trip to this beautiful lake.