Are you looking for a list of the top art galleries in Chicago? Keep reading!
If you're looking for the best art galleries in Chicago, you might be surprised just how many there are to choose from. Here's just a few of the city's key stats:
Over 40 museums
Over 200 theatres
Over 200 independent art galleries
Over 7000 restaurants
It's pretty clear that Chicago is a true home of the arts, so while you're in the city it's a perfect chance to explore some of the best art galleries in Chicago.
If you're visiting Chicago and you want to make sure you hitting up the city's best and most unmissable art galleries…
Hopefully this list of the best art galleries in Chicago will help you decide where you should be checking out.
---
The Art Institute of Chicago
First up on my list of art galleries in Chicago….A classic choice, and a huge tourist spot in the city for those wanting to learn more about the arts, the Art Institute of Chicago is a must-see.
This is more 'museum' than gallery, but we had to include it. This is one of the most iconic buildings in the city, and it's always busy and full of art enthusiasts.
You'll find some BIG names here, as well as smaller installations and exhibitions for upcoming artists.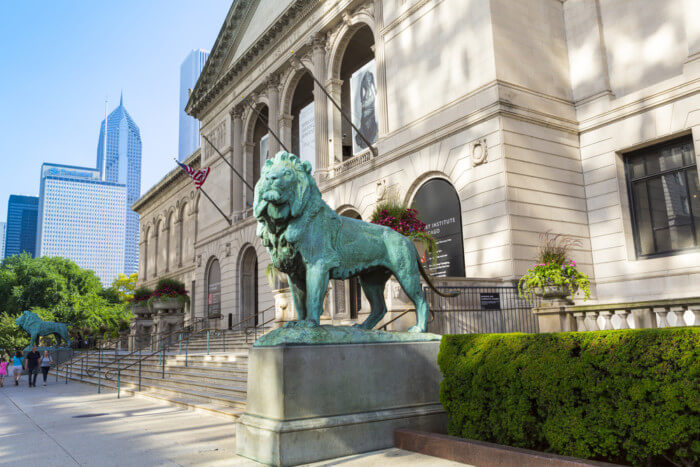 ---
Zolla / Lieberman Gallery
Next on my list of top art galleries in Chicago, this is one of the oldest galleries in Chicago.
The Zolla / Lieberman Gallery has stood by the river for years, it's timeless collection showcases art from all periods and from all across the world.
With no main theme instead choosing to embrace the whole of the art world, its varied and truly inspiring works are a must see, as one of the Top 5 art galleries in Chicago.
Read more about visiting Chicago: 28 fun things to do alone in Chicago!
---
Intuit: The Centre for Intuitive and Outsider Art
Intuit is a little different and that's why I love it. It is actually the only nonprofit organisation in the USA that is fully devoted to 'outsider' art and self taught art.
It's more than just an art gallery or museum – it's somewhere to come for inspiration, and it's actually used a lot by art students in the city of Chicago.
There are over 1000 works of art here, so plenty to see! It's a perfect addition to my list of art galleries in Chicago.
---
Carl Hammer Gallery
Next on my list of top art galleries in Chicago, The Carl Hammer Gallery. The creator original focused on the Outsider Art movement, work created by self-taught artists with no industry connections.
But now the gallery is designed to challenge the mind and ideas of identity and the human condition to struggle and grapple with themes of identity and being, now with more well-known artist being incorporated its collection to challenge the heart and mind. 
---
Corbett vs. Dempsey
Corbett vs. Dempsey Gallery is (as the name suggests) a private gallery owned by Corbett and Dempsey.
This gallery is interesting because it's a gallery that directly reflect the interests of the owners and directors.
So for example, you'll find works of art surrounding topics such as jazz and film. It's a pretty diverse selection and feels really personal too.
---
Roots & Culture Contemporary Art Centre
Roots & Culture are all about emerging talent and growing art community. If you want to find the next 'big thing' in the art world, this might be the place to look.
By focussing on emerging talent, this place always feels fresh and modern – and the exhibitions are interesting, challenging and spontaneous.
Artists are both local, and international – so there's always something new to discover.
---
The Richard Gray Gallery
On the edge of Lake Michigan, is the Richard Gray Gallery – and this is my next pick for top art galleries in Chicago.
Showcasing the biggest names in this century art, and one of the most diverse galleries,  Aboriginal Australian and African artists, Established in 1963, the Richard Gray Gallery became one of the most famous and popular galleries in Chicago, The gallery's founder Richard Gray, passed away in 2018. 
---
Monique Meloche Gallery
The founder of Monique Meloche gallery focuses on emerging artists, and prides its foundation on conceptually challenging installations with an emphasis on curatorial and institutional outreach.
The founder herself  Monique Meloche worked at many other major museums, exhibitions and galleries before hosting her first exhibition in her own home, aptly titled Homewrecker. 
---
Rhona Hoffman Gallery
The Rhona Hoffman Gallery was founded in 1976 (although under a different name back then) and it's a melting pot for artists and works of art that reflect the social and political climate of the years they were created.
Generally these pieces tend to be international contemporary art, and the media is completely mixed. You'll find artists such as Jenny Holzer, Sylvia Plimack Mangold, Barbara Kruger and Cindy Sherman.
---
Vertical Gallery
Probably my favourite on this list of top art galleries in Chicago… The Vertical Gallery. The Vertical Gallery was, voted  "Chicago's premier urban-contemporary art gallery," the Vertical Gallery is a showcase of urban and unorthodox arts.
It was founded by Patrick Hull, who fostered an artistic community to rival anywhere else in the world.  featuring monthly exhibits which spotlight of street art, graffiti, urban environments, graphic design, pop culture and illustration.
Vertical has been the starting point for many contemporary and unusual artists, often as a premier place to start a career who have gone on to exhibit at renowned museums and galleries across the globe.
---
Hyde Park Art Centre
I like the Hyde Park Art Centre because it's main goal is to make art more approachable and accessible to people in all walks of life.
I love this, and I love the diverse and ever-changing selection of artists they choose to exhibit. But it's not just exhibitions here, there is also a big focus on community programming, classes and courses too.
---
Andrew Rafacz Gallery
Andrew Rafacz Gallery was originally established in 2004 as the Bucket Rider Gallery. However, a change of name and a decade (or so) later and this place is now known as Andrew Rafacz.
This incredible mixed-media gallery features a wide variety of work, from both emerging artists and established artists.
You'll find video exhibitions, photography exhibitions as well as painting, sculpture and other media types. It's a bit of a mixing pot of style – but if you like that, you'll love it here.