---
If you're starting out with hiking, you're probably on the look out for the best hiking essentials!
---
Are you looking for information on hiking essentials for your first big backpacking adventure?
If you're just starting out in the hiking and backpacking world, then you may not know where to start when it comes to compiling a gear list and it's a great idea to do some research on the hiking essentials.
As you may already know, having the right gear for hiking is paramount!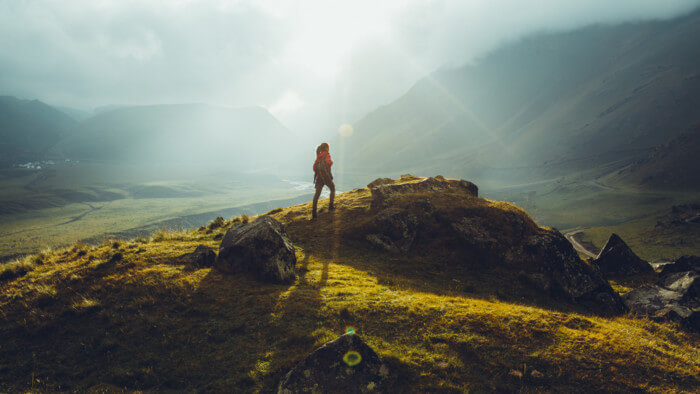 Having the right backpacking essentials for your trip is important for your enjoyment, but also for your safety.
In addition to this, as a beginner it can be difficult to know exactly where to buy your hiking essentials from, and which brands are best.
As not everyone has the time to head to outdoor specialist stores to test out that air mattress or portable stove, a handy list with tried and tested products can be a godsend for beginners. 
So, there's really no reason to be overwhelmed, for we've created this handy list that should get you started.
With enough gear to get you well and truly set up in the wilderness, you'll be more than covered for any backpacking scenario that comes your way!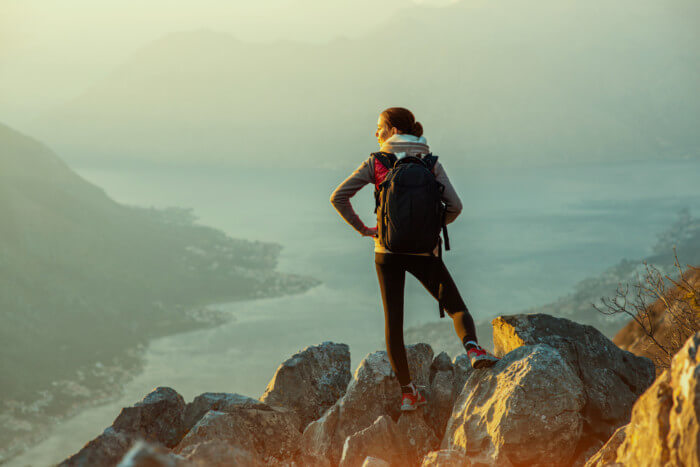 ---
A great backpack
---
First on my list of hiking essentials, it's a backpack. Now, this one may seem obvious, but it's so important!
A good backpack should distribute weight evenly, taking the load off the knees and hips as you walk. Depending on how long you're going to be hiking for, the size of the pack you'll require is going to vary.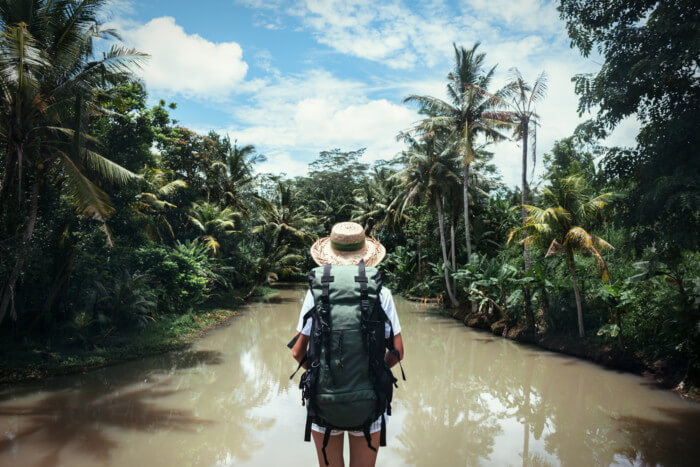 A 40 to 50 litre pack is usually a good size for a beginner, as it will allow you to cram in everything you need without the risk of overpacking.
Though good quality packs can get a bit pricey, but we've found this great one from North Face that is just perfect.
Not too expensive for those that are just starting out, North Face's quality backpack is sure to live up to your expectations. 
Here are some great options to look into that I recommend…
---
Sleeping Bag
---
If you're heading out for longer than a day, you'll need some form of sleeping gear. If there's anything that you should buy as a backpacker that's staying the night in the woods, then a sleeping bag is it.
After all, a chilly night in the woods is enough to put off even the most experienced backpackers, so don't let the cold ruin an otherwise perfect trip! Of course this had to make my list of hiking essentials.
Though I recommend checking the average temperature for the time of year in which you'll be backpacking, I suggest a backpack that's rated at around 10 degrees Fahrenheit or below for winter backpacking.
---
Sleeping pad
---
Though this isn't a compulsory item for beginner backpackers, we've put this on our beginner backpacking gear guide as it just adds an extra level of comfort for you at the end of a long day.
If you're staying out in the wilderness overnight, a sleeping pad will help you sleep so much better, so it's certainly one of my hiking essentials.
A sleeping pad is essentially a portable mattress, and this one from Big Agnes is particularly good, as it's extremely light and transportable.
In addition to its comfort levels, this pad also offers a reflective heat barrier which will keep backpackers warm in adverse weather. 
---
Head lamp
---
Next on my list of hiking essentials, it's a headlamp. If you're heading out in the dark or are looking to find your way to camp at the end of a long day, then you'll need a headlamp.
Not only is a headlamp a crucial piece of gear for beginner backpackers in terms of navigation, but they're key for safety.
If you're planning to properly night hike, then be sure to get a lamp that has a red-light mode. After all, the last thing you want to do is startle any wildlife!
This Actik Core Headlamp from Petzl is highly versatile and is a great choice for beginner backpackers that want a sturdy and reliable piece of equipment that won't give them too much grief on the operational side. 
Read more about hiking in the USA: 15 Amazing Places for Hiking in South Carolina
---
Footwear
---
A good pair of shoes is a crucial addition to this list of hiking essentials. It is a crucial item that should be on any beginner backpacker's gear guide.
I love KEEN shows for hiking, they're so comfy, really well priced, and practically indestructible.
Extremely waterproof and practically indestructible, these breathable little wonders will keep your feet comfortable all day long.
---
Layers
---
Again, though this may go without saying, you'll want to pack some decent hiking clothing, most importantly, layers! Layers are definitely a key item for hiking essentials, staying warm is so important.
Simple cotton clothing usually works best, so for your basic t-shirts, leggings, and trousers, you'll want to stick to classic cotton where you can.
It's always worth having a back-up choice of clothing (incase you get wet or rained on) especially for items like socks!
A shell jacket is also an extremely useful item of clothing to pack in case the weather suddenly turns chilly. Usually available in extremely lightweight styles, you'll have no issue fitting these jackets into your pack.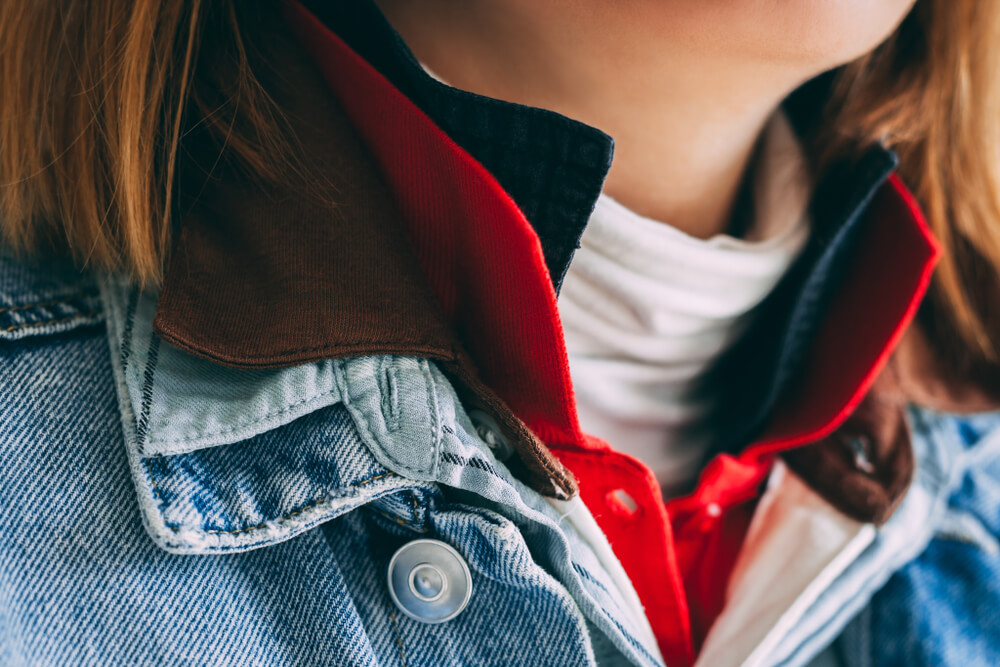 ---
Hiking snacks
Though this one may seem obvious, you'll want to bring enough food in your pack and hiking snacks are a key hiking essentials.
A general rule is around 2lbs of food per person per day of your trip. If possible, pack some extra grub in case something goes wrong or someone's just feeling slightly more peckish that day. 
If you only plan on taking day-long hikes… then make sure you have packed hiking snacks! Hiking snacks are so important (I've actually written a list of my favourite hiking snacks here).
Look out for portable snacks, snacks that are high calorie and high energy, and snacks that taste great!
Some of my favourite choices are these…
---
Water bottle
Next up on my list of hiking essentials, it's a water bottle. Packing a great water bottle is a key hiking essential that you won't want to forget!
Water is such an important part of hiking, and having a constant supply is super crucial to staying safe, healthy and hydrated (here's how to know how much you should be drinking).
I'd recommend taking an insulted bottle (with chilled water inside) so your water stays nice and cool throughout your hike. It'll really help with feeling refreshed during the hike.
These are some of my favourite hiking essentials water bottles…
---
A pee funnel
---
This option for hiking essentials is just for the women reading… But if you're hiking long-distance, you might want to look into buying a pee funnel.
A pee funnel basically helps women pee standing up (so you can avoid the awkward squatting and bare bum situation).
There are lots of options out there for pee funnels and lots of reasons to buy one (click here to read more about pee funnels). I've found some options below that are available on Amazon.
---
Emergency blanket
Small emergency blankets are really great as they can be used in emergencies, and also for picnics, or just keeping warm in general (so they're a key hiking essentials to take with you).
There are lots of great options on Amazon, and they're great additions to your backpacking kits because they're super small and can be folded up really tiny – so don't take up much space in your pack.
Having an emergency blanket is really important for those unexpected cold winds, or can even save your life if you get stranded or stuck somewhere overnight without planning.
---
Insect repellent
---
Next up on my list of hiking essentials, it's insect repellent. It obviously depends on where you plan on hiking, but most places will have the potential for bug bites.
If you've ever had a mozzie bite / ant bites… you'll know how annoying it can be the next day and also how painful!
If you know the area you're planning to hike to has insects and bugs (a quick google will usually let you know if it's something to worry about) then you'll definitely want to have some bug repellent packed and ready.
Read more about hiking in the USA: Fun things to do in Watkins Glen, NY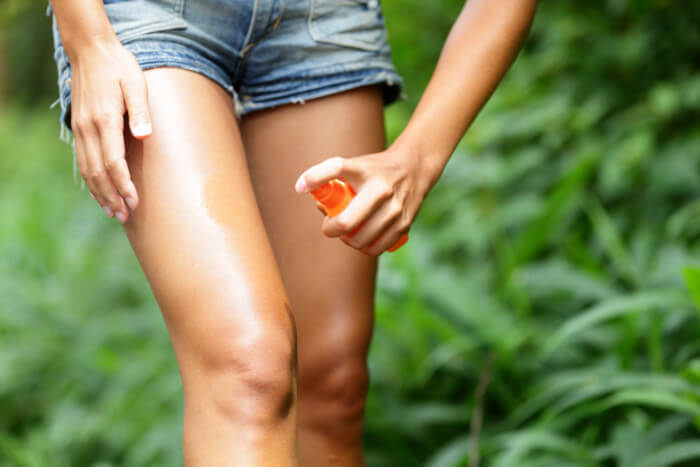 ---
Duct tape
There's a qupte in life, which is… "if it can't be fixed with duct tape, then it can't be fixed". Now, I don't know if it applies to EVERYTHING, but there's no doubting that duct tape is one of the most useful things on the planet. Duct tape is a must-have for this list of hiking essentials.
Duct tape can be used for all sorts of things in an emergency context. It can help you make shelter, help you make a raft, help you cook food, help you carry things, help you cover wounds. It's generally, just a useful thing to have around.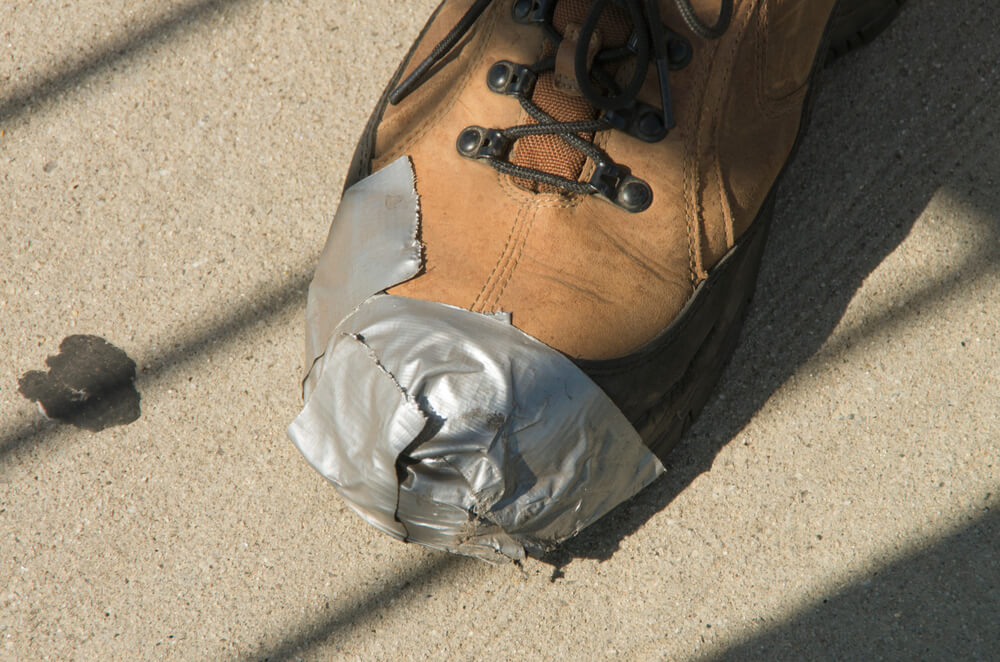 ---
Solar charger
---
Next on my list of hiking essentials, it's a solar charger. A solar charger is a really simple addition to your kit, that can make a big difference in an emergency, or if you get lost / stranded without power. It's also a really useful thing to have in general – because if you're anything like me, you'll easily drain your phone battery because you take so many photos and video of the scenery!
Having a solar charger helps with this, and it'll make sure you can keep your phone fully charged when you need it.
Read more about hiking in the USA: 10 beautiful waterfalls near Seattle!
---
First aid kit
---
Next on my list of hiking essentials, it's a first aid kit! You don't want to set off into the wilderness without having a first aid kit 0 because the chances of finding a hospital or Dr's nearby might be slim to none.
Having a first aid kit in your backpack is the best way to ensure you can deal with a lot of unlucky situations, and whilst you might not ever need to use your first aid kit, you'll feel better knowing it's there waiting for you if anything goes wrong.
You can assemble a first aid kit yourself by purchasing all the different things separately (tips for doing that are here), but if you want to take the easy route, just buy a pre-made first aid kit (options below).
---
Water filter
In an ideal world, no one wouold ever run out of water when hiking, but it does sometimes happen, and it is a possibility. Finding a personal water filter system you can easily pack into your bag is therefore a pretty smart move (and they're quite affordable too).
Having one of these in your backpack as one of your hiking essentials, means you can find water from natural sources, and ensure they're filtered and safe to drink, which can prevent infection or illness.
---
Hopefully this list of hiking essentials has been useful!
---
Hiking should be such an amazing experience, and packing these hiking essentials will make sure you enjoy your time away in nature. Ticking off your hiking essentials is a really important part of enjoying your hiking experience, so make sure you stock up on your hiking essentials before you go.