---
Are you looking for the best romantic dates ideas in Paris? You've come to the right place, this article is full of amazing date ideas in the city.
---
You've been dreaming of Paris, the glittering Eiffel Tower, the moonlit alleyways, the rooftops bars and beautiful balconies overlooking cobbled streets. Coming up with romantic date ideas in Paris isn't difficult… It is the city of love after all!
Date night in Paris is like the ultimate date night, so you'll want to make sure you plan to impress. So if you're looking for romantic date ideas in Paris, we've compiled a handy list for you.
We've sorted out the logistics so that you can just focus on living la vie romantique! 
---
Stroll along the Canal St Martin
---
This is where the cool cats hang out, so you'll be sure to impress by looking like you know what you're doing.
This gorgeous stretch of city is full of bars and canal-side dining spots, so you can enjoy the sparkling green gold waters of the canal whatever your budget.
For extra romance, though, we recommend heading to Liberté (a boulangerie) and picking up a black sesame baguette, popping into the fromagerie across the road, and picking up a bottle of wine.
In the summer, the banks of the canal are overflowing with people drinking in the sun.
---
Visit a Parc
---
Paris is a surprisingly green city, with lots of gorgeous parks in the centre.
You could stroll along the manicured gardens of the Tuileries, or see the octagonal lake of the Jardin du Luxembourg, but in our opinion there are two parks that blow these ones out of the water for romance.
As far as romantic date ideas in Paris go, these parks are prime spots! ON a rainy day, check out some things to do in Paris in the rain!
Parc des Buttes Chaumant
Nestled in the 19th, this park is absolutely stunning and makes a perfect romantic date idea in Paris. With wide reaching views from the pinnacle of its hill, waterfalls, gently rolling hills and sharp climbs you'll be sure to find romance here, too. There's also a couple of gorgeous bars, and a photo booth for peak date cuteness. 
Parc Monceau
Straddling the 8th and 17th arrondissements, this leafy park is dotted with what look like roman ruins. There's a carousel and a crêperie in the centre, and many grassy slopes to lean against in romantic reverie. You can spend the day strolling around the beautiful park and enjoying the vibes and the views.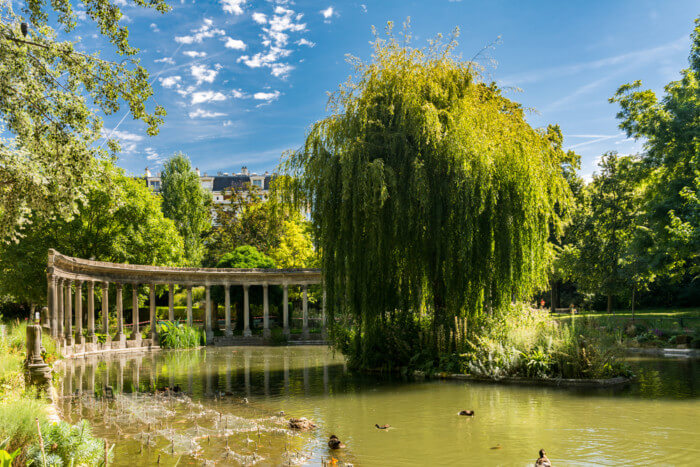 ---
Spend a night at the Moulin Rouge
---
The Moulin Rouge is a classic date night in Paris, it's such a fun night out and it's the kind of thing you'll always remember too! The Moulin Rouge is truly world-renowned and world-famous, so watching this cabaret in Paris is a one-of-a-kind date night idea. A recommend booking tickets with a Champagne package too – just to add to the glitz and romance!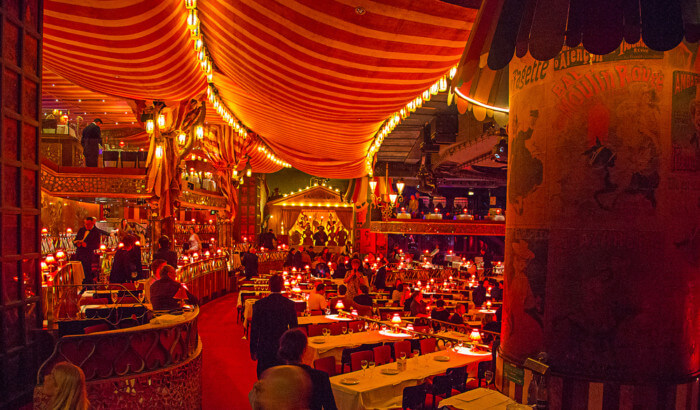 ---
Get falafel in le Marais
---
Next on my list of romantic date ideas in Paris, it's Le Marais. Le Marais is one of Paris' most romantic areas to potter around, with gorgeous little books and pretty cafes to while away the time with your beloved. It's the perfect kind of day date in Paris, where you can just hold hands, stroll around and soak in the atmosphere. 
Le Marais is Paris' Jewish Quarter, and is also home to a thriving LGBTQ+ community – but the pièce de résistance that it has to offer is the falafel. You can go upmarket or low, but I would highly recommend both Mi va Mi, and Miznon as the pinnacle of falafel. Impress your date with the knowledge of the best ones! If you're both foodies, then this is a great romantic date ideas in Paris for you!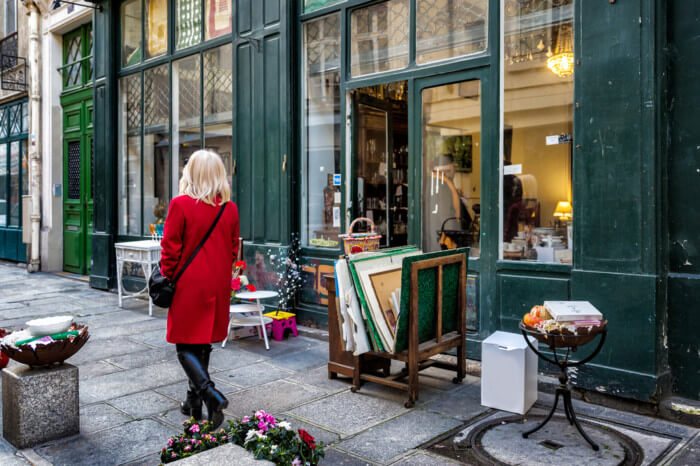 ---
Take a river cruise
---
What better way to admire the iconic sights of Paris than on a river cruise? It's such a beautiful way to spend an hour or two, and it's a perfect romantic date idea in Paris. This is a date idea you can do at pretty much any time of the day – you could enjoy croissants and coffee on a morning river cruise, or take an evening river cruise and see the city lights flickering.
If you really want to step up the romance, then a 3-course dinner river cruise is a truly wonderful way to spend the evening and treat your loved one to a super special night out.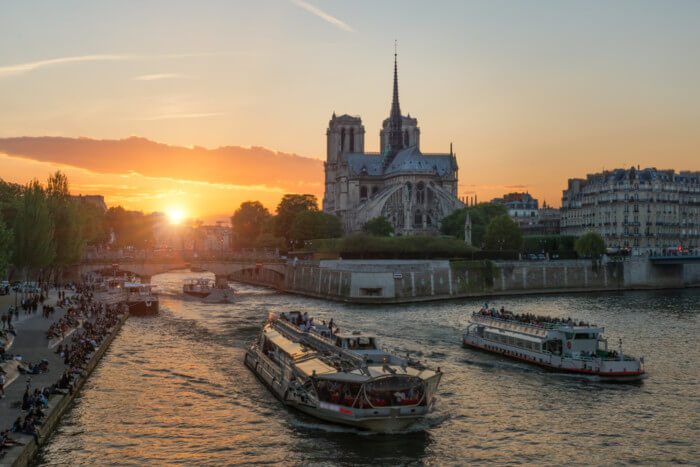 ---
Picnic in Places des Vosges
---
Next on my list of romantic date ideas in Paris, it's a picnic location called Places des Vosges! Also in le Marais, but providing you with amazing architectural eye candy, and a bucket load of people watching. There's also la Maison de Victor Hugo really close by so you can show off your cultural prowess too.
In terms of what to get for a picnic, there's plenty of shops nearby, but it'd you want to have the sandwich of your dreams stop by le Marché des enfants rouge for a sandwich at Miam Miam (French for Yum Yum), and take it with you to Place des Voges.  They're the best sandwiches around so you won't regret it!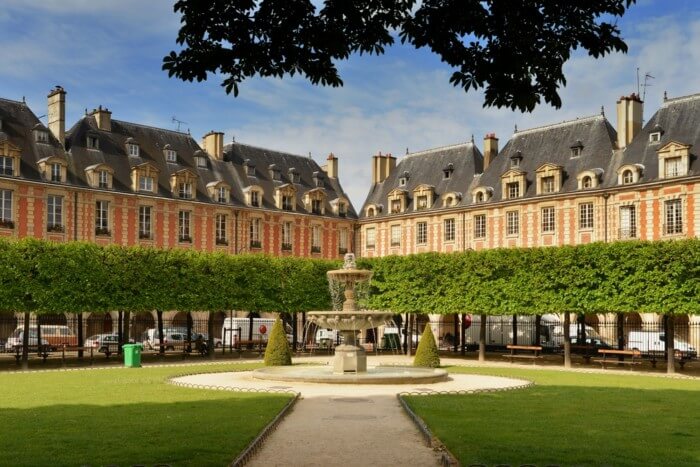 ---
Château de Versailles
---
We couldn't write a list of romantic date ideas in Paris without including Château de Versailles. Spend the date wandering around this gorgeous chateau, with the stunning hall of mirrors inside and the series of cascading fountains outside you'll be sure to enjoy a gorgeous time. For extra romance points rent a boat and row down the Grand canal, it's a picture-perfect opportunity for some cute couple selfies!
Be sure to pack a baguette and a bottle so that you don't get too peckish on board! You can book tickets to enter the Chateau here.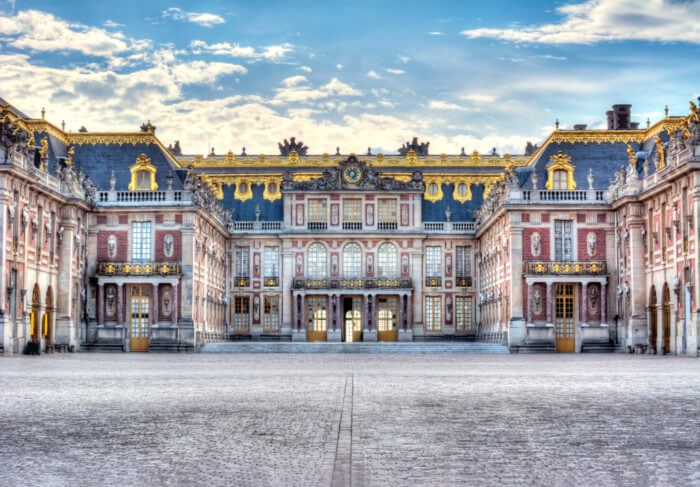 ---
Spend the day at Disneyland Paris
---
OK, so this might not be everyone's idea of a romantic date, for for many people a day trip to Disneyland is the ideal romantic surprise date! Disneyland Paris is located a short train ride from central Paris, and it's such a fun and lively day out. If your other-half is a Disney fan, this is an ideal date idea for you! You can book tickets to Disneyland Paris by clicking here.
---
La Coulée Vert
---
This is an abandoned train line running from Bastille to Vincennes, and is now a verdant green space running like an artery from the woods to the city centre. It's a 5km trail running through elevated gardens and tree lined cycle paths, and with views of the city to die for from some places! If your idea of a romantic date in Paris is lovely a stroll through a quiet part of the city, soaking in some lovely views – then this is for you. This is one of the best romantic dates ideas in Paris. 
---
Catch a vintage movie
---
Next on my list of romantic date ideas in Paris, catch a movie! Perfect for bad weather days, or winter dates, this is one of my favourite romantic date ideas in Paris.
Le Grand Action is one of the city's oldest cinemas, and whilst taking a date to the movies is pretty basic, you've dialled it up a little by being in Paris, and now you're taking them to a CLASSIC movie institution on the left bank? It's already a hundred times more romantic, which definitely makes it one of the most romantic date ideas in Paris.
---
Take a private tour of the city
---
Next on my list of romantic date ideas in Paris, it's a private (and super cute / romantic) tour of the city in an open-top car! I absolutely ADORE this date idea, I think it's fun, memorable and quirky too! The tour lasts between 2-3 hours and you'll get to explore the city of Paris and see all the best bits of Paris with your special someone! This is one of the best romantic date ideas in Paris, and definitely one of my favourite too!
You can book this tour by clicking here.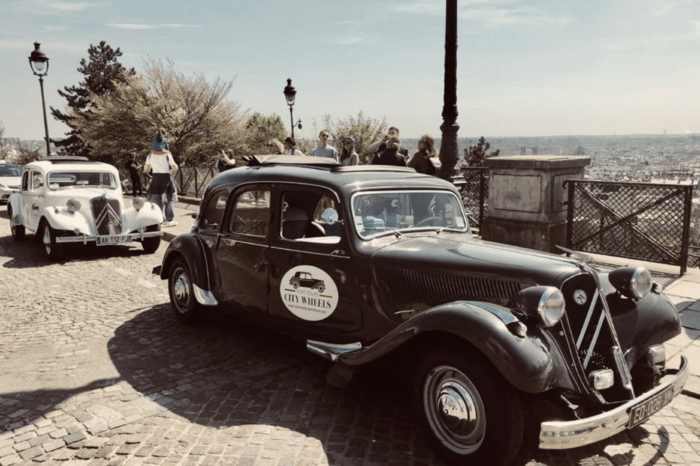 ---
Sainte-Chapelle
---
Next up on our list of romantic date ideas in Paris is one of Paris' most gorgeous sights, and the inside is enough to take your date's breath away – it's Sainte-Chapelle. It might seem a bit weird to take a date to church (cue the Hozier soundtrack) but this is one of those moments you'll be talking about for a long time.
If you thought Paris' cathedrals were limited to the Notre Dame and the Sacré Cœur, then you were wrong. The stained glass is kaleidoscopic, and in the evenings that can hold evensong concerts.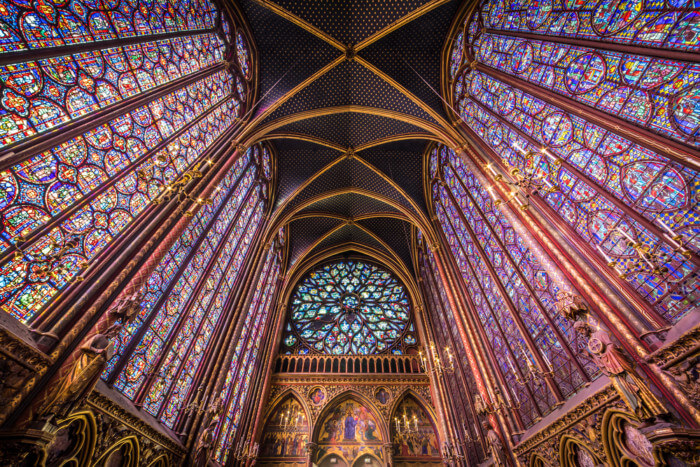 ---
Septime La Cave
---
Amazing wines and small plates – just the kind of place someone would expect to be taken for dinner in Paris, but with a little bit of edge to keep things exciting. It's the annex of the next door Septkme, a Michelin starred restaurant that, if you fancied splashing the cash, would be a much more upmarket date idea – though the two are equally romantic! A perfect option for romantic date ideas in Paris. 
---
Get literary at La Belle Hortense
---
A little tucked away nook in le Marais, La Belle Hortense is a hidden gem in Paris where you can settle down with a book and a glass of wine, or share a carafe whilst attending a reading. Check on their website to see who's reading in order to get something in your language of choice! Actually, if literature is your thing and you want to explore more romantic bookshops, then checking out this post for a guide on literary Paris.
---
Explore Montmartre
---
Next on my list of romantic date ideas in Paris, it Montmartre. Montmartre is one of Paris's most beautiful neighbourhoods and it deserves to be explored and enjoyed! If you want a romantic date exploring the cobbled streets of Paris, sipped coffee and stumbling across boutique shops – then Montmartre is going to be your new favourite neighbourhood.
I love this romantic immersive tour of Montmartre, it guides you through the area so you can discover the most romantic places in Montmartre, which include Sacre Couer, Moulin Rouge, and Maison Rose.
---
Take a cooking class together
---
Last on my list of romantic dates in Paris, it's a cooking class. Paris is known for it's incredible food, and the cuisine in Paris is world famous! If you want to explore the foodie side of Paris and take a cooking class together, I think it makes the perfect romantic date idea in Paris!
You can learn some new skills together, and then enjoy some delicious food together too. My favourite cooking class in Paris is this one. 
---
I hope this list of romantic date ideas in Paris has given you some great inspiration for planning the perfect date in Paris! Let me know in the comments which option you ended up going for on your date night / date day!