Want some tips for taking your next cruise? Hopefully these tips will help!
Relaxing on a cruise ship is as comforting as it sounds, and it's a great way to unwind from your daily stresses. Swap any worries for fun activities and beautiful views – that's what cruising is all about!
If you're planning to cruise for the first time – then this post will give you some helpful ideas and tips for making the most of your cruise and help ensure everything goes smoothly!
Here's a cheat sheet to help you get the most out of your time on the floating home: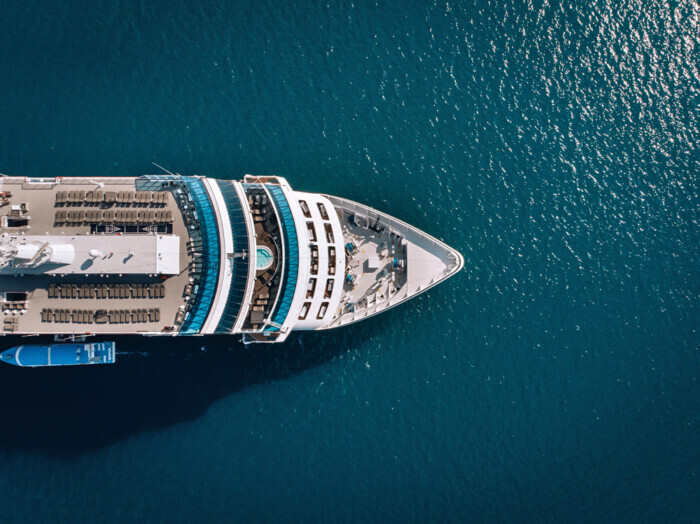 ---
Seek interior cabins to save money
If you are looking for more comfort during a long voyage, balconies and ocean-view cabins will serve you right, and they really add something to the cruising experience too. However, interior rooms on cruise ships are almost always discounted, yet you still have access to the top and seafront decks and the amenities of the ship.  
Also, you experience reduced chances of falling seasick while getting a better sleeping environment at sundown. So, if money-saving is top of your priority list, an interior cabin is a great idea.
---
Upper decks offer easy access to amenities
Most people spend most of their time at the casino and outdoor decks located in the middle and top. The upper decks are closest to the two sections, thereby offering the easiest access to both. It means less time waiting for the elevators, and less time walking between different areas of the ships.
Remember – cruise ships are HUGE! It could take 15-20 minutes to walk from one part to another!
---
Avoid the noisy hallways
The essence of being on a cruise ship is mainly to relax and enjoy the waters. You may consider selecting the least noisy hallway when selecting the cabin to take.
Usually, this benefit is maximum in the cabins located towards the ends of the hallways. So, if you can secure a room away from the elevators and towards the end of the hallways, that'll mean you get a quieter experience.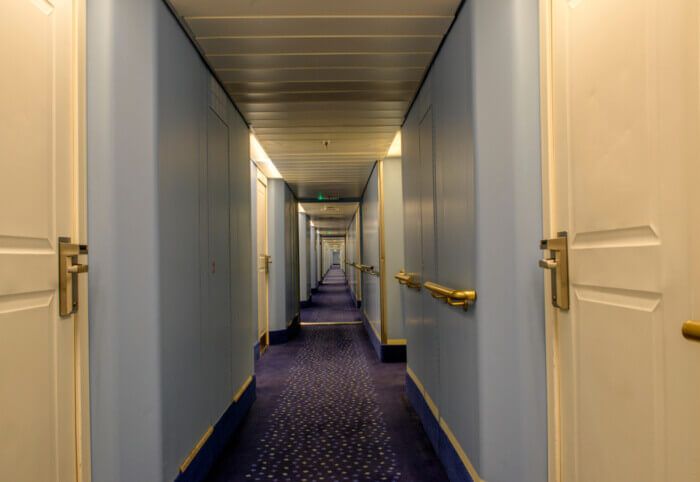 ---
Select bed and room setup in advance
It is best to request online a bed that is separate from that of your travel companion for healthy sleep. Ships also offer large beds for couples to ensure maximum comfort.
---
Carry magnetic hooks for hanging items
Being in a metallic structure, magnetic hooks will save you the trouble of hanging caps, clothes, backpacks, and other items. You can get these pretty cheap on websites like Amazon – and it's a great little hack for freeing up space in your cabin!
Read more about cruising: Which destinations are best experienced on a small cruise ship?
---
Order is key
Organizing the cabin is a surefire way of making the rather small cabins more spacious. It is especially important if you are sharing it with others. Packing cubes are highly recommended, as is any solution that's going to help keep the small cabin space organized and tolerable!
A cruise ship cabin can start to feel small after a few days, so any little things that help with organizing are a big plus!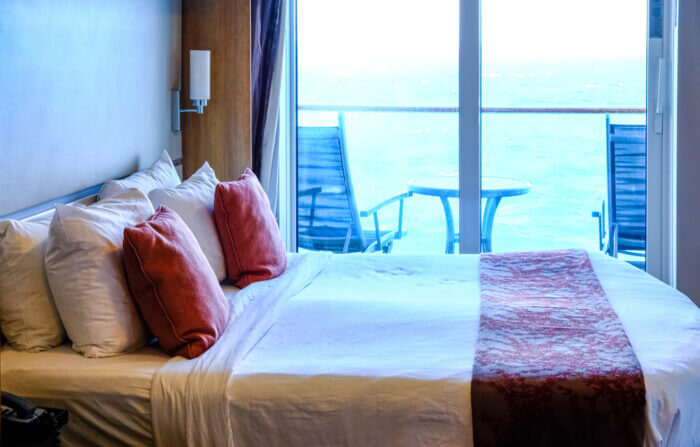 ---
Avoid hanging things on the balcony
 If you have got some wet clothes or a towel, the worst idea would be to hang them on the balcony. Gutsy breezes may blow them into the ocean, never to be recovered. Normalize hanging them in cabins, and you won't end up losing your valuables halfway through the trip!
---
Keep the balcony door shut
Talking of wind, do not let the temptation to get fresh air through the open door tempt you. If windstorms occur undetected, they can wreak havoc to your cabin.
Instead of keeping the door open, get a breath of fresh air on the deck above, or head out onto the balcony (closing the doors behind you!).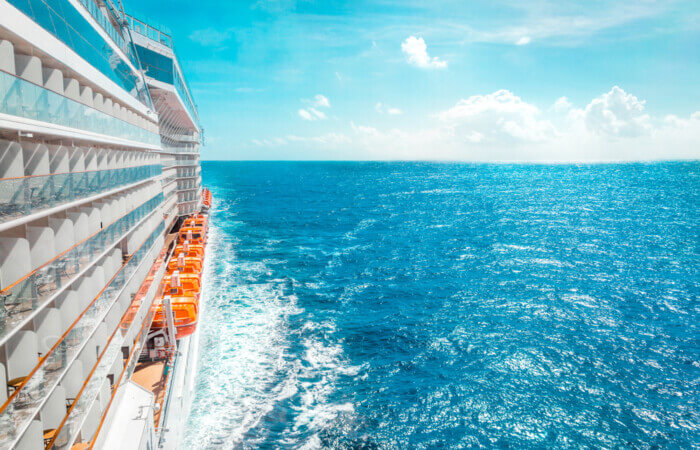 ---
Avoid creating strong smells
You do not wish to disturb several other people in their cabins with the strong smell of fried eggs or incense. Instead of such, it is advisable to use essential oils or spray to make your room fragrant.
---
Minimize expectations about the cabin TV
You may want to keep your expectations about TV minimal. There are limited channels in the middle of the ocean. If you do want evening entertainment in the way of TV shows and movies, then the cruise ship cinema could be a fantastic option, or bringing along an iPad loaded up with your favorite picks is a great idea too!
Some nights you do just want to relax in bed with a movie – so it's a nice idea to plan ahead and have some of the favorite movies ready and downloaded.
---
Do not smoke while on the balcony or in the cabin
Smoking and vaping are not allowed in cabins and on balconies. They are fire hazards and a nuisance to some people. However, you may do so at designated areas of the cruise ship as advised by the crew. 
---
Expect small bathing spaces
Despite its luxuries, a cruise ship's showering space is limited to a few feet. However, flexible shower hoses minimize this limitation. If you're struggling with the small shower spaces, you could make sure you bring some 2-in-1 cosmetics with you, so they don't take up as much room in the shower cubicle!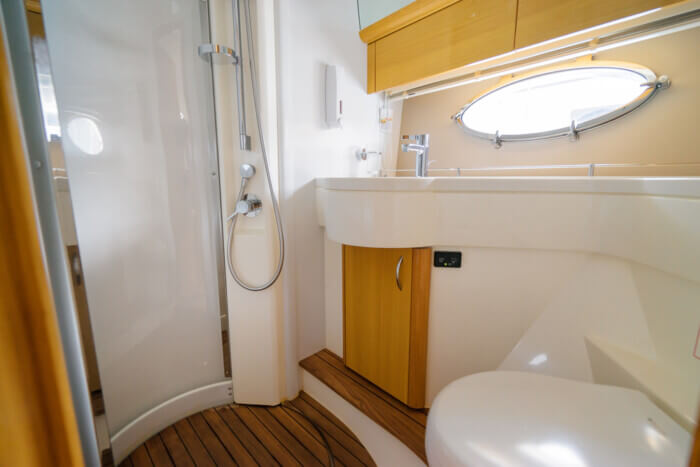 ---
You need not carry hairdryers
A hairdryer is part of each cabins' package. Eliminate it from the packing list to minimize excess bulk, and it'll free up so much space in your case! Same goes for towels too!
---
Store luggage under the bed
Your suitcases are best under the bed where they do not take up too much space or endanger your feet when moving at night. The last thing you want is to trip over your suitcase on the way to the toilet!
---
Maximize room light
 Some cabins, especially the interior ones, are very dark at night. You may consider keeping the television or light on at night to avoid injurious accidents.
---
You have the option of a virtual balcony
Some cruise ships allow passengers to watch the ocean in real-time through virtual balconies. You may consider projecting the balcony view if you are in an interior cabin. It can make a lovely atmosphere in the interior cabins and almost trick you into believing you've got a porthole or balcoony!
---
Carry approved power bars
Some power bars with several USBs and outlets are not allowed onboard a cruise ship. To avoid confiscation, carry a cruise-approved power bar. 
Read more about cruising: The pros and cons of cruising vs all-inclusive
---
Expect some disturbance from the attendants
Cabin stewards may come into your cabin in the morning or evening to ensure your comfort. Be sure to expect them twice each day. If you have any questions or queries, they are great people to ask!
---
Carry a portable fan
If staying in an interior cabin, you may need a portable fan to create a breeze since there is no ceiling fan. It's a great idea to pack on of these in your luggage, as it can help make you much more comfortable on the warmer day!
---
Carry something to mark your cabin
Being new, you may confuse your cabin with hundreds of others lined up on the cruise. You may consider taking posting an easily recognizable decoration on your door. Lots of people use a photo or a magnet, or a postcard.
---
A cruise ship is a home away from home!
A cruise ship is a home away from home that has its style of uniqueness that sets it apart from Airbnb, tourist camps, or the ordinary hotel room. The relatively small size, section-dependent comfort, special rules, and being on a floating space, amongst other features, suggest its distinctiveness.
To maximize your sailing trip, get luggage handlers to take care of your baggage shipping and delivery needs. Modernized luggage delivery services make every trip, holiday, and vacation a joy by taking care of the essential bit of planning a trip.
You get to enjoy door-to-door baggage delivery, thus freeing your trip to focus on the fun aspects. It is important to utilize these tips for maximum comfort.