If you've never considered Cuba as a holiday destination – now might be the time. Cuba has a mix of everything, and is considered a truly magical holiday destination from those who've been there. People who visit Cuba come back raving about it, so we wanted to know more about what makes Cuba so magical and why people are so in love with this destination.
If you want sun, sand, music, culture and great food – then you might have found your next destination! Cuba is like a gorgeous movie-set, the buildings are all beautifully coloured, with vintage cars lining the streets, and effortlessly stylish culture and surroundings.
Here are some things you'll love about visiting:
Outdoor Living
Cuba is geared towards outdoor living, and it's no surprise with the beautiful weather and climate! You'll spend lots of time outdoors when in Cuba, enjoying the sunshine, drinking cocktails, catching some sunshine!
The Colours
There's nowhere quite as bright and as colourful as Cuba! The streets are lined with stunning multi-coloured houses and buildings, and it is a photographers dream to walk the streets and enjoy the view!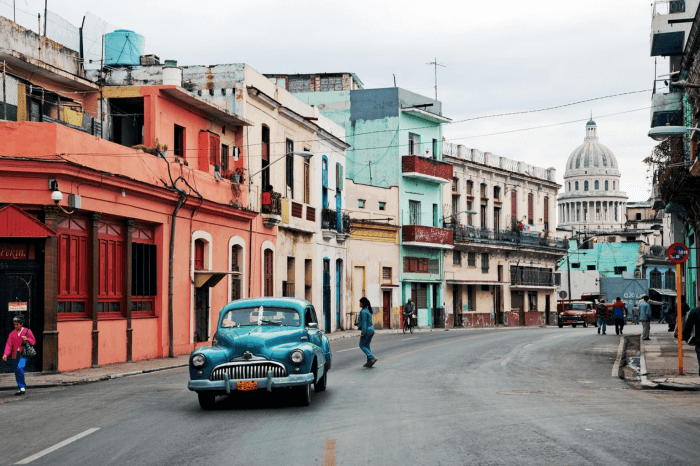 The People
Visiting a new culture is exciting, and meeting the people and the locals is always a highlight. The locals in Cuba are really friendly, and you'll love socialising in the local bars and restaurants!
The Shopping
If you love shopping, you're going to love Cuba. There are loads of shops to explore, selling all sorts of items. From clothes (dresses, shoes, sarongs, skirts, etc) to accessories (bags, sunglasses, jewellery, etc). So if you want to drop until you drop – this is the place to do it!
The History
Cuba has loads of history along it's colourful streets, so taking a walk around with your camera and exploring the history of Cuba is such a gorgeous way to spend the day. Explore all the historical sights and sounds and get to know Cuba even better!
Vintage Cars
If you love vintage cars you're going to adore Cuba! You'll see them all around the city and most owners will be happy for you take a photo or two! We love the super bright colours of the cars in contrast against the bright beautiful buildings – they make for ideal Instagram snaps!
The Live Music
Cuba is a really musical place, and you'll be able to experience music all over. Street music and musical bars are really fun – and will really add to your experience of Cuba. Don't be afraid to dance and enjoy yourself, that's what Cuba is all about! Visit the famous club La Zorra y El Cuervo, or just stop into the Association of Cuban Writers and Artists, and you might find a Grammy winner on the sax.
Learn to Salsa
Whilst you're enjoying the music, maybe take a dance lesson (or two!) and try getting into the rhythm of things! Don't be intimidated by the experts and their crazy-good moves, it's all about getting involved and experiencing it for yourself! You'll love it, we promise!