In times of pandemic when so many destinations and beautiful places remain inaccessible by tourists, it's so good to dream of luxury vacations, island getaways, and magnificent vistas of the rolling ocean. Stop dreaming and book the sea trip of your lifetime right now!
Yacht cruises afford more flexibility, privacy, and long coveted tranquility than any other type of travel. It's no wonder that so many people opt in favor of cruise and yacht vacations. Fully crewed charters like Ragnaryacht help tourists immerse themselves in the atmosphere of a fascinating voyage full of adventures.
Undiscovered destinations, breathtaking and thrilling shore tours, gratitudes, and much more await you on board of cruising yachts. So, if you're still hesitant as to whether a yacht charter is the best fit for your next vacation, read today's article and watch your doubts evaporate.  
Authentic Atmosphere
It would be meaningless to deny the fact that there is a particular charm, inherent glamour about yacht cruises, which is one of the main reasons why so many people romanticize yachting and sea travels. There is nothing like feeling the invigorating sea breeze on your skin, sunning yourself on the snow-white deck, and diving into the ocean depths, intimidating yet so intriguing and mesmerizing.
Every day you spend on the yacht is never like the previous one. Despite the atmosphere of calmness and tranquility that reigns on board cruise ships, you can be rest assured you'll never get bored on your voyage. Popping in the ocean for a refreshing swim, private shore tours, exploring undeveloped or uninhabited islands, drinking cocktails at sunset, and having romantic candle light dinners at the dock… You can do it all during the voyage of your lifetime.   
---
Flexible Itineraries
Most often than not, vacationers can actively participate in planning their cruise itineraries. There are tours, excursions, and other types of entertainment to cater to your every need. What's more, you can take advantage of the fact that catamarans and sailboats can be moored in hard-to-reached coves and bays.
You can kayak to remote sea caves and take in all the fascinating sights a sea trip can offer. You can book a private tour and enjoy a romantic dinner at some hotspot or host a fun barbecue party on a remote island somewhere in the middle of the ocean. 
If you choose the right yacht charter, chances are you'll be able to follow your own island-hopping schedule, play by your own rules, and pass your time as you see fit. You can spend your vacation searching for new adventures, sunning yourself, sipping beverages, soaking up the local culture, or all of the above, the decision is entirely up to you.
No other travel option lets you go wherever you want, whenever you want, with the added benefit of a knowledgeable captain leading way. This is your chance to truly cut-loose, be yourself, and temporarily escape reality. Out here, stress dissolves and bad moods cease to exist.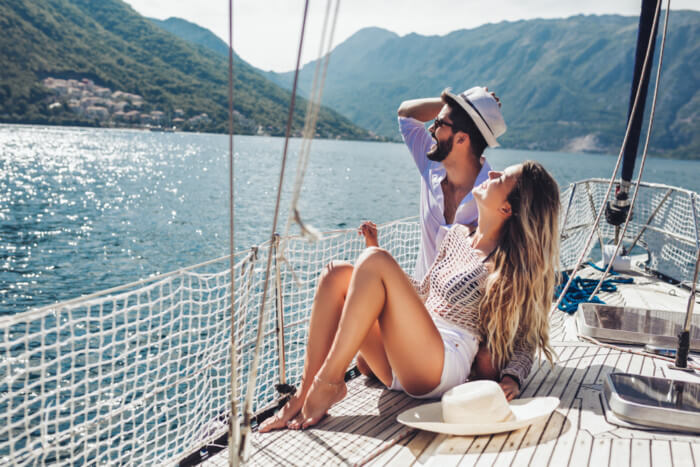 ---
Learning New Skills
Lots of people nurture a dream of learning how to sail. You have a great chance to fulfil it on your cruise. You can learn how to steer, sail a boat, anchor, moor your vessel, and much more. The crew members can readily help you in your sailing and yachting endeavours.
They will answer any questions about tacking, jibing or anything else. Should you require professional sailing lessons, you would be well advised to specify that in your pre-trip preferences.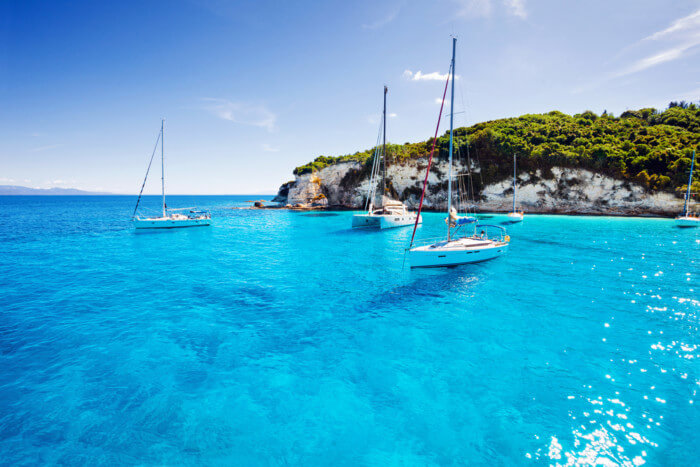 ---
Privacy
Lots of tourists embarking on their vacations pursue one and the same goal – to divert their mind from everyday problems, unwind, and enjoy themselves far away from other representatives of their kind. And nowhere can you avoid annoying gazes, turmoil, and noise better than aboard a cruise liner or yacht.
A yacht, catamaran, or even canoe is an excellent place to relax. It's highly unlikely that you'll confront hordes of curious tourists which are commonplace at popular attractions. The secluded bays, cozy coves, hard-to-reach beaches, and tons of fresh sea air – you'll have it all to yourself.  
---
They are just some of the noteworthy benefits of going on a cruise holiday this summer (or some other season). You'll get lots of unforgettable impressions, acquire new skills, rest from turmoil, clear your mind, and recharge spiritually.