Italy is one of those magical places you end up dreaming about. And once you've been there once, you find yourself planning another trip almost immediately. I'm someone who admittedly prefers long-haul travel over short-haul (give me a new continent and I'm a happy girl) – but Italy is actually one of the only European destinations I keep going back to, and can't get enough of.
I just love it there. So here are a few reasons why….
---
The food!
---
I could write poems and love-songs about the food in Italy. The land of carbs and cheese – it's no wonder the food here is so damn tasty. But it's not just the taste, it's how much love they put into it. It's the flavour combinations passed down through decades of families, the handmade pasta, the perfect pizza dough.
There is so much to eat in Italy, that i find myself filling my plate for breakfast, lunch and dinner and then looking for snacks and desserts – just because there's so much to choose from!
Is anyone else drooling into their laptop right now?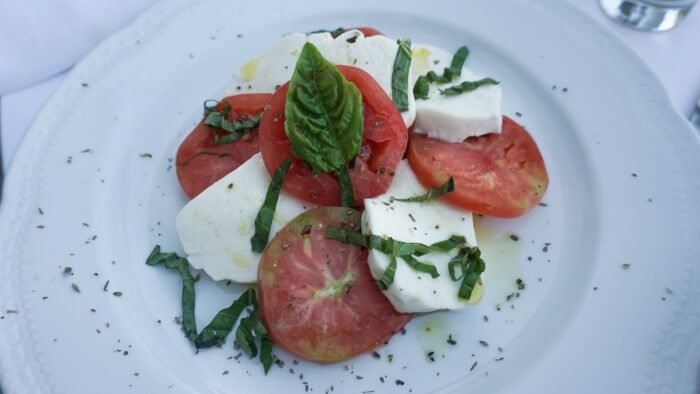 ---
The people
---
They say that "the people make the place" and I just love the Italians.
The people in Italy are friendly, helpful but also funny and witty too. I never feel unwelcome in Italy, there home is your home (even is just for a short while) and everyone is always smiling and happy to see you. Every time I visit, I meet someone who makes a lasting impression on me – and that is so special to me.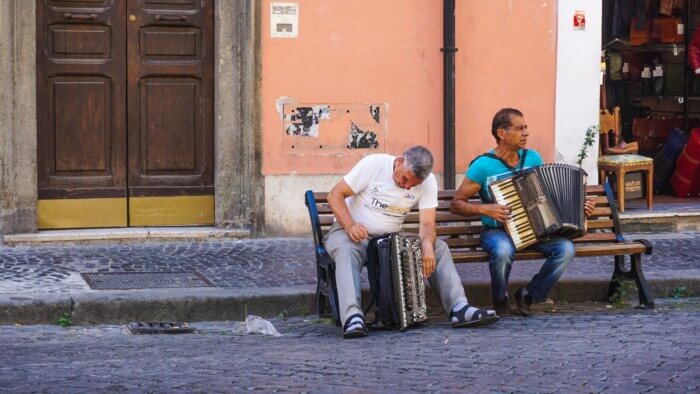 ---
The Hotels
---
I know not every hotel in Italy is amazing – but I'm really lucky to have never had a bad experience. I've stopped at some beautiful hotels in the country and I've found I love the more classic designs, that feel a little older, European and historic. I love stopping in a building with history, or with amazing classic furnishings. It makes me realise I'm on holiday and I'm out of my normal routine.
I mean, where else can you stay in a convent? Italy is just full of those amazing hidden gems and incredible hotels.
---
The coastline
---
I definitely want to see more of the coastline – but what I've seen so far has been stunning. From the canals of Venice to the cascading hills and cliffs of the Amalfi Coast – the water is crystal clear and the views are always to die for. When we drove down the Amalfi Coast I couldn't take my eyes of the view – I love the sparkling glittery ocean when the sun hits it – and seeing people playing the waters below. Literally, it's heaven on earth.
It's one of the most stunning places on earth, and I love it so much.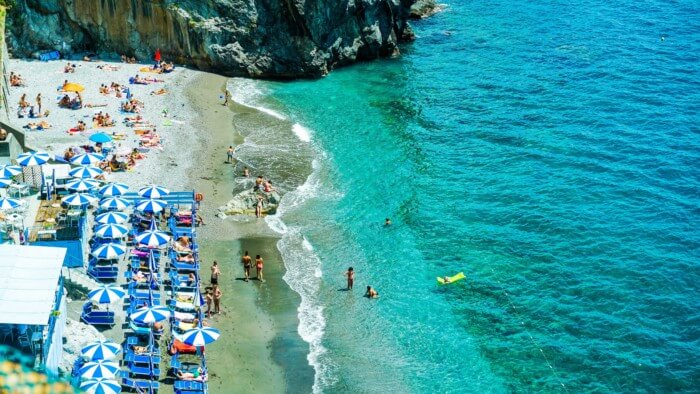 ---
The weather!
---
Last but not least, of course I adore the weather. Compared to the UK, the weather in Italy is as close to perfection as you can get. It's not too hot or humid (compared to SE Asia, for example) but it doesn't get unbearably cold either. In the summertime, it's the perfect holiday destination because of the ideal climate it offers.