Niagara Falls is probably already on your bucket list, but if it isn't, we think it should be. Gorgeous scenery meets great family ideas as well as top tourism, no matter what you're into. Here are the top 5 ideas for Niagara falls, to make sure you plan the best trip imaginable.
1.   Take in the Falls in Style
Anyone can simply look at the gorgeous waters of the falls, but imagine taking them in from the skies? Helicopter tours of the falls are surprisingly reasonable for an experience you would never forget. As part of the tour, you'll see Lake Erie and Lake Ontario, too. A great idea if you're going on a couples holiday and want to take it up a romantic notch or two.
2. Gamble on Fun
You definitely don't want to miss out on a trip to the $1 billion complex which is Fallsview Casino, especially if you're a fan of casinos. They have a 200,000 square foot gaming floor, as well as award winning restaurants, spa treatments, and tons of headlining entertainment in their 1,500 seat theatre. It's a resort holiday you won't forget in a hurry.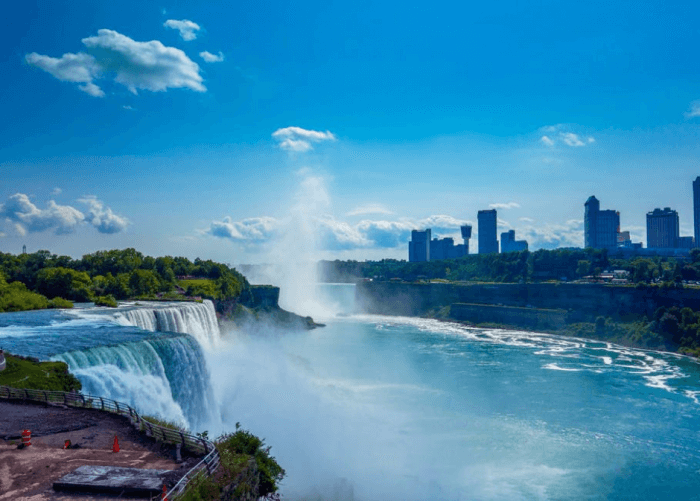 3. Be One with Nature
If animals and nature are your favourite things about getting away, then you absolutely need to get yourselves to the Botanical Gardens, complete with Butterfly Conservatory at Niagara. You can enjoy guided tours of the gardens, including horse and carriage tours over the summer months. The whole space is more than 100 acres, and nature-lovers will want to see every single inch.
4. Take in a Winery
Niagara is almost as famous for its wine as it is for its water, and if you're going to hit one winery, you want it to be Inniskillin, located in Niagara on the Lake. The winery is world-famous for its Icewine, which is made from vine-frozen grapes, which naturally freeze over the exceptionally cold winter months. As they thaw out, the taste and flavour intensify. Head to the tasting bar for your sample.
5. Get Up Close and Personal with the Animals
MarineLand is about a mile away from the falls, and is exactly what it sounds like, a world full of marine life to keep the kids and the adults happy, too. In this park, you'll find the world's largest killer whale habitat, as well as take the opportunity to touch the shales in what's known as Friendship Cove. Don't forget to take in a sea lion or dolphin show, as well as try out the roller-coasters on offer in the theme park area.
Niagara is a destination for all types of people, and has a tourist attraction to fill any need. Whether you're an animal or nature lover, a foodie, a wine lover or a gambling fan, you're sure to find tons more to do than you have time to fill. Just make sure you get to the falls as well while you're in town!