Are you looking for a beautiful travel bullet journal? If so keep reading for our recommendations!
Keeping a travel bullet journal is a beautiful way to remember you trip, and also keep note of those gorgeous memories you're making along the way. Travel bullet journals are quite new to the world of journaling, and if you're new to bullet journalling, you'll love it!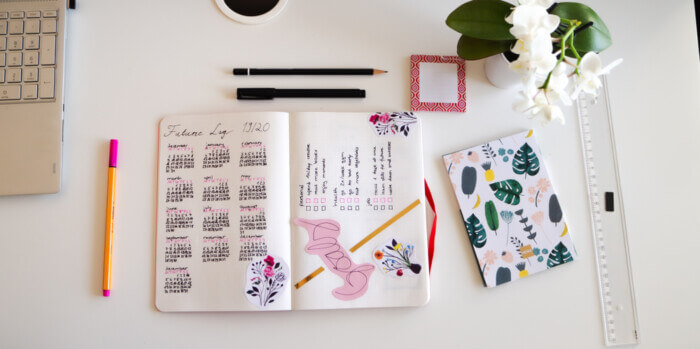 But, what is a travel bullet journal?
Just in case you're new to travel bullet journalling – you might be curious as to what it is, and how it works. How is it different from normal journalling?
Well, bullet journalling is simple – it's the idea that quick and efficient journalling can help coordinate and stream-line your life! Your travel bullet journal can be used as a daily planner, a way to reflect, a way to do written meditation, and even reach personal and professional goals.
Read more about traveling: Why do people travel?
You can organise a bullet journal in many different ways, but I've found these videos really helpful in understanding how it works!
In the context of a travel bullet journal, you'll most likely use your travel bullet journal as a daily log. But you may also use your monthly logs and weekly logs to plan bigger goals and trips and desires.
You'll end up using your travel bullet journal to plan your trip, and also record various events and memories too. By updating your travel bullet journal every day during your trip, you can keep a note of any trips you've done, people you've met, language you've learnt, tours you've taken, tips you discovered, etc. You'll use the short-hand (if you like it and can adapt to it!) which will also make journaling quicker and easily slotted into everyday travel life.
And one of the best things about using a travel bullet journal is that you're far less likely to forget any of the important memories or details! Keeping track of your memories and thoughts each day, means you record all the things that matter.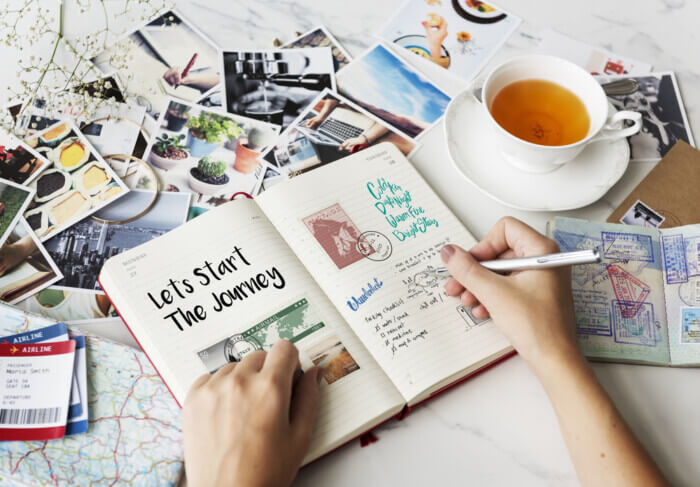 ---
Do I need a special kind of bullet journal if I am using it for travel?
No, the journal itself can be any kind of bullet journal. We've listed some beautiful options below for you to try. The key to having a travel bullet journal is how you use it, not what it looks like.
Saying that, here are some beautiful bullet journals that would work perfectly as a travel bullet journal.
---
What kind of content should I write in my travel bullet journal?
This is the real question to ask yourself! This is how to create a beautiful travel bullet journal! It will vary from person to person, but here are some ways we recommend using a travel bullet journal.
Read more about traveling: What is a workcation?
Before your trip: An essential info section.
Make a two page spread containing all important information about your trip. The departure dates, the flight information, the flight schedules, any car rental info (or train / bus info). Accomodation you're stopping in, itineries for tours or trips, and their websites, phone numbers.
Also make sure you include all confirmation numbers for bookings, your travel insurance details (and policy numbers), as well as any emergency contacts, and any content s from home you might need (like your partner or dog-sitter, or babysitter, etc).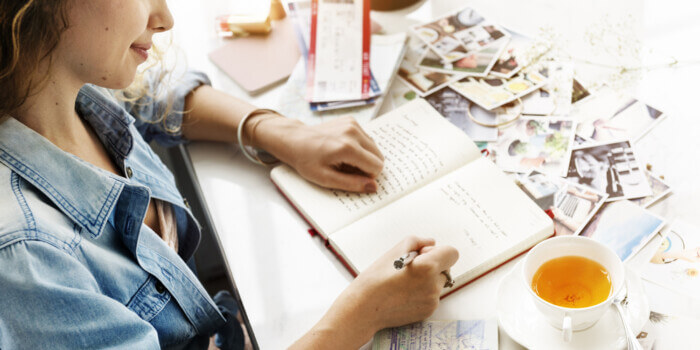 Top tip: photocopy this page of your travel bullet journal and give it to your close friends and family, so they all of this useful information too!
Once you've used your travel bullet journal for the planning stage, don't forget to use it during the trip itself too! I would start by including the following things in your travel bullet journal on your daily log:
Tasks: •
Events: O
Notes (facts, ideas, and observations): —
Priority: *
Inspiration (mantras, insights, and ideas): !
And to break this down even further – that could include the following ideas and information:
Where you are (country, city, hotel, address)
What is the weather like? Describe your environment.
Do you need to complete any tasks? Visas / check-in, tickets printing, etc.
What you did today? (emotions and stand-out moments)
Any regrets today? (Learn from them tomorrow)
Place you'd like to go in the future.
Quotes you've heard
The language you've learnt
Recommendations you've received.
---
Get visual with your travel bullet journal too!
Another tip for using your travel bullet journal, is to get visual with it. Remember, one of the fun things about using a travel bullet journal is that you can get as creative and as visual as you want!
Here are some useful creative tools that can help you create a beautiful and visually pleasing travel bullet journal!
Remember! Bullet journals don't just need to be words and bullet points! You can get experimental with presenting information, don't be afraid to get colourful, draw, sketch and play around with layout!
Read more travel tips: The best anti-theft travel bags
---
Hopefully this post about keeping a travel bullet journal has been useful!
As you can see, keeping a travel bullet journal is so much fun, and it's something that'll help with planning trips, and remembering amazing trips too!