One of my favourite things to discover in a city hotel, is a rooftop pool. In most cities, you just don't expect to get a swimming pool so it always comes as a pleasant surprise when you discover a beautiful pool on the top floor. Here are my favourite rooftop hotels around the world:
Marina Bay Sands Hotel – Singapore 
Probably the most recognisable hotel in the Singapore skyline, the rooftop pool curves around the top floor and offers the most stunning views of the city. It's truly magical and modern, and there's even an amazing bar up there to enjoy too.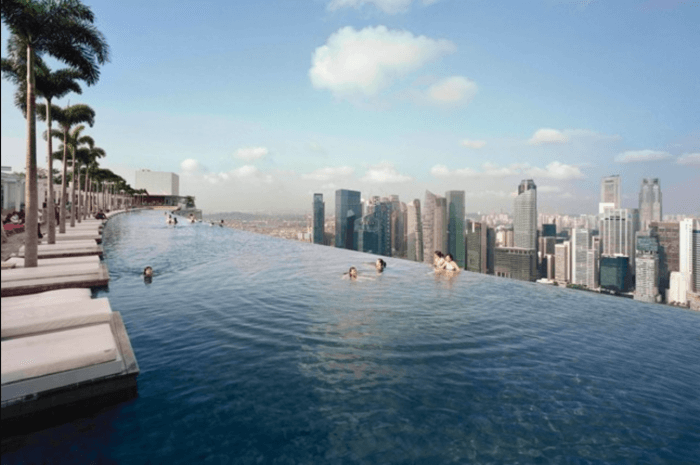 The Berkley Hotel – London 
Located in Knightsbridge in London, this hotel is the last place you'd expect to find an incredible rooftop pool. The hotel itself is very old-style and classic, so the modern rooftop pool on the top floor comes as a complete surprise. I spent the day here last summer (you can buy a spa pass which includes pool access) and it really is amazing.
Vivanta by Taj Goa – Goa

Vivanta by Taj Goa is a magnificent 5-star property in the capital city which has a beautiful pool on the top floor, with panoramic views of the city and surrounding landscapes. It feels like a beautiful spa location, and of course, you'll get amazing weather there too.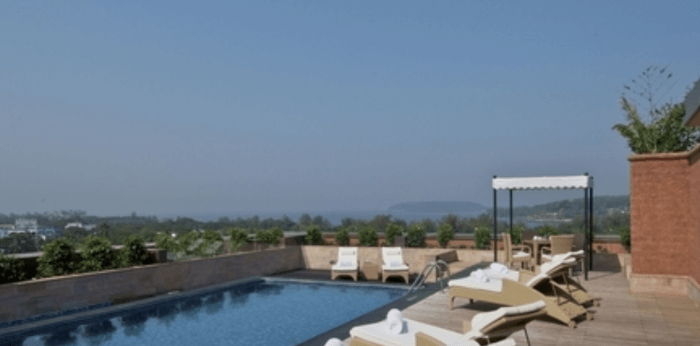 Shoreditch House – London
Located in quirky East London, Shoreditch House is a members club with an amazing rooftop pool. If you're not a member though, booking a room at the hotel will give you access to the pool. There are amazing views over the city and the surrounding skyscrapers, and a restaurant too.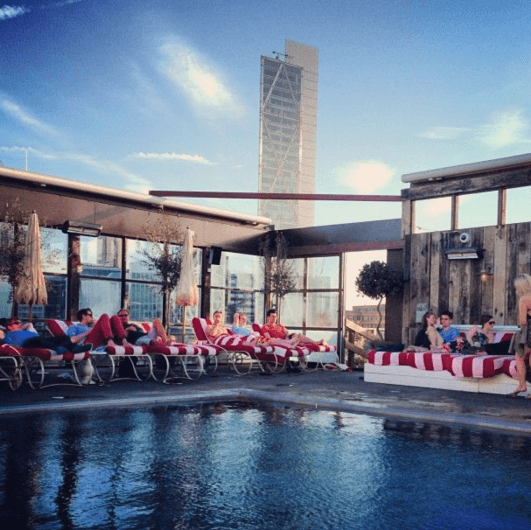 The SkyBar – Kuala Lumpur

This beautiful hotel is one of the most luxury and breathtaking hotels in Kuala Lumpur. I've been lucky enough to stop here and enjoy the facilities and they are so truly beautiful! The indoor rooftop pool has views over the Kuala Lumpur Twin Towers, which is a great view to enjoy whilst doing some swimming!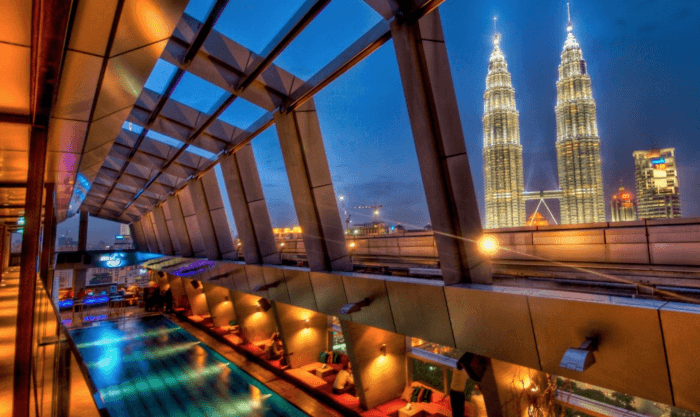 The Park Hyatt – Sydney
This central Sydney hotel has a wonderful swimming pool on the roof with amazing views over the Sydney Opera House, which is definitely a reason to book a visit there! In Sydney when the summer gets super hot, you'll be so glad to have a refreshing pool to dip into!