Are you looking for tips and advice for the perfect girls trip to Lake Tahoe? Keep reading!
Less than an hour from Reno, a Lake Tahoe girls trip is an ideal getaway idea.
Whether you're looking for a skiing trip in winter, or want to simply relax by the lake for a few days in summer, the area is unbeatable for some much-needed rest and relaxation with your girls.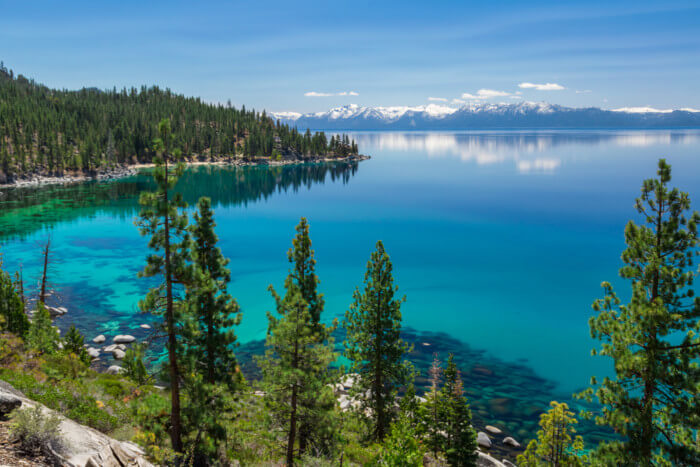 The great thing about Lake Tahoe is that you needn't be restricted by the time of year either. Regardless of whether you're all free in summer or winter, you can either take up paddle-boarding or hit the slopes!
How long should you spend in Lake Tahoe for a girls trip?
It depends on how long you want to relax for, or what kind of girls trip you're planning. Lake Tahoe has numerous areas to explore, with North Lake Tahoe and South Lake Tahoe being the typical splits.
Usually, a 3-day trip is long enough, as it means you can head away for a long weekend, without work commitments or family commitments getting in the way. This is a great time frame for a Lake Tahoe girls trip too, because it's just enough time to cram everything in that you want to do in Lake Tahoe with the girls.
A 3-day trip is more than enough time to see the best of Lake Tahoe, and you're sure to have a holiday to talk about with the girls for years to come.
Winter girls trip in Lake Tahoe
It may be cold out, but that doesn't mean that you need to stay indoors! In winter, South Lake Tahoe is an amazing place to come with the girls to hit the slopes. Some of the best ski resorts in the area include Heavenly, Sierra-at-Tahoe and Kirkwood, but this guide to finding a ski resort in Lake Tahoe is also really useful.
The best way to stay in the area at a reasonable price is to look at Tahoe deals at local hotels, as these can often have discounted lift tickets and equipment rentals than can save you a whole wad of cash!
Due to the nature of the tourism industry in the area, many hotels will offer great savings for a weekend ski getaway.
Read more: The Ultimate Lake Tahoe Winter Guide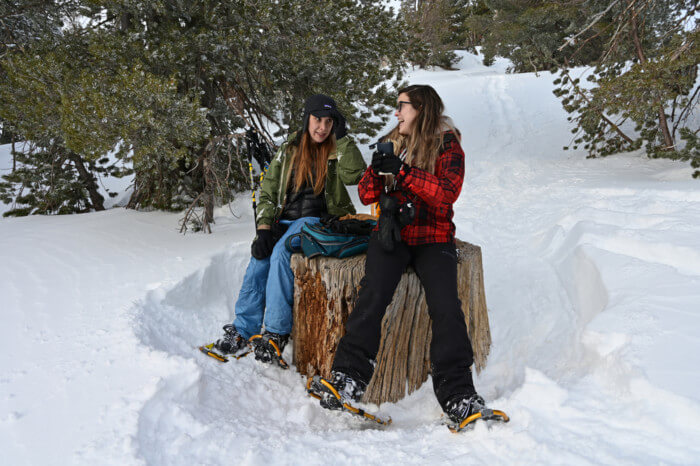 When you're not hitting the slopes, South Lake Tahoe offers some amazing shopping opportunities.
Heavenly Village offers ice-skating which is always a lark for girlfriends all over the world and the snow-covered trails nearby are great spots to grab a photo for posterity!
You can genuinely dedicate a whole day of your trip to just exploring the surrounding area during winter, and it's such a stunning place to just 'be'.
Now, we feel that a skiing holiday isn't truly complete without the good ol' Après Ski experience. If you're heading to Lake Tahoe during the winter, make sure you head to the spa with the girls to relax, rejuvenate and work out any sore muscles that may have reared their ugly heads during your time on the slopes.
With numerous spas around Lake Tahoe that offer amazing packages and treatment that will leave you feeling absolutely refreshed as you guys head home.
Read more about Lake Tahoe: 18 things to do in Incline Village, Lake Tahoe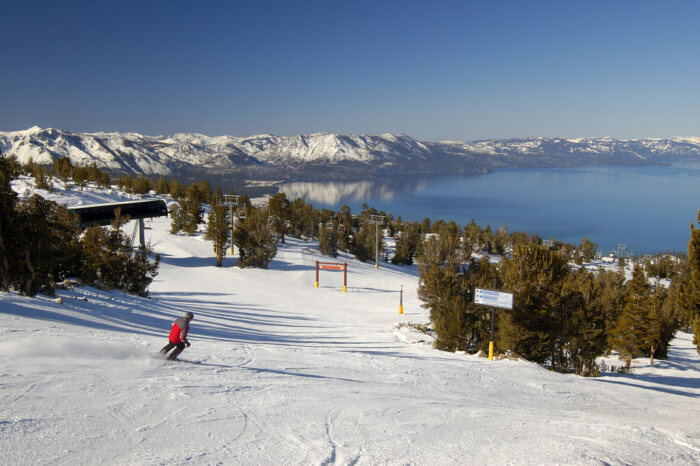 Summertime girls trip in Lake Tahoe
So if you're visiting lake Tahoe for your girls trip in summer, then this is the part of this Lake Tahoe girls trip guide for you. As things warm up, you'll want to move away from skiing and towards lake hangouts and summer fun.
Obviously, visiting in summertime will require some time on the lake, so pack your bikinis, sunscreen, and sunshades for this one! From sunbathing on the beach to renting a boat for skiing, there are so many things to do in Lake Tahoe during the summer.
Renting a kayak is an extremely popular choice for a Lake Tahoe girls trip, as it allows for some great bonding time whilst seeing the area's beautiful waters. 
Read more about visiting Nevada: 30 fun things to do in Reno, Nevada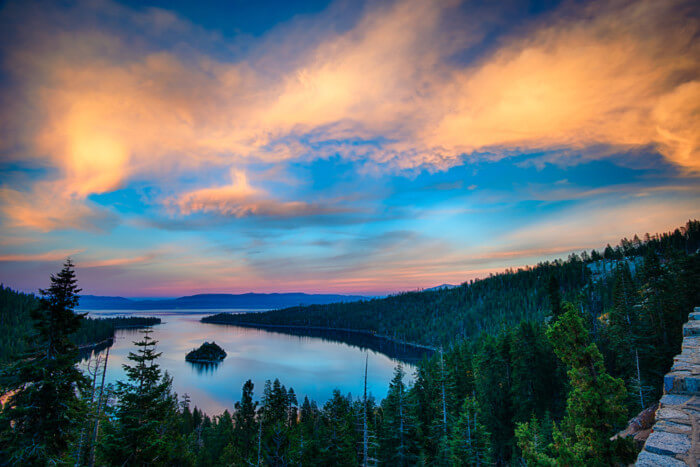 When you're not on the water, you can spend your time checking out the spectacular views from the area's rocks and mountains.
Hiking and mountain biking are both extremely popular choices for visitors doing a Lake Tahoe girls trip, and there are trails for numerous ability levels that will get your hearts pumping. For a day of difficult hiking, check out the 9.5-mile trail that leads to Mount Tallac.
Though it's a tiring trek, the views from the top are truly unparalleled, and is the perfect place to get that amazing group shot. If you guys are searching for a less exhausting hike, then the Rubicon Trail is a better shout. With equally stunning views of the lake, those that aren't as keen on rigorous physical activity will get their money's worth here!
If you're more into biking, the Flume Trail is an amazing mountain bike trail that is sure to provide a good challenge to even the fittest members of your group!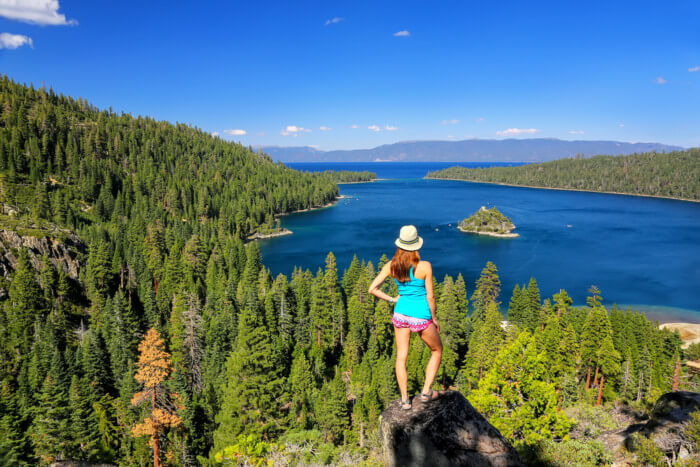 If you're looking to see the best of the lake by water, then the MS Dixie at Zephyr Cove is an amazing choice. Zephyr Cove is closer to South Tahoe, but you can also hop on numerous other boat tours nearer the northern area that will show you equally fantastic views.
An amazing way to get out on the water, you'll be able to see the best of the Lakes without actually getting in the water!
Bars and nightlife for your Lake Tahoe girls trip
There are loads of great bar options and nightlife options around Lake Tahoe – from laid back sports bars, to more 'party' destinations. Here's a selection of some of my top picks: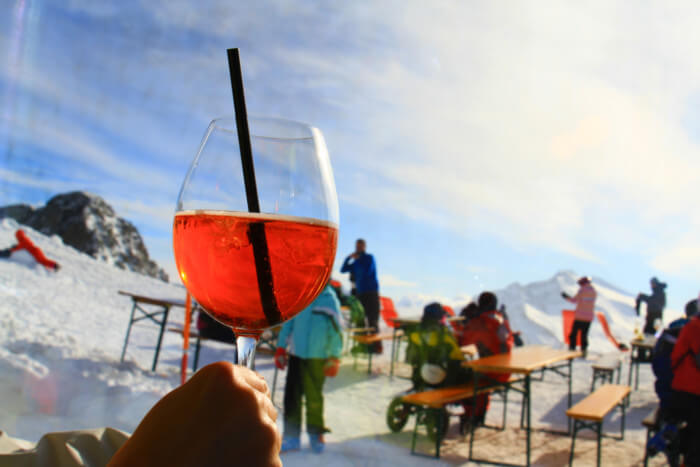 Where to eat in Lake Tahoe on a girls trip
Now, a Lake Tahoe girls trip isn't truly complete without some amazing cocktails and equally amazing food. One of the most popular spots in Tahoe is the Crystal Bay Steak and Lobster House, and it's easy to see why.
A locally known establishment that's well-visited, it's got incredible food that's basically unmatched by its competitors. With dishes like lobster mac and cheese and bananas foster, it's easy to see why this place is so popular!
If you're looking to grab a bite to eat before the day kicks off, then stop by Sprouts Café. Serving natural food with organic ingredients, you'll only find the freshest food and drink here! With delicious sandwiches, soups, salads, and breakfast food, it's a wonderful place to grab a filling bite that won't leave you bogged down for the rest of the day.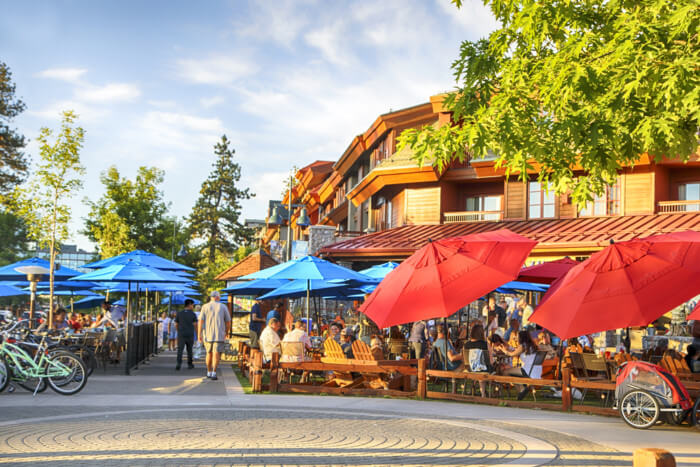 Here are some other places to eat during your Lake Tahoe girls trip…
Lake Tahoe Pizza Company
My Thai Cuisine
Cold Water Brewery and Grill
Primos Italian Bistro
Cafe Fiore
Jalisco Grill
Bert's Cafe
Heidi's Pancake House
Artemis Lakefront Cafe
Beacon Bar & Grill
Empanash
Sidellis Lake Tahoe
I hope this guide to a Lake Tahoe girls trip has been helpful!
So, as you can see, whether you're travelling in the winter months or the summer months, you're sure to have an amazing girls' trip to Lake Tahoe. With endless photo spots, food spots and things to do, you're sure to have a getaway to discuss amongst yourselves for years to come!
Read more about Lake Tahoe: 15 restaurants open on Christmas Day in Lake Tahoe