Wondering which packing cubes are best, and which brand to buy? These are my top picks!
---
If you've not yet heard of packing cubes, then we may be about to revolutionise the way you pack. There's truly nothing worse than labouring over your packing, and we've been faced with overstuffed cases more times than we can count.
Whether you're a fan of the sit and zip method, or the stuff and zip method, we suggest giving this article a read as these scenarios may soon be a thing of the past!
Whether you're looking for a way to organise your belongings or simply want to keep your items as compact as possible, we'd highly recommend checking these cubes of wonder out.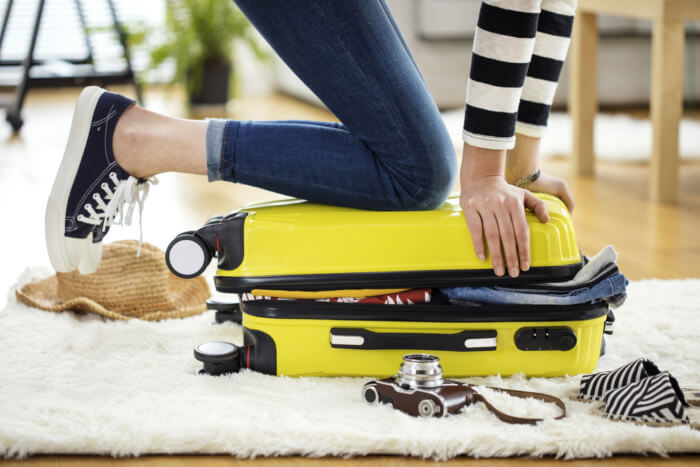 ---
What are packing cubes?
Packing cubes are essentially small fabric containers that are used to pack travel clothing and belongings. Packing cubes come in different shapes and sizes, and whether they're square, rectangular, or oblong in shape, they're designed to fit together to aid your packing organisation.
In many cases, these packing cubes come with compression zips and double compartment, enabling you to further squash down your clothing to save space or separate clean items from dirty items should you require this. 
Though you may be a sceptic, once you invest in some packing cubes, you're like to find that your packing trials and tribulations become things of the past.
Though we'll delve more deeply into the benefits of these cubes later in this post, we can safely say that they save travellers an awful lot of unnecessary hassle when it comes to luggage.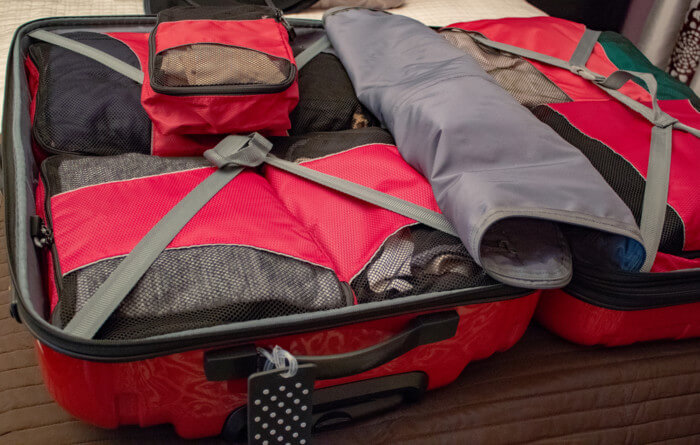 ---
How to use packing cubes
Now, there isn't a strict method to follow when using packing cubes, and they're intuitive when it comes to design. Most people roll their clothing where possible to maximise space and prevent wrinkling. If rolled, clothing also tends to be more heavily compressed, creating more space for the traveller to utilise if necessary.
Once you've stuffed your cubes to the brim, place them in your luggage in the best way that your case allows. If this is a hardshell case, then we recommend playing Tetris as best you can.
If you have a poor memory, then we suggest labelling each one with a sticky note so that you're sure of every item that's included in that suitcase packing cube. This will simply save you time and energy, preventing unpacking and repacking!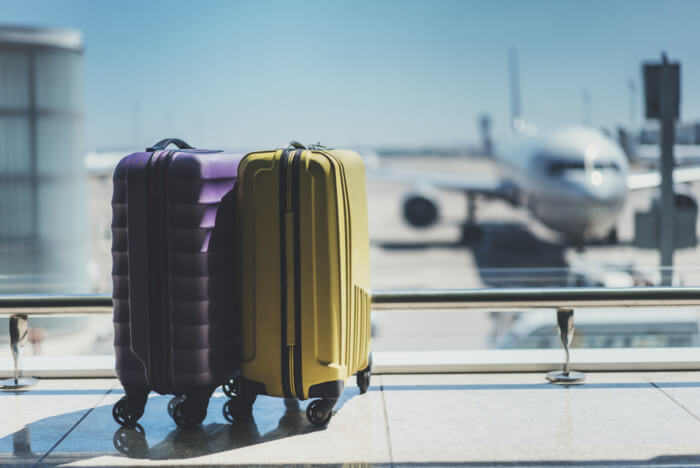 ---
The best packing cubes on the market
Here are some of my top picks for packing cubes – that are sure to make travelling easier, and also stand the test of time!
---
eBags
These simple packing cubes from eBags are great for beginners and come in 6 different sizes that many requirements.
With large and medium cubes included in the set, you'll have numerous options to turn to when packing for your next vacation. These particular cubes are rectangular, so work perfectly for hardshell suitcases. 
---
LeanTravel Compression Packing Cubes
These suitcase packing cubes are great for travellers that need to fit as much as they can into a small space. Offering stylish, wrinkle-free packing thanks to quality polyester fabric and durable mesh, these are great for those that need to literally travel in style.
These packing cubes feature compression zips, so they're guaranteed to make your life slightly easier when it comes to travelling light. 
---
SupaSak Compression Packing Cubes
I love these compression packing cubes for a few reasons! First of all – they're so cute! I love the simple, classic design. Secondly, I like how they're compression cubes (so they're super space-saving – for heavy packers).
They're a really great price too, and you get 7 pieces in this collection, which is pretty amazing value.
---
AmazonBasics
Though these (as the name may suggest) are more on the basic side, you shouldn't count them out of the game for that reason. Extremely reasonable in price and offering great ventilation, these packing cubes are a simple solution for those that aren't after complex packing solutions. 
---
EagleCreek
These light and breathable packing cubes are highly lauded amongst travellers, and unsurprising that they're so highly ranked. In addition to their great size, they're water resistant and can easily be bunged in the washing machine to retain their freshness. 
---
Mossio cubes
Made from the highest quality polyester, these convenient mesh-topped packing cubes are extremely well designed. With great ventilation and zippers that will stand the test of time, these packing cubes are some of the best out there. 
---
Trtl Packing Pods
These packing cubes look slightly different to the others on our list, but they're equally useful! Made using recycled plastic bottles, these are perhaps the most environmentally friendly suitcase packing cubes on our list. 
With loops that make for easy hanging, you needn't ever repack again if you don't wish to! As these aren't square or rectangular, they're actually easier to fit into most luggage types than some of the other options. 
---
Why should you use packing cubes?
As packing cubes come in a variety of sizes and shapes, you can easily organise your items to fit with the luggage you own.
Whether you're looking to pack clothing, electronics, or other items in your stash, these differing sizes mean that you've got the perfect organisational aide whether you're travelling with a hiking pack or hardshell suitcase.
In addition to this, suitcase packing cubes help to keep things separate. When travelling, you may not want all your clothing together, so these nifty little cubes will help to keep delicates separate from regular clothing. If you tend to find yourself in a hurry to leave your hotel room, colour coordinating your cubes will mean that getting ready is as easy as 1-2-3.
If you tend to rifle through your belongings every time you require something from your case, then suitcase packing cubes will prove a godsend to you. Disturbing a perfectly packed suitcase to find one item is exhausting, and packing cubes make unpacking and repacking a breeze!
As a final note on these wondrous cubes, we highly recommend investing in them if you need to maximise space in your luggage. Though we've mentioned their organisational pros in detail, you may find that suitcase packing cubes assist in creating space where there previously was none.
If you're someone that simply can't travel light, then these nifty contraptions will help you stuff more into that carry-on!
---
I hope that this guide to suitcase packing cubes has been useful!
As you can see, they certainly have their benefits, so if you're looking to downsize your packing then you should certainly investigate purchasing some. 
All the packing cubes on our list of recommendations have been well vetted, so you should find them suitable for all of your travel needs!