If you have a trip to San Francisco planned, you may be wondering, "is Alcatraz too scary for children?"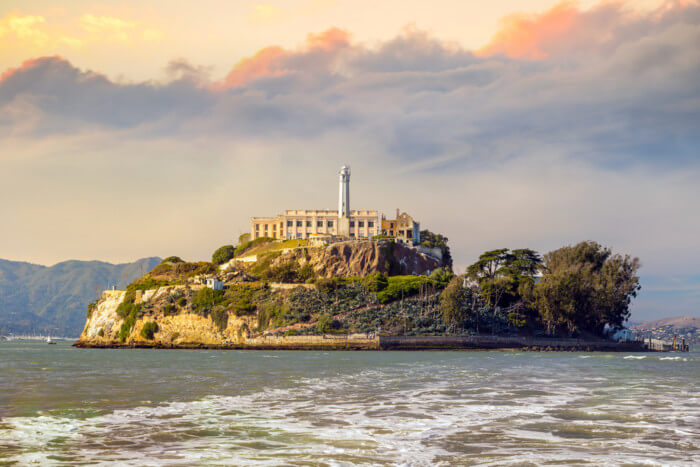 So you've been wondering is Alcatraz too scary for children… You'll find my opinion below. But I've elaborated below so you can be sure before visiting.
Alcatraz is one of the major attractions in San Francisco, but if you're visiting with your kids, you may be wondering "is Alcatraz too scary for Children?" –  Here I'll try answer all your questions about visiting Alcatraz with children, and give you some advice on whether you children may (or most likely, may not) find it scary.
---
Top tip! If you do decide after reading this post to visit Alcatraz with your children – I'd highly recommend booking yourself an Alcatraz ticket as a combo with the Big Bus tours.
The bus tour is a great (and incredibly easy) way to see all the other sights in San Fran, and buying them as a combo saves you so much money, especially when you're traveling as a family and prices quickly add up. You can click here to book the combo tickets. 
---
Is there an age limit for Alcatraz?
If you're researching the question "is Alcatraz too scary for children?" you're probably looking at the official website for information – but they don't really give much guidance.
Age limit wise, NO, there is no age limit or age restriction for Alcatraz.
However, minors (under the age of 18) aren't allowed to tour the museum and island by themselves. Under 18's must always be accompanied by an adult – but this is more due to safety than scary-ness.
With its infamous history of criminals and escapes, you may find it surprising that there is no age limit for visiting Alcatraz, but there isn't. Actually, Alcatraz is quite family friendly.
---
What is the tour like? Are parts of it scary?
Personally, I didn't find any of the tour scary. It's a prison (the concept of that might be off-putting for some children) but there is nothing during the tour that should cause nightmares of distress.
The Alcatraz tour is an award-winning audio tour that you take using headphones provided when entering.
There are tales of prisoners, and the history of Alcatraz, but it's not anything overly scary or gruesome.
You can also explore the rest of the Island and its historic exhibits, as well as letting you explore the prison itself and poke around the former cells, and the opportunity to take in the breathtaking views.
Things that ARE NOT at Alcatraz (which you might have been worried about):
Actors who try to scare you
Gruesome or gory rooms
Overly dark areas
Actually, you just enjoy a leisurely stroll around the prison (which is now empty) and listen to your audio guide along the way.
The audio guide will tell you facts about the prison, and information about prisoners and give historical context to a lot of the areas and views.
Is Alcatraz too scary for children? I really don't think so.
I've included some images below, so you can see the kind of environment.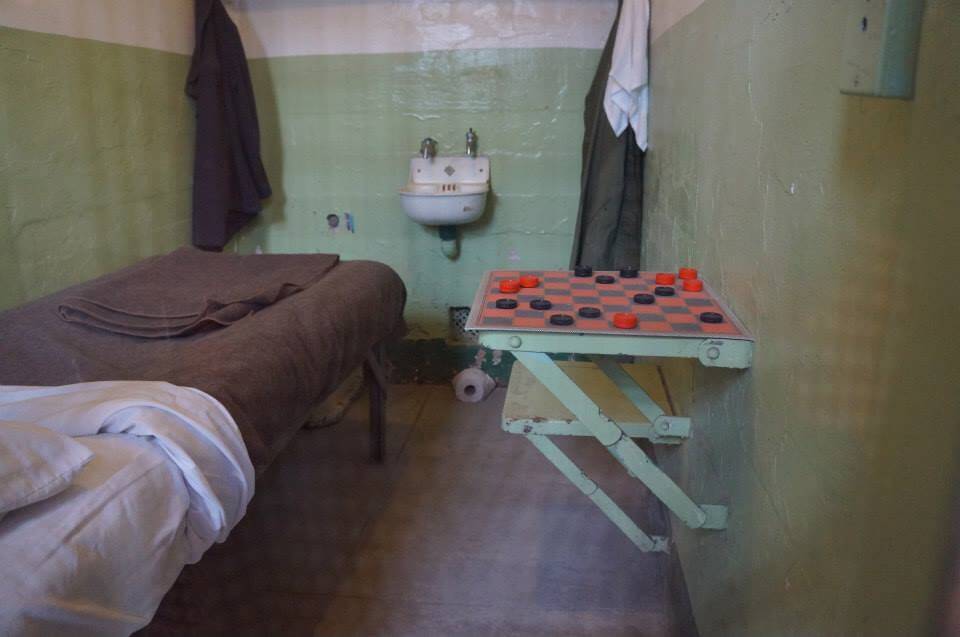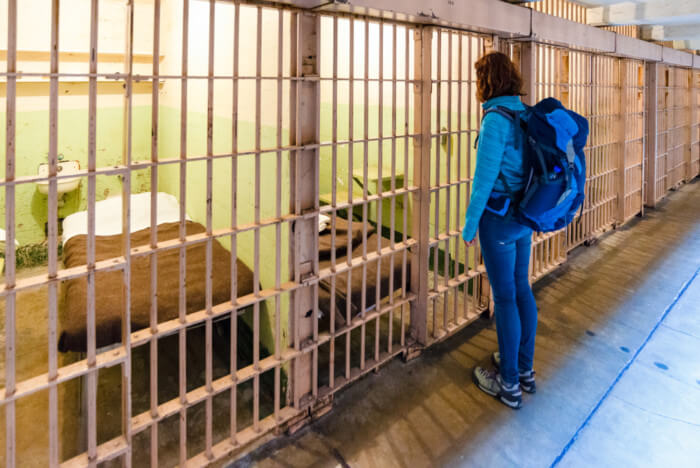 ---
What about different ages of children?
There were lots of children in Alcatraz when we visited (of all ages), and we didn't see any of them looking scared or crying.
When asking the question "is Alcatraz too scary for children?" I suppose looking at other children in the attraction is a good way to figure it out.
I'm no expert, but this is what I think:
Young babies / toddlers: They won't really have any concept of the prison / what that means. To them it will just be another day out and about – they'll likely enjoy just walking around / looking around and exploring. It will be totally fine for them, they probably won't even remember it.
Children ages 4 – 8: Children of this age probably won't need to listen to the audio tour, and you could just tell them any interesting facts as you go along the tour. Children of this age tend to ask a lot of questions, and some might find the concept of a prison a bit weird / scary. But there's nothing in the prison itself that will traumatise them.
Older children, ages 8- 12: Children this age would probably be interested and curious rather than scared. They would likely enjoy listening to the audio tour and seeing the prison and exploring the different areas. All kids are different of course, some older children may still be put off by the idea of a prison, and find that scary. If your child is sensitive, maybe make a judgement call on it and wait a few years.
Teenagers (13+): I really really doubt any teenagers would findAlcatraz scary. They'd probably be interested in it, enjoy the tour and find it quite cool as a day out from the city.
Like I mentioned, if you have younger children, and you're worried they may find the information on the audio tour scary, you actually don't need them to wear the headsets.
You can easily walk around the prison without any headphones, and your child can just explore Alcatraz like they would any other space / venue. You can fill them in on any interesting facts as you go and filter out any information manually. 
Top tip! Going during the daytime (when it is light) will also help children find the prison less scary. In the daytime, it's a lot less daunting!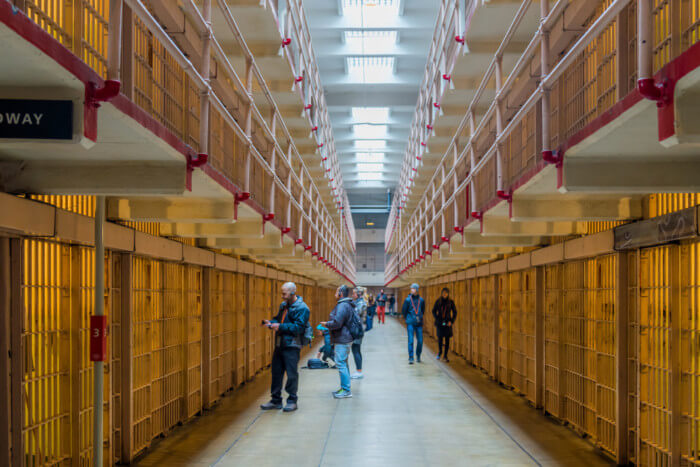 ---
Does Alcatraz have any special activities for children?
Yes, they do! The island is actually classed as a national park – so they do have some family friendly activities. The main thing for children to do on Alcatraz, is take part in the Junior Ranger program.
This essentially lets the kids get involved in learning about the history and environment of the island, which includes the animals, nature and conservation (not just the prison!).
It's great for lots of reasons…
It's good for distracting them if they get bored
It's a good distraction if they get scared (unlikely, but still)
It's aimed at kids from age 4 to 13
When they complete it, they get a free gift!
If you're interested in getting your child involved in the Junior Ranger program, you'll need to track down the Ranger Station near the dock, which is the area when you first arrive onto the island.
Your child will be given an activity book, and inside you'll find games, quizzes, word searches and even little drawing challenges to complete along the way.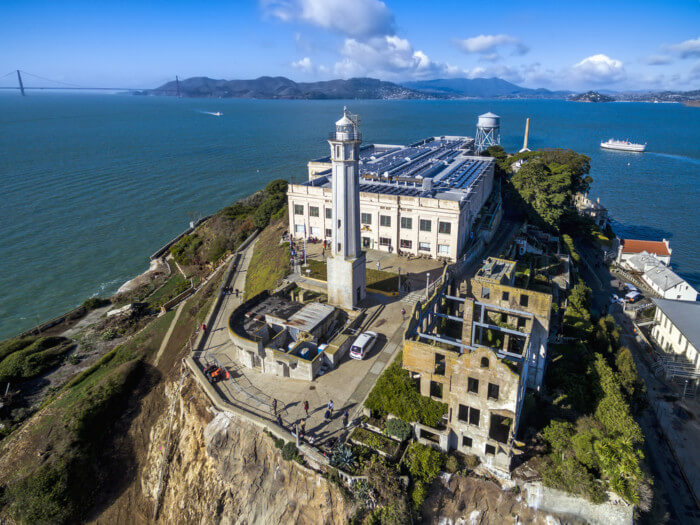 ---
Are there any alternative tours?
If you still don't want to risk it, instead of visiting the Alcatraz prison itself and doing the prison tour – you could take a boat tour around the island (without actually stopping off at it).
There are plenty of boat tours that go close to Alcatraz and let you see Alcatraz, without having to go inside the prison.
Read more about San Francisco: 30 things to do in Union Square, San Francisco
---
I hope this has been helpful and answered your question 'is Alcatraz too scary for children'. If you have any questions, let me know!