---
Are you looking for a list of the best art galleries in Paris? Keep reading to see my top picks for art in this amazing city.
---
So you're looking for the best art galleries to visit in Paris… And what better city of art and culture can you find than Paris? (we know, we know, London, Berlin, New York, Tokyo, New Delhi – but Paris definitely holds its own!) for centuries it was heralded as the epicentre of art and culture, probably coming second to Athens, for the amount of artistic, literary, and philosophic innovation thanks happened within the Escargot of its arrondissements!
If you've come for the art, though, Paris is absolutely Jam packed with galleries in every district, from the cutting edge to the medieval. It can feel a little daunting to say the least, so we've made a list of must see galleries in this fair city, so that you know where to begin. 

A few tips before we start:
Almost all art galleries are free, or much cheaper, for students, OAPs and under 25s. If you're not in any of these groups admission can be fairly pricy, so do be aware of that. 

Many galleries have late openings so you can see things in the evening and make a real event out of the art.

In November there's La Nuit Blanch where all art venues in Paris are open and free for 24 hours. If you love art, and you wanna do a Helier smelter tour of the city's galleries for free and in one day like a mad caper, this would be the time to do it. 
---
The Louvre
---
First up on my list of the best art galleries to visit in Paris, it's the Louvre. Of course.
This gallery is nothing short of iconic. The Louvre is the world's largest art museum, and was originally built as Chateau Louvre in the late 12th century, and after being extended multiple times into the beautiful palace it is now, Louis XIV decided to leave for the Palace of Versailles, and it became a museum for the royal collection. It's now home to world famous paintings such as the Mona Lisa and the Venus De Milo, but get there super early if you want a glimpse of these.
In my experience, aim for the less well trodden paths. You can find the apartment of Napoleon III, and wind through eerily quiet rooms flooded with light. You might find a courtyard full of statues, and in hot summer days, hardly anyone else. In my opinion, the Mona Lisa is kinda overrated, and needing to fight through crowds of tourists with their arms outstretched trying to snap them and Mona in an enigmatic selfie is enough to kill anyone's love of art. 
Tread the untrodden path, and see things you never thought you'd see. That's the point of art after all.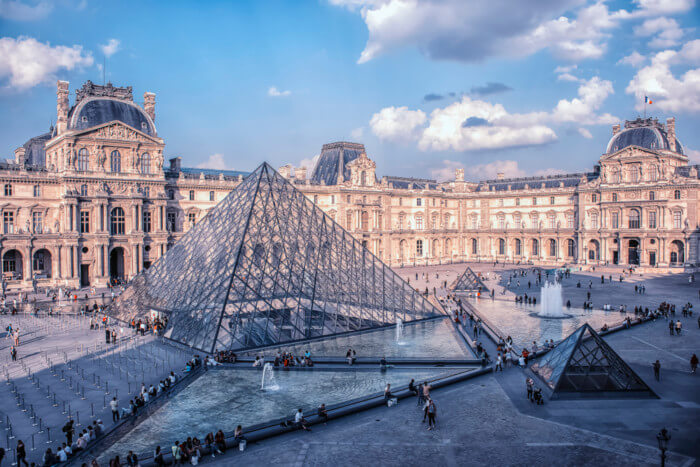 ---
Musée d'orsay
---
Next on my list of the best art galleries to visit in Paris, this stunning museum is housed in a former Beaux Arts railway station, and has every intention of taking you on a breathtaking journey through French art from around 1850-1920. If you're a fan of the Impressionists, and the later Post-Impressionists, the Musée d'Orsay is home to the largest collection of both. You can wander past stunning Renoirs, and Cézannes, and when standing in front of a glorious impressionist masterpiece, declare to your companion "the Monet or your life" for peak pun. 
This museum can get really busy, but nowhere near as much as the Louvre. Whilst Van Gogh's Starry starry night can be found at MoMA in NYC, you will find the less well known, but no less gorgeous Starry Starry Night Over the Rhône Arles.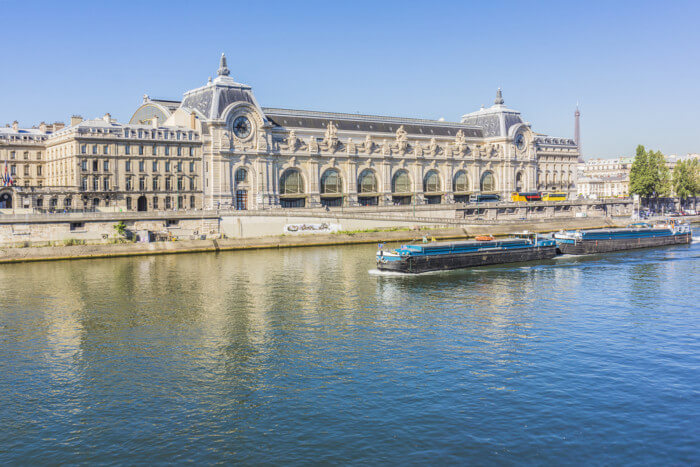 ---
Musée de l'orangerie
---
Another hot spot for Impressionist and Post-Impressionist fans, is this charming gallery located in the western corner of the Tuileries Gardens, which are themselves a gorgeous spot to see in the center of Paris. This is the place where you'll find Claude Monet's most famous works Water Lilies, of which there are eight large murals. It's definitely one of the best art galleries to visit in Paris!
Napoleon III had the Orangerie built in 1852 to house the oranges from the Tuileries in the colder months, but after the fall of the Monarchy it became a state building, and became a public museum in 1922. The building was designed by architect Firmin Bourgeois, and is almost entirely glass on the seine side to make the most of the sun, and windowless to the north to protect the citrus trees inside from cold winds. This means that to be inside the building is to experience a place suffused with light.
The truly wonderful thing about Parisian architecture is its ability to flood internal rooms with natural light. The architecture therefore lends itself perfectly to impressionist masterpieces, which themselves use light as their primary characteristic. 
---
Musée d'Art Moderne
---
Next up on our list of the best art galleries in Paris is the Musée d'Art Moderne; one of the few museums in Paris whose main collection is completely free for all ages. They've a huge painted mural space as you climb the first flight of stairs that's usually home to a huge installation. When I last went they had a gorgeous installation by Marguerite Humeau, whose work resembles internal organs, aliens, celestial creatures, cartoon mice, or perhaps something resembling all three, are given sonic resonance within a space in order to convey a narrative to you without using language. Humeau was also shortlisted for the Duchamp prize last year. 
Another reason this makes my list of best art galleries to visit in Paris, this museum is also home to some classic Matisse paintings and collages, and generally works its way through Modern and Contemporary Art from around 1920 to the present day. If your tastes lean away from more traditional forms of art – this might be a space for you. additionally, as it's got less of a "name" you'll also find way fewer tourists here, making for a more enjoyable museum experience à mon Avis. 
---
Atelier des Lumieres
---
Atelier des Lumieres is the next place on my list of the best art galleries to visit in Paris. It is situated on Rue St Maur (one of my favourite streets in Paris for its killer cafés, hoping bars, and amazing Italian Deli) in the 11e Arrondissement. It's Paris' first ever digital art museum, located in a former foundry and set up by Culturespaces (a French foundation who specialise in immersive art experiences).
Using state of the art Audi-visual techniques, familiar works are transformed into huge projections covering the vast 10metre high walks of the 3,300meter squared space. It's hard not to be awed as you take in the space, concrete walls alive with colour, and art swirling before our eyes as we've never seen it before. 
If you only go to one art museum in Paris, I would definitely advocate for this one, it's a 360 degree art experience like you've never seen before, and for €14.50 for full price, it's a steal in my opinion. It's fine art on the cutting edge, and it seeks to hanged the way in which we interact with more traditional art formats, making it accessible for everyone and eliminating the potential for being bored to traditional gallery spaces. If you've got bored teenagers, easily distracted kids, or if you've found yourself being either of those things in a gallery yourself, this is the perfect place to go. 
---
Musée national Gustavo Moreau
---
In the upper half of the 9e Arrondissement is a museum dedicated to the life and work of symbolist painter Gustavo Moreau, and it's definitely one of the best art galleries to visit in Paris, especially if you love his style. 
It actually used to be his home, but was transformed by him in 1895 to a studio. The museum contains a wide range of his artistic output, from paintings to sketches and sculptures. Moreau himself was a key figure of the symbolist movement in the 19th century, and their main focus was on creating biblical or mythological scenes.
Whilst this is quite unlike the museum we've just been talking about, the beauty and intricacy of his painting, along with the way that the museum have preserved his studio and presented his works is really something to see. Among Moreau's main influences are the artists of the Italian Renaissance, think Davinci and Michaelangelo. André Breton regarded him to be a precursor to surrealism, too, so if you're interested in art history, his work is kind of an interesting thing to see in terms of artistic progression.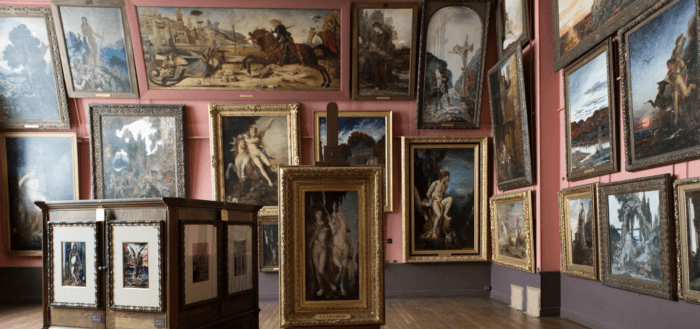 ---
Musée de Cluny
---
Musée de Cluny is your one stop Parisian shop for medieval art. This list of the best art galleries in Paris wouldn't be complete unless we tried to get the breadth of all the art that Paris has to offer (and boy is there a lot)! This is definitely one of the best art galleries to visit in Paris, and it's such a beautiful building too. 
This magnificent building is located in the Latin quarter (the 5e Arrondissment) and is partially constructed from remnants of the third century Gallo-Roman baths known as the Thermes de Cluny. The museum is split over two buildings, the cooling rooms of the aforementioned baths, and the Hôtel de Cluny itself. It houses a vast collection of art and objects from the Middle Ages, including the six stunning tapestries The Lady and the Unicorn, which are definitely worth a viewing. 
---
Musée de La Vie Romantique
---
Next up on our list of the best art galleries in Paris is La Musée de la Vie Romatique (museum of the romantic life, or museum of the romantics in English). This is one for the dreamers, fans of the Romantic writer George Sand, the composer Chopin, and countless other French romantic artists, writers, composers and musicians, would do well to stop by this charming museum at the foot of Montmartre hill in the 9e Arrondissement. 
The house was the Paris base of Art Schaffer, who was a prominent artist at the time of building in being close to the Royal Family. For decades Schaffer and his daughter hosted Friday evening salons (parties where notable people would talk philosophy, politics, art and countless other subjects) which were some of the most famous of the time. It is due to these salons that these prominent romantics from Eugene Delacroix to Charles Dickens came to the house at all, and are now exhibited for us all to see!
---
Musée national Pablo Picasso
---
Next on my list of the best art galleries to visit in Paris, it's all about Picasso. One word should get you into this museum: Picasso. Located in Le Marais, this darling little museum (though not very little really) contains more than 5000 works of art from paintings to ceramics, and even Picasso's notebooks, photographic archive and personal correspondence. That alone makes it a key addition to this list of the best art galleries to visit in Paris.
The museum contains an amazing collection of Picasso's work, all collected by Picasso himself and donated by Jacqueline Picasso's daughter after her death. Picasso himself said "I am the greatest collector of Picassos in the world", but the museum also contains many works that inspired him. From his lovely collections of Degas, cezanne, Rousseau and Matisse, to an extensive collection of African art and Iberian Bronzes. 
Mostly the museum works through Picasso life and work with a meticulous sequential chronology, but they've made an effort to show works by cartoonists who mocked Picasso's style, to present some of the works thematically, and also to maintain space for contemporary exhibitions, and new ways of displaying some of Picasso's works. 
---
Centre Pompidou
---
Next up on our list of the best art galleries in Paris is another iconic architectural feat: the Centre Pompidou. Designed in the "High Tech" architectural style by Richard Rogers and Renzo Piano, along with Gianfranco Franchini. It's unique in that all the internal workings of the building from vents to lifts to structure, are showcased on the outside in bright colours, so that you can see how a building of that scale actually functions. 
As a huge cultural centre, it houses an enormous national library, a modern art museum, and the centre for music and acoustic research. The gallery itself is quite stunning, you can get a ticket for the main collection, and each billed exhibition will cost extra. Most recently I went to see the Francis Bacon exhibition there, which was fantastic.
The view from the top is also stunning, especially at sunset on a clear day, where the last amber rays of sunlight tinge the darkening sky, and the lights are beginning to illuminate all the famous monuments in the darkening gloom of the city. From here you're reminded how beautiful Paris is, despite its quite distinct lack of height compared with American or British cities.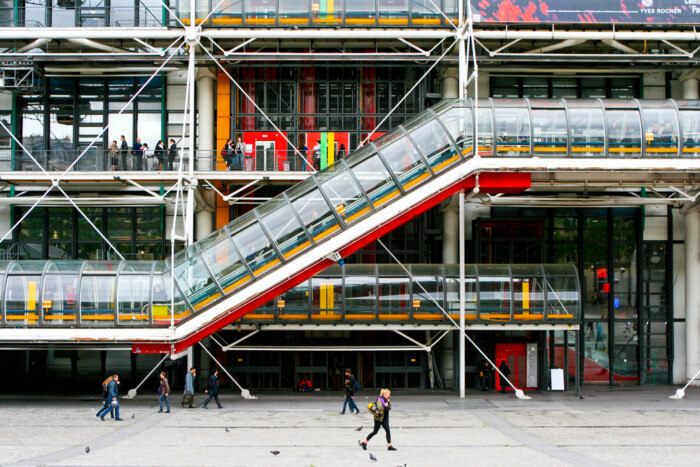 ---
Palais de Tokyo
---
The final entry on our list of the best art galleries in Paris is also dedicated to contemporary and modern art. Palais de Tokyo specialises in the emerging French and international art scene, and the building itself is one of true architectural beauty.
The museum self-describes as an anti-museum in permanent transition, and whilst it doesn't actually manage to convey this sense of transgressing the museum space (it still very much feels like a museum) it does have an amazing array of cutting edge exhibitions, and has a real sense of being full of the art of RIGHT NOW, which feels quite refreshing in a city such as Paris, that often seems to rely more on its history as being a cutting edge city, rather than trying to continue to cut edges.
Due to this is it is completely unique in Paris' artistic landscape, and 100% worth the entry price. Exhibitions are always changing, so be sure to check what's on when you're next in Paris. 
---
I hope this list of the best art galleries to visit in Paris has been useful! Comment below and let me know which you'll be visiting!
---