---
Are you looking for the best cheap lunches in NYC?
---
So, picture this: you're in The Big Apple, you're feeling peckish, but you check out your holiday budget and you're feeling a little pinched. What to do? You've got to find the best cheap lunches in NYC.
Don't fret, we've got some great recommendations for the best cheap lunches in NYC, that pack a real punch but don't break the banks.
---
Head to a bodega
---
What kind of list of the best cheap lunches in NYC would this be if we didn't start by telling you that almost every bodega on every corner will have a grill, and will be able to make an egg and cheese roll for about $3? We've got slightly fancier recommendations, too, but you honestly can't go wrong with a Bodega!
If you don't know what a bodega is – the name bodega comes from a Spanish word which tends to mean "storeroom" "wine cellar" or "grocery store". That should give you a pretty good idea of what to expect inside a bodega – it's a corner shop, convenience shop, full of those little bits you just 'need'.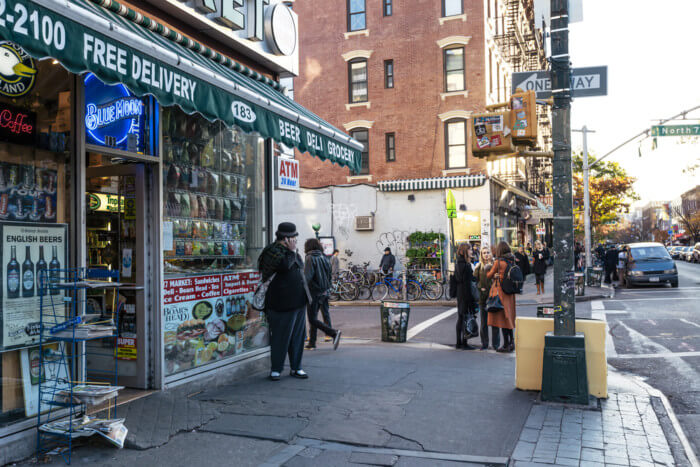 ---
Hunt down a bagel
---
And just like we couldn't make a list of cheap lunches in NYC without mentioning bodegas, we also could mention lunches in NYC without giving the classic bagel a mention. You can get bagels in every diner or deli in NYC, and you can sit in and eat them or you can have them to go. The price will depend on your bagel choice and toppings, but generally it shouldn't cost anymore than $6-7 (even if you go crazy on the toppings). A classic cream cheese bagel will cost you about $3 on average.
Here are some of the best review bagel shops in NYC…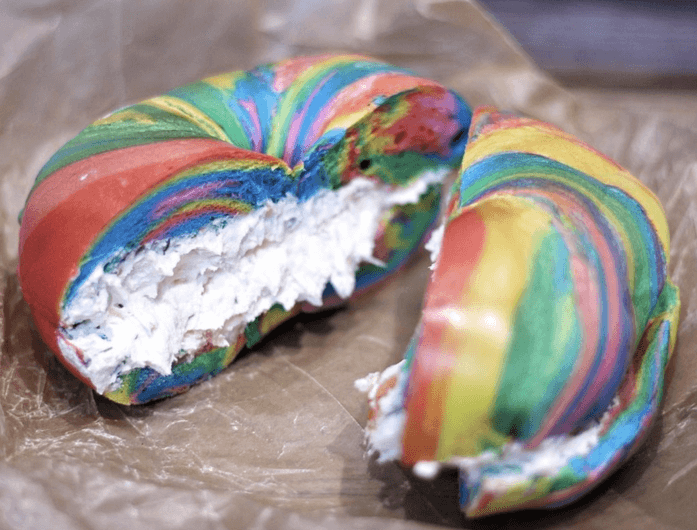 ---
Urbanspace Vanderbilt
---
The first actual place on our list of the best cheap lunches in NYC packs a punch for choice. Urbanspace Vanderbilt is open Monday-Friday 6am-9pm, and Sa t& Sun they're open 9-5. You'll be spoilt for choice in this urban food market; from amazing donuts to classic pizzas, you'll find something for all moods! La Palapa has amazing tacos, that we'd highly recommend, but honestly it's all good! You could definitely get a lunch for under $10!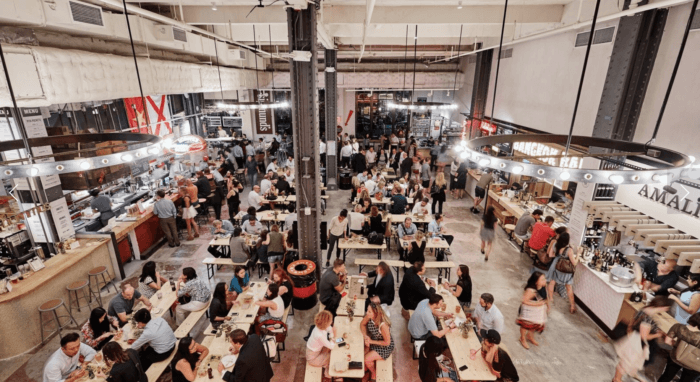 ---
Teranga
---
Next up on the list is all about flavor. We'd rank Teranga, with its casual setting, and incredible West African-inspired cuisine pretty near the top of any list of the best things we ate in NYC, so it's pretty cool that it's also a cheap eat! A vegetarian plate will set you back just $10, and includes things like black eyed pea stew, and roasted beets, and a wide selection of other dishes.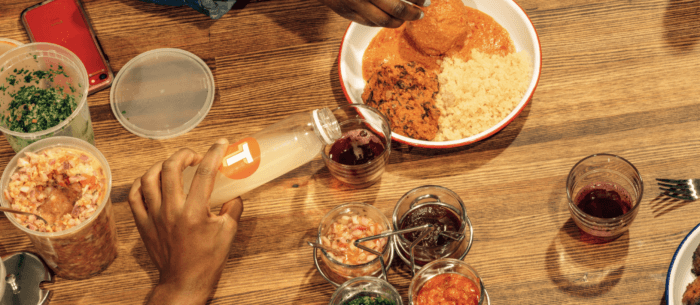 ---
Gansevoort Market 
---
I love this place! Gansevoort market is like a mini food hall . indoor food market with about 12-15 different food vendors selling their best stuff. I stumbled upon it, and there was so much amazing choice and the prices are mostly under $12. I like the cosy feel too – and the cute communal seating. The choice, prices and vibe makes this a contender on my list of the best cheap lunches in NYC.
---
Just Pho
---
If you're a fan of pho, you're probably thinking that we'd send you to the east village or maybe China Town, but no! This list of the best cheap lunches in NYC is jam packed with not only the cheapest, but also the best, so we recommend you get yourself to Just Pho opposite Penn station. It's a pretty modest place, and the menu is very pared back, but rest assured that what they do serve is fantastic. Get the Hanoi Classic Pho and the crab stuffed spring roll. You won't regret it, and it won't set you back more than $15 in total.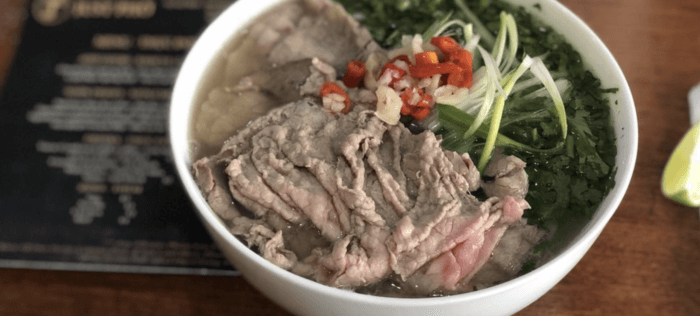 ---
Papa's Kitchen
---
Next up on our list of the best cheap lunches in NYC is Papa's Kitchen, in Jackson Heights. Here you can find a Filipino Silog, priced at either $7 or $8, and includes a classic dish served with rice and a runny egg. We highly recommend the national signature dish which is chicken adobos, but there are honestly so many good dishes that you can't really go wrong.
---
ANY by-the-slice pizza place
---
Next on my list of the best cheap lunches in NYC, pizza! Of course!
When in NYC you have to try pizza by the slice. They're almost always incredible, and you can find one almost anywhere. They're the perfect lunch on the go, and one slice is about the same size as a normal pizza so you definitely won't go hungry! If you want our advice, head to Joe's pizza in Greenwich Village. The place is an institution, and honestly some of the best pizza we've ever had. It's not fancy, but you won't be disappointed. It's around $4 a slice with toppings, but cheaper for margherita (just cheese).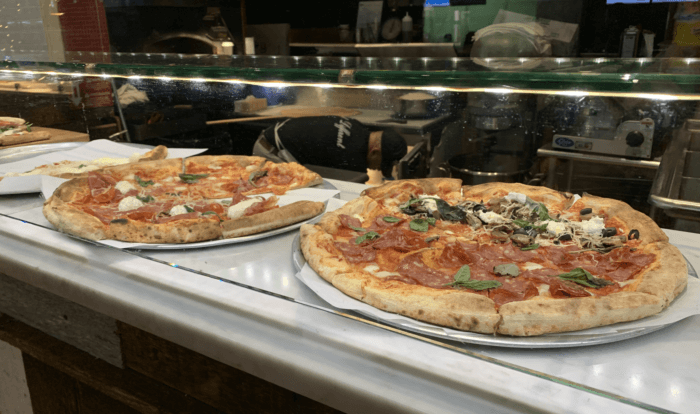 ---
M&P Biancimanco
---
Next up on this list of the best cheap lunches in NYC is absolute winner. Hoboken is the place to go for amazing Italian-American delis, and the pièce de resistance is of course M&P Biancimanco. You can eat inside in their adorable dining area, at the tables outside, or munch on the go, but this place has about 55 hot and cold heroes (Italian sandwiches). If it's your first time, get one of the cold ones with a letter for a name. This is also a cracking spot for people watching, so we'd recommend eating in if you've got the time. Their sandwiches are a little pricier than other things on this list, but half a sub could do you lunch and dinner for around $10.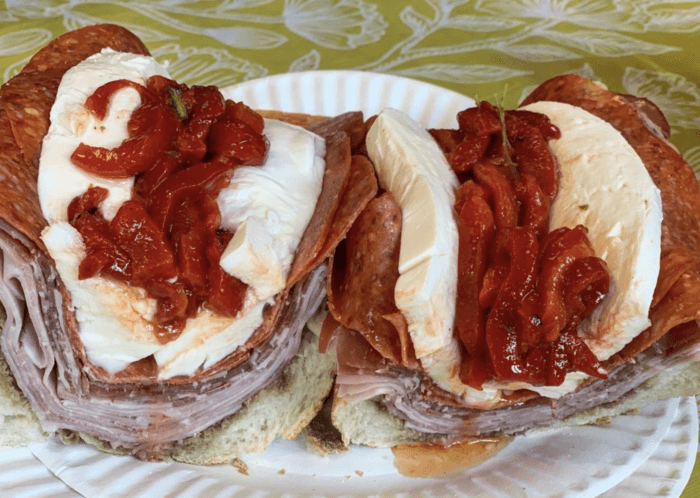 ---
Katz's Deli
---
On the subject of deli's this list of the best cheap lunches in NYC wouldn't be complete without a pastrami sandwich. It's one of the most quintessentially New York things to eat, and we'd definitely suggest going to Katz's Deli to get one. Don't commit a cardinal sin and get it without pickles. The basic sandwich is $3.45, so definitely won't break the bank! Also the portion are HUGE so you're really getting a lot of portion for your penny here. This place is simply ICONIC in NYC, so I couldn't write a list of the best cheap lunches in NYC without including it!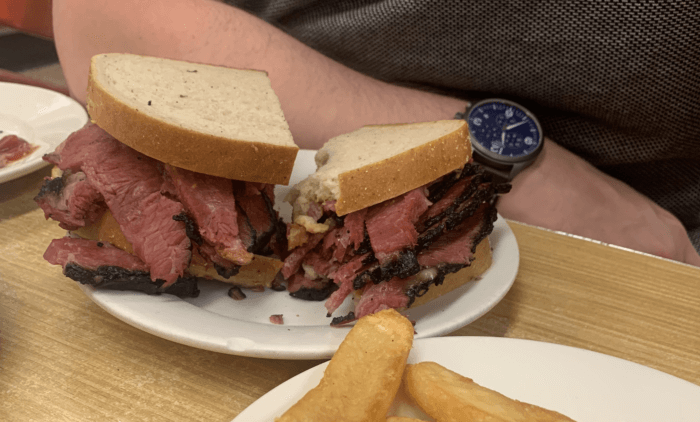 ---
La Esquina
---
La Esquina is a great Mexican place selling street food style dishes at really low prices. If you want something super cheap but also fresh, healthy and soooo tasty – then this is the place you want to be. They have 3 places in NYC now (great for convenience). A great choice for the best cheap lunches in NYC.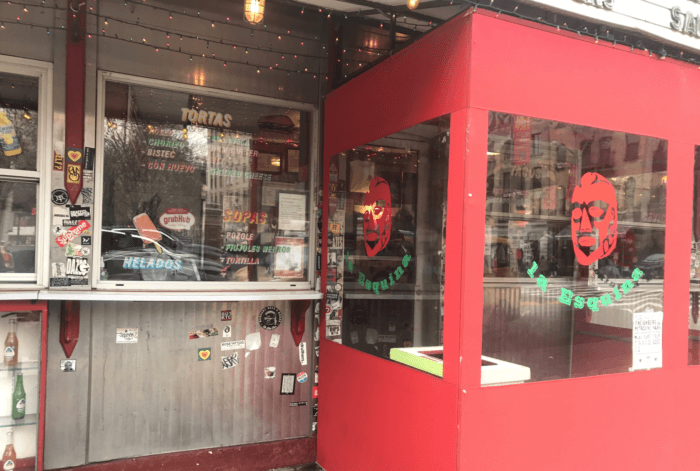 ---
Time Out Market, Brooklyn
---
Time Out Market is quite new on the scene, it's only been open a year or so. Basically the idea is, it's a huge indoor food hall with loads of cult-following NYC restaurants inside, offering up some of their most popular dishes. It's great because the dishes tend to average about $8-$14 – but it's also all about choice here too. If you visit with friends, you can all order and pay for your separate meals, different cuisines (whatever you each fancy) and there's no worrying about splitting the bill at the end. It's quickly becoming one of my favourite places for the best cheap lunches in NYC.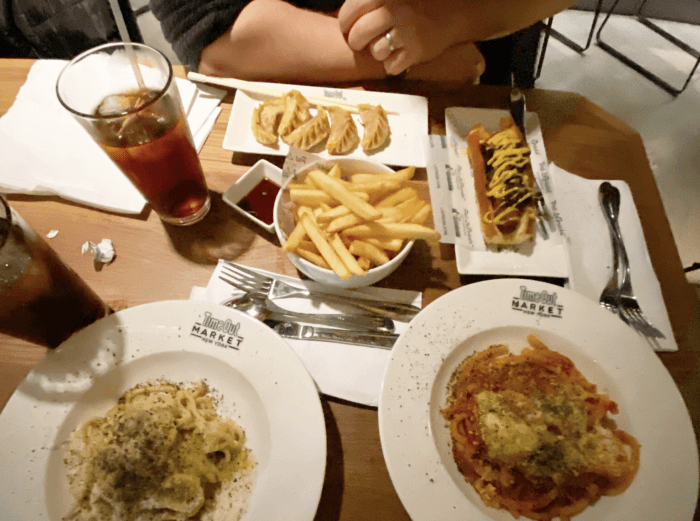 ---
Faicco's Pork Store
---
I could write a list of the best cheap lunches in NYC without mentioning this place. Faicco's Pork Store is a deli that (as the name suggests) specialise in delicious pork. You only have to see a photo of one of their pork subs to become hungry (seriously… look below!) and I'd recommend the "Italian Special". They're located on Bleecker St, so if you're in that area, this is a must-do for lunch. It's a true Italian deli and we know you'll love it.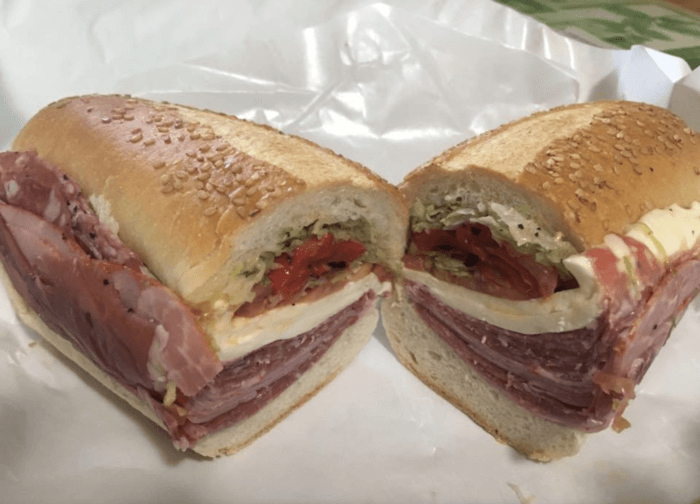 ---
Cheeky Sandwiches
---
Last on my list of the best cheap lunches in NYC, it's Cheeky Sandwiches… Even the name sounds fun right? We love food when it's tasty and when it's cheap – and this place ticks both those boxes. There's 9 different sandwiches to choose from on the menu, the cheapest is $3.50 for the chicken biscuit, and the most expensive is the braised short rib sandwich at $8. Which is pretty amazing considering the quality and the size.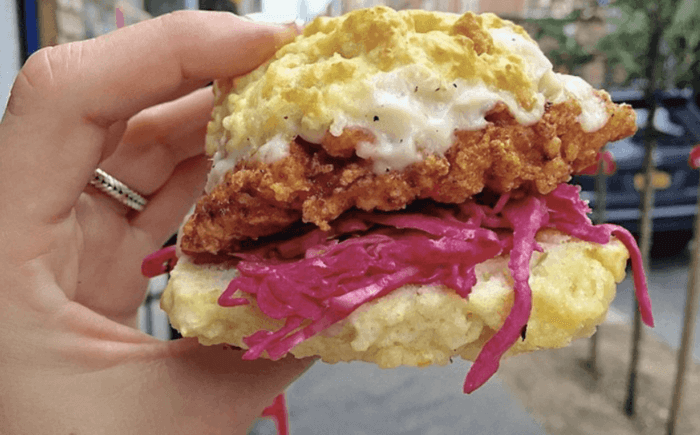 ---
We hope you enjoy our list of the best cheap lunches in NYC! Let us know if there's any you think we've missed, or if you enjoyed any of our favourites!