---
Are you looking for the best chocolate shops in Paris? It's a city known for many things… and delicious chocolate is one of them!
---
Paris: city of light, of love, and of damn good chocolate. If you're looking for the best chocolate shops in Paris… You've come to the right place. We've made a handy list of the best Chocolateries (french for chocolate shop) in Paris , so you can get your chocolat where the locals do! There are lots of amazing chocolate shops in Paris, so finding the best might seem a bit overwhelming or confusing – especially with so many incredible choices at your finger tips. 
Of course, there are loads of things you could buy in Paris (here are some more ideas!) but this post is all about the chocolate. Granted, you might end up eating it all before you get home – but chocolate is definitely a great gift to take home to friends and family from the city of love.
Think velvety ganache, a sumptuous Chocolat Chaud (hot chocolate) or little somethings to take home to all your friends… Or just to eat in your hotel room after a long day of sightseeing… These are the best chocolate shops in Paris. 
---
Jacques Genin – Le Marais
---
First on my list of the best chocolate shops in Paris, this place is an INSTITUTION. It's been voted the best chocolaterie in the world, and Jacques himself has the title of best Chocolatier (chocolate maker). Previously, you could only get these decadent morsels in top restaurants, but this little boutique means you can get yourself a couple. No list of the best chocolate shops in Paris would be complete without Jaques Genin's amazing creations.
---
Patrick Roger – Saint Michel
---
Next up on the best chocolate shops in Paris, somewhere chefs and foodies love to visit. Where other Parisian chocolatiers are going for the glossed, classy, decadence of a mirror glaze, Patrick Roger is ailing for pure artistry. His chocolate hens look like they may lay chocolate eggs, or begin clucking at any moment. There's a few locations around the city, but the one at St Michel is our favourite. It's definitely one of the best chocolate shops in Paris, and one of the most unique and impressive too. 
---
Pierre Marcolini – Odéon
---
Not a French chocolatier, but this Belgian master can turn out petits morceaux (little morcels) like the best of them! The store is stark and black and very modern, but don't be deterred! The chocolate is delicious and comforting and so beautifully made.
This chocolatier is all about taste, from white chocolate and raspberry hearts to truffles that you could die for. Definitely one of the best chocolate shops in Paris, especially if truffles are what you're searching for! 
---
Henri Le Roux – Pigalle (but the fancy bit)
---
This is the personal shop of the man who invented salted butter caramel (is that not accolade enough?), and you can see the twist of invention and innovation in every single chocolate. Not to be missed and definitely one of the stand out and best chocolate shops in Paris. If you want something a little less touristy, this place is a good one to start with. 
---
Jean-Paul Hévat – 1st Arrondissement
---
When searching forthe best chocolate shops in Paris, we came across this amazing shop. This is where chocolate meets art –  but the star of this chocolaterie's menu, is the Chocolat Chaud. It is like drinking a slice of heaven, and I highly recommend getting yourself there if only for one sip! 
---
Jean Charles Rouchoux – Rennes Sévres
---
This chocolatier is something of a star in St Germain. You can order a plethora of things from a plaquette du chocolat (a Mans torso made of chocolate, and a bit of a pun, because Plaquette du Chocolat is the french way of saying « six pack »). 
His shops sells all kinds of chocolate related goods, from coated fruit, to truffles, to candy-style pieces. It's a chocolate-lovers idea of heaven and the prices are really reasonable too – offering lots of options for different budgets.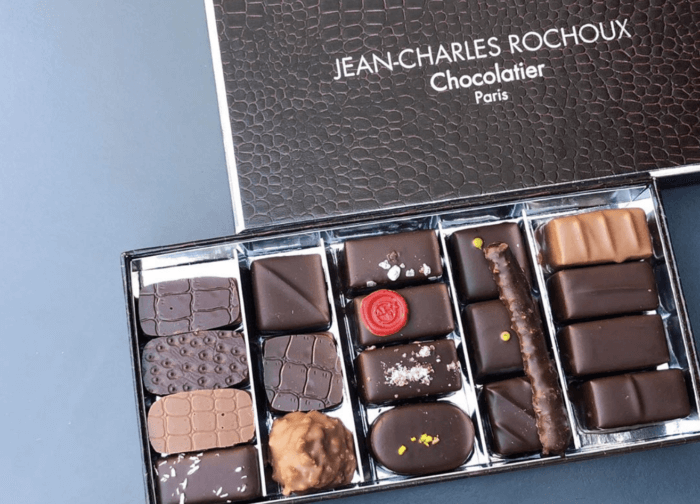 ---
Plaq – le Sentier
---
Next on my list of the best chocolate shops in Paris, it's Plaq. This is a very well kept secret, and I'm sharing this with you because it's just so good! Situated on the Rue Du Nil in what used to be Paris' textiles quarter is this, quite frankly amazing, chocolaterie. It's on a street dedicated to amazing food after Grégory Marchand opened his restaurant Frenchie there in 2009.
You'll find an amazing boulangerie, fromagerie, fishmonger, bucher, and three beautiful restaurants, and all of them support and supply each other. One of Paris' coolest streets for sure, and worth the trip. 
---
Maison du Chocolat – 16th Arrondissement
---
Make a date with the dentist, because after Maison du Chocolat on our list of the best chocolate shops in Paris, you'll need it. After starting his first chocolaterie in 1977, Robert Linxe has been inventing new chocolates ever since. This place is an absolute classic choice in Paris and the chocolates here are so delicious. 
Think twists on classic flavours and Asian spices, fresh fruit and chantilly cream. You'll be in heavenand you'll be planning to return the very next day, that's for sure! 
---
Un dimanche à Paris – 6th Arrondissement
---
The name means a Sunday in Paris, and you'll feel all the relaxation of the day of rest after just one bite of these gorgeous chocolates. This place feels like you've stumbled across a neighbourhood gem, which is why it makes our list of the best chocolate shops in Paris. A concept store dedicate to cocoa, but one that also serves brunch on Sundays. I can't even describe how amazingly decadent that brunch is – but just know that it's worth every penny of the 55€ per head. 
---
Michel Chaudun – 7th Arrondissement
---
Last on our list of the best chocolate shops in Paris, is this adorable chocolatier, and his cavern of cocoa delights, Michel Chaudun. A wooden panelled 19th century shop, a chocolatier who just loves chocolate, and sales people who's enjoyment of confectionary is just down right infectious will leave you wanting to sample everything and walk away with boxes and boxes of chocolate.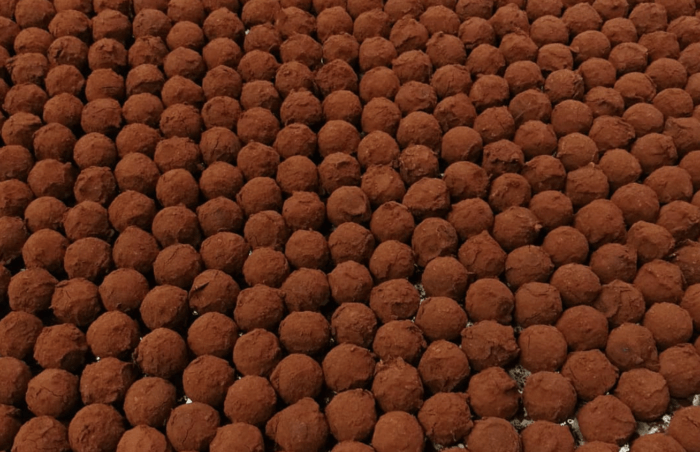 ---
I hope this list of the best chocolate shops in Paris has been helpful! You'll no doubt have some amazing places to satisfy your sweet tooth during your trip to Paris!