---
 Are you looking for the best of Las Vegas?
---
Las Vegas is one of the most exciting cities in the world, but if it's your first time, it can be a little overwhelming… especially when it comes to picking what to do, eat, where to stay, etc. Finding the best of Las Vegas in a list like this, will hopefully give you a bit more confidence that you're visiting the right places!
Hopefully this quick guide of the best of Las Vegas will help you out. It's a quick rundown of all the best of Las Vegas, so you can get a clear idea of how you should be spending your time!
---
The best of Las Vegas hotels
---
Las Vegas is home to hundreds of hotels, but the vast majority are located on the Las Vegas strip or downtown. The hotels truly are the best of Las Vegas… Hotels are where it all happens, the hotels in Vegas are the heart of the city! If you're heading to Las Vegas on vacation, then you'll probably want to be located in the heart of the strip, as this is where everything happens in Las Vegas!
Here are my top 3 budget Las Vegas hotels:
Here are my top 3 luxury Las Vegas hotels:
---
The best of Las Vegas day trips
---
There are loads of day trips you can take from Las Vegas, most of them will pick you up from your hotel's taxi rank (or concierge / garage area). Sometimes it's great to escape the hustle and bustle of the city, and explore some of the surrounding areas. Here are my best of Las Vegas day trips…
The Grand Canyon – I love Pink Jeep Tour company, I used them a few times and always had a great time. Grand Canyon tours really are the best of Las Vegas day trips!
Red Rock Canyon – A small national park only 30-40 minutes drive from the strip. You can get day tours to take you out there, and you'll learn loads from the tour guide too!
Zion National Park – One of the most beautiful national parks in the USA and only a few hours drive from Las Vegas. There are lots of tours that can take you there – I recommend this one.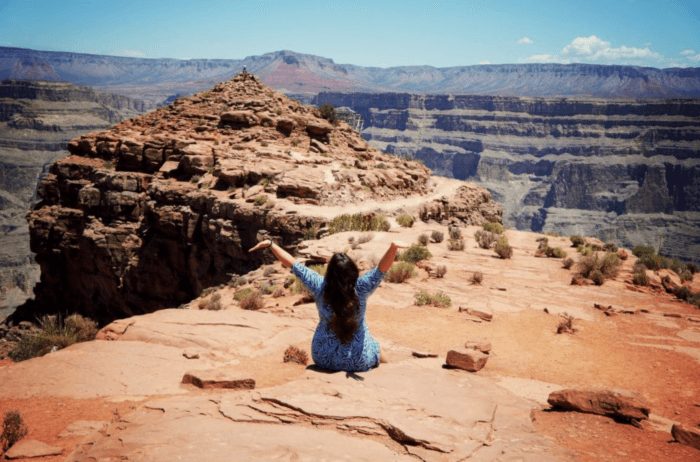 ---
The best of Las Vegas restaurants
---
Oh Las Vegas… so many amazing restaurants to try! But there are so many, how can you know if you're choosing the best of Las Vegas? You'll definitely want to try a steakhouse during your time in the city, along with a celebrity chef restaurant and maybe a themed restaurant too. Here are some of my top picks!
SW Steakhouse at The Wynn (steak)
Andiamo's Steakhouse at The D Hotel (steak)
The Yardbird at The Venetian (posh southern food and friend chicken)
Tap Sports Bar at MGM Grand (big portion, american food and lots of screens)
Egg Slut at The Cosmopolitan Hotel (egg sandwiches – cult foodie following, very popular)
Block 16 Urban food hall at Cosmopolitan Hotel (food hall with lots of great choices, I love PokPok wings)
Hells Kitchen at Caesar's Palace (celeb chef restaurant from the TV show of the same name)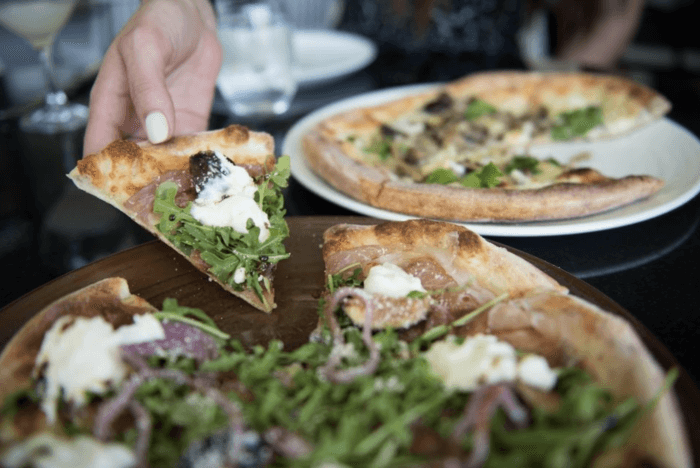 ---
The best of Las Vegas shopping malls
---
Whether you've been saving up for month to go shopping in Las Vegas, or whether you won big on roulette the night before… Shopping in Las Vegas is serious stuff! There are loads of amazing malls here, so here are my 3 top picks…
The Fashion Show Mall – A big mall with all the major designer and high street brands inside. It's big, spacious and nice to look around. Located opposite the Wynn hotel.
The Forum Shops – Located inside the Caesars Palace, the Forum shops are themed to look like Rome in Italy. There are loads of shops inside, mainly high end and designer – but there are some affordable and high street chains too.
The Grand Canal Shoppes – Located inside The Venetian Hotel, the Grand Canal Shoppes have been designed to look like Venice, Italy. The design of the mall is incredible and it's entertaining just to stroll around (even if you don't buy anything!).
Read a full list of Las Vegas shopping malls (including the city's best outlet / discount malls) by clicking here.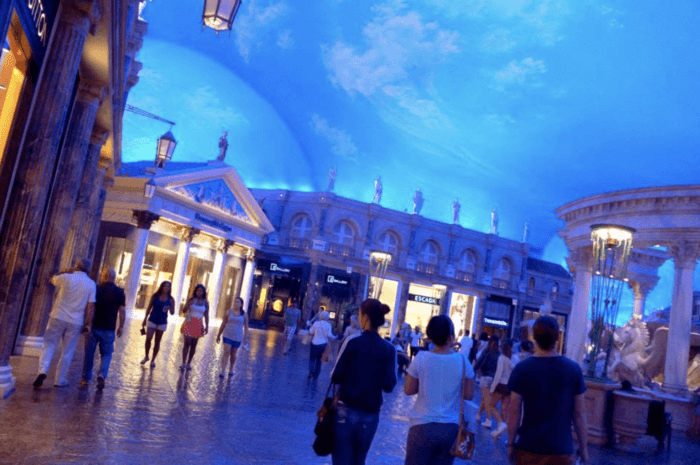 ---
The best of Las Vegas nightlife
---
Las Vega is known for it's nightlife, there are multiple nightclubs and bars in every hotel and on every corner – so you're literally spoilt for choice. Whether you want to dance the night away in one of the city's biggest clubs, or find a more intimate nightlife venue – Las Vegas has it all. Here are the best of Las Vegas nightlife…
Omnia – Located inside Caesar's Palace, this is one of the best and most popular nightclubs in Las Vegas. There's a roof deck and a terrace – so there's a good balance between indoor and outdoor pace too. There's great energy and vibes – we think you'll love it.
Hakkasan – Another one of Las Vegas's biggest and best nightlife destinations. Hakkasan is located inside the MGM Grand hotel and casino, and it's huge! Spaced across 3 levels, this nightclub even has it's own restaurant and light show too.
Marquee – Based inside the Cosmopolitan Hotel this is one of the newer nightlife destinations in the city. It's really popular with people who love a bit of glitz and glamour.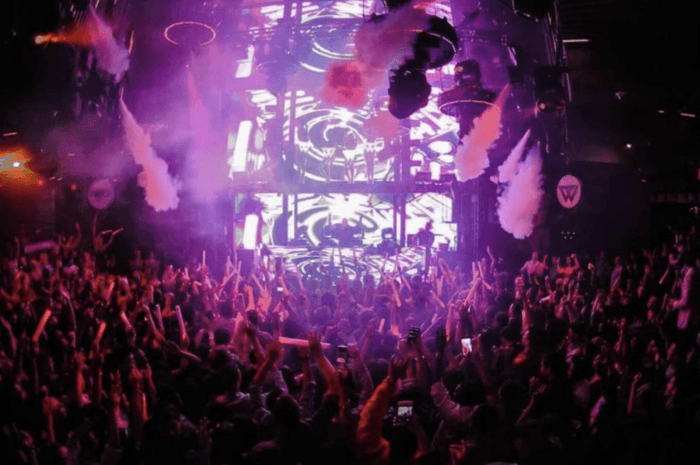 ---
The best of Las Vegas pool parties
---
Pool parties are one of the best ways to spend a summer day in Las Vegas. It's all the best things about a nightclub, but based around one of the city's glamorous and spacious pools instead. It's the perfect way to spend a day! Here are some of the best pool parties in Las Vegas…
Marquee Day club at The Cosmopolitan – The same vibes as the nightclub by the same name, but during the day! There are amazing views from the rooftop pool, and the cabanas poolside are a great little extra perk if you've got the budget for one.
Wet Republic at The MGM Grand – This place is famed for champagne showers, and it's actually one of the longest running pool parties and day clubs in Las Vegas. Expect long queues and expensive tickets – but if you want the epitome of poolside partying – this is it.
Encore Beach club at Wynn Encore – This place is huge and one of the most spacious and luxurious day clubs / pool parties in Las Vegas.  They even have poolside blackjack tables, just incase you want a break from dancing!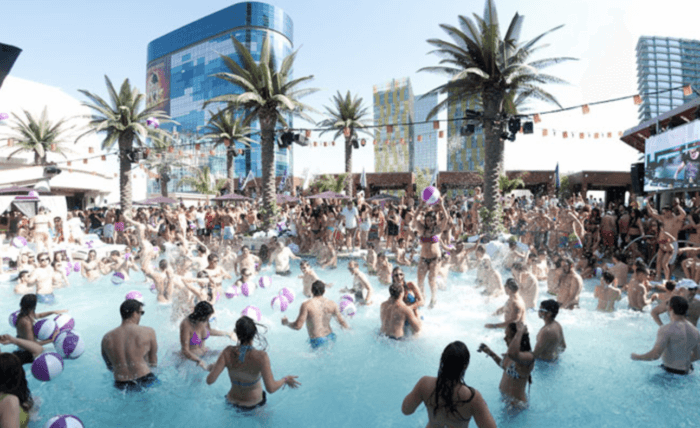 ---
The best of Las Vegas shows
---
There are so many incredible shows in Las Vegas, you could watch a different show every night! My favourites are (of course) the Cirque du Soleil shows, and you'll know already that Las Vegas is known for being home to Cirque du Soleil. But I've tried to include more than just Cirque du Soleil on this list, to give you a bit of variety!
Cirque du Soleil "O" – this is my favourite show in the world, and definitely in Las Vegas. It's mind-blowing, it's incredible – it's perfect. If you only see one show in Las Vegas, let it be this one!
Penn and Teller – If you like magic, then you can't miss out on Penn and Teller. I absolutely loved this show, it's a magic show with a twist and it's speckled with their witty humour and amazing trickery too.
Shania Twain – If you're lucky enough to be there when Shania is there, book tickets! She was phenomenal when we saw her perform, and I couldn't stop talking about it for weeks! You forget just how many amazing songs this lady has released!
La Reve, The Dream – Similar to a Cirque du Soleil show, but with a slightly different set-up and theme. I love the seating for this show (there isn't a bad seat in the house!) and the plot / theme is lovely.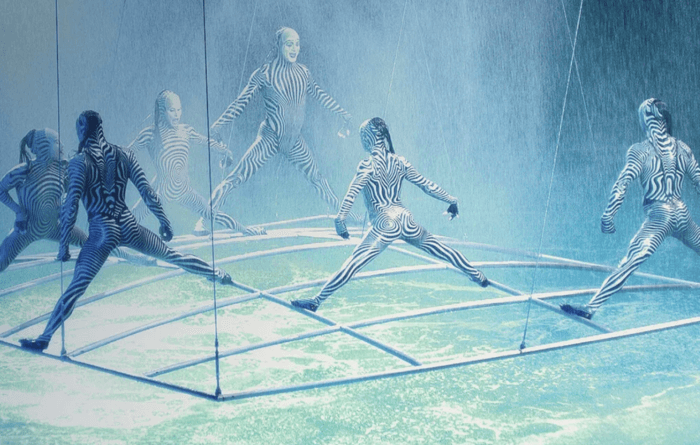 ---