---
Are you looking for the best luggage for international travel?
---
Luggage is such an essential part of a successful international trip, and I'm always looking for the best luggage for international travel. I travel internationally about 8-10 times a year, and domestically about  5 times a year. Last year I took 12 international trips (about 30 flights in total!) so it's safe to say that over the years I've become pretty picky about my luggage.
I know how much the quality of my luggage can effect my trip, and I know now exactly what I like to look for in the perfect piece of international luggage.
---
Here is the best luggage for international travel…
---
This is my favourite travel case I've ever owned and it's the one I'm currently taking around with me whenever I go abroad. It' holds a lot, but it's deceptively small and feels really compact and study (compared to other larger cases). The amount of luggage you can fit inside is crazy good and I love the sturdiness of the hard shell too. Oh, and I love that it comes in super bright colours . Click here to buy the red version, or click here for the bright yellow.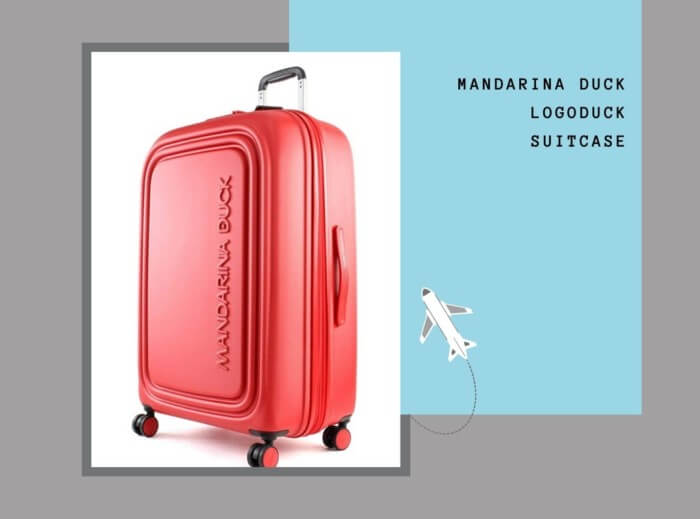 You can't really go wrong with Samsonite, they're one of the leading brands for finding the best luggage for international travel. Their cases are really well made, modern in design, lightweight and usually come in lots of different colour ways. I actually love the slightly unique colours available in this particular case – those greens and blues are rarely seen on cases and I love them. A great choice is you want something classic and well-tested. Click here for more information.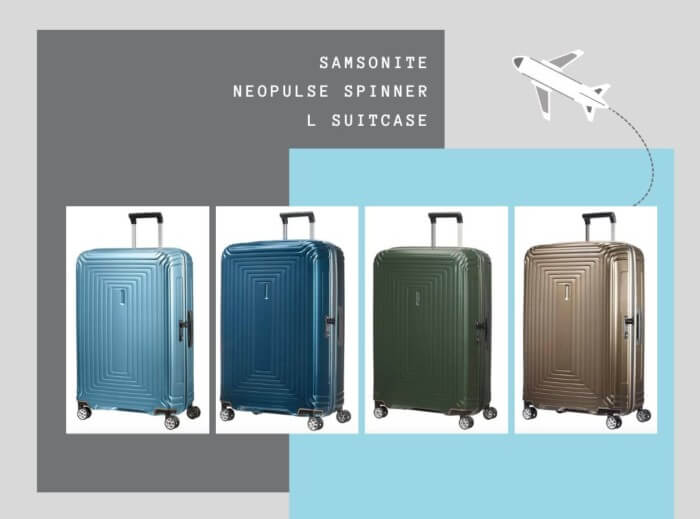 COOLIFE offer really nice luggage at VERY affordable prices, which is why I wanted to include them on my list of best luggage for international travel. I like their designs, their cases are well made, hard-shell, and 4 wheels too – so you're getting all the features of a high-end case without the big price tag. Definitely a great choice if you're on a budget! Click here to see the full range.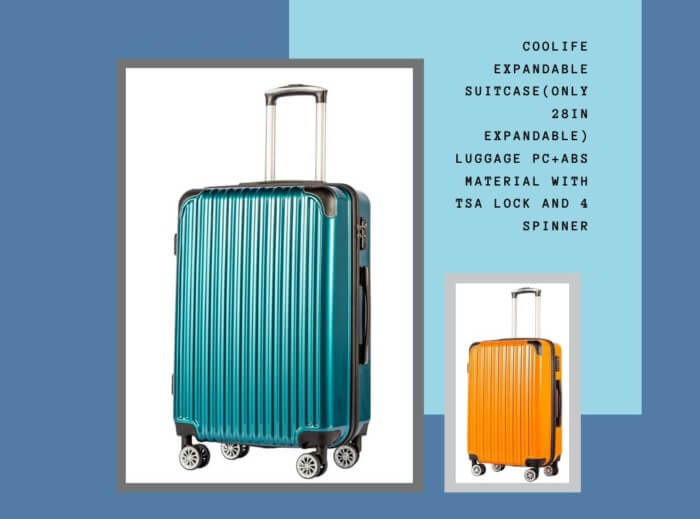 I LOVE Eastpak and I still have one of my suitcases I bought from them about 10 years ago (after many many trips it's still in perfect condition). A few things I love about their cases… They are SO hardwearing and long lasting (I think because it is a fabric case and not hard shell plastic). I also love the design of the case, it's sleek and sophisticated, but it's fun too. The patterns they have are endless, and they're really unique too. This is a great choice for someone who wants their travel case to have a bit of personality, or anyone who is paranoid about their case getting picked up by someone else! Click here for this version, but they also have an even bigger version too (click here)

American Tourister do really nice hard-shell cases, and I love the variety of colours they have, and also the texture on the cases too. This makes your case stand out, and in some cases it can help protect the plastic from cracking too. They're really good quality cases, they have the handy 4-wheel spinner wheels, and the price point is reasonable too (and not budget busting). Click here to see the full range.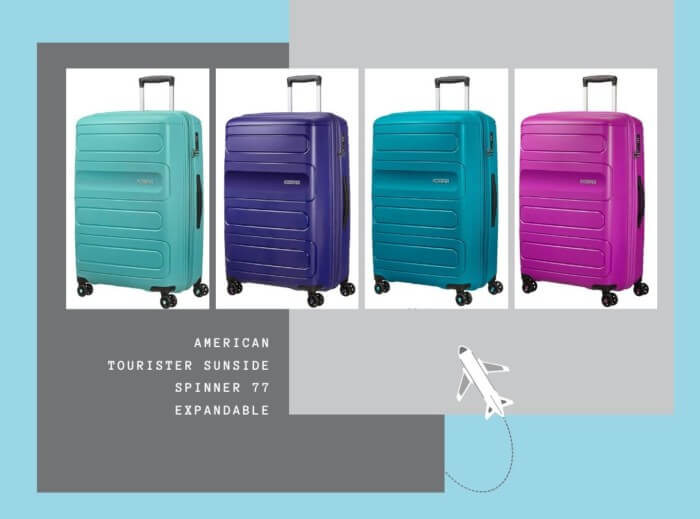 Another options from American Tourister, this is their Soundbox Spinner. I love this design because I just love the texture on the front of the case. It's little details like these that I really rate in a case, and I think it makes it look much more expensive than it actually is. Click here to see more information.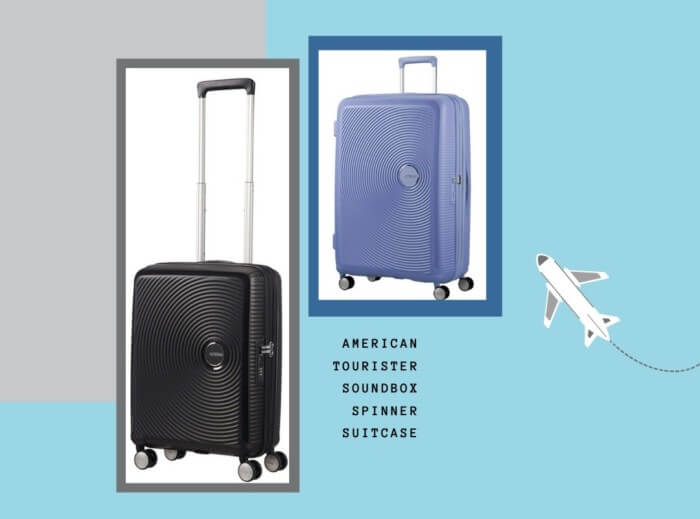 I wanted to include a set of cases in my list of the best luggage for international travel. If you like to pack heavy (join the club… me too) buying a matching set of luggage for international travel is really useful. First of all, it's easy to spot them all when they come onto the carousel, and secondly it looks great. This set of three cases is a great deal, the brand (I won't try and spell it again!) is a quality brand, and I love the added touches of the protected corners (which helps cases last longer and prevent denting or cracking). Click here to view these cases.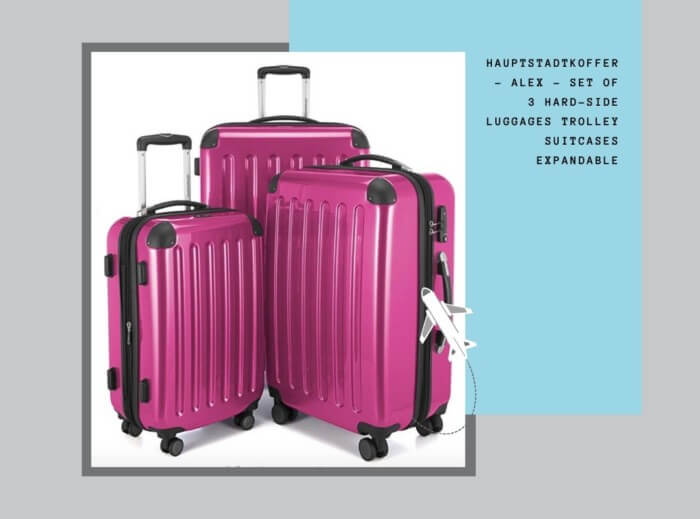 My husband has had a North Face suitcase for about 15 years and he swears by the quality and longevity of these cases. These aren't really 'holiday' suitcases, but if you're somewhat of an adventurer, and you plan on visiting more 'heavy-duty' destinations (where the weather might not be great, etc) then this is the case you need. They're soooo high quality, so sturdy and stylish too. It also comes in black! Click here to see the red and black versions on Amazon. 
---
A few hand luggage suggestions for international travel
---
I wanted to include a few hand luggage ideas too in my list of the best luggage for international travel, as (for me anyway) my hand luggage (or cabin baggage) is just as important on flights as my checked baggage. It's your hand luggage that you'll be carrying around for 3 hours in the airport, so it's so important you choose one that is easy to carry, accessible and lightweight.
My first choice is the Mandarina Duck Lux Trolley bag. I love Mandarina Duck as a brand, I find their cases to be really lightweight and efficient and really attractive to carry too. This bag comes in three colours; grey (seen below), moondust (a dark brown), and a beigey-pink. It's smart, it's compact, and it's nifty too. The wheels are quick and responsive and the design makes it easy to walk with (and run with!). Click here to view this case on Amazon.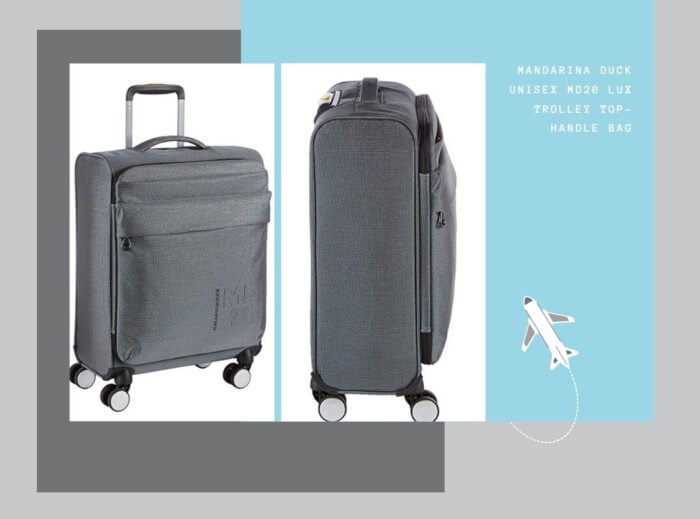 My husband bought me this bag a couple of years ago for my birthday and it's become one of my favourites for those flights when I want to take a slightly larger hand luggage option. This bag is just so spacious – and there's room for everything in there. It has a separate pocket on the top for your handbag (or anything you need quick access too – like passports, etc). It then has the main suitcase-style compartment to keep clothes, shoes, cosmetics, whatever else you need. There is also then a separate laptop sleeve on the back AND a water bottle holder on the side. It's so well thought out, I love it (click here to view on Amazon).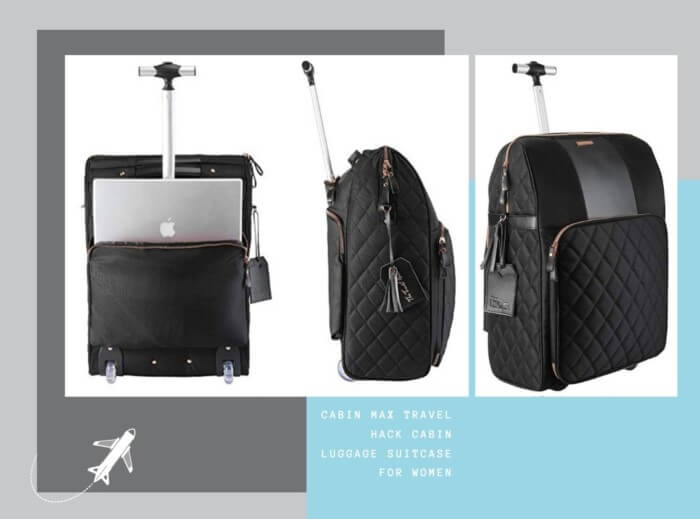 A cheap but efficient option here for people who want something small, but spacious. This bag just uses space really well, it's actually surprising how much you can fit inside. It's a backpack format too (not a pully) so it's easy to just grab and go, if you're in a rush. I also like the handle-strap on the back of the bag – which means that once you collect your bigger cases, you can easily attach it on, and not carry it anymore. Click here to view in more details.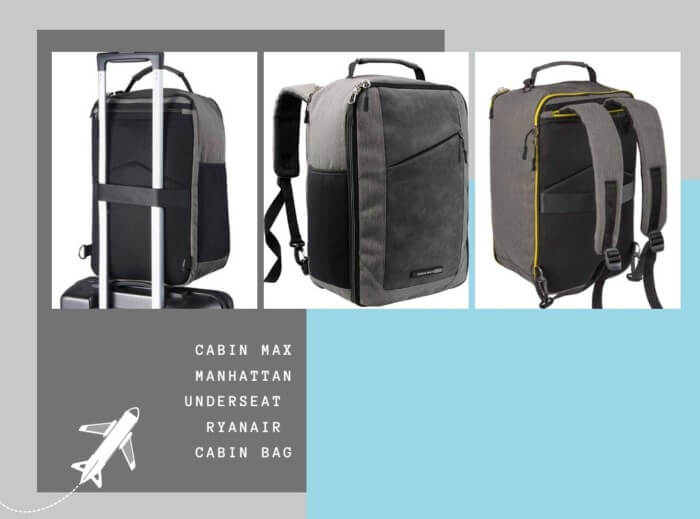 ---
Tips for choosing the best international luggage
---
I hope this list of the best luggage for international travel has been useful! All these bags are great choices for any international trip! I also have a few tips when choosing the best luggage for international travel, to help you ensure you don't lose your case, damage your case or misplace it!
Tip #1 for choosing the best luggage for international travel: Pick a pattern or a bright colour 
When you're flying internationally, you're usually on bigger aircrafts, so the chance of someone having the same (or very similar) case to you increases. In the past my husband always opted for a plain black case (no matter how many times I tried and tell him not to) and he's had random people pick up his case (and take them home!) by accident twice. Now, we always pick a colour, or a distinct pattern – it just helps your case become a bit more recognisable.
Tip #2 for choosing the best luggage for international travel: Attach a luggage tag
The amount of travellers I see that don't attach luggage tags is crazy. International airports are HUGE, and it only takes one tiny mistake for your case to get lost, or be picked up by the wrong person. Having a tag with your email address and phone number on helps people track you case down should it end up in the wrong city or airport. Also – having a tag on the case (especially a recognisable tag) helps you pick out your luggage quickly and also stops others from accidentally mistaking it for their own.
Here's a few luggage tags I love:
Tip #3 for choosing the best luggage for international travel: Pick a lightweight case
Check-in luggage is usually limited to 20-30 kgs for international travel, so I always try and pick the most lightweight case I can find, to maximise the amount of weight I'm left with for my actual belongings. There are so many amazing lightweight options out there now, so if you're still lugging around an old case, it's time to move on!