Are you looking for the best pizza restaurants in Chicago?
Pizza is a Chicago speciality, and for many people – it's the main reason for visiting! So it's no wonder you're looking for the best pizza restaurants in Chicago! 
Chicago pizza means deep dish, those thick pies once described by the Chicago Tribune as "pizza thick as a sewer lid and almost as heavy."
Bizarrely this quickly became one of the most world famous and popular pizza styles, recently TripAdvisor even named it number one in all pizza cities in the US. "Travellers come from all corners of the country to sink their teeth into Chicago's deep dish, the big cheese of pizza destinations".
So you're looking for the best pizza restaurants in Chicago… Here are my recommendations! 
---
Top tip! If you LOVE food and you want to try as much local food as possible while you're visiting the city, booking a food tour is a pretty awesome way of doing it. I've been on a few that I've absolutely loved, and I think the options below would be awesome. 
---
Pizzeria Uno
With any list of the most famous Pizzas in Chicago, or the best pizza restaurants in Chicago, Pizzeria Uno is always somewhere near the top. 
Uno Pizzeria & Grill apparently created the original Chicago deep dish, way back in 1943. Now that's a claim to fame!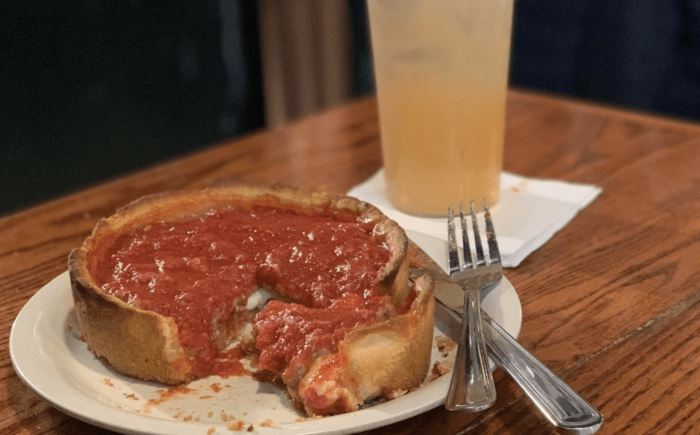 ---
Chicago Pizza and Oven Grinder
A meal at Chicago Pizza and Oven Grinder has a trip advisor rating of 4.5 and ranked #87 of all 8,204 Restaurants in Chicago (which is pretty damn high).
It's known for its Pizza Pot Pie and Oven Grinder sandwiches. And even if the pizza isn't for you (who are you?), the building has some dark and fascinating history.
Read more about visiting Chicago: 28 fun things to do alone in Chicago!
---
Pequod's Pizzeria
Pequod's mixes things up a little when it comes to deep-dish pizza pies. They actually serve their sauce underneath the toppings (which isn't the 'norm' in case you were wondering).
But what makes this place truly special is the caramelized crust. It's something else – and you'll be dreaming about it for weeks after!
---
Gino's East
Featuring 16 locations, you can find one of Gino's places across the city, its creation was down to traffic in 1966 a pair of cab drivers and one of their friends were stuck in a rush hour line.
During the wait, they decided that opening a pizza place would get them off the road and into a better career. Like other famous Chicago pizza places, Gino's featured deep dish.
Read more Chicago food inspiration: 20 places to find the best desserts in Chicago
---
Lou Malnati's Pizzeria
When I told my Chicagoan friends that I was visiting the city – almost all of them recommend this place. It didn't disappoint.
Considered the oldest family name in Chicago pizza, Lou Malnati's is as rich in history. Lou Malnati got his start in the 1940's working in Chicago's first deep dish pizzeria.
He took his pizza expertise to a northern suburb of Chicago, where he opened the first Lou Malnati's Pizzeria in 1971.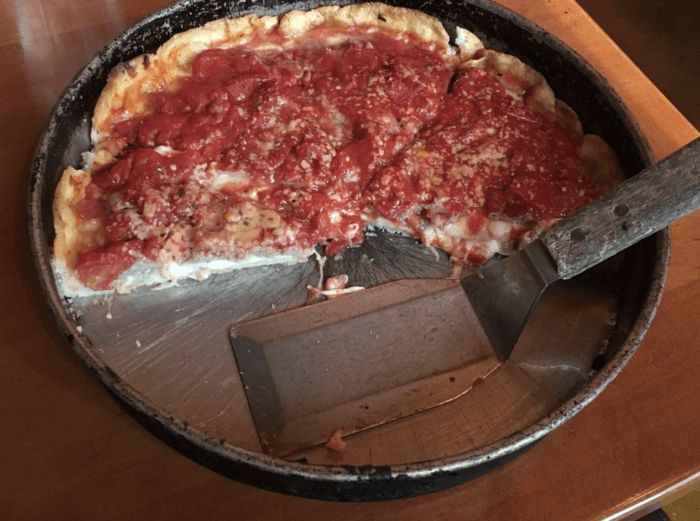 ---
Spacca Napoli
Said to have "The best Italian style pizza in Chicago" Dough is baked fresh daily by artisans from Napoli.
Ingredients from Spacca Napoli are carefully sourced from trusted vendors, many of which are unavailable anywhere else in Chicago.
Read more about Chicago food: 17 amazing restaurants open on Thanksgiving in Chicago
---
Pizzeria Bebu
You might think that with all the competition in the city, new places would be a little wary about opening. Not Pizzeria Bebu!
Their menu is full of over 20 flavoured pies, and each ones highlights different seasonal ingredients and sauces. I love it!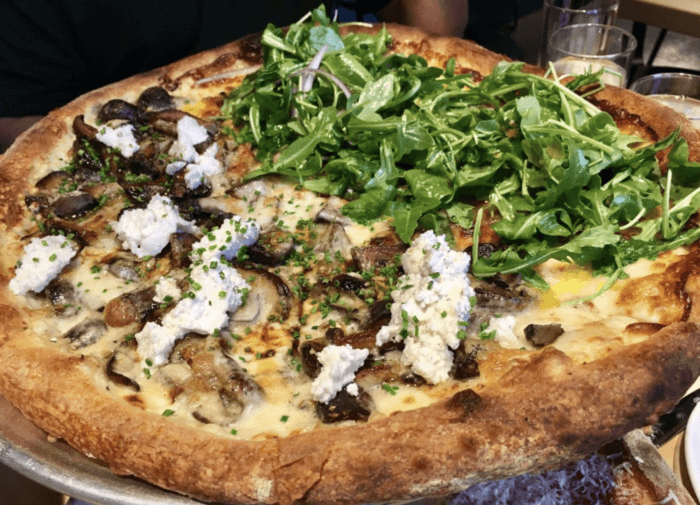 ---
Giordano's Restaurant and Pizzeria
Originally founded by Italian immigrants Efren and Joseph Boglio in 1974. The restaurant claims its deep dish is derived from an "Italian Easter pie" that the brothers' mother made in her home village outside Torino, a city in northern Italy.
The chain has grown into a behemoth, with locations in virtually every corner of Chicago and its suburbs. There are also Giordano's outlets in Minnesota, Indiana and Florida.
---
Pizano's Pizza
In 1991 the Rudy Malnati launched Pizano's Pizza. The company now has six locations, 5 of those in Chicagoland.
Donna Marie Malnati, Rudy's mother, was still handmaking some of the pizza dough up until the time she very sadly passed away. It just goes to show how important family was in Pizano's Pizza, even in such a successful chain.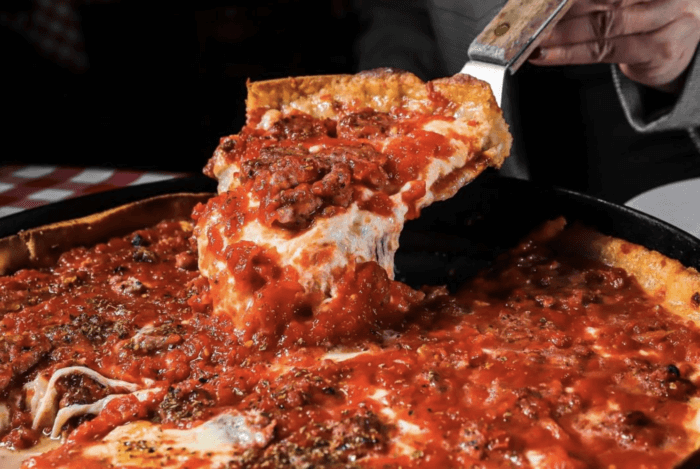 ---
Vito and Nick's
Vito and Nick's has been around since the 1950s (so it has quite the historical claim on Chicago pizza) and it's most certainly in the Chicago Pizza Hall of Fame. Their specialty is cracker-crust pizza, which is super thin and crispy, is something you won't want to miss!
---
Piece Pizza 
Known also as being a top class brewery, Thin-crust pies & house brews with karaoke & live bands some nights are all in store if you visit Piece Pizza. 
---
Aurelio's Pizza
Given a trip advisor rating of 4.5, Aurelio's Pizza is a chain which centres its business around the thin crust style of pizza. Aurelio's Pizza is one of the oldest Chicago pizza franchise restaurants, franchising since 1974.
---
Forno Rosso Pizzeria Napoletana
Started by Nick Nitti he lived in Italy for many years, and after returning to Chicago, he trained under one of Napoli's best Pizzaiolos making his restaurant the spectacle that it is. Forno Rosso is a great pizza choice in Chicago. 
---
I hope this list of best pizza restaurants in Chicago has been helpful! Let me know in the comments if you try any of them!