Ireland is undoubtedly Europe's most interesting tourist place to visit and explore. It is a year-round destination with stunning natural beauty and heart-warming culture. There are captivating things to see and do in Ireland during the winters and summers alike. However, visiting Ireland during the winters is even more exciting. If you are looking for the best ways to spend a holiday in Ireland during the winters, the list is huge.
It is the ideal time to enjoy thrilling winter sports in Ireland. The dramatic serene landscapes of this Celtic island remains covered under the bed of snow during winters. This makes it perfect for all hikers, thrill-seekers and adventure junkies to enjoy the bucket list of thrilling winter sports. Skiing or snowboarding is the most popular adventure winter sports tourists enjoy during this time.
Visiting an Irish Pub, enjoying live music or exploring festive markets are some of the best ways to spend a winter holiday in Ireland. Let's explore the best ways to spend a holiday in Ireland during the winters.
Enjoy exciting winter sports.
Skiing and snowboarding are two of the most exciting winter sports for you to enjoy in Ireland during the winters. The National Snowsports Centre is the centre point of attraction for this. Craigavon in Co. Armagh is another great place in Ireland popular for winter sports. Also, enjoy trekking on the Maamturk Mountains which gets covered under the snow blanket during winters.
However, there are certain risks associated with winter sports, and accidents or medical emergencies can arise at any time. It is better to have winter sports cover as an optional add-on along with your travel insurance for your holidays. The winter sports add on will cover the risk of any unforeseen accident, injury, or illness and for the theft of or damage to your ski equipment during a ski trip. Therefore, you can reduce the burden on your pocket and enjoy all thrilling winter sports worry-free.
Enjoy New Year Festival in Dublin.
Dublin's New Year Festival which lasts for full two-days is something you cannot miss. This is probably one of the best ways to spend your winter holidays in Ireland. Enjoy spectacular light shows, parades and stunning public concerts. The entire city comes livelily with party vibes.
The New Year winter party event at Titanic Belfast is an amazing event to visit and enjoy. Visitors gather to see the DJ's standing and performing on the staircase of this Titanic's replica. Frequent firework display lights up the night sky which gives you a stunning festive feeling. There are so many things to do in Dublin – you'll be able to keep yourself plenty busy during your time in the city before and after the New Year celebrations too!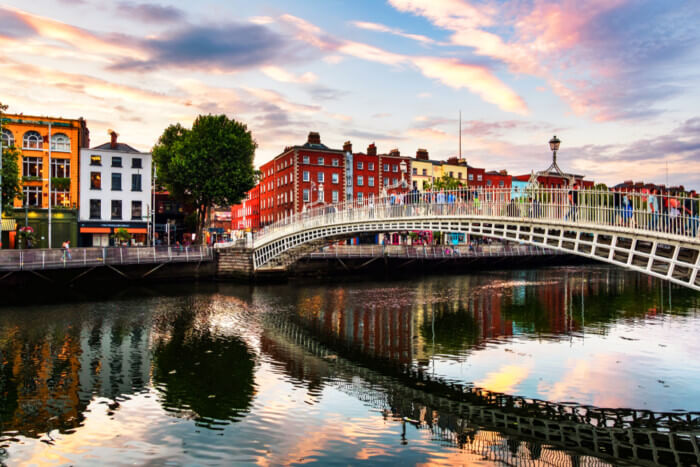 Enjoy Watching the Northern Lights.
The spectacular natural phenomena of Northern Lights are seen in many parts of the world like Iceland, Greenland, Scandinavia, etc. You can also watch this spectacular natural lighting show in Ireland's Inishowen Peninsula region during winters. On a clear night sky during winters, you can see this amazing lighting aurora filling up the sky.
You can spend a holiday in Ireland during the winters in multiple ways. We have discussed the most popular ways to maximise your travel experience. Among all activities, winter sports are the most exciting one to do. So, keep them on top of your Ireland Travel Bucket list and visit during winters to enjoy a chilling holiday.