Are you looking for the ultimate locations to go zip lining in NY? This list has all the best zip lining spots in New York! 
---
If you're looking for thrills in the air, a whizzing ride on a zip line in canopies and high above the ground in New York state – then this is the article for you. If you're asking yourself "where can I go zip lining in NY?" Look no further: we've got the answers. 
This is a list of all the best placing for zip lining in NY – so you don't need to do anymore research – all the info is here in one place.
---
What makes zip lining in NY amazing?
---
Zip lining is a pretty amazing activity, no matter where you try it – but New York State has some of the best zip lining in the world, so it's one of the best places to try it out. Whether you're a beginner, or a zip lining expert – giving zip lining in NY a try is incredible.
So here are my favourite picks…
---
Hunter Mountain Zipline canopy tours in the Catskills
This park has six zip lines, 4 rope buildings and 9 canopy platforms from which to enjoy the Catskills from the air. The Catskills are a stunning place of natural beauty – so if you're going to enjoy some zip lining in NY, this is the place to do it. The sky rider tour will send you whizzing through the air at 50mph. Booking ahead is necessary, but also so so worth it. Find out more information about this particular zip lining in NY tour by clicking here! 
---
Windham Mountain zip lining 
You can go whizzing through this winter resort from a pretty easy price on the wallet at Windham Mountain zip lining. It costs $10 for one ride and $15 for two. 40ft up and 500ft long, you'll really feel like you're flying! The Windham Adventure Park is less than 2 miles from the Evergreen and it has two zip lines so you can race against friends too. 
---
Bristol Mountain Canandaigua
A bit more of a hefty cost, but that comes with gorgeous views of lake Canandaigua and the mountain. It's $49 for an adult and $25 for kids but you can do bulk bookings for groups of 15+ which will get you a discount at Bristol Mountain. This place is a big ski resort in the winter, so there are lots of amenities here, like cafes, restaurants, etc. So it makes for a really nice day out zip lining in NY. 
---
Adirondacks extreme adventure course
This is one of my favourite places for zip lining in NY – it's definitely one of the best courses in NY and it's so much fun – click here for their website. This adventure course is simply amazing, with so many challenges and different obstacles to face! It costs $25-$50 a head depending on how many of you there are and the time of year you're going. You can spend a whole day in here going on different courses, and the park has an enormous Zip line!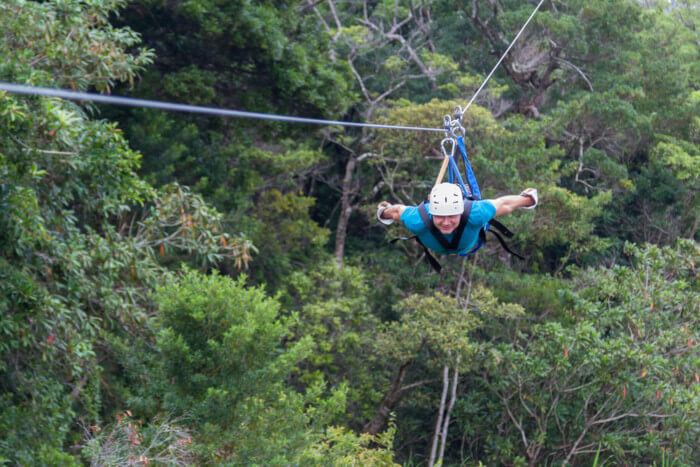 ---
Gravity Gorge Zipline at Zoom Flume
This place is primarily a water park (and it's an amazing family-day-out destination). However, they also recently opened a HUGE zip line for guests too! This Zipline is 700 feet long and 100ft high, so it's definitely one for the adrenaline junkies! Set in the water park of zoom flumes you soar over the slides and pools at quite a rate! Definitely worth a visit, especially for families with kids – as this places is so much fun for them. 
---
Howe High Adventure @ Howe Caverns
Next on my list of places to do zip lining in NY – it's Howe Caverns. This is another adventure park on the list, full of a variety of activities, including a zip lining course. Full admission is $65 per person, and you'll then be able to take advantage of all the activities, and trust us, there are loads! If you just wanna Zip line though, it's in $17 to ride this 900ft long Zip line.
---
Soaring eagle Zipline at Thunder Island
And finally on my list of places to try zip lining in NY, it's Thunder Island! This one's a double rider, so two of you go at once, and costs $3 with a thunder island wristband ($4 without) and you can zip hand in hand along this 700ft course!  It's the only place to do zip lining in NY where you ride the zip line with a friend, there AND back. You ride the zip line both ways, and it's such a memorable and surprising experience. 
---
We hope you have an amazing time zipping across New York State – if you think there's a Zipline we need to know about, let us know in the comments! But for now, we're pretty sure these are the best places to experience zip lining in NY. Have fun out there!