Can You Really Travel to Cairo On a Budget?  Here, I will try and answer your question!
This wonderful planet is filled with so many exciting and remarkable places. From the spectacular peaks of the Andes Mountains, to the frozen tundra of Siberia, there is simply so much for us to see! But when it comes to traveling to new and exotic places, the costs can be excruciating.
So how can you travel to beautifully warm, history filled places like Cairo without spending too much? Cairo is a far-flung destination for many, one of those 'dream destinations' you have on your bucket list.
Figuring out how you can travel to this extraordinary Egyptian city doesn't have to be difficult. Check out this helpful budget friendly guide to see how to explore Cairo and find adventure without breaking the bank! 
Travel for Less
One of the best ways to save money when traveling to unique places like Cairo is to save money on transportation. Sure, you can book months in advance and patiently wait for your Egyptair ticket price to drop. However, there are a few tried and true ways to save money on plane tickets, as well as train tickets. 
Here are some of the best ways to keep your travel costs low with airline reservations:
Book directly with the airline to avoid having to reload your browser page over and over for the best prices.
Choose a flight with strange travel hours. They are normally cheaper because they are a bit more inconvenient.
Find a way to use credit card rewards, as well as airline miles to book your flight.
Book your train tickets with a round trip. They are generally cheaper combined than one way tickets.
Select your reservation well in advance! Sometimes the early bird does catch the worm, especially with plane tickets.
Use a website that will do your flight and Hotel Booking all together. Typically, you get a discounted rate for doing both together!
Finding ways to cut costs with your transportation options is one of the easiest ways to travel on a budget. Not only can you save money on hotels in Cairo, but you can also get cheap airline and train tickets using these helpful tips.
Activities for Cheap!
When it comes to spending money on your holiday, a lot of your daily expenses will be for the fun and exciting experiences you can only do in Cairo! However, there are tons of ways you can get a true Egyptian experience without paying big bucks. You never know the kind of incredible things you can do for FREE!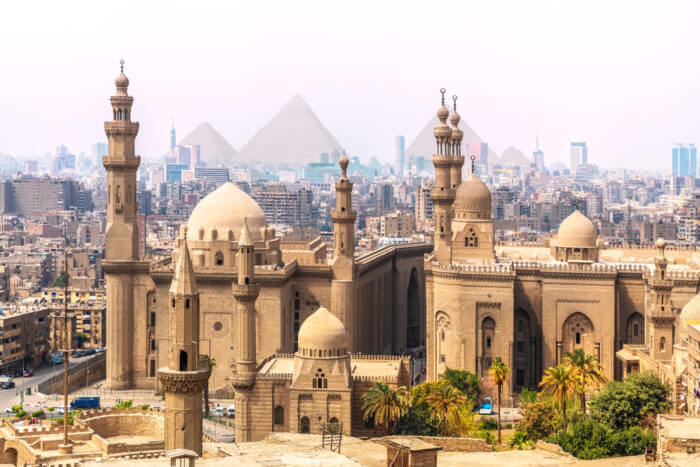 If you can't fit tour prices into your travel budget, then one way to get amazing views of the Pyramids of Giza is to take a walk, find an outdoor restaurant nearby, or even try booking tours that combine the Pyramids as well as the Sphinx and other local landmarks! You can also try to book tours and activities far in advance. This will sometimes get you a discounted rate, as well as a guaranteed reservation!
You can tour Old Town Cairo for free, as well as get around town for cheaper. Use the local metro lines, or even try a taxi service rather than booking with local tours that can be a bit pricier.
All things considered, the best way to get around for free is to walk. Simply take your phone, or map with you and mark out where you're going to see what! A cheap and tourist friendly way to see this historic city.
Budget Friendly Tips
There are plenty of other ways to see Cairo for cheaper. So whether you're backpacking on a budget from Europe to Egypt, or simply want to focus Cairo, these budget friendly extra tips are amazing for your holiday.
Have a food budget for your day to day activities and tours.
One of the simplest ways to burn through cash on holiday is to spend it all on food. Plan ahead with your food budget and you'll save a LOT! Try to buy from street vendors, or small, local shops to keep your spending to a minimum. You will not only be able to try delicious Egyptian delicacies, but you'll also get to see the real Cairo as well! 
Shopping till you drop is something you definitely want to avoid.
Sure, it's ok to bring back a few souvenirs, but me certain to not over do it! Avoid large, commercial shops, and keep your shopping to smaller businesses. This way you will not only get something authentically Egyptian, but you'll probably save more than a few bucks along the way!
Find budget friendly accommodation
Surprisingly, there are lots of amazing hotel option in Cairo, that don't break the bank. When searching on hotel websites, filter by high review score, but lower price point. That way, you'll find the best value hotels, but also the best reviewed ones. Reviews are often how I judge a hotel before visiting, and reviews on booking websites are one of the best indicators.
Book at off-peak times
Perhaps this is a little obvious, but booking your holiday away from peak times is the easiest way to see the biggest reduction in cost. I always avoid school holidays, but also be careful of cultural holidays or celebrations in the city too – because prices may peak during those times.
Visiting Cairo On a Budget is Easy!
All in all, visiting Cairo on a budget is incredibly easy! Whether you're at the end of your Egyptian Nile cruise, or you've flown in to experience the Pyramids first hand, you don't have to empty your wallet to explore Cairo.
Don't let the Egyptian holiday you've always wanted slip through your fingers because of money. If you plan ahead, and use this helpful guide, then you'll be enjoying sunsets in Cairo in no time!