Nepal has always been a firm favorite of tourists all around the world for mountaineering. Most of the tourists come to Nepal to witness the absolute beauty of the mountains, and some of them come to conquer the mountains.
Do you have mountaineering in your bucket list?
If so, you have come to the right spot, just settle down and read about one of the greatest adventures in the world that is attainable by almost anyone.
It is magnificent and climbing Island Peak is truly a spectacular undertaking. 
This guide is particularly useful for novice climbers who wish to begin their mountaineering journey by summiting Island Peak and then move on to other peaks
Island Peak Overview  
Island Peak is named after its location. The peak, standing 6,189 meters tall in the middle of Chhukung valley, appears to be floating in a sea of ice. The mountain is part of the Himalayan range and is situated on the southern side of Mount Everest.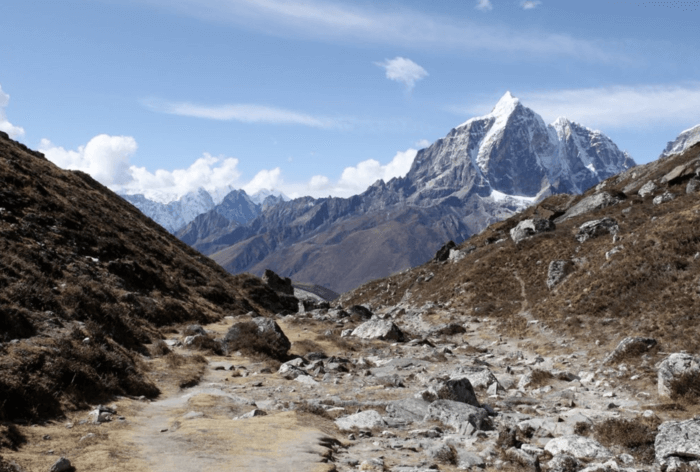 Island Peak consists of two summits both of which are typically climbed on a single trip. The main summit is the highest among the two, at 6,189 meters while the southwest summit stands 5,621 meters tall.
Island Peak was successfully summited via the Southern point in 1953 as part of a training exercise by a British expedition. The main summit was first climbed in 1956 by Hans-Rudolf Von Gunten and two unnamed Sherpas. They were members of a Swiss team that went on to make the second ascent of Everest and the first ascent of Lhotse.
Fun Fact: Tenzing Norgay, the first man to summit Everest was a part of the British team that first climbed Island Peak.
Since its first ascent, Island Peak has been climbed by thousands of mountaineers, including some of the world's best climbers. The beginners also climb the mountain as part of preparations for a higher and more difficult accent.
Although the Island peak is not a technical climb, it should not be underestimated. The cold weather and altitude can make the climb pretty challenging and risky even for someone with extensive trekking experience at high altitudes. The ascent of the peak involves basic technical skills like rope travel, using crampons, glacier crossings and the use of ice axes on some steep snow slopes. These factors mark the major differences between trekking vs mountaineering in the Khumbu Region of Nepal.
Despite the growing number of people who climb Island Peak every year, the cases of casualties on the mountain are very rare. Island peak holds a very low death rate which is usually attributed to negligence, bad weather, and altitude sickness issues.
Before the Climb
You will reach Chhukung on the 7th day of your journey where you will rest for a day for acclimatization. You may opt for a short acclimatization hike or rest for a day more to adapt to the cold climate and thin air. 
But Remember!
Do not push yourself too hard! Better take a day off or descent down in case the symptoms of altitude sickness starts to appear.
Also, make sure you register with all the required authorities like the rescue center, tourism board and so on. And write down the important phone numbers that you might need in the case of an emergency!
Outline Itinerary
En-route to the Island Peak, travelers also get to walk the famed Everest Base Camp Trek. This journey is an outstanding opportunity to spend time in, and learn about the mighty mountains. 
Here's the travel itinerary for Climbing Island peak:
Day 01:Arrival at Kathmandu (1,300m/4,428ft)

Day 02:Fly to Lukla (2,800m/9,184ft) then trek to Phakding (2,652m/8,700ft): 40 min flight, 3-4 hours trek

Day 03:Phakding to Namche Bazaar (3,440m/11,283ft): 5-6 hours

Day 04:Namche Bazaar (3,440 m/11,283 ft): Acclimatization Day

Day 05:Namche Bazaar to Tengboche (3,870m/12,694ft) 5- 6 hours

Day 06:Tengboche to Dingboche (4,360 m/14,300 ft): 5 to 6 hours

Day 07: Dingboche to Chhukung (4,730m/15,518ft): 3-4 hours

Day 08:Acclimatization

Day 09:Chhukung to Island Peak Base camp (5,200m/17,060ft): 3-4 hours

Day 10:Island Peak Base Camp to Island Peak Summit (6,189m/20,305ft), back to base camp: 10-12 hours

Day 11:Island Peak Base Camp to Pangboche (3,985m/13,074ft) 5-6 hours

Day 12:Pangboche to Namche Bazaar: 4-5 hours

Day 13:Namche Bazaar to Lukla: 6-7 hours

Day 14:Fly to Kathmandu

Day 15:Kathmandu Leisure

Day 16:Final departure
Best Time to Summit Island Peak
The best and most suitable time of the year for climbing Island Peak is during spring (March to early June) and autumn (September to November). These seasons coincide with Everest Expedition, so along the climbing route, you will encounter the Everest expedition team during the months of April and May. 
Spring is the ideal month for the best climbing experience and breathtaking views without clouds. Keep in mind you that the number of visitors skyrockets during this season.
Extreme conditions dominate this region with temperatures well below freezing in the winter seasons. The climbers are advised to pack proper gears. Check sleeping bag sizes guide for right sleeping bags, and have sufficient training for this season.
Also, Island Peak Climbing is possible throughout the year except during the height of monsoon (mid-June-end of August).
Island Peak Gear List
An expedition like Island Peak requires some specific gear. 
To make sure you don't forget to bring anything, this is a recommended list of gear to pack, based on the experience of climbers.
Clothing List
| | | |
| --- | --- | --- |
| Footwear | Lower-Body Clothing | Upper-Body Clothing |
| Double climbing boots | synthetic underwear | Softshell jacket |
| climbing socks | The bottom synthetic base under layer | climbing parka/fleece with hood |
| Full-sized gaiters | Lightweight synthetic hiking trousers | Hardshell jacket |
| Mid-weight hiking boots | Hardshell trousers | Softshell down winter jacket |

Also, be sure to pack some important Climbing Gear, such as:
12 Point Crampons

Alpine Ice Axe

2 Locking Carabiners

2 Non-Locking Carabiners

Climbing Harness

Accessory Cord
Other Essential and Accessories
Warm ski hat/beanie

Buff / Balaclava

Sun hat

Sunglasses 

Headlamp with extra batteries

Insulated and waterproof mittens

Sleeping bags

Trek Poles

First-aid Kit

Water purification tablets

Lip balm and sunscreen
Be sure to check sleeping bags, proper hiking, and climbing boots, and proper medications in your first aid kit. This is the key to a comfortable and safe climb.
Costs and Permits
The cost to climb Island Peak depends on how you tackle the mountain. Here are the lists of permits required:
Local Area Permit: USD 20. This is the same in whichever season you opt for this adventurous trip.
However, the cost of the climbing permit varies according to the season. During peak season, you have to pay extra charges for the permit. It is quite cheap in off-seasons.
During Spring season (March-May), you have to pay around USD 250 for the permit.

During the Autumn season (September – November), you have to pay around USD 125 for the climbing permit.

While in monsoon (June – August) and winter (December – February) which is the off-season, you can get the permits at USD 70 per person.
Apart from the permits, the overall expedition will set you back around USD 2000. The cost includes meals, accommodation, guides, porters, insurance and a flight back to Kathmandu. You need to have extra cash in hand for any additional expenses.
Some Important Tips 
We have compiled a list of some important tips for climbing and getting around the Peak which is listed below:
Tips for Staying Safe During Your Trip
Register with all the required authorities before the journey

Speak with your doctor before traveling to South Asia. Some healthcare providers may recommend that you receive vaccinations.

As with any other adventure, travel with a group if possible. It'll help provide additional safety while scrambling up the summit too.

Be sure that someone back home knows your itinerary and your intended date of return
Acclimatization Tips for Climbing Island Peak
The best way to deal with acclimatization is by drinking enough water and other fluids

Exercise less and rest more, especially in the first few days

Climb higher, sleep lower if possible

Carry medications against AMS like Diamox, just in case.

Don't push yourself too much. Rest in case of headaches or a slight fever.
Tips for Island Peak Climbing Cost
Make sure you bring cash with you when heading to the mountain. There aren't many ATMs in the vicinity of Island Peak.

Carry extra cash to pay for your extra supplements and expenses.

You can choose to avoid the Lukla flight and drive to Jiri and trek to Lukla to save some cash.

Staying in basic tea houses significantly reduces the accommodations cost. 

Opt for renting trekking gears instead of buying them in Kathmandu.

Get reliable travel insurance before you plan to join this trip. It is for your safety. It costs around USD 125-280 depending on the policy you choose.

Plan the trip in a group. This way you can divide the cost with your fellow trekkers.
Conclusion
Make a summit playlist on your iPod full of motivating tunes, tucked it in beneath layers of clothing,  keep your favorite song on repeat and voila! You're ready for an adventure of a lifetime. 
It sounds cliché but the feeling of content after conquering the peak at the dead of night is truly incredible.
And make sure you stop to take in that sunrise – it's phenomenal!