Have you been asking "Where are cool shops in San Francisco?" Keep reading to find out!
San Francisco might be famous for many things, from burritos to hills, but the shopping is something else.
You can literally shop until you drop all over town from Union Square where you can find an enormous Macy's to vintage shopping in the Haight.
Whether you're looking to splash some cash, or hunt down a vintage find, I've got the ultimate list of cool places to shop in San Francisco. So if you been wondering where are cool shops in San Francisco…
Hopefully this will help give you the answers!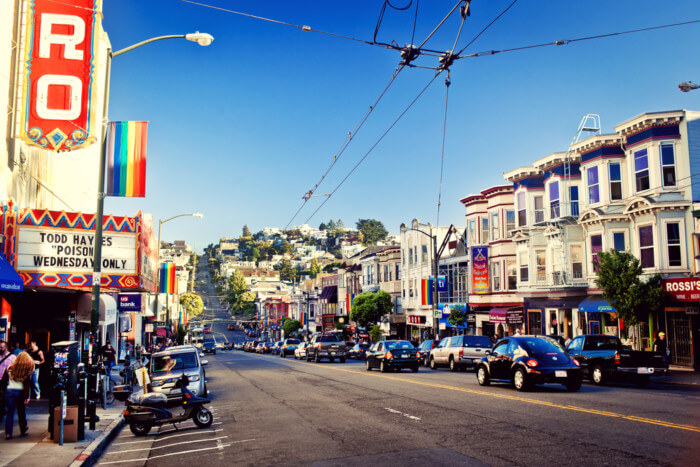 Filmore St
First up on my list answering the questions 'where are cool shops in San Francisco?' is Filmore St. Filmore Street is in the Lower Haight, and it honestly has any kind of shop you can imagine from antiques to bakeries.
There's a few high end chain stores, mixed in with some independent retailers, as well as places to stop for a bite to eat.
You could probably spend the whole day here without any trouble, it's the kind of place where just wandering in and out of stores is the perfect way to pass time.
For Art and Antiques this is a cool place to stop, Head to Thomas Reynolds Gallery for a little piece of SF art to take home with you.
Read more about San Francisco: 30 things to do in Union Square, San Francisco
Haight-Ashbury
This is the best place for vintage shopping, getting great records, and hitting up bookstores. It definitely ticks the boxes for 'where are cool shops in San Francisco'.
Hit up Relic Vintage, Wasteland, and Decades of Fashion for some wavey garms. Also a trip to San Francisco just wouldn't hit it if it didn't involve a trip to Amoeba Records.
Wrack upon wrack of vinyl stacked back against the wall. Even if you're not that into music, it's still a sight to behold! (there's also Bound Together Bookstore, which you should definitely check out.
It's an anarchist collective, so you can find anything you need to start another counter culture movement somewhere in that shelfspace!)
Hayes Valley
Next up on my list of 'where are cool shops in San Francisco'… If you're looking for chic, cool and expensive, then the Hayes Valley is for you.
Relatively new to the scene as a shopping destination, head to Hayes Street for a real experience, and some quality retail therapy.
Convert is all about sustainable denim, all the brands are environmentally friendly, and the designs are super chic. Also Try Linden Street for some fashionista shopping, Acrimony is all about urban designer clothes. 
Valencia St
In the heart of the Mission district, Valencia street is brimming with amazing shops. There's a lot of vintage here, too, like the haight, but it's a little more thrifty than vintage.
Check out Community Thrift Store and Schauplatz for great second hand clothes, or Ruby Artist Cooperative for handmade homeware. Don't miss Good Vibrations, a woman owned sex toy store for those of all persuasions.
Honourable mention: Union Square
This really is a shopper's paradise, and worth the crowds for it. However, it's basically San Fran's version of Oxford Circus, and whilst there are shops GALORE, they're probably some you've been to before.
If you're looking for a sephora though (and let's face it, who isn't?), this is where you'll find it!