Whether it's a European minibreak or a year-long voyage, travelling tends to be a bit of a whirlwind. As a blogger, I've become accustomed to capturing every last detail – from the most memorable eateries to how it feels waking up to the New York skyline – but I know how easily these things can pass us by. Some of my most prized possessions are my photographs and frames, and something I adore looking through is a scrapbook I kept whilst Pad and I travelled the world a few years ago.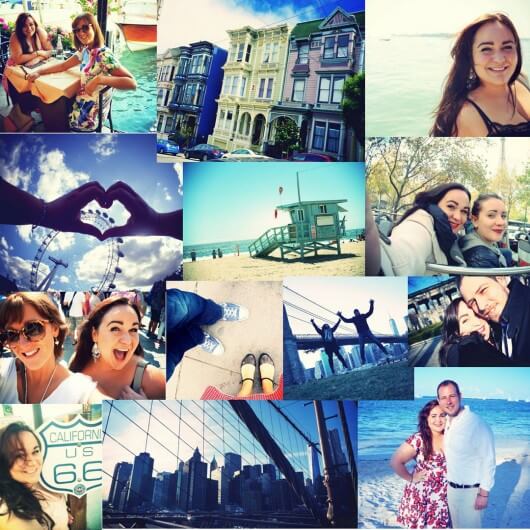 Living in the moment is an absolute must when it comes to experiencing new places, but preserving these memories for years to come is just as important. I want to be 80 years old and flicking through old photos and reliving amazing memories.
Here are some creative ways to document your travels and truly capture each and every adventure…
Start a collection
Only when I look back over the past few years do I truly realise just how many amazing places I have seen. Of course, keeping track of every trip is easily done with a list, but this doesn't exactly make for great memorabilia. Collecting a small item from each place you visit is a great way to bring back the essence of each city or country, and marks another spot on the map that you've explored. I've started doing it with magnets (tip of the hat to my future mother-in-law, but I also collect a photobooth strip from holidays too). Aside from that, postcards, stamps, shot glasses and newspaper cuttings all make for cheap, lightweight and easily portable souvenirs.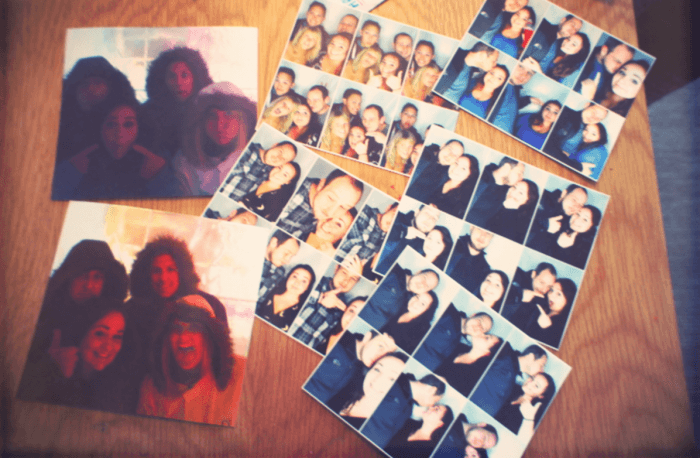 Keep a written journal
The internet is full of wonderful ways to document your travels, but some moments simply call for the good old-fashioned methods – like sitting on a deserted beach, for instance. A handwritten journal is one of the most personal ways to capture your journey, and the private nature of it makes it easy to jot down your thoughts without too much consideration. This doesn't have to be a well-crafted log; simply brainstorm whatever comes to mind – where you are, what you can see, hear and smell, and how you're feeling in that particular instance. Reading back over it in years to come will no doubt transport you back to those places and moments in time.
Here's a couple of pages from my journal in 2012. I love reading it back!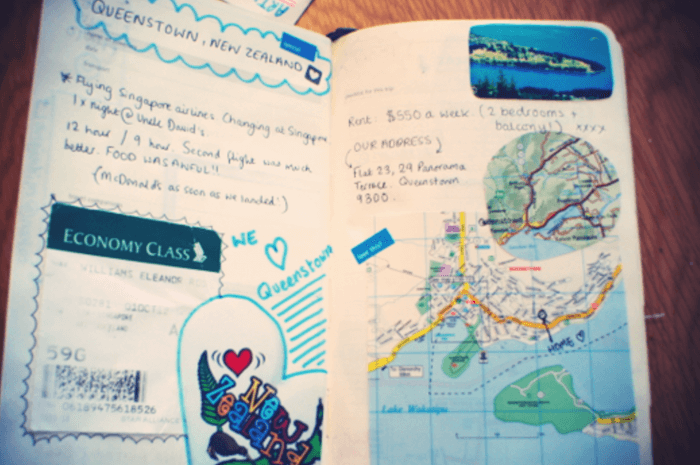 Take photos…
This might seem like a given, but taking photos is so important when it comes to freeze-framing each trip. In addition to all the customary shots of scenery and landmarks, I like to keep some less glamorous ones for my personal collection – a coach-journey selfie or amateur snapshot of that early morning coffee in the hotel often bring back the most vivid memories of how it actually felt to be travelling.
…and put them in a scrapbook
Just as important as taking photos is printing them! This is something that often gets forgotten in the digital age, but photos are as good as wasted if you simply store them in a folder on your laptop. Use a service like Snapfish to print them out, and do something creative with them – fill a scrapbook with pictures, plane tickets and keepsakes, or put together a collage for your bedroom wall.
Use the internet
As previously mentioned, the possibilities for documenting your travels via the internet are endless. Social media is great for posting regular updates, but these might not be so easy to locate in the future, so I recommend creating a separate online space dedicated solely to your travels. With various packages available from 1&1's free website builder, you can keep photos, videos and travel-related content in one easily accessible place. Even if you don't fancy yourself as a blogger, creating an online log serves as a lifelong memento that you can continue to go back to, much like a virtual scrapbook.
Create a playlist
Last but not least, there is nothing like music to bring on overpowering waves of nostalgia. No matter where you go in the world, there will always be songs that remind you of a particular place or evoke certain feelings. Create a playlist of all the songs you associate with your travels, and be transported back to those wonderful places every time you listen to it.