Exploring by cycle is the most adventurous form of travel. Cycling across the high plateaus of the roof of the world will be on the bucket list for any cycling enthusiast.
Lhasa to Kathmandu overland cycle is an epic, challenging, road trip that will push your mental and physical strength to its limits, especially the Everest Base Camp tour.
Be it beginners or experienced cyclists, the cycle tour from Lhasa to Kathmandu will overwhelm you with scenic beauty, touching views, and warm people.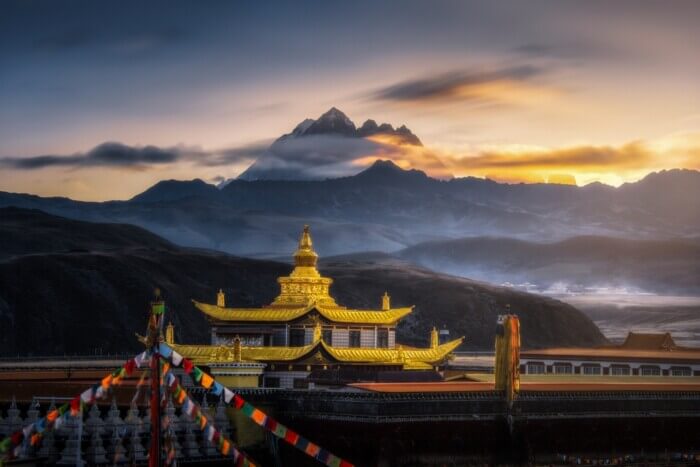 While traveling by car or train you are just looking at the beauty only that you can see from out of your window, a view limited by car doors and the four sides of a car window, you are just a spectator. But while you are traveling the same route in a cycle, you become a part of the view.
You will be able to surround yourself and immerse completely in the contours of the beautiful countryside, or valley, or mountain high passes, whatever you drive across or pass through.
There are many types of cycling trips and this trip is a guided cycle trip where a guide will come along with you.
The Lhasa to Kathmandu route is most popular cycling route among the cyclists and adventurists in Asia. The route starts from a lower altitude and goes higher.
The route is graced with snow mountains, captivating views, grasslands, historical sites, lush forests, ancient villages, monasteries, occasional stream of rivers, grand canyons, glaciers, local relics, temples, long range of alpines and the chasing clouds.
This 1,100km cycling route is the best way there is to mentally and photographically capture everything between Lhasa and Kathmandu.
These cycling trips can be tailor made according to your needs, the amount of rest you want, and amount of days you want to spend on road. You can arrange it for as long as 22-days which will give you enough time to explore the attractions in each town and city you will be driving through.
How to Prepare for the Tour?
There are few things you need to and have to do once you decide to do this cycling tour from Lhasa to Kathmandu. 
First things first, you will need to first acquire all the necessary travel documents required. The documents required are Tibet Travel Permit, Group Tourist Visa, Alien Travel Permit, Nepal Visa, China Visa and of course your passport.
Tibet travel permit is required to enter Tibet, it has to be processed a month in advance through a certified, legitimate Tibetan or Chinese travel agency. The group tourist visa is for the group tour you will be taking from Lhasa and for entering Nepal.
Alien Travel Permit is to get to the remote and inaccessible parts of Tibet around Lhasa. Ensure to never lose your passport and have several copies of them. Keep your personal ID and information of your guide and travel agency on you all the time, as it might come in handy in case you get lost.
Next important task to do is getting properly acclimatized. You will be passing through some really high mountain passes and the altitude only gets higher as you go towards Kathmandu. Not getting properly acclimatized might increase the chance of altitude sickness.
Your travel agency will ensure that you are properly acclimatized before starting the trip. Since you are setting out on a long cycling tour, it is better to learn how to do some basic repairs in a cycle like changing tubes and spare parts.
Although the road quality is above average, one might never know what sort of problems they encounter. Buy spare parts before you start the journey. Ensure you have all the necessary cycle gear before you start the tour.
Highlighted Tour Experience for Cyclists:
Each cycling route in Tibet has its own attraction and a certain feel. But riding on the roof of the world is itself a huge part of the highlight.
The three main cycling routes in Tibet is the Central Tibet region biking tours, cycling from Lhasa to Namtso Lake, and cycling from Lhasa to Kathmandu.
All the three routes are very different from each other. In the central Tibet biking tours, you will be seeing and driving through many ancient Tibetan villages where the time has stood still.
You will be able to experience authentic Tibetan food, culture, and way of living. Driving alongside the heavenly Namtso Lake is the most magical experience you will ever experience in Tibet.
In the cycle tour from Lhasa to Kathmandu the biggest highlight is climbing over six high passes and being able to see the mighty Mt. Everest. Some of the passes are Tsola Pass at an altitude of 4,600m, Gyatsola Pass at 5,200m, and Gawula Pass at 5,250m.
From all these passes you can see the breathtaking views of trans-Himalayan ranges. Other highlights in this route include Yamdrok Lake, Gyantse Fortress, Everest Base Camp (EBC), Rongbuk Monastery, Gyirong, etc. Driving to EBC on a semi-dirt path and staying overnight is probably the best part of the whole trip.
A short hike to Rongbuk Monastery from EBC is a must do as Rongbuk Monastery is the highest monastery in the world. You can stay overnight at the monastery and the magnificent sunrise and sunset at the Everest.
Dos and Don'ts:
Ensure that you check the season and weather before booking your trip. Go during the months of April, May, June, September, and October. Don't go during the winter and rainy season as the cycling is hard, dangerous, and above all the roads might be closed due to bad weather conditions.
Visit your doctor and get medicines required for altitude sickness before you start the trip. Buy the medicines beforehand and you can buy small oxygen tanks before starting the trip in Lhasa.
Ensure that you buy the right fit of clothes. Don't get lazy and bring fewer layers of clothing to reduce the weight in your bag. No matter which season you go, the nights get significantly colder.
If you are renting the cycle make sure that the seat and height are all according to your comfort. Wearing a helmet and safety guards is a no-brainer. Keep some spare parts for the cycle with you all the time.
Don't forget to drink water. As the temperature is chill, you might not get very thirsty and sweat evaporates quickly in such weather. So you might forget to drink water or feel like you don't need to. Even if you don't feel thirsty make sure that you drink enough water. In fact, it is advisable that you pre-hydrate before starting the trip. From three days before the trip, start drinking 3 liters of water every day.
You need more than just energy bars and energy drink during cycling trips. Keep some solid and high-calorie foods with you that will last longer.
Here is a small checklist of items that you should buy: woolen clothes, waterproof jackets, cotton t-shirts and innerwear, socks, gloves, sun block, coolers, moisturizer, waterproof tents and sleeping bags, medicines, travel documents, energy bar, energy drinks, solid food, water bottles, water purifiers, extra batteries for your camera.
Even if you are a beginner don't be afraid to take this adventurous plunge. Train a little bit beforehand before the cycling tour begins.