Southern Italy is not only a vast region containing the provinces of Abruzzo, Apulia, Basilicata, Campania, Cambria, Molise and Sicily. It is also home to ancient ruins, healthy and flavorful cuisine, stunning landscapes and warm sunshine. Many people equate Southern Italy with a way of life. Lunches last longer, the rhythm of everyday is slower, and life is appreciated in a way that is quite unique to most western cultures.
There are so many places to visit in southern Italy that you could spend the rest of your life exploring. So in this article, you'll read about touring the Amalfi Coast and Sicily, two important regions you really should visit, and that can be traveled to and throughout by rail and by car (by doing an epic Italian road trip!). You'll also read about the things you absolutely can't miss during your dream trip to southern Italy. 
Amalfi Coast
The Amalfi coast is one of the top tourist destinations in all of Italy, and for good reason. It stretches between Naples and Salerno, and is home to charming towns nestled within the mountains, beautiful beaches and breathtaking scenery.
It's also quite easy to travel around the Amalfi coast, as there are regular train and bus services that will take you wherever you want to go. In fact, it is quite easy to set up rail holidays to Italy for your dream vacation to southern Italy, and trains are certainly the best way to watch the countryside go by.
What's more, if you are looking for a luxury stay, you'll have your pick of high-scale hotels and some of the world's best restaurants. Have a look at just some of the things you could do during your visit to the Amalfi coast.
Positano
You absolutely must stop at Positano while travelling along the Amalfi Coast. Calling this town picturesque is a gross understatement. The homes of Positano are stacked up and down a Cliffside, and painted an array of pastel shades.
To really take in the wondrous sights that Positano has to offer, make sure to take a boat out and snap photos from the water.
Beach lovers will be happy too, those who want to see what everyday life is like will enjoy checking out the cafes and bars along the narrow winding streets.
Sorrento
Located on the northern arm of the Amalfi Coast, you'll be completely taken with Sorrento for its beautiful scenery and stunning architecture. Sightseers must stop at the cathedral, built in the 11th century, and those who love traditional culture will not be able to resist the fishing ports.
Other stops in Sorrento may include the Museo della Tarsia Lignea and the Correale Museum, both of which display artefacts from the old town.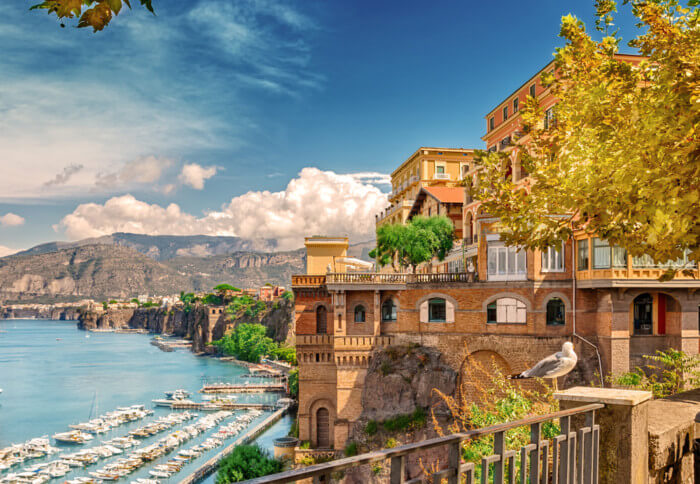 Town of Amalfi
Of course, if you visit the Amalfi Coast, you must also make a stop in the town of Amalfi itself. The town features charming houses and cute artisanal shops.
The town is also home to a stunning cathedral, located in the Piazza del Duomo. This is a major sightseeing stop for tourists, and one you really shouldn't miss if you want gorgeous photos. But sightseeing isn't for everyone, so others in your group will be happy strolling along the beach, stopping at cafes and visiting the shops.
Ravello
If you never miss a good view, then Ravello is definitely a must. Ravello is a town located on the top of the mountains between Amalfi and Maiori. It is home to a Roman Villa, romantic restaurants, a splendid Cathedral and an art gallery.
The best part is that it isn't full of tourists, so you can enjoy a relaxed and stress-free stay.
Furore
In the central part of the Amalfi Coast, you shouldn't miss the chance to visit Furore. This charming little town is home to painted walls on the houses and shops, depicting traditional life along the Amalfi Coast. You'll also enjoy taking in the amazing views at sunset out over the sea and of the surrounding towns, as you sip on a local wine.
The ride to Furore is also not to be missed, packed full of sharply rising limestone cliffs and terraces overflowing with lush grape vines.
Sicily
After your visit to the Amalfi Coast, take the train and continue on to Sicily. A trip to Sicily is a trip about history, culture and tradition. It is also a trip where you will be able to enjoy Sicily's many natural landmarks, like volcanoes, beaches and nature reserves. And the food! You must make sure to enjoy as much authentic Sicilian food as possible during your visit. Keeping all of this in mind, have a look at the following places and things you absolutely must not miss in Sicily.
Palermo
Palermo is the largest city in Sicily and also its capital.  It is home to a number of historical places to visit, including churches and palaces. While in Palermo, make sure you see:
Palermo Cathedral

Ballaro Market

Massimo Theatre

Norman Palace
While you're there make sure to make the short trip to Monreale Cathedral, with mosaics constructed with 2200 kg of pure gold.
The Valley of the Temples in Agrigento
No trip to Sicily should be made without a stop at the Valley of the Temples, Sicily's most well-known archaeological site.
Essentially, you'll be transported back in time as you stand in the valley and look out upon eight ancient temples, two of which, the Concorde and Hera, are very well preserved.
Enna
Enna is not the place to go if you are looking to lounge on the beach, as there is no beach, but it is certainly worth a stop. Enna has fewer tourists than other Sicilian towns and has held on to its traditional charm. Some places you should definitely visit in Enna include:
Lombardy castle

Via Roma

Duomo of Enna

Lake Pergusa

Archaeological Museum
Cefalù
Cefalù is a small fishing town, full of many-colored boats and calm waters. You'll love strolling around the old port and pier, and winding your way through the narrow streets to various shops and restaurants. Architecture lovers will want to make sure to stop at the cathedral as well.
Before leaving, make sure to climb La Rocca di Cefalù, so you can take in spectacular views of the town and surrounding waters.
Catania
Catania is the 2nd largest city in Italy, and can be found at the bottom of the Etna volcano. First of all, you must visit Etna. You can climb right up it and see its crater! The best way to see Etna is to do a half-day excursion, and purchase a package that includes transport, a guide, equipment and a 4WD vehicle.
But back to Catania. Catania is also called the black city, because, being so near Etna, its buildings are made out of lava stone. When in Catania you'll want to make sure to visit the Piazza del Duomo, the Duomo Di Catania, and the Faraglioni, or "Rocks of Cyclops" which were (in legend) thrown by Polypheme the giant from atop the Etna volcano, onto Ulysses (Odysseus) to stop him from leaving the island and making his way home in the Epic poem. 
If you are planning a visit to southern Italy and especially the Amalfi Coast and Sicily, congratulations! You are about to embark on a journey that will transport you back through time, and teach you about a different way to live life. You'll see ancient temples, gorgeous churches, stunning beaches and colorful houses. You'll sip wine at sidewalk cafes and get lost winding your way through narrow streets. Most importantly, you'll learn how to live the southern Italy lifestyle, and take life a little bit slower.