Whilst I was travelling in Australia, one of our major highlights was the snorkelling trip we took from Cairns, to The Great Barrier Reef.
It's one of those major bucket list items – and I wanted to make sure we got it just right.
Whilst planning the trip, I had so many questions I needed answers to when it came to booking and choosing a great barrier reef tour.
– Which company should we sail with?
– Which town is best for taking great barrier reef tours from?
– What should we wear?
– Is there anything the tour won't provide that I should take with me?
– How long does it take? 
– Will I get sea sick?
I literally knew nothing about all these things and had to do so much research to figure all this stuff out. Hopefully this blog post will answer all those questions for you, and then some.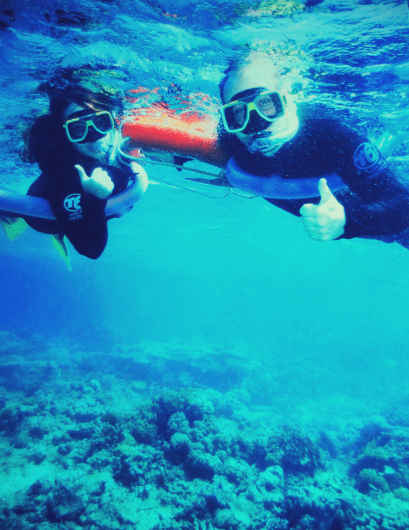 Which town / city should you use as your Barrier Reef base? 
Pad and I took our tour from Cairns – which seems to be one of the most popular destinations to take a great barrier reef cruise / tour from.
When we were researching – this was the destination that popped up most frequently. Here are a few options for cruises that leave from Cairns….
Great Barrier Reef: Premium Catamaran Cruise from Cairns
Cairns: Green Island & Reef Full-Day Sailing Cruise
Outer Great Barrier Reef Cruise Including Scenic Heli Flight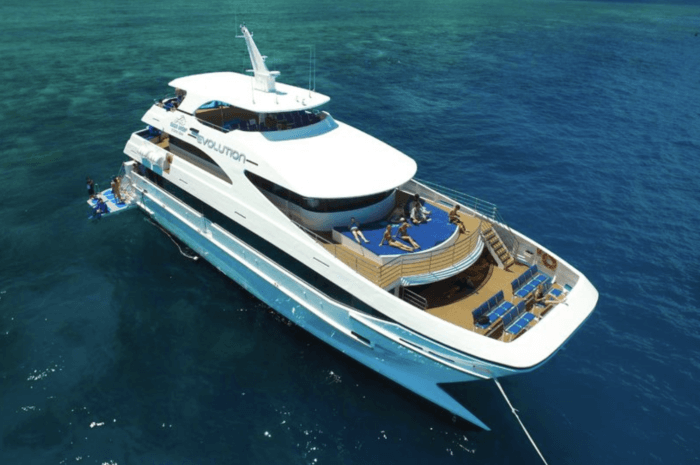 The following places all have Great Barrier Reef tours going out of them (either by boat, or for the further afield towns, like Noosa, by seaplane): Cairns, Townsville, Airlie Beach (and Whitsunday Island, Hamilton island, etc), Mackay and Noosa.
If budget isn't an issue then my personal recommendation would be to stop on Hamilton or Hayman Island (expensive – but holy crap, so so gorgeous).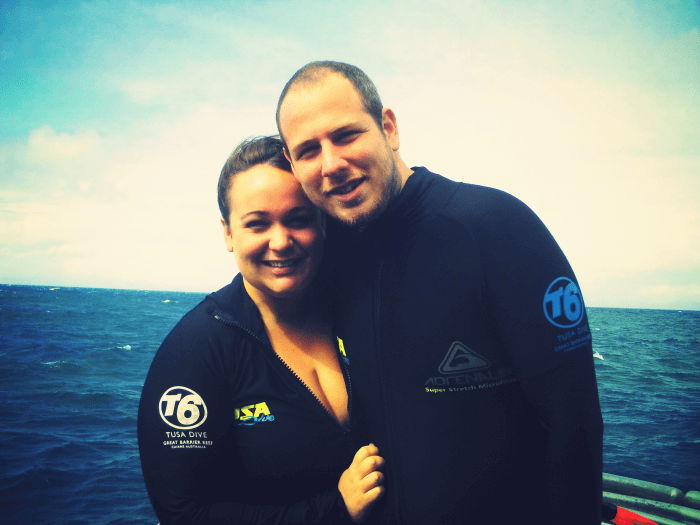 Which company should I go with? 
We sailed with Tusa Dive, and it was fantastic, they were seriously great. Our trip was on a stormy (very windy and rocky) day and they really took care of us, and made sure everyone was comfortable.
I'm a very confident swimmer, but for the less confident swimmers out there I imagine the weather and roughness of the water would've been a bit daunting.
But they made sure everyone got in, and totally enjoyed the experience.
Here are a few other easy-book tour links (if you just want a quick recommendation!)
A few other companies worth looking at are;
In terms of price, you should be looking at around $100 – $200 (Australian Dollars) for an all day snorkelling tour. If you're diving the price will go up steeply.
Here is us looking all happy and reefy….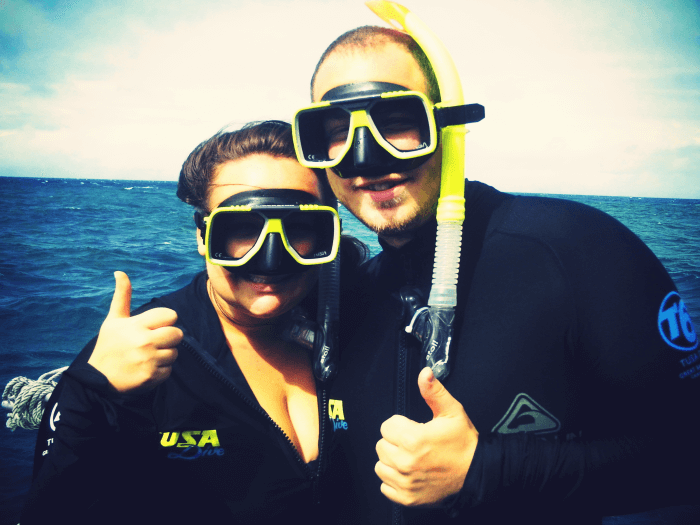 What is included in a tour? 
This will vary depending on which company you opt for, but if you're going on an all day snorkelling or diving tour, you'll usually get the following things included…
– Snorkel mask
– Flippers
– Wetsuit or stingray suit (you will usually always have to wear these, just to protect you from getting stung by sting rays or jelly fish)
– Any floatation devices if needed
– Lunch, snacks and drinks
– Instruction if necessary
It's always worth checking on the company website though – as they'll be able to tell you exactly what's included and what to expect.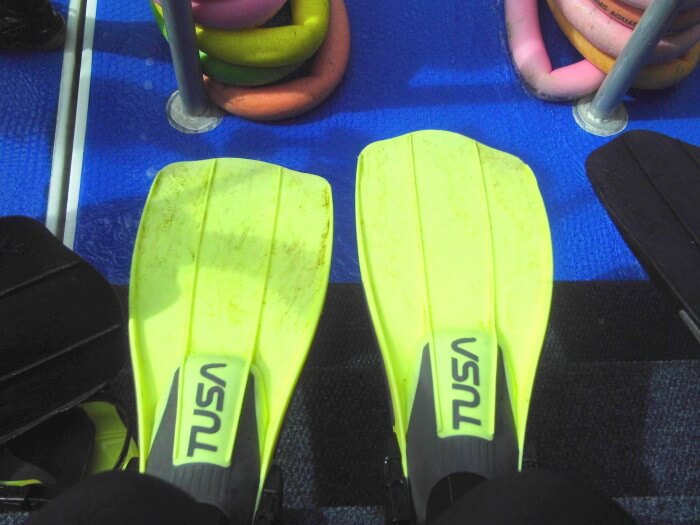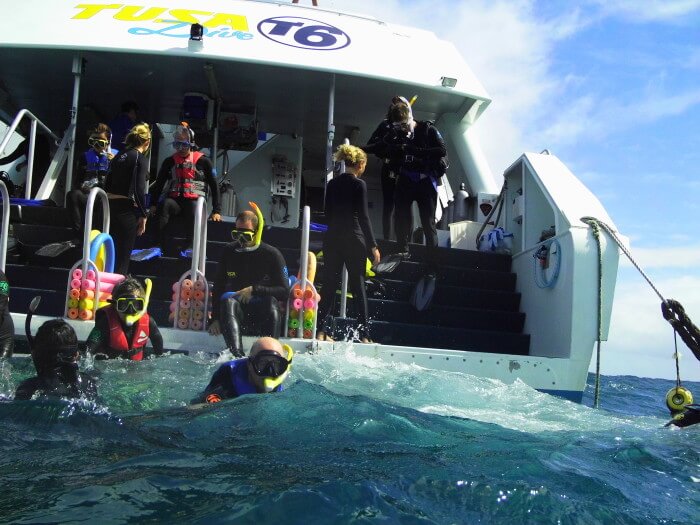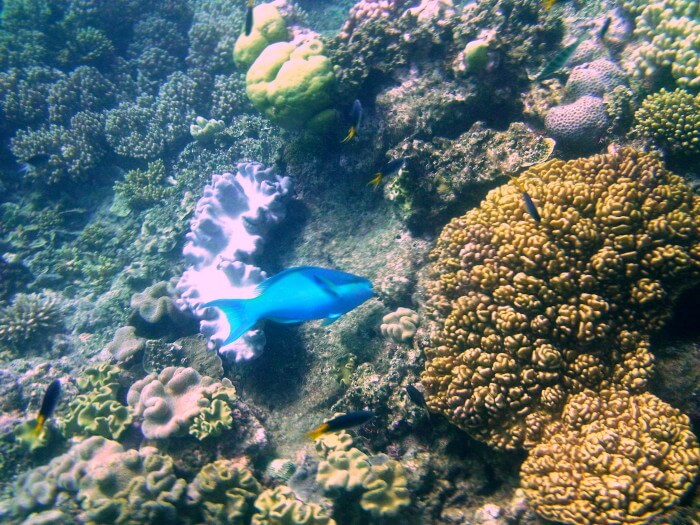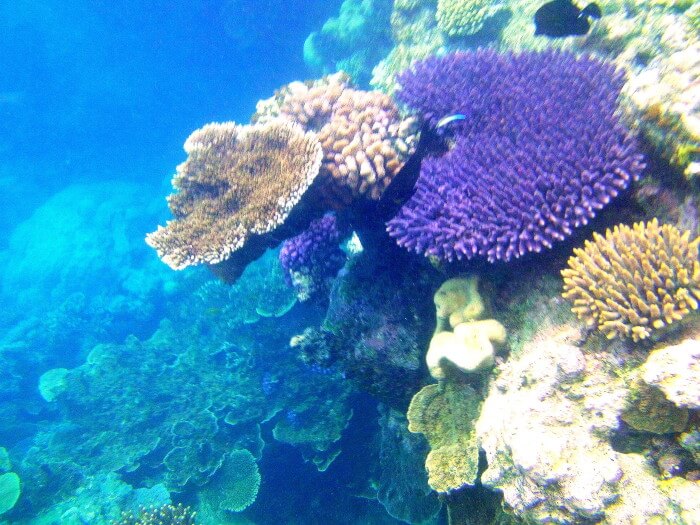 A few extra things I'd recommend taking with you;
– Seasickness tablets (and take one with your breakfast before you set off too) 
– An under-water camera (you can buy cheap ones from Amazon for like £30 now, or alternatively, you can rent an expensive one or GoPro from most tour companies) 
– A few extra towels (because one is never enough!)
– Something to read, there is a lot of waiting around at times, so this is crucial