---
Are you looking for a guide to Moonstone Beach in California? Here's everything you need to know!
---
Situated on the shoreline of the Pacific, Moonstone Beach is a truly unique beach that is a beautiful and memorable place to visit!
But why do people love Moonstone Beach in California?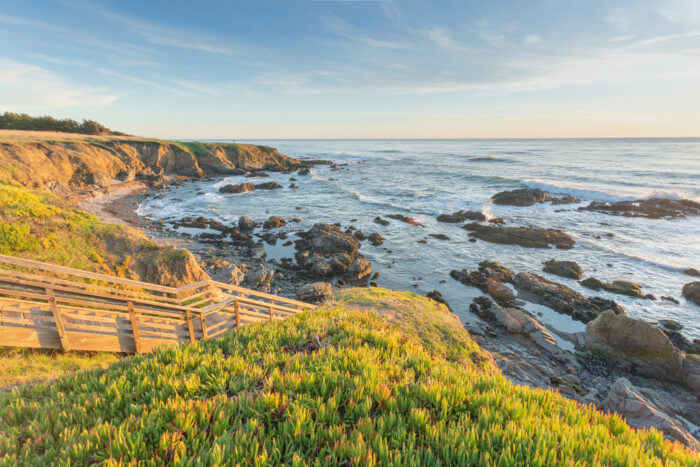 Moonstone beach lives up to its namesake, and it is so named due to the shiny gemstones that can be found over the entire area. Though these gems aren't worth much, they're certainly a sight to behold.
There's something so magical about Moonstone Beach, and that's probably why it has captured the love and attention of so many people!
If you're curious about the area or are thinking of visiting, then read ahead for a guide to Moonstone Beach, California.
After all, with stunning sunsets, great surfing, and an incredible boardwalk, it's worth the visit even without the gemstones.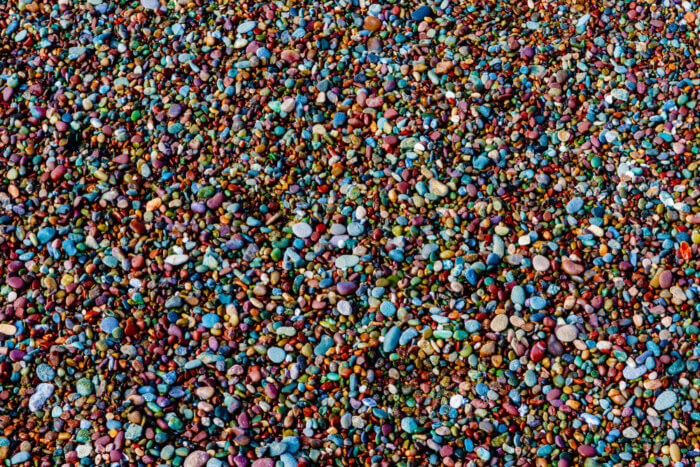 ---
Things to do when visiting Moonstone Beach…
---
Check out the boardwalk
Moonstone Beach is one of the main beaches in Cambria and is famous for its beautiful coastline and unbeatable views.
The boardwalk itself runs for a mile and gives visitors a great glimpse of Cambria's coast. If you feel like taking it easy, then grab a seat on one of the wooden benches that are dotted around the area.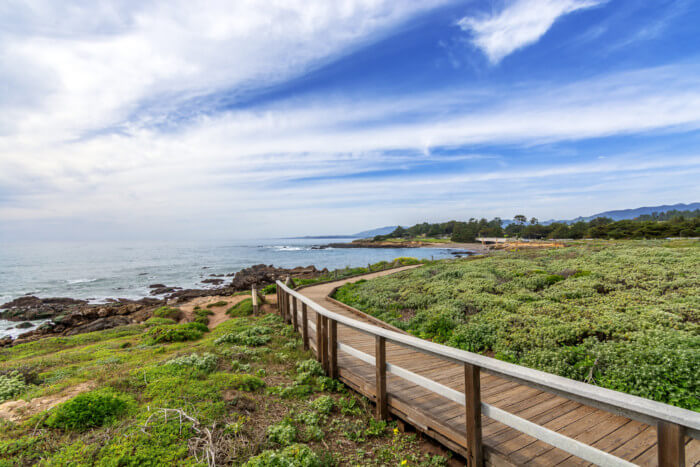 The boardwalk is not only popular amongst those looking for coastline views, but it's a popular place for those seeking calm and tranquillity.
In fact, you'll often find people here sitting and reading books all afternoon!
However, it's not just a nice walk and a quiet spot that the boardwalk offers guests. With great spots to whale and dolphin watch, it's a great way to experience Cambria's varied ocean-life.
If you've got a keen eye, you might even spot some playful otters!
The boardwalk can be accessed from any part of Moonstone Beach Drive, so you merely need to park up and head to either end of the boardwalk to start your mile-long meander.
---
Have a picnic on Moonstone beach
Sometimes, the perfect remedy for a bad week is a chilled-out picnic on the beach.
With various shops around selling specialist wines, breads, and cheeses, you can easily create a feast fit for a king.
If you're looking for a great place to picnic, check out the southern part of the beach. With the perfect views and landscape for a picnic setup, you'll be hard-pressed to find a better option!
If you're after a picnic table, then the Shamel Community Park is a great option. As the park has restrooms and picnic tables, it's a great place to set up for larger gatherings.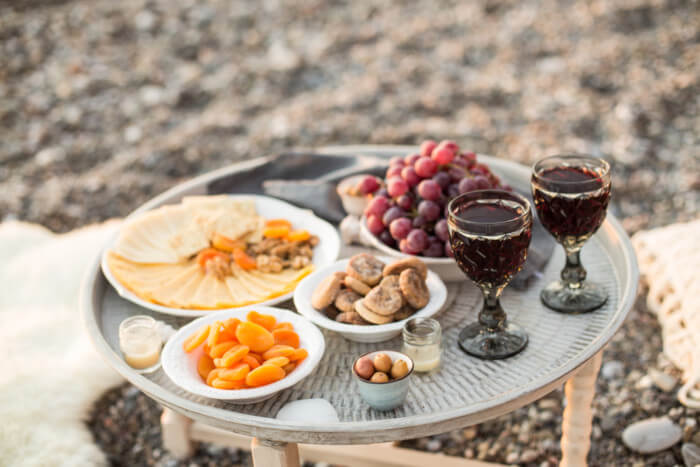 ---
Catch some waves
If you're looking for a place to surf, then check out Camel Rock. Popular due to its wide, flat-bottomed beach break that has a ton of room, you'll find it the perfect place to hunker down for the day.
Moonstone beach tends to have medium tides, a north-west swell and north-eastern winds, so the conditions are usually decent for surfing.
Obviously, it's advisable to check conditions before you travel, but when the weather cooperates it is an excellent place to catch some waves.
Here's the Moonstone surf report (handy if you're planning to hit the beach!).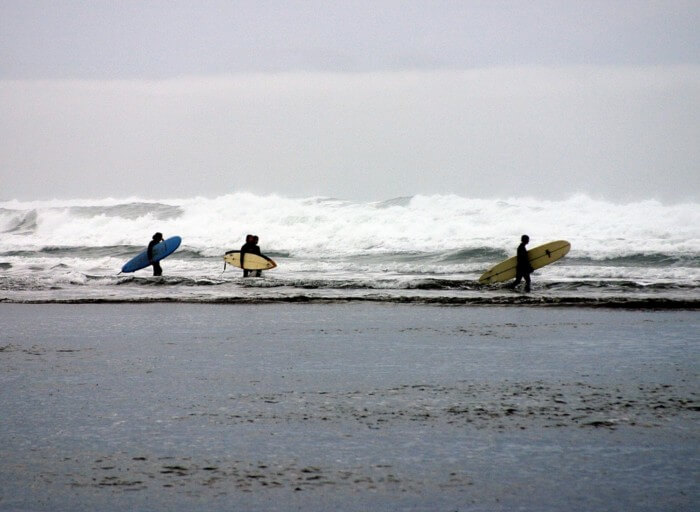 ---
Enjoy the scenery
Scenic beauty is another big reason to visit Moonstone Beach.
Moonstone Beach boasts stunning panoramic views of the Pacific Ocean, so if you love soaking in those sea views, you're going to adore this beach absolutely.
The coastline of Moonstone Beach is dramatic and mysterious. It is adorned with picturesque cliffs, tide pools, and unique rock formations, making it a paradise for nature lovers and photographers.
Even in misty or cloudy weather, this place retains it's appeal… because the scenery is beautiful no matter the weather.
Witnessing a breathtaking sunset over the horizon is a captivating experience for visitors at Moonstone Beach.
---
Check out the Moonstones and Sea Glass
I couldn't write a list of things to do in Moonstone Beach, and reasons to love Moonstone Beach – without mentioning the famous moonstones and sea glass.
The beach's name itself is derived from the abundance of moonstones and sea glass found along the shoreline, so you can't go there and not be intriguiged by these amazing little gemstones.
Moonstones are smooth, translucent pebbles that shimmer in the moonlight, creating a magical aura. And seaglass are colorful pieces of glass that have been smoothed out and rounded over time.
Collecting these moonstones and sea glass has become a cherished pastime for tourists, and it's definitely something you'll want to partake in! And it's a free souvenir too, so that's a big bonus!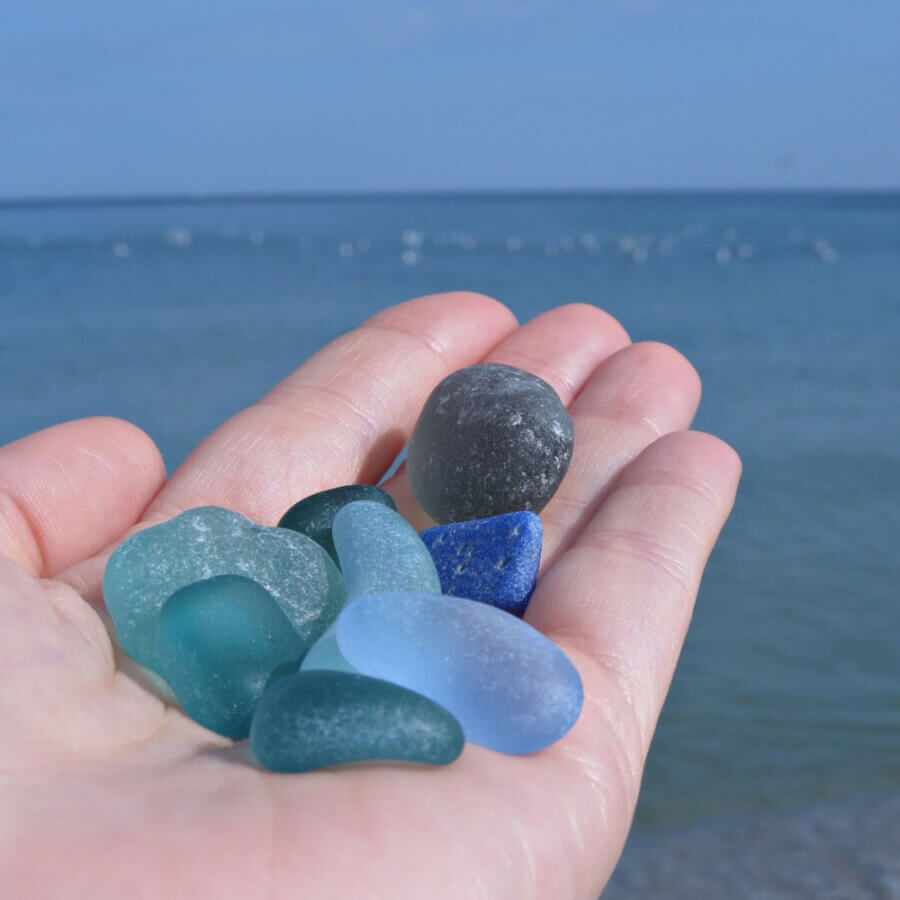 ---
---
Whale Watching
Another amazing thing to do in Moonstone Beach is whale watching!
Believe it or not, Moonstone Beach is an excellent location for whale watching. And whale watching is one of the most magical ways to spend time by the ocean.
From December to April, migrating gray whales can often be spotted from the shore as they pass through the waters along the California coast. It's amazing, and it's just another reason to absolutely adore this Californian Beach.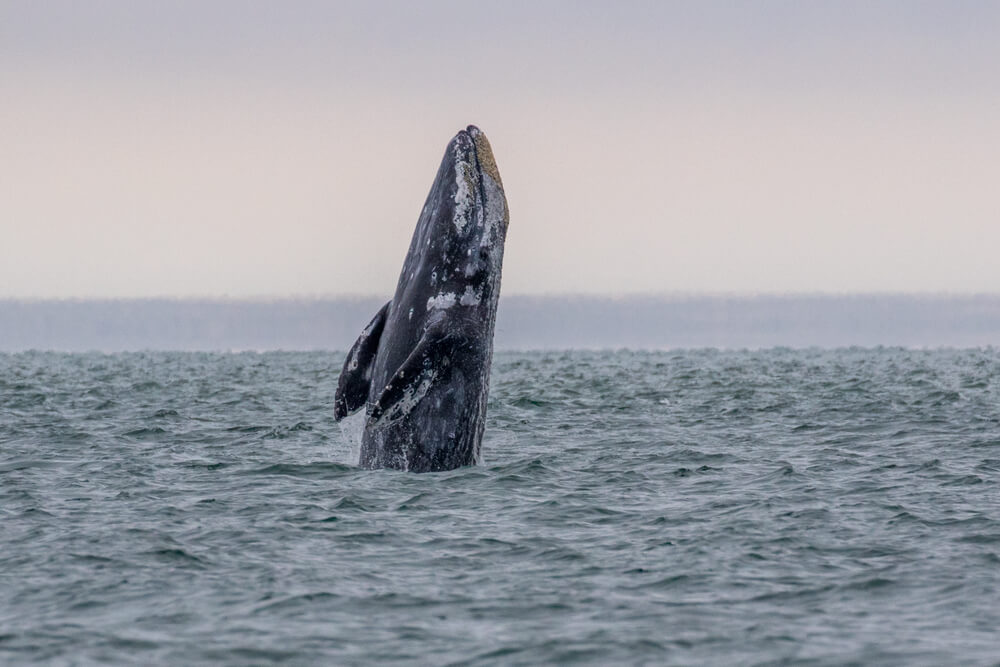 ---
---
Walk the nature trails
For those of you that love walking and soaking in the great outdoors, walking the nature trails in and around Moonstone Beach is a great idea.
Moonstone Beach offers a variety of scenic nature trails, so get your walking boots on and enjoy some of these scenic walkways and trails!
The Fiscalini Ranch Preserve, adjacent to the beach, provides a network of walking paths that wind through coastal bluffs and native vegetation, allowing visitors to immerse themselves in the area's natural beauty.
---
Where should you eat near Moonstone beach?
---
Lily's Coffeehouse
Located around 2 miles from the central boardwalk is Lily's Coffeehouse. Famous for their avocado toast, you will be hard-pressed to find a better spot around for a spot of brunch.
However, it's not only their food that is highly regarded, but they serve some of the best coffee around too! So, whether you're in the mood for a stiff espresso or a slice of coffee cake, these guys will have you set in no time.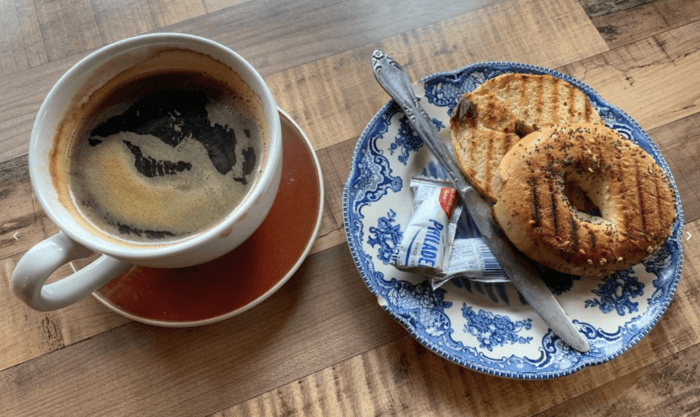 Moonstone Beach Bar + Grill
A family-run joint that's located right on the beachside is Moonstone Beach Bar + Grill. Drawing visitors from all over Cambria and beyond, you'll get some truly phenomenal ocean views with your meal here. If you're not sure what to order, why not try their famous seafood dishes?
With everything from clam chowder to lobster, you're guaranteed freshness at this restaurant. However, if seafood isn't quite your jam, then there are plenty of meat and veggie options too!
Boni's Tacos
Our final recommendation for some good eats at Moonstone Beach must be Boni's Tacos. Though it's tiny, this place packs a spicy punch. Be sure to try their potato taquitos and burritos – we can assure you, they're truly top-tier!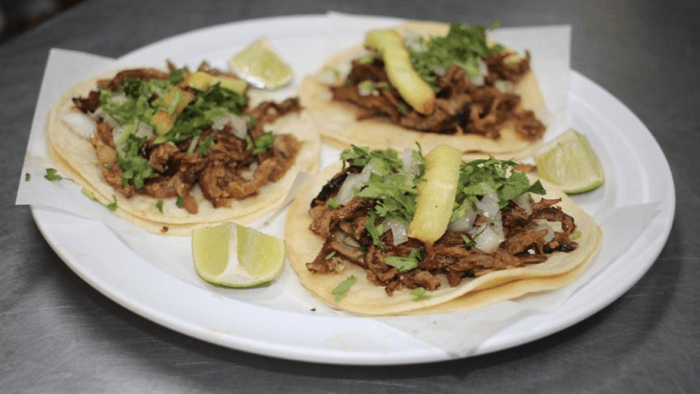 ---
What makes Moonstone beach unique?
---
If you haven't pinned down what makes Moonstone Beach so unique, then let us enlighten you.
Though we've briefly touched upon it, much of what makes this beach unique is the aforementioned gemstones. A goldmine for beachcombers, it's no surprise that people come from far and wide hoping to find something special.
However, that's not all. With tide pools, the amazing boardwalk and endless activities that place you in the middle of nature, this place is truly one for the books. Whether it's hiking, biking, riding, picnicking, or taking a stroll at dusk, there is something for everyone at Moonstone Beach.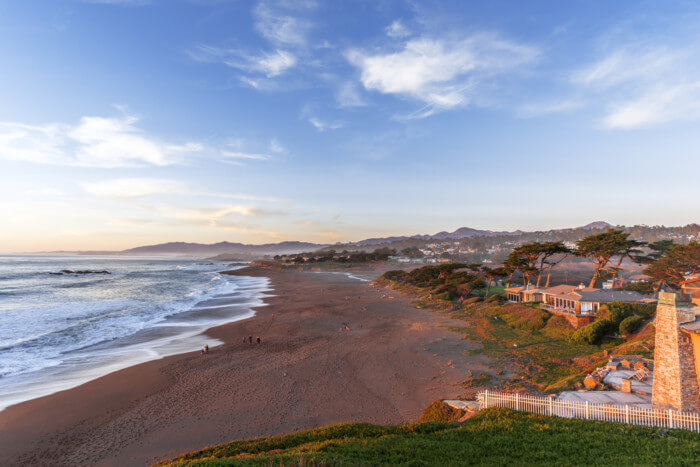 ---
Where to stay near Moonstone beach…
---
If you're wondering where to stay if you're visiting from out of town, then we've compiled a short list of where to stay nearby.
Cambria Beach Lodge
Cambria Beach Lodge is the perfect place to stay if you're looking for somewhere that directly overlooks the beach. A modern motel that's one of Cambria's best, you'll feel right at home should you choose to stay here.
With a boho vibe that's in keeping with the area's surroundings, it's a reasonably priced place to book if you're looking for a fuss-free stay that's close to the beach. Although there isn't a restaurant on-site, you'll be served a free continental breakfast each morning.
Cambria Pines Lodge
Another lodge that's located a stone's throw from the beach is Cambria Pines Lodge. A tranquil oasis that's got plenty of amenities, it's a great place for the whole family.
A major plus to this particular lodge is that it's super pet-friendly. In addition to this, it's also got a great day spa. So, if you fancy relaxing after a tiring day at the beach, these guys have got you covered.
Fogcatcher Inn
If you're looking for a more romantic spot, then try the Fogcatcher Inn. Located right across the street from the beach, you'll have amazing views here that are nigh-on impossible to beat. With a rustic design and quiet atmosphere, it's the perfect couple's getaway.
---
Are there valuable stones on Moonstone beach?
Though rarer gems such as jade, jaspers and other semi-precious stones can be found after storms, you'd be extremely lucky to happen upon these on a regular day out!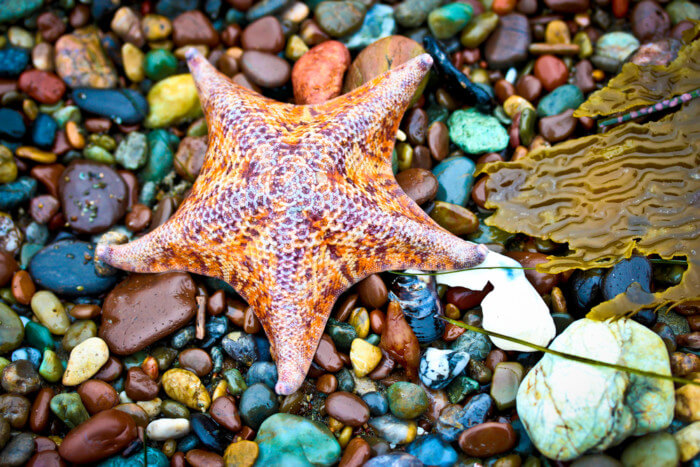 ---
Are dogs allowed on Moonstone Beach?
---
No – they're not allowed on the actual beach. But although dogs aren't allowed on the beach, they are welcome to walk along the boardwalk, so you can still bring them along for a day out at Moonstone beach.
---
Can you camp on Moonstone Beach?
Though there's no overnight camping available on the beach itself, you'll be able to find camping at San Simeon St Park, which is about half a mile north of the beach.
---
Where can you park near Moonstone beach?
Though parking is slightly limited, there is free parking all the way along Moonstone Beach Drive. If you can snag a spot on the street, you'll be sorted.
---
I hope that this guide to Moonstone Beach has been helpful!
With so many things to do and stunning accommodation on offer near Moonstone Beach… it's well worth a visit and makes for a gorgeous day out!