Despite popular belief, life in the budding seaside town of fethiye does not come to a halt after the heat of the summer months has passed.
In fact without the stifling heatwaves that rob residents and visitors of the desire to do anything other than spread out like a starfish on the beach, there's actually an awful of thing to do and Fethiye Tours in and around this charming port town.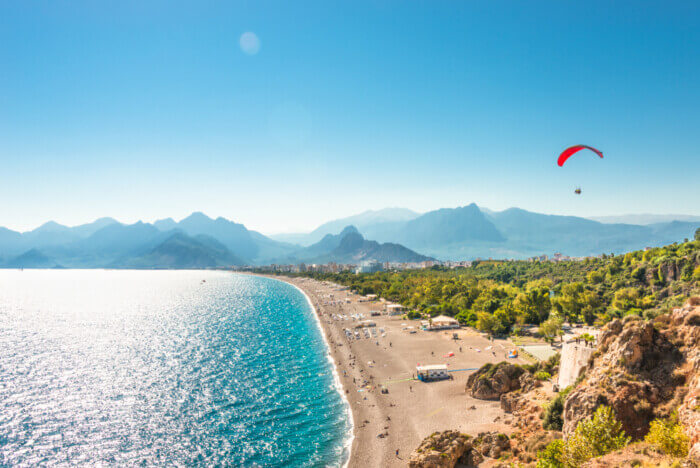 Hike in the Hills
What locals may not tell you when visiting in the middle of summer is that the green valley slopes that surround Fethiye on all sides are crammed full of well marked hiking trails.
March – June and September – December is actually the ideal time of year to grab your backpack and boots and start exploring.
One of the best trails runs from the Karagozler neighbourhood in Fethiye to the Ghost Town of Kayakoy, passing the ruins of a Hellenistic Castle from where walkers will have first rate views over the bay before descending into the valley at the foot of an abandoned Greek Village.
Keep an eye out for wild pigs and tortoises as you walk through thick pine forests, this region is rich with both flora and fauna.
Take Advantage of Empty Beaches
From June through to September Fethiye beaches are invariable filled with sunbathers, water sport enthusiasts and families barbecuing, not to mention noisy party boat which pull up in what you thought was a secluded bay.
However, visit outside of these months and a day at the beach will be a totally different experience. You may even have an entire beach to yourself, some beach clubs and seaside cafes are open all year round so you can grab a bit to eat and enjoy the peace and quiet.
The water may be little on the cold side but in Fethiye the sun shines an average of 300 days each year so you can still work on your tan even in the cooler months.
Visit Top Attractions, Without the Summer Crowds
Scattered around the southwest coast are countless archeological sites, ruined ancient cities and historic burial grounds.
Throughout the summer these locations are generally dominated by crowds and trying to take a selfie without an extra person in the background can be more than a little tricky.
Visit a little later in the year and even UNESCO world heritage world heritage sights like the Lycian cities of Xanthos and Letoon will be fairly empty.
So you can take your time to wander through the historical sights and get fancy with your photography.
Enjoy the Seasonal Foods
Every Tuesday the streets in one of Fethiye's neighbourhoods are turned into vibrant displays of fresh fruit and vegetables, homemade cheeses, stuffed peppers and olives, natural preservatives, pop up cafes and colourful textile and clothing stores.
The citrus season takes place in winter time,  oranges, tangerines, persimmon and lemons are abundant and at only a few Turkish Lira per kilo, you can really get a lot for your money. Another winter time favourite is chestnuts, roasted to take away the winter chill.
You might also want to stop for dinner are one of the seaside restaurant, some of which host live music, tapas nights or themed evening, while others have inside fireplaces to cosy up to.
Head to the Mountains
Fethiye sits at the base of the Taurus mountain range, thanks to this there are plenty of winter sports on offer for adrenaline seekers.
Just an hours drive from Fethiye is a small ski resort, near the town of Seki. By February even the lower mountains will be thick with snow and in less than half an hour you can be making snow angels or building snowmen.
Fethiye must be one of the few places where you can ski in the morning, sunbathe in the afternoon and enjoy a warming cup of Salep in the evening. 
Combine Trekking and Swimming
Trekking in Fethiye can take you, not just to hidden burial tombs, ancient castles and stunning views, but also to some to secluded beaches like the famous Butterfly Valley, or gorgeous bays where you can grab something to eat or drink after a day's hike.
While the treacherously steep trail from Faralya to Butterfly Valley may be a little extreme for the average hiker, other options include a 6 km walk from Kayakoy to the environmentally protected Blue Lagoon and seaside town of Oludeniz where nightlife is lively and Paragliding is a local pastime.
You could also take a more challenging trail from Fethiye to the abandoned rock-hewn monastery known as Af Kule. Climb inside the impressive stone structure and look out over the dazzling Mediterranean Sea.
The way marked path passed by Lycian rock tombs and superb camping spots, to Gilmer beach where boats cross to visit the ruins on St Nicholas Island.
See the Sun Set
Spring, Summer, Autumn or Winter, the sun sets all year round and one of the best places to see this is from the sandy shores of Calis Beach.
Take your towel and settle down by the water or take a seat in one of the seaside cafes as the sun slides behind the western mountains and casts an amber glow over the bay of Fethiye.