When you think of vacationing at Myrtle Beach, you probably imagine lounging under the sun on the beach in the middle of the summer. There's no doubt that Myrtle Beach is a popular vacation destination during the hottest months of the year, but don't discount this destination in the winter.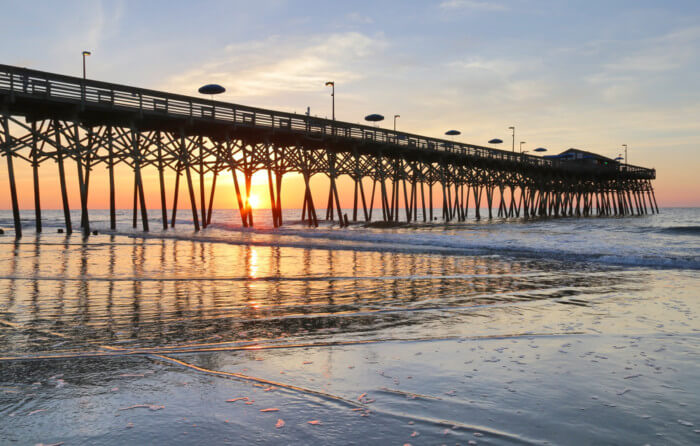 Although Myrtle Beach gets chilly in the winter, it is still normal for temperatures to hover in the 50's, even during the coldest time of the year. You aren't going to want to splash in the waves, but there's still plenty of fun ways you can spend your vacation in Myrtle Beach during the winter season!
Catch a Show Indoors
Although there are many colder places across the United States, things can still get chilly in Myrtle Beach. Especially after the sun goes down. If you and the family are looking for a way to warm up, catch a show indoors.
You can find shows all year long, but if you're visiting Myrtle Beach during the holiday season, you absolutely have to see a show!
Holiday shows in Myrtle Beach are a family favorite activity for locals as well as vacationers. There's sure to be a show your family will love:
Christmas on Ice that features ice skaters on a 60-foot stage

The Souths Grandest Christmas Show at the Alabama Theatre

The Christmas at Pirates Voyage Dinner & Show is full of sword fighting and acrobatics

Legends In Concert Christmas Show with Elvis Presley, Frank Sinatra, and more

The Spirit and Soul of Christmas that takes a soulful spin on holiday favorites
Comb the Beach for Treasures
Don't let the cold weather keep you from enjoying the beach! You can still enjoy the sand even if you can't jump in the waves. Spend a fun morning or afternoon walking along the beach looking for treasures.
Collecting shells is a fun beach pastime that the kids are sure to love, but you can find even more on the beach. If you're lucky, you may come across some beach glass, and if you have a metal detector, you can have even more fun finding valuable items.
Treasures can be found in nature too. You can bird watch, collect plant specimens, and more.
Build a Sandcastle
Building a sandcastle is a fun beach pastime, and it's one that you can do all year long! Pack up the kids and spend the afternoon building a sandcastle away from the waves.
Building will be more fun if you come prepared. Instead of trying to build the castle completely by hand, bring small shovels, buckets, decorative molds, and paintbrushes to build the most magnificent castle you possibly can.
That's not all you can do in the sand! If you need a break from building the sandcastle, you can always make sand angels or bury one of the kids in the sand!
Join a Bonfire
There's nothing like gazing at the stars on the beach. Unfortunately, when the sun goes down in the winter, things can get chilly. Warm up around a bonfire!
If you can find a spot that enables you to build your own bonfire, make sure you build one carefully. However, if your beach doesn't allow you to build fires of your own, see if you can find one to join. You can roast marshmallows, hot dogs, and get to know other people while they're enjoying the bonfire too.
Pack a Picnic
If you come prepared wearing layers, a picnic on the beach can be a great way to enjoy lunch. Because it's chilly, you won't have to worry about hot drinks or spoilt food either!
Pack the kinds of foods you know the kids will enjoy, like peanut butter and jelly sandwiches, grapes, and candy bars. Just make sure you pack fun things to do too!
After you're done eating, play some games. Play tic tac toe in the sand, bring along yard games, like bags, or play volleyball. If it's a windy day, it would be a lot of fun to fly a kite. Books can be a great way to pass the time on the beach, and card games can be fun too.
Having fun on the beach often means splashing in the waves, but that doesn't mean you can't have fun on the beach if you can't get wet! Because a place like Myrtle Beach stays relatively mild all year long, you can enjoy the beach with the tips on this list, even if you're visiting in the winter.