It's a tough period. Between work, your social obligations, fewer hours of daylight, and the holiday frenzy, it's impossible not to feel like a ball of stress. All work and no play makes anybody a cranky, tired, and dull person.
That's why now more than ever it's important to indulge in activities that help you relax and unwind. And, what better way to clear your mind and forget about the stress of everyday life than hitting the slopes.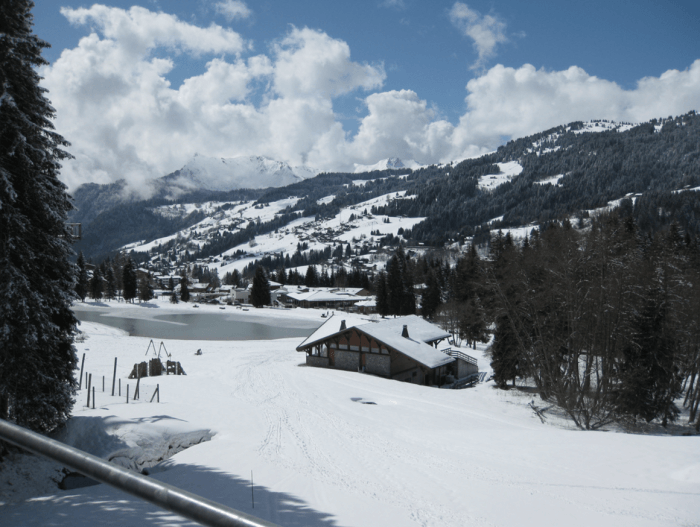 Image credit: Ed Ralph
With so many options, each with its unique charm and appeal, how can you make sure that you choose the perfect destination for you ski weekend? Luckily, I have just the right place: Les Gets, France. The slopes here are amazing, you can always find a chic pub for imbibing apres ski, and there are plenty of other things you can do with your friends.
So, forget about your worries and plan a ski weekend in Les Gets.
About Les Gets
Not far from the renowned ski resort of Morzine lies Les Gets, and old farming village that hasn't lost its French charm. Although it shares an area of slopes with Morzine, in some respects, Les Gets offers better facilities and more stunning sceneries than its neighbor. As you climb high above the village, you can see the Portes du Soleil and Swiss border in the east and the ski slopes of Flaine on the Grand Massif to the west. Looking south, there's the breathtaking snow-capped Mont Blanc.
What you will love most about this place (except for the 120 kilometers of quality slopes) is the relaxed and warm atmosphere this ski resort has. Just looking at how the old Savoyard chalets blend with the gorgeous alpine surroundings can melt any sign of stress.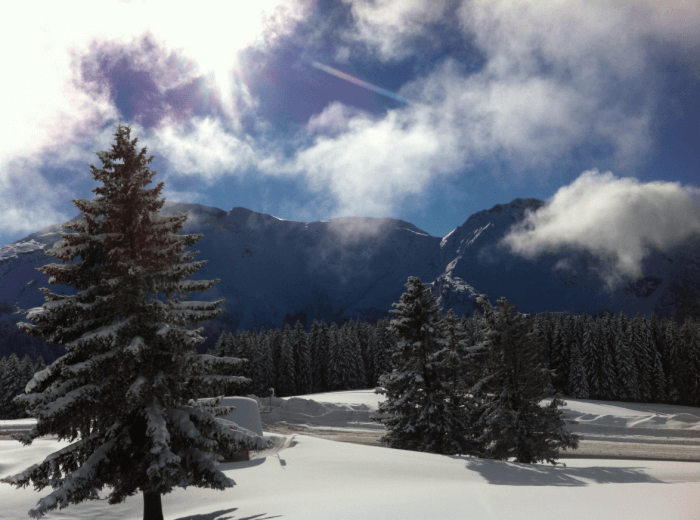 Image credit: skifinderuk
Don't let its size fool you. There are more than 100 shops, restaurants, and bars here that offer delicious local food. There's also a cinema showing movies every week.
Although it is usually presented as a family ski resort, Les Gets has a vibrant nightlife compared to the villages surrounding it. From sports pubs to chic restaurants hosting live music, there's something for everyone in this small, utterly charming French village.
Another great thing about Les Gets is that it's located at about 68 kilometers away from Geneva. So, you can catch a morning flight from the UK and hit the slopes by lunchtime.
The Skiing Scene
Part of the Portes du Soleil, Les Gets is connected to more than 650 kilometers of slopes, the largest in Europe. The 120 kilometers of ski area found in this charming village is situated at between 1000 m and 2010 m.
Le Gets is especially good for beginners, intermediates, and families, although experienced skiers can also get plenty of thrills – if not from the slopes, from the amazing scenery. If you're a beginner and you need a skiing packing list, make sure you've got the essentials!
Although Les Gets has a scattered appearance, most facilities are close to the main lift station. You might have to walk a little to get to the lifts, but there are plenty of transportation options, such as a road train shuttle or buses that drive around the city and cost around €1.50 per journey.
Another great thing about Les Gets is that it's not as pricey as other French or Swiss resorts. A six-day ski pass will cost you €247, and you'll have access to the entire Portes du Soleil network of slopes, says iGOSKI.co.uk.
Image credit: skifinderuk
Things to Do in Les Gets Off Slope
If you are tired of skiing or you want to take a break between morning and afternoon sessions, there are plenty of off-slopes activities available throughout the season. You will find it easy to keep yourself entertained by the weekly events put together by the village. From treasure hunts and paragliding to spa treatments, there's certainly something for every taste and preference in this small French village.
Here's a look at what you can do in Le Gets when you want to take a break from the slopes.
When it comes to sports, it's hard to believe that there's much to do in Les Gets besides skiing. Well, you'd be wrong. You can try tandem parapenting flight, for instance. It costs around €70, and it offers a breathtaking view of the surrounding area. Or, you could drive a dog sled – although, I have to warn you, it's much difficult than it seems.
If you want to get out of the snow, there are a few indoor facilities in Les Gets for summer sports, such as tennis.
Les Gets might be a small village, but it doesn't disappoint when it comes to shopping. There are plenty of interesting options, including some retail outlets, chocolateries, and potteries. You'll find household gift shops in abundance, most of them concentrating on all things Christmassy. So, if you've ever felt like you've lost the spirit and joy of Christmas, this is the place to find it.
What better way to unwind after a long day on the slope than to enjoy a relaxing massage? There are a few wellness centers that offer a broad range of spa facilities and treatments. If you want a more authentic experience, you can book a local masseur and get an in-chalet treatment.
There are plenty of traditional crafts and activities in Les Gets that can help you forget about the stress and worries of everyday life. One of my favorites is the Chocolate Workshop. It takes place every Thursday afternoon, and you will be equipped with aprons, hats, and gloves and given tasks such as chopping nuts, cutting biscuits, or melting dark chocolate. You can take any creation home with you and taste at your leisure.
One of the things that make Les Gets stand out is its warm yet vibrant atmosphere. You'll find plenty of things to do to keep you occupied, especially during the holiday season. If you travel with your family, make sure to take your kids to visit Santa's cabin in the forest before you watch the impressive firework display.
If you decide to visit Les Gets at the beginning of spring, you can enjoy the annual Ebouelle Big Air competition that takes place in March. There's also a Wild Music Festival at the end of March with some of the concerts taken place on the slopes.
There are just a few things in life that have the power to take months of stress and tension off your shoulders. Les Gets is one of them.
After spending your day on the slope trying to take in the amazing scenery and enjoying the small village charm of Le Gets, you'll get to enjoy a delicious meal and glass of wine at your comfortable chalet. At night fell, the clear sky, snow, and twinkling lights of the village will make feel like you've landed in snowy fairyland.
It can't get better than that.