It might be obvious by now… that Las Vegas is one of my favourite places EVER. I've been 3 times in the last 2 years, and we've got another visit planned for November (yay!).
Las Vegas may seem an unlikely city in which to find a bargain…. I expected to be paying out of my ears for everything when I first visited the city. After all, the self-proclaimed entertainment capital of the world has all the lights, glamour and glitter you'd expect…. And it's true, some of that comes with a price-tag. But it is possible to do Vegas on a budget, and yes there are free shows in Vegas. Free attractions. Things which don't cost any money at all.
You'll find more free kicks in Las Vegas than in almost any other destination, and this article is all about the free shows in Vegas you can enjoy for free. Leaving you more money for beer, cocktails, gambling , shopping (or whatever else takes your fancy).
1. The Volcano at the Mirage
In terms of free shows in Las Vegas, the erupting volcano at the Mirage is where it all began. Hundred-foot high smoke and fire can be seen hourly from 8pm to midnight every night. Running since 1989, this landmark has been revamped to an all-new multi-sensory spectacular, with the help of design firm WET, and musicians Zakir Hussain and Mickey Hart of the Grateful Dead. Unmissable!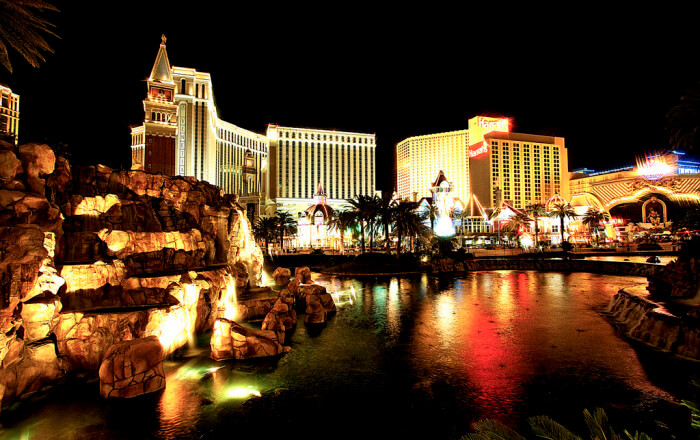 2. The Aquarium at the Silverton
Within this charming hotel is a magnificent 117,000-gallon aquarium, this is more than a goldfish bowl – you'll find colourful coral, and, among the 500 species of exotic fish, everything from sharks to stingrays.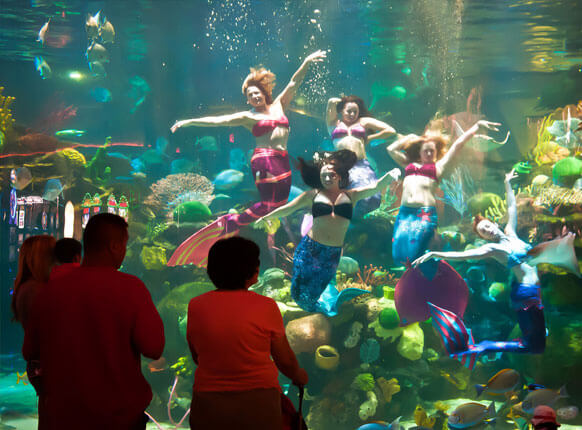 3. Circus Circus
As with many of Las Vegas' best bargains, you need to be prepared to pass through a casino floor. It's well worth it, though, for Circus Circus – this child-friendly circus show runs from 11am each morning, and includes all the jugglers, acrobats and trapeze artists you'd expect. A free treat for the family.
4. The Fall of Atlantis at Caesar's Palace
At one of the most famous casinos in Vegas, this free fountain-based show tells the myth of the lost city of Atlantis, in a performance replete with animatronics and special effects. Oh, and right next door to the show is The Cheese Cake factory – which is like AWESOME.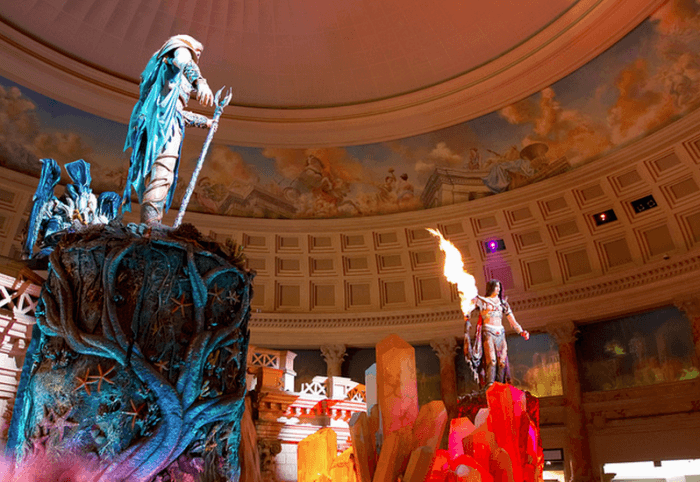 5. The Rio Masquerade Show in the Sky
Carnival floats… that float? Hanging from tracks on the ceiling of the Rio casino are performances of music and dancing, with freebies cascading to the lively casino floor below throughout. The fifteen-minute show takes place hourly from 6pm to 11pm from Thursday to Sunday – and for a reasonable %12.95, you can buy a spot on a high-riding float and have the chance to take part in the show yourself!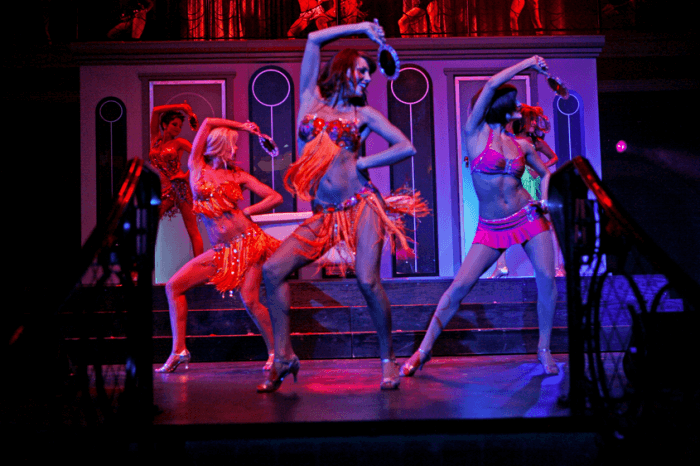 6. Sirens of TI
The newly-rebranded Treasure Island, TI, hosts a free 90-minute pirate show each night – with a difference. Alongside the stage fighting, explosives and British-on-pirate swordplay are the sirens of the title, who (so the storyline goes) attempt to lure their pirates with their powerfully enticing singing, and other barely-concealed charms. Music, sword fights and some added sex appeal – who could ask for more from Vegas than that?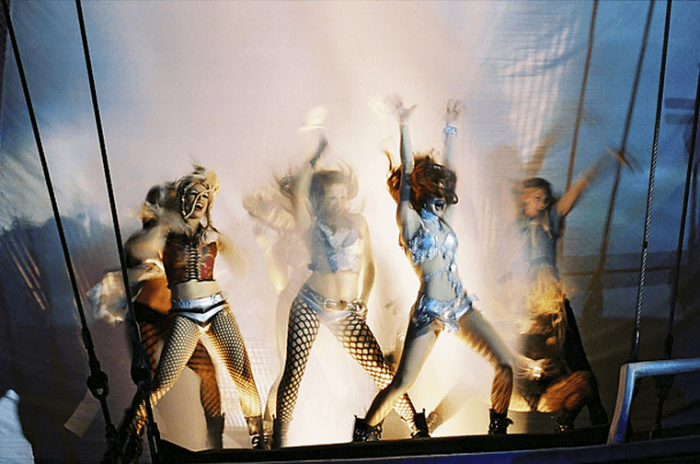 7. Bellagio Fountains
Save the best until last! I LOVE The Bellagio Fountains, and I make sure I spend at least one night visiting them. Go early (to grab a good spot!), take a bottle of Cola and some snacks, and just enjoy! The fountains go off every half an hour and last for about 5-10 minutes. You'll end up watching 4/5of them without realising 2 hours have gone by!