Are you wondering how to get your children into snorkelling? It's an amazing hobby, and it can lead onto other exciting hobbies like scuba diving too!
If you're lucky enough to be jetting off for a summer vacation this year then it's the perfect  opportunity to introduce your children to the magical adventure that is snorkelling (and eventually diving). There's hundreds of hotspots around the coast of Australia that offer breathtaking sights and exhilarating experiences so there's never an excuse to skip it.
As someone who as snorkelled on the Great Barrier Reef, I would hands down place it as one of the best things I've ever done and one of my absolute favourite experiences. 
Snorkelling opens the door to sea turtles, tropical fish and corals to name a few of the amazing sights that await should they be brave enough to venture beneath the water. It's natural for any child to be apprehensive when it comes to snorkelling but setting a positive example, using effective teaching techniques and getting them started from an early age should quash any irrational fears of the water. But there are so many benefits: 
It teaches your children about marine animals
It could help them become more conscious about recycling and looking after the planet
It helps them become confident in water
It gives them an interesting hobby in adulthood
It's a fantastic hobby you can share with your children
Continue reading to find out the best way to get your kids into snorkelling.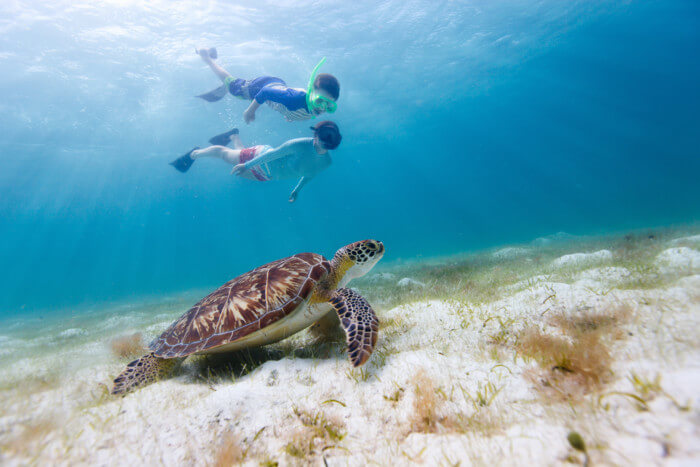 ---
Equipment
---
In order for their experience to be positive you will need to invest in a high quality snorkel set for your child. Basic dive sets include goggles and a snorkel and there's a whole range of products on the market to choose from. To get them excited about trying snorkelling, get them involved in the process or purchasing their first wetsuit or snorkelling set. It'll let them have a say in the decision making, which can really help reduce any anxiety and give them a little control over the situation. 
It's recommended that you purchase anti fog goggles and clean them before use to ensure that your child's vision isn't compromised. There is also an option to stray from the traditional two piece snorkel set and buy a full face snorkel mask. This may be the preferred choice for younger children as it feels more comfortable and is more user friendly. If you're snorkelling on vacation then the likelihood is that it will be sunny. Having a kids wetsuit will not only keep your child protected from the sun's harmful rays but it will insulate their body meaning they can continue playing for as long as they like without coming to harm from the natural elements. You can buy short sleeved, long sleeved and they come in all styles meaning that there's the ideal wetsuit for everyone. In general, when doing anything with kids, make sure you get the best snorkeling gear – and that what you choose is high quality. 
Top tip for parents! Buying brightly coloured snorkelling equipment such as masks, flippers and wetsuits will make your child more visible in the water which will give you peace of mind when they are off exploring.
---
Age and Experience
---
Considering your child's age is important. Children typically start to snorkel at approximately 5-6 years of age but it's never too early to let them explore the equipment in safe environments such as the shallow end of the swimming pool and the bathtub. Rather than focusing solely on age there are a few other indicators that will help you decide whether your child is ready to take the plunge.
Can they swim? This is a skill they will need to master before even thinking about using their new snorkel set. There's always the option to use aids too such as life vests and water wings but play it on the safe side and make sure they are strong swimmers before teaching them how to snorkel.
Does your child follow instructions well? The water can be dangerous and there's no room for mistakes, especially when you've finally ventured out into the ocean. If you trust that your child will follow instructions well and stay safe then, regardless of age, they could be ready to start snorkelling. 
Make sure you have a strategy for teaching them too, I've found this blog post really useful as it has lots of tips and tricks to introducing them slowly to snorkelling. 
---
Make it fun
---
Make the process of snorkelling fun – start off somewhere shallow where they can easily exit if they want to. A swimming pool is actually a great idea to let them get used to the equipment.
You could also do fun quizzes about different kinds of fish in the ocean, and have competitions to see who can spot the most animals / fish while you're in the sea.
Another great idea is to give your child a go-pro or underwater camera so they can record or take photos of the fish they see. This add another level of creativity and involvement to the activity, so they'll stay interested.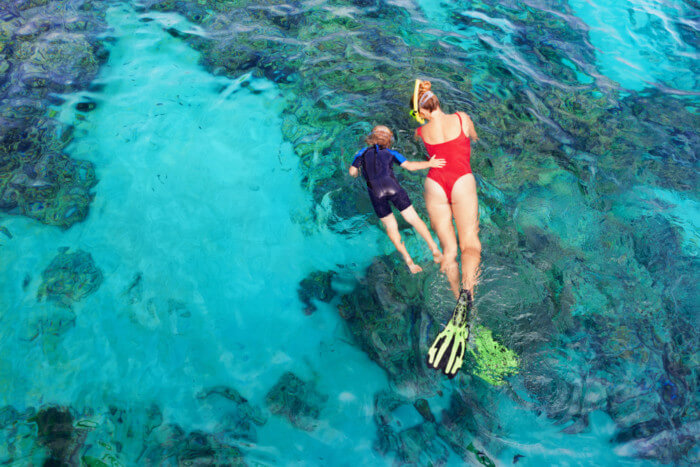 ---
Safety first
---
The more confident you feel about snorkelling with your child, the more confident they'll feel too. You're confidence will really rub off on them. So to feel as prepared as possible, make sure you read up on safety tips before you take the plunge! I've found this blog post really helpful, and outlines lots of key safety information you'll want to read over.
But as a general rule:
Make sure you child is confident in the water
Make sure you're always watching them and near them
Make sure they know how to act in an emergency situation
Make sure they understand how the sea works and how to swim out of danger
Make sure their equipment is fitted properly (to avoid accidents)
Make sure they're protected from the sun whilst snorkelling
If swimming in coral area – make sure they have flippers or waterproof swim shoes
---
Summary
When it comes to snorkelling it's easy to get your kids involved from a really young age. By introducing them to the high quality equipment and letting them get comfortable with in their own time they'll be eager to get under the water in no time.