---
Are you wondering how to get from London to Stonehenge? Here are the best options for travelling to this amazing place!
---
Stonehenge is easily one of England's coolest sights to see, one of the oldest, and one of the most famous. But, if you're here on holiday, or you're a London local who wants to take in the sights, you're probably wondering how to get from London to Stonehenge. Lots of tourist use London as their base in the UK, and it's a great place to base yourself if you want to head off and see other sights, such as Stonehenge.
We know, we know, England isn't the biggest island, but it's still quite a hefty distance from London to Wiltshire (where Stonehenge is), so you'll need a bit of planning to make sure you get there without a hitch. Don't worry, though; we've planned a variety of scenarios to tell you how to get from London to Stonehenge in style.
---
Option 1: Drive yourself
---
First on my list of how to get from London to Stonehenge, it's driving. This is by far the easiest (if you can drive) and probably the most time effective way of getting from London to Stonehenge. Your total journey time is 2 to 2 and a half hours door to door, and a daily car rental in London is usually around £50-£80 depending on the car. Stonehenge is on a pretty major route (the A360) which connects up to the M3, and you'll see signs the whole ways as it's such a big tourist spot. 
It's free to park at Stonehenge for visitors, though you'll need £5 in cash to get your car in, this gets refunded off your ticket price. 
Bear in mind, too, that central London can be pretty busy at rush hour so plan your trip accordingly, and there's a charge for driving in certain areas that you'll need to pay beforehand on the gov.uk website. All in all your total travel time is 2-2.5 hours, and your total cost is £75+ petrol split between the amount of people you can fit in the car. A full car is probably £20 per person. Overall, it's a great option for how to get from London to Stonehenge.
Top tip! if you're driving you might want to stop at a service station. It's not too long of a journey so you don't have to, but I would highly recommend stopping at Membury Services. I know it's not v. Cool to be recommending a service station, but this place is AWARD WINNING, people! The architecture is pretty rad, and it's v. beautiful inside. Get a hot lunch Cos it's worth it, and you're worth it too. 
---
Option 2: Get the Coach
---
Why drive there when someone else is already going that way? Next up on our list of ways to get from London to Stonehenge is getting a coach from any of London's coach stations. Your best bet is London Victoria Coach Station, where there's a National Express bus to Ringwood.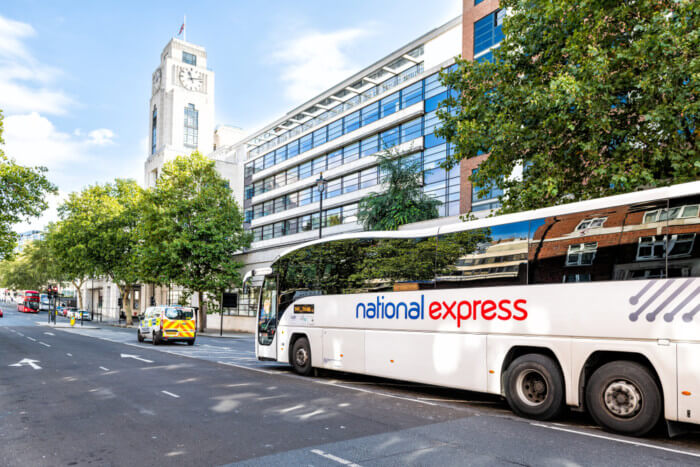 The buses run every three to four hours between 6:30 and 19:30, and cost about £35 per person. You'll have to change at Ringwood and get the X3 to Salisbury. This takes about 45 mins, and then once you're in Salisbury you'll need to get a ticket from the Stonehenge Tour bus which costs £10 for a child and £15 for an adult.  
All in all your total travel time is around 3.5-4 hours traffic dependent, and the cost is around £55 per adult. This is a really easy option for how to get from London to Stonehenge.
---
Option 3: Get the train
---
This way of getting from London to Stonehenge will leave you with a bit more time to spare, though you will still need to get the Stonehenge Tour bus from Salisbury. 
The train can be as cheap as £34.60 for a super off peak day return, and takes between 1hr20 and 2hr10 depending on the service you take. It leaves from Waterloo, which is a central station in London and easy to get to. The train to Salisbury runs every hour, and once you arrive at Salisbury you'll be able to jump on the local tour bus and explore Stonehenge! 

---
Option 4: Get a premium tour
---
This option of How to get from London to Stonehenge takes all the planning out of it. You don't even have to think about things beyond getting to the tour starting point, and is a great option if you want to see the sights, but you're not so organised. Most tours include a range of sights on the way to, and around, Stonehenge from London.
These include: Windsor Castle, Bath, Stratford or the Cotswolds, and often come with lunch included (often in a gorgeous historic country pub). You can check them out here and they cost from £89 per person upwards. This is a great option for how to get from London to Stonehenge, and takes all the planning and hassle out of it for you. 
---
Option 5: walk it
---
Next on my list of how to get from London to Stonehenge, if you're feeling up to it – you can walk it.
If you've got AMPLE time, strong legs, and a real desire to soak up the country slowly then this might be the way for you. The walk would take you along the famous ridgeway, and follows an ancient pilgrimage route. If you did it all in one go without stopping it'd take 28 hours, so we think you'd need about ¾ days.
There's loads of gorgeous towns along the way, and some beautiful local sights to see, so we'd recommend packing a tent, or checking out some inns in the villages along the way for a real de-accellerated way of seeing England. Lots of people actually do this route for charity too – so it's a well walked route.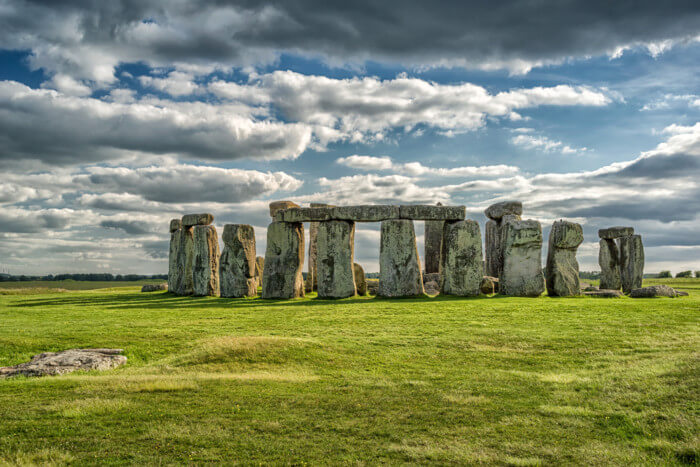 ---
Option 6: Take to the skies
---
Last on my list of how to get from London to Stonehenge, it's flying.
If you're long on money but you're short on time, and you wanna take in the magical and mysterious sight of Stonehenge in a way you'll never forget? Boy have we got a treat for you: fly there!
Whilst driving can take 2.5 hours, and the coach and train even longer, you can get there by helicopter in just under 50 minutes, and see the patchwork quilt of England's feules unfolding below you. It really is an unrivalled view, both of the countryside, and this ancient landmark. You can check out helicopter tours here (https://www.charter-a.com/helicopter-stonehenge) 
---
We hope this helps you get in your way, and that you know how to get from London to Stonehenge, now! Good luck getting there, however you do!