Like everything else in Thailand, the transportation and getting around the country is cheap. However, whilst it may be cheap, it's not always easy – so hopefully in this blog post I'll try and explain the different options available to you when you're exploring the mainland, the islands and the cities.
These travel tips for Thailand are focused around transport, however if you're a first time visitor, I'd recommend looking for some generic Thailand travel tips too!
Getting around in the cities
As you'd expect, there are plenty of transportation options in the cities. Bangkok has a good train system (like the London underground) – but there is also a huge amount of taxis, buses and tuk-tuks too. Bear in mind, traffic is a bit mental in Bangkok – so a taxi may not always be the quickest way.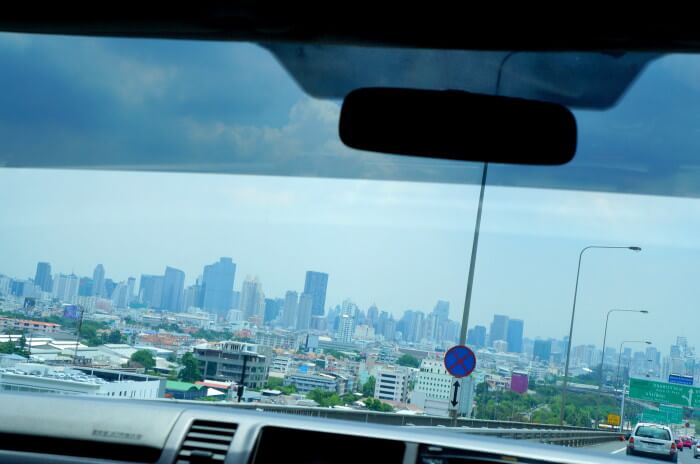 When we were in Bangkok last year, we were stuck in a taxi for like 2 hours – and only moved about 20 feet. Worst decision ever!
Top tip 1: Look out for hotels with their own tuk-tuk. Ours had a hotel tuk-tuk that would run us too and from the city centre for free…. it saved us a lot of money and effort, and meant we didn't get ripped off.
Top tip 2: ALWAYS ask for the metre to be turned on in a taxi. Without it – the driver can charge you whatever he wants (and trust me, it'll be double or triple what the metre fare would be).
Getting around with coaches and bus-lines
A popular transportation method for backpackers, most seem to think taking the bus or the coach is the cheapest way of getting down to the islands, etc. And they're probably right.
However, I'd always recommend checking out the airlines first though (it's much safer, much quicker and much less hassle) – and you could end up saving yourself a whole day of travelling – and only forking out an extra £10-£30 or so for the luxury of flying, compared to being squished on a bus for 18 hours.
Getting the bus is a budget option for budget travellers – if you can afford to get there using a different method, I'd recommend you choose the other method!
If you book via a tour company or bus company, most will include the ferry ticket in the price (these journeys usually include 10-12 hours on a bus, and then a 1-3 hour ferry ride), so make sure you ensure your boat ticket is included in the price too.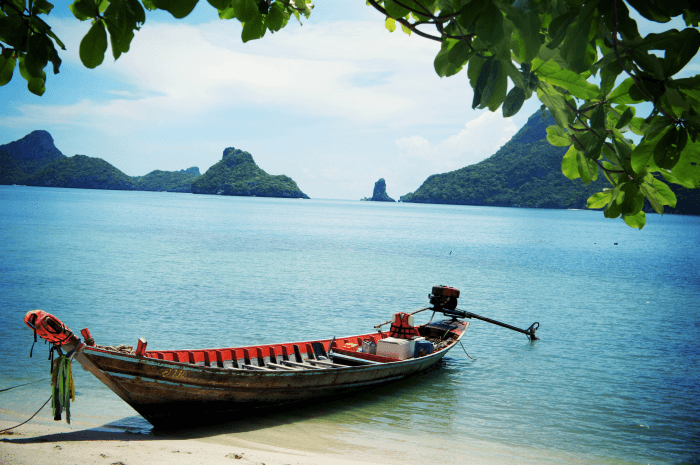 Because we flew most places in Thailand, I can't personally recommend any tour companies myself. However other travel bloggers I know have used the following company and it seems to get good reviews when I chat to people:
Lomprayah Tours (about £30 for the bus and ferry combo I mentioned above)
Top tip 1: Be careful of 'random' tour companies based in Bangkok who are offering super cheap tickets – there may be a catch and it's common for these to be scams. It's better to be safe than sorry – so book with a reputable vendor, like the company I mentioned above.
Top tip 2: It's also common for people to have their belongs stolen on these bus trips (especially with dodgy tour operators) so keep your stuff close to hand if possible (using it as a pillow works).
More in-depth info on buses here.
Getting around via train
There is a rail network in Thailand which is pretty easy to navigate if you're looking to avoid flying. It's called the State Railway of Thailand and you can find their website here… www.railway.co.th. We never used it on our trip, but Lonely PLanet say it's well run, and I tend to trust their voice on such things. The rail network covers four main lines – the northern, southern, northeastern and eastern lines.
The train is most convenient as an alternative to buses for the long journey north to Chiang Mai or south to Surat Thani. The train would also be useful for anyone visiting places like Ayuthaya and Lopburi from Bangkok.
You can also choose which class you'd like to travel on Thai trains, so if you had to budget you could opt for a first class ticket, and have yourself a pretty comfortable journey. Each private cabin in a 1st-class train carriage has individually controlled air-con (older trains also have an electric fan), a washbasin and mirror, a small table and long bench seats that convert into beds. Drinking water and soap are provided free of charge. But bear in mind… First-class carriages are available only on rapid, express and special-express trains.
Getting around with budget airlines
There are plenty of budget airlines in Thailand. My favourite was Bangkok Airways – which was a little boutique airline servicing some of the islands. If I was to recommend an airline to you, that's who I'd pick first and foremost.
Here are a few others though, where you might find some great deals:
Nok Air
Air Asia (These guys are especially good if you're moving onto other countries after. We flew to Hong Kong from Bangkok with Air Asia, for a very reasonable price).
Jet Star
Orient Thai Airlines
As always, if you feel uneasy booking with an airline, make sure you check reviews and safety ratings online first.
Top tip: Bear in mind, for a lot of these little internal flights from islands to islands you'll be flying on a very small plane. For some people this is irrelevant information and wouldn't affect their decision – but for me smaller planes make me very uneasy and I'd rather get a train or taxi if it's an option. I freaked out when I saw how tiny one of the planes we flew was – so I figured I'd flag it now, incase anyone has the same fear.
Getting around in a car and or on a motorcycle
Cars, jeeps and vans can be rented in most major cities and airports, so as long as you're flying into a hub, you should be able to find a car to rent. The international chains (you know, the big name brands) have offices in most of the major cities and you can book the cars online just like you would back home. This might make the experience a little less stressful – so always a good idea.
Of course, there are little local companies are located in major tourist destinations who tend to have (much) cheaper rates than the international chains, but their fleets of cars tend to be older and perhaps not as safe or well maintained. Check the tyre treads and general upkeep of the vehicle before committing to it – if this is the route you're going to take.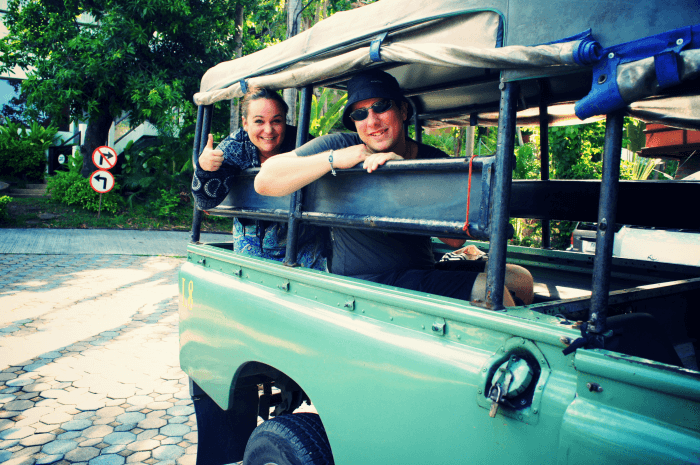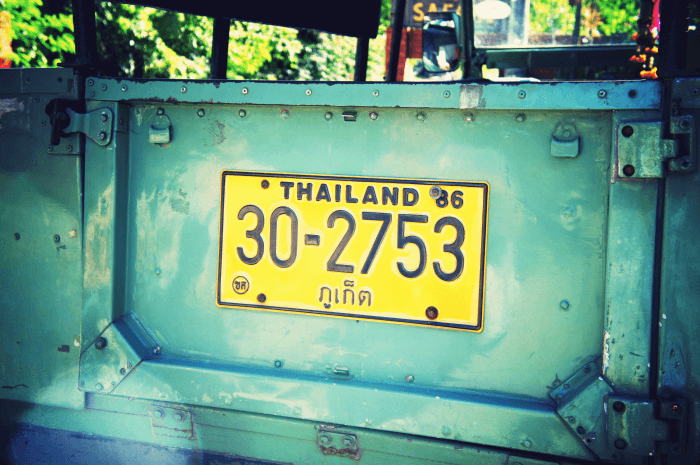 Renting a motorcycle in Thailand is relatively easy, and you'll be able to do it in most cities and towns around the country. It's a good way to independently tour the countryside, especially in northern Thailand and on the southern beaches – that's if you're brave enough to bear the mental traffic.
Top tip: ALWAYS wear a helmet.