Are you looking for the best way for getting to the Grand Canyon from Las Vegas? This blog post will show you all the different methods of getting to the Grand Canyon from Las Vegas and help you decide!
There are lots of amazing things you can do in Las Vegas (click here for some ideas), but one of the most popular day trips from Las Vegas has to be the Grand Canyon. If you're looking for ways to get from Las Vegas to the Grand Canyon, then keep reading.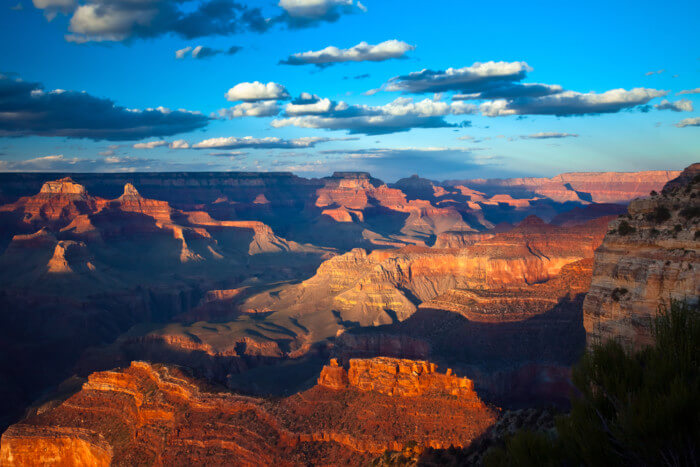 The incredible Grand Canyon is only a few hours drive from Las Vegas, so it's the perfect opportunity to marvel at this stunning part of the world. And luckily, getting to the Grand Canyon from Las Vegas is pretty easy!
If you're weighing up your options of getting to the Grand Canyon from Las Vegas – there are few different ways we'll go over here.
---
Getting to the Grand Canyon from Las Vegas…
So how far is the Grand Canyon from Las Vegas? And what different transport option are there?
It's about 270 miles away.
If you flew it would take 50 minutes.
By Car it's about 5 hours.
On a bike it would take 2 days.
If you walked it would take a week.
The average day tour (by coach) takes 12 hours (including stops).
You've got a variety of options (as listed above, haha!) but I'll go through the best ways of getting to the Grand Canyon from Las Vegas here.
---
Drive yourself to the Grand Canyon
The drives from Las Vegas to The Grand Canyon takes about 5 hours, but it takes you through some INSANE scenery, and you get to go by Hoover Dam and Area 51. It's definitely one of the best ways of getting from Las Vegas to the Grand Canyon – especially if you want to take your own time.
If there's two of you driving you could split it up, but if you're doing a road trip we'd recommend that you camp at the Grand Canyon overnight. That way you can see the sun go down and then come back up again before you head back to Vegas. 
If you do a little bit of research about the best places to see the Grand Canyon, you can make sure you're stopping in all the good view points too!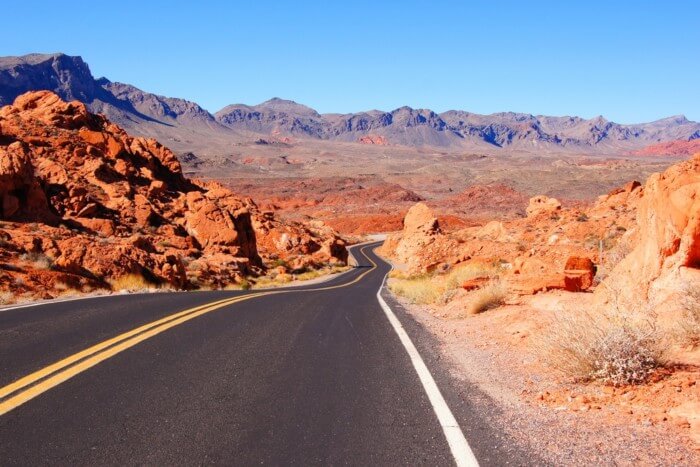 ---
Take a tour to the Grand Canyon
I highly recommend travelling from Las vegas to the Grand Canyon using a tour group, as it lets you soak in all the sights, without any risk of getting lost. It also means you don't need to worry about renting a car or getting insured, etc, etc.
The Pink Jeep tour is my favorite Grand Canyon tour company leaving from Las Vegas – I've done several tours with them, and they've all been absolutely brilliant.
The tour guides know so much info, it's fun, there are plenty of stops and they pick the best Las vegas viewpoints to enjoy. Their tours also let you see the hoover dam too! You'll feel like you're being driven around by a pal for most of the day.
Click here to book a Grand Canyon Day trip with Pink Jeep Tours.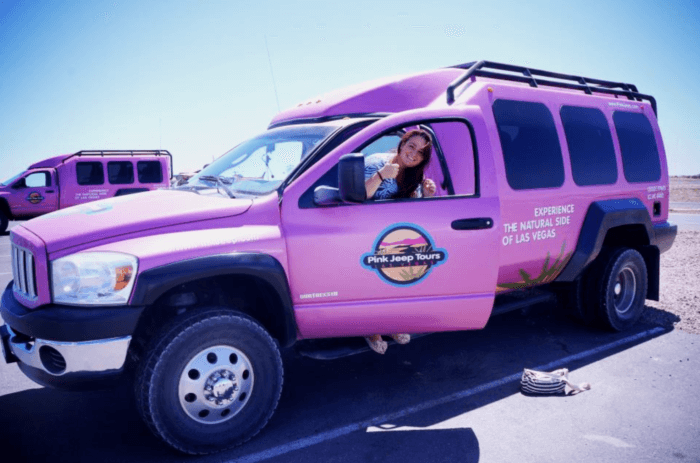 ---
Helicopter Tour from Las Vegas
This takes about 50 minutes and is an absolutely decadent way to get to the Grand Canyon from Las Vegas.
There's a few companies offering this amazing trip, especially as helicopter rides have become more affordable, and the view more talked about on social. Papillon are an industry, leader though, and they come highly recommended. 
Click here to book a helicopter ride from Las Vegas to the Grand Canyon.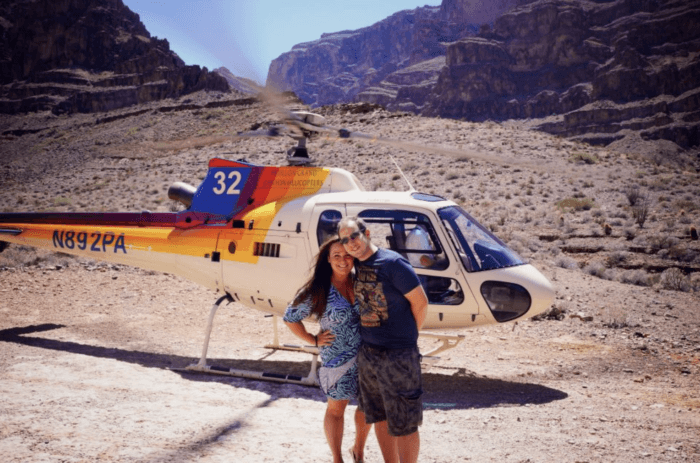 ---
Small plane ride from Las Vegas to Grand Canyon
If you want to see the Grand Canyon from above, then a small plane ride is one of the best ways you can get to the Grand Canyon from Las Vegas. We know that by car or coach getting to the grand canyon from las vegas is a bit time consuming – but by plane, it can take less than an hour!
The tour I recommend (click here for tickets) includes:
Hotel pickup and drop off
Roundtrip air flight to the Grand Canyon
National Park entrance fee
Picnic style box lunch
Local taxes, fees and surcharges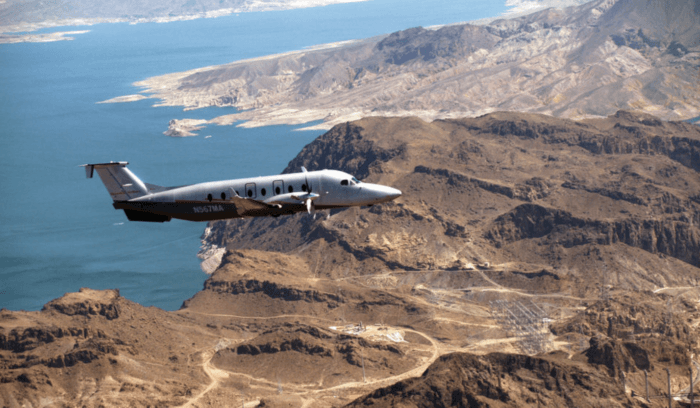 ---
When should I go to the Grand Canyon?
Spring: one of the best times to go. Temperatures are on the rise, but it's not too hot yet in the day to hike comfortably, and you're missing out on all the tourist hubbub of the summer months. Can still be chilly though.
Summer: this is peak season – with gloriously long sunny days and temperatures of 30C  it's easy to see why. The park can get extremely hot and temperatures in the canyon can soar to 45C so be careful if this is the time you're going, hike early in the morning to beat the sun.
Autumn: almost as good a time to go as in the spring, although the canyon doesn't have quite so much verdant life within it after the scorching hot summer.
Winter: the North rim of the canyon is closed In The winter, so this is maybe not the best time to come if you're heading over there. However, the canyon is pretty empty of people at this time, and despite the frosty temperatures it can be incredibly beautiful with snow capping its undulations. Many south rim trails, like kaibob (my favourite) will remain open too so it can be an exciting time to check out the canyon. 
---
How long should I stay?
A day is enough if you've got limited time. You can take any of the options above to make it really easy (tour, helicopter or plane).
However, if you've got time to spare, I would advocate for camping, in fine weather, in the Stte Park itself.
There's a fee, but it does mean that you can explore the canyon at your leisure. A couple of days should do it, but if you're short on time you can check the canyon out in just a few hours and then nip back to Sin City for a roll or the dice or a spin of the wheel. (Again please don't question me on my gambling knowledge I have no idea how it works)
---
Top tips for visiting the Grand Canyon
Pack enough water. Getting dehydrated on a trail can be super dangerous!
Take adequate clothing for the weather. Warm things in winter, a hat and suncream in the summer.
Choose your viewing points: click here for our advice on that
Take a nap of all the bus routes with you so you can find your way around.
Have FUN!