---
Are you planning a holiday to America? If so – you might be looking for a guide of the best family-friendly destination in America! Here are my favourite options!
---
Every family tends to move at their own pace, and it can be difficult to suss out that perfect holiday for your tight-knit little group.
As there's really no such thing as a holiday that suits every family, we've found some of the best family-friendly destinations in the U.S to make your next holiday one to remember.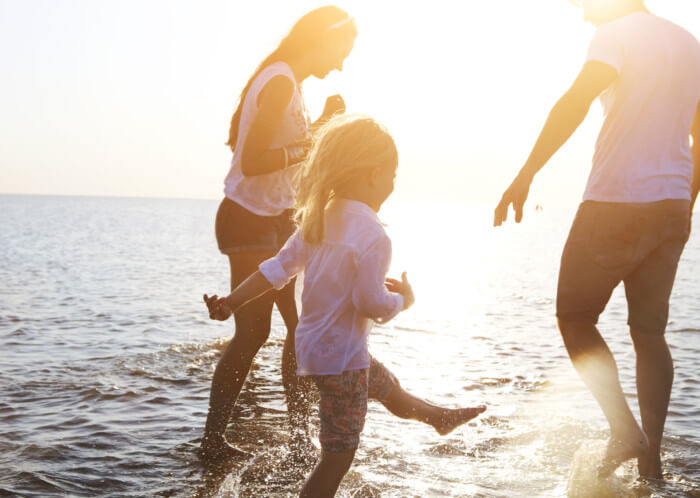 Whether you're searching for a trip that'll educate as well as enlighten or want a nature heavy vacation that will teach your kids the value of the environment, we've got you covered. So, buckle in and have your notebook at the ready, for we've got a list of the best American vacations that are sure to be remembered for years to come.
---
Florida
If you're going on holiday to America, this list of USA holiday destinations should help! Perhaps the most obviously place to go on holiday in America, it's Florida!
Possibly the most family-friendly USA holiday destination on this list, Florida is home to the largest theme park complexes in the world. If we're being honest, can any family-friendly holiday truly compete with the classic Disney or Universal experience? Home to the world's most famous mouse, Disney World truly has it all.
Comprised of four massive theme parks, two water parks and several recreational sites that also promise bundles of fun, it's a fantastic vacation spot that the whole family will enjoy.
After all, Orlando isn't just for kids! If you want to truly immerse yourself in the theme park experience, be sure to check out Universal and the Wizarding World of Harry Potter too! There is also Miami and Key West to explore too!
---
The Grand Canyon
The perfect family road trip, a visit to the Grand Canyon should be on everyone's American travel bucket list. Carved out over millions of years by the Colorado River, it's truly a sight that should be seen to be believed.
If you're a family that like to go on long walks or bike rides, you could hop on the Rim Trail (which is widely judged to be the most family friendly trail on the Canyon). When going on holiday to America, you can't find a better location that The Grand Canyon!
Read more about family travel: The best travel crib for every budget
Giving you amazing views of this natural wonder, it's truly a no brainer. If you've got kids that have hit the train-obsession phase of development, why not give them a ride on the Grand Canyon Railway? Giving you great views from the railcars, it's an alternative way to see the sights of the canyon without getting utterly exhausted.
If you're not planning a full-blown vacation, the Grand Canyon is a great weekend trip for the family.
---
NYC
The city that never sleeps holds wonder for both adults and kids. From wondering around Central Park during the day, to hitting a Broadway show at night, it's the perfect place to take in culture and enjoy one of America's most metropolitan cities. In addition to this, there are a large number of museums that cater to both adults and children.
For example, the New York Hall of Science combines learning with fun, and helps to present quite complex information in fun and engaging ways. If your kids love animals, try taking a trip to the Bronx Zoo.
Feeling worlds away from the city, it's the perfect place to bond with children whilst introducing them to some of the world's most amazing wildlife. If you're going on holiday to America, NYC is a great destination – and iconic too!
If you've still got some energy, head up the Empire State Building or the One World Observatory to get unparalleled views of the city. There is truly so much to do here, that you'll be able to fill numerous days on any family itinerary you create.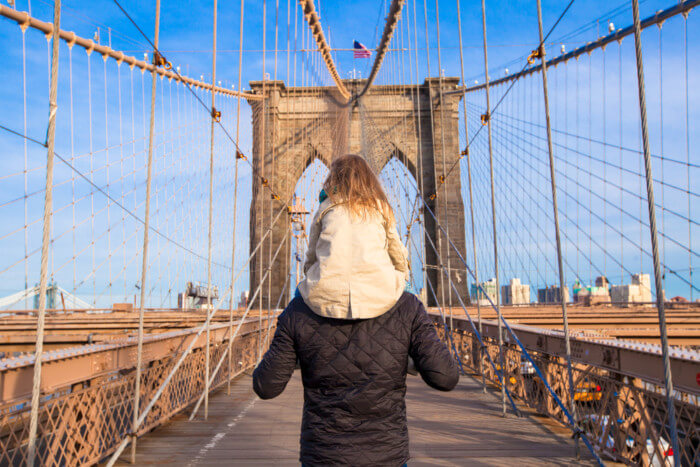 ---
Southern California
Southern California has long been one of the most popular American destinations for families. Aside from being home to another one of Disney's massive theme parks, Southern California is also home to both Los Angeles and San Diego.
Whether you fancy popping down the Hollywood Walk of Fame to spot your favourite stars or wish to explore San Diego's Old Town to learn about America's history, you're sure to find plenty to do in Southern California. Blessed with better weather than a lot of U.S states, you could use your time there to visit one of its many beaches should you wish.
With La Jolla being a particular favourite, it's a great place to get your feet wet as a family and wash your cares away! A great place to consider when going on holiday to America.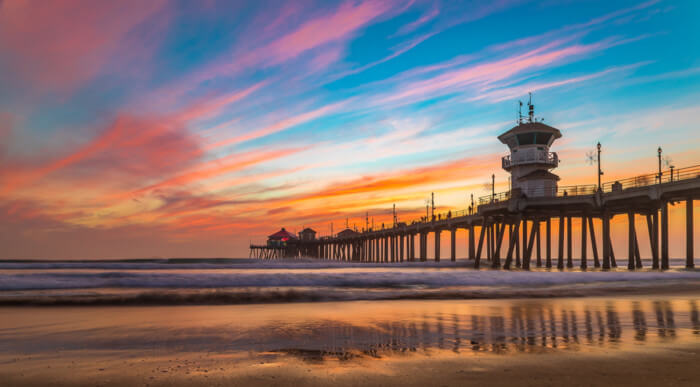 ---
Washington DC
The nation's capital is a particularly popular American holiday destination, and it's not difficult to see why. With malls, museums and a great zoo, it's a super family-friendly place that's also great for history buffs.
If museums are your family's style, you can check out the National History Museum, Air & Space Museum and even the Bureau of Engraving and Printing. There are also lots of free things to do in Washington too!
If you've got curious kids, seeing the production of money in real time is sure to be a big hit! You'll probably have to take plenty of breaks when exploring this area due to the sheer amount of things to do, but if you're looking to hit as many sights as possible, you may want to consider a bus tour.
A flexible way to see the city, it's a great way to see Washington at your own pace. A fantastic place for education and learning when going on holiday to America.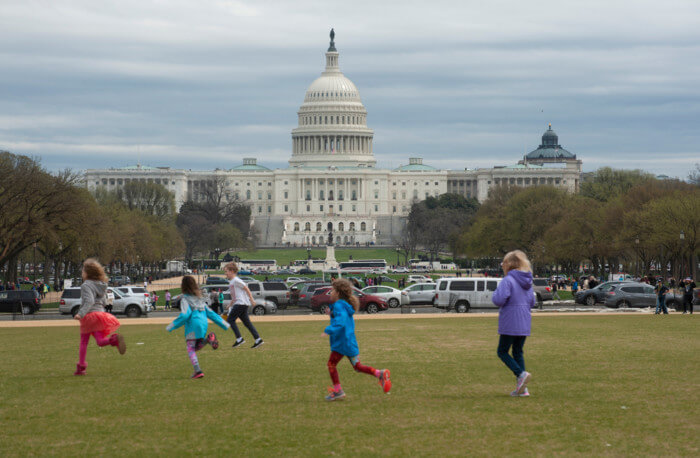 ---
Yellowstone National Park
An eternal holiday destination in America for a reason, Yellowstone National Park continues to be a huge hit amongst families. With amazing views, awesome waterfalls and camping galore, it's an outdoorsy family's dream trip.
With wildlife lurking around every corner, you're sure to catch a glimpse of a deer, bison, elk and even a bear if you're lucky!
Be sure to check out Old Faithful whilst you're here; a geyser that spurts water high into the air multiple times a day, it's certainly an attraction not to be missed!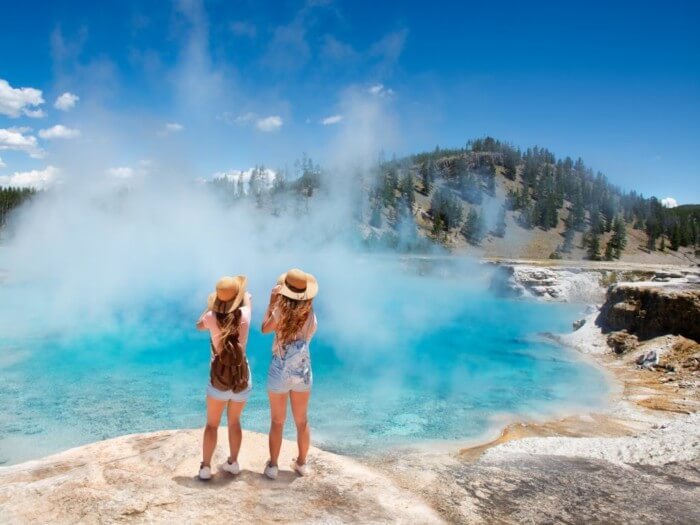 ---
Hawaii
An idyllic place to surf the waves, relax and take in the ocean breeze, Hawaii is our final pick for American holiday destinations. With both Honolulu and more laid-back islands on offer to visit for families, it's an extremely scenic destination that should absolutely be on your bucket list.
If you're looking for a holiday destination that's more relaxed and doesn't require a packed itinerary, this is a great kid-friendly choice that will ensure rest for the whole family.
---
Seattle
If you love the great outdoors, and you love spending time together as a family outside – then Seattle is actually a great vacation destination in America for your family. There are so many things to do in Seattle – you'll love it.
There loads to do in Seattle, and around Seattle – from various hiking trails around the city, to kayaking on the lakes and even whale-watching! There are also loads of great attractions in Seattle city centre too – such as the Space Needle and Pike Place Market – all which families and kids will adore.
---
Atlanta, Georgia
Though it may seem a strange city to put on a list of the best family vacations in America, this Southern gem is super family friendly and has plenty to offer. Being a city that's often used to connect long-haul flights, it's a great place to stop and explore. Home to the largest aquarium in the USA, there are over 500 different species of marine life here for your kids to marvel at.
With adorable otters, majestic whales and spooky sharks, this is a fantastic family bonding trip to learn about those remarkable creatures of the deep blue sea. Not only that, but Atlanta has some great boutique shops, restaurants and is even home to the World of Coca-Cola.
If you happen to be a soda-guzzling tribe, it's a cool way to learn about the history of the humble soda, and you even get some free samples along the way- score! With great multimedia exhibits to keep kids entertained, it's a sure-fire way to keep them busy.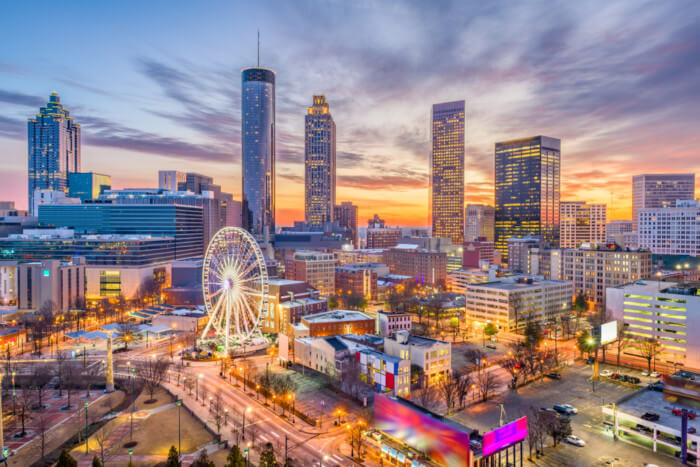 ---
Hopefully this list of family friendly American holiday destinations has been useful!
There are so many amazing American holiday destinations in the USA – we know you'll love visiting! No matter what time of the year you visit, there's always a brilliant holiday destination in the USA.