So, you're planning a visit to Cold Spring, NY and you're looking for a guide to the town, what to expect – and (most importantly) things to do! This guide will help you find lots of inspiration for your Cold Spring getaway!
---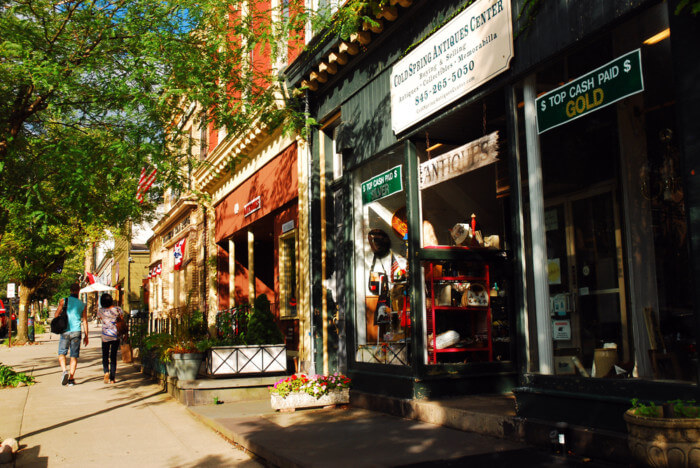 Cold Spring, NY is the perfect getaway spot from NYC, and is a truly stunning example of what lies just outside of Manhattan. Just over an hour from NYC, its main street is lined with adorable boutiques, restaurants and speciality stores.
Being an excellent tribute to the great outdoors, it's also home to some of the world's best hiking trails.
Cold Spring is quite a small town based in the Hudson River Valley, it's an extremely popular weekend getaway for local New Yorkers, and if you like shopping, eating and walking about, you're sure to find plenty that floats your boat in Cold Spring, NY.
---
Things to do in Cold Spring, NY
---
If you're visiting Cold Spring, NY for the first time, you'll want to create a comprehensive itinerary, as there are so many lovely things to do in Cold Spring NY! Here's a few ideas on things to do and places to see in Cold Spring, NY!
Hiking
My first suggestion for things to do in Cold Spring, NY – it's hiking of course! If you arrived on the MetroNorth, you may have already seen numerous hikers ready to seek out Cold Spring's amazing trails.
With many visiting solely to explore Breakneck Ridge, it's an excellent excuse to dust off your mountain boots and get moving.
Offering a short but steep scramble to the top, it offers some incredible views of the Hudson Valley. Though it's a very difficult hike, the trail is always packed. So, be sure to allocate plenty of time to do this as it may well take you the better part of a day to see the best of this area.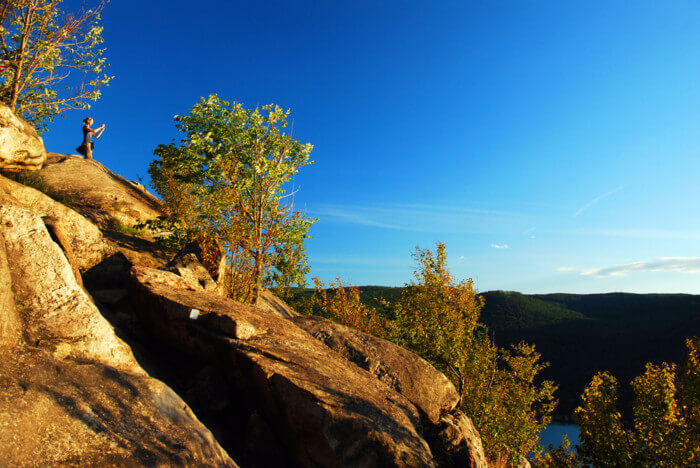 Go shopping in Cold Spring, NY
Due to its many speciality stores, shopping in Cold Spring, NY is a great idea! It's an amazing place to pick up some unique pieces. If you're a fan of physical activity or home décor, Old Souls is a cool store that carries products suitable for the field, stream, camp and home.
With some loud graphic tees for sale as well, it's a great stop for some souvenirs. Shopping here is a must for things to do in Cold Spring, NY.
If you're into vintage goods, Poor George is also a great shout. An amazingly stocked little shop that features vintage goods alongside housewares, stationery and jewellery, it's the perfect spot for photographs and gifts.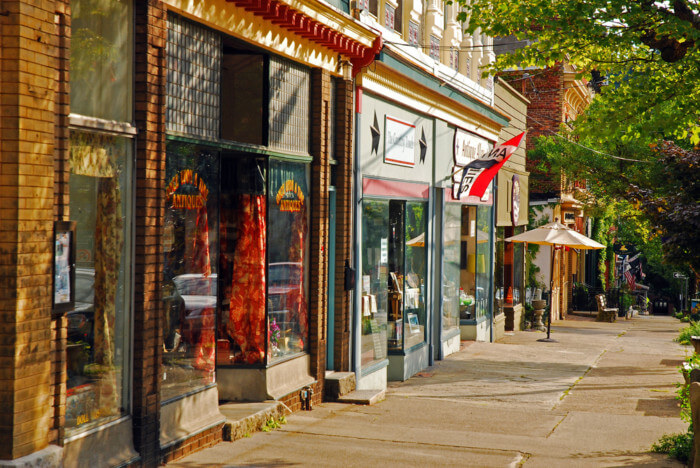 Manitoga
If you're looking for a more chilled out approach to Mother Nature, why not check out Manitoga? A fabulous studio of woodland, Manitoga offers 90-minute tours of the property.
Russel Wright designed the whole outdoor space from the trees to the moss, so it's a unique experience that's well worth a visit.
West Point Foundry Preserve
Holding a lot of the area's history, West Point Foundry Preserve is my next suggestion for things to do in Cold Spring, NY. It is a must-visit for history buffs. At the height of the industrial revolution, this spot produced steam engines, artillery and ships.
Acting as the starting point for numerous hikes, this is a must-visit on the way to any hike in the area. As many of these trails follow old rail beds, it's a great way to see preserved ruins that are hidden amongst the Hudson woodlands.
Cold Spring Waterfront
A serene natural spot in Cold Spring, the waterfront is another must-see natural spot. With massive, panoramic views of the Hudson and its surrounding scenery, it's the perfect place to snap some sunset shots.
If you're not looking to get the perfect shot, it's a relaxing place to just sit and read a book if you've got some time on your hands!
Take the River Rose ferry cruise
This lovely old-fashioned ferry cruise is my next suggestion for things to do in Cold Spring, NY. It leaves from the Cold Spring, NY waterfront and they offer public cruises – which make for a gorgeous day out or activity in Cold Spring, NY.
The River Rose is an authentic stern driven Mississippi paddle wheeler, and it'll take you back in time – while you get to enjoy the view and and the narrative commentary too. There's also a full service bar on board – which is a nice added extra!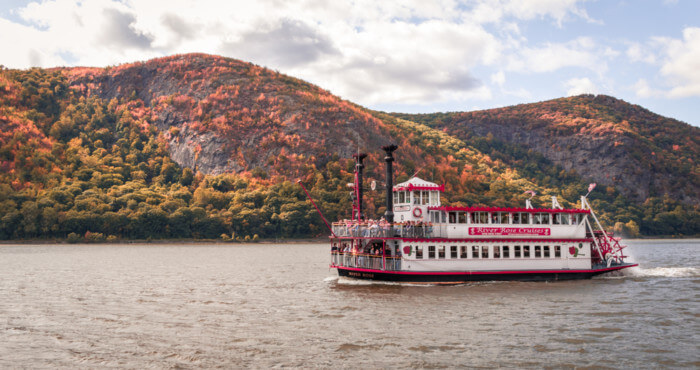 Downtown Gallery
Featuring paintings from local artists and with an antique shop that's stuffed to the brim with collectibles that are constantly updated, this is a must-do in Cold Spring. Located on Main Street, this gallery-meets-antique store is a quaint place to pop into on your way down the area's most popular stretch of road. 

The bandstand
When you're done schmoozing around Main Street, you should take a trip down to Cold Spring's hexagonal bandstand and do some people watching. A lovely spot to catch your breath, it's a wonderful place to de-stress and reflect on your day.
This is a lovely thing to do in Cold Spring NY – especially if you just fancy taking it easy for a few hours.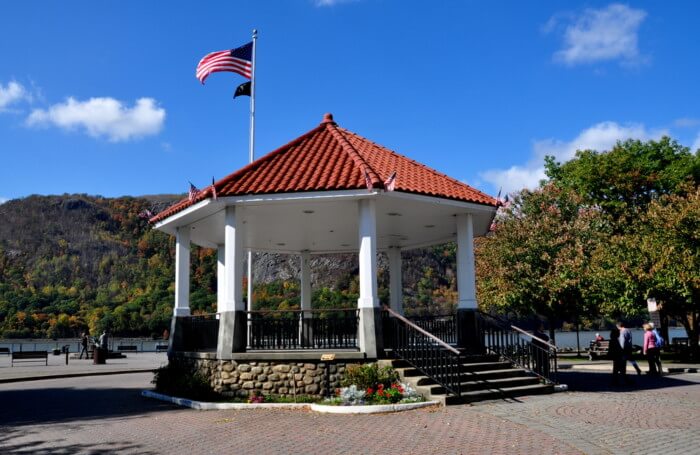 Take a kayak out on the Hudson
My next suggestion of things to do in Cold Spring, NY is kayaking. With plenty of places around to rent kayaks or canoes you can easily see the best of this river valley. Special tours also run throughout the year, with guides showing you the most special sights on offer.
Including Bannerman castle, it's a fabulous way to kill two birds with one stone (you get physical activity and see the sights of Cold Spring- win win!).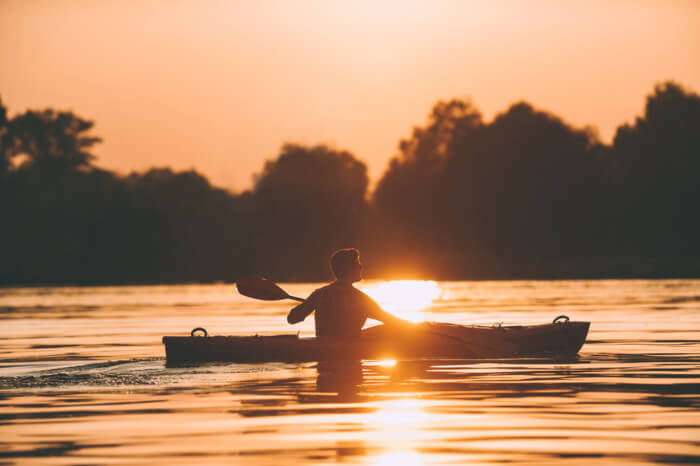 Hudson Valley Shakespeare Festival
Next on my list of things to do in Cold Spring, NY – it's the Shakespeare festival! This isn't a continuous event in Cold Spring, NY – but if you happen to be planning a visit during the Hudson Valley Shakespeare Festival, then you're in for a treat.
It's both a celebration of Shakespeare, and a celebration of outdoor theatre, and it's so enjoyable and such a great event. Learn more here.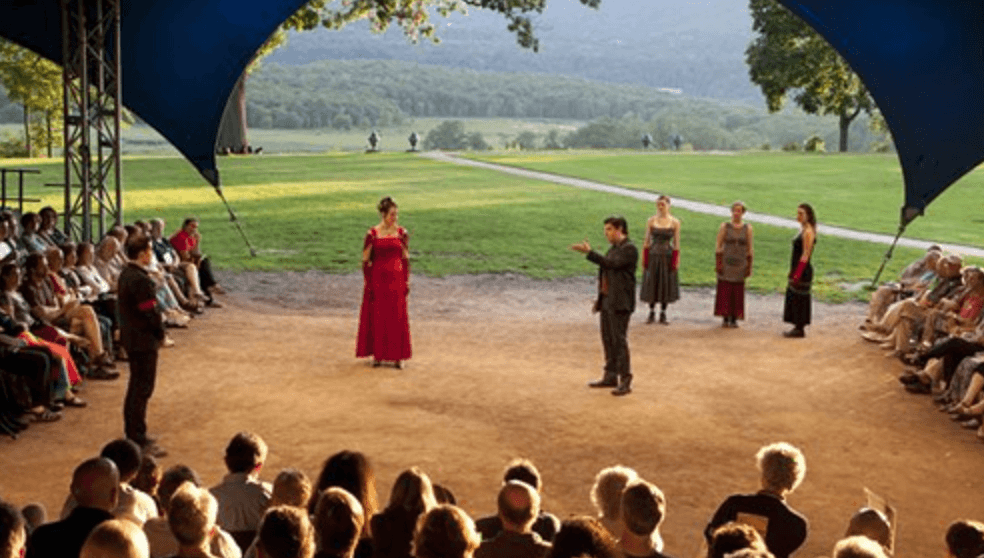 Stonecrop Gardens
The stunning Stonecrop Gardens cover a huge area of around 12 acres and have a really diverse and beautiful mix of flora and fauna. There are woodlands, landscaped areas, a water garden and a grass garden too. If you love gardening, or you just like admiring pretty places – this a must-see in Cold Spring, NY.
Boscobel House and Gardens
Last on my list of things to do in Cold Spring NY, it's Boscobel House and Gardens. This is a great idea for things to do in Cold Spring, NY – especially for those who love a bit of history and architecture.
The house itself is a historic museum (it's located in Garrison, a short drive from Cold Spring). The house overlooks the Hudson river, and enjoy some absolutely stunning views. It's definitely worth visiting, especially as it's unlikely you'll have seen anything quite like it before!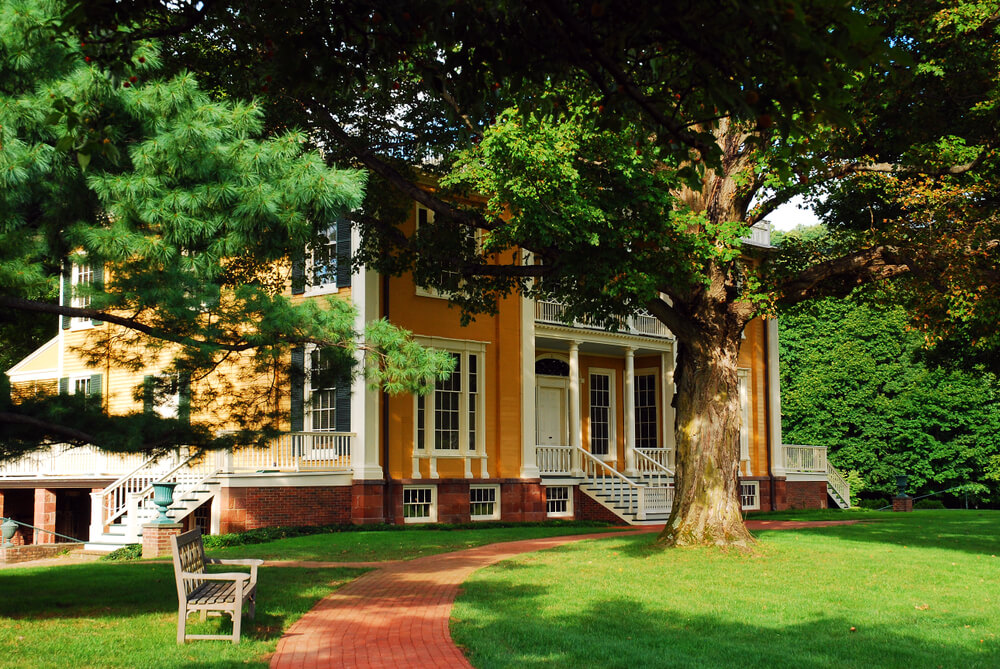 ---
Places to stay in Cold Spring, NY
---
If you're scratching your head about where to stay in Cold Spring, NY, never fear. In this ultimate guide, we've included a couple of fantastic options that should suit any traveller.
Hudson House River Inn
Built in 1832 and operating as a hotel since that date, the Hudson House River Inn is part of Cold Spring's local history. Located on the stunning waterfront, it's only about a hundred feet from the Hudson River.
With a distinctly antique feel, it's the perfect place to relax and unwind after a long day of exploring. As somewhere that's been placed on the National Register of Historic Places, it's a marvel in its own right!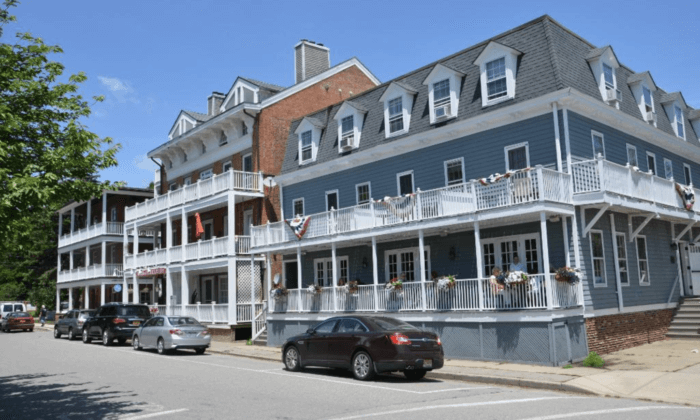 Pig Hill Inn
Though rather strangely named, Pig Hill Inn is a lovely quiet retreat located on one of Cold Spring's historic streets. Touting itself as a place that offers great hospitality, it's sure to live up to your expectations.
With individually decorated rooms and a gorgeous garden terrace, it's a central spot in Cold Spring that's a great place to base yourself.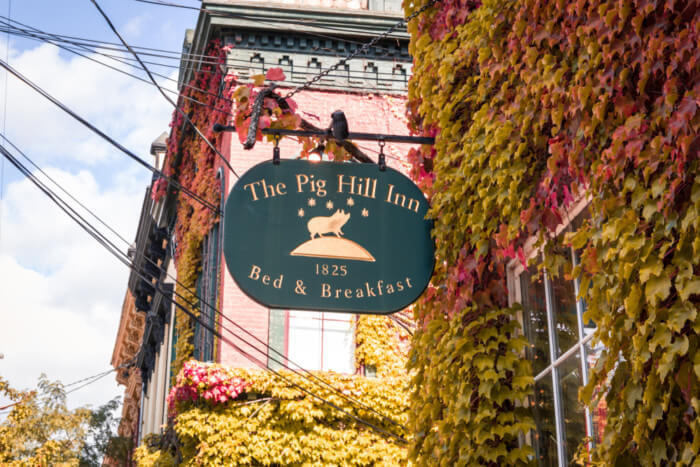 West Point Motel
Though slightly further out of Cold Spring, NY – this is still within easy driving distance (about 5-10 mins). The West Point Motel is a great budget option that has plenty of amenities to make your stay comfortable.
A family owned hotel that's been in operation since 1923, it's a tried and tested spot to rest your head.
---
Places to eat in Cold Spring, NY
---
Choosing where to eat in a new town is always half the fun of the trip for me. Cold Sprong, NY doesn't disappoint! There's so many great places to eat here.
I find, because a lot of New Yorkers moved out here to escape city life – you actually get this amazing quality of city-cuisine, but in a small town setting. That's kind of Cold Spring's vibe – and I love it.
Hudson Hil's
Hudson Hil's is one of the area's most beloved brunch joints, it uses fresh, local ingredients in all its dishes. It's probably the most popular spot in town for food, so be prepared to queue if you want to taste this joint's goodies.
If you haven't got much time on your hands, never fear; you can dip into the market section and grab a sandwich or coffee to go!
Brasserie Le Bouchon
Serving classic French cuisine, this brasserie is sure to have a dish to appeal to any taste. One of the top things on this menu is the authentic escargot. Served with a ton of garlic and butter, this yummy dish comes with a stick of crusty baguette to soak up all the goodness.
If this doesn't whet your appetite, the steak au poivre is equally fantastic. Slathered in cream, butter and Cognac, it's totally indulgent and well worth the trip to Cold Spring.
Whilstling Willies
Whistling Willies is serving standard pub fare, and this is a great place for a simple meal that hits the spot. With an excellent burger and beer selection (it won best beer and best burger in the Hudson Valley Magazine several times!), it's a solid choice if you're looking for some hearty grub.
Riverview Restaurant
Riverview Restaurant is a lovely restaurant on the river's edge, serving up classic 'restaurant' style dishes in a lovely setting with an amazing view. I think this would be a lovely place to go for a date-night or if you've got someone special to impress in Cold Spring, NY!
---
How long should you spend in Cold Spring, NY?
---
In theory, due to its size you can get Cold Spring covered in a day trip. And as it's only an hour from the city – that's totally possible too.
However, Cold Spring is the kind of place I would visit for a long weekend. Shake off those city stresses, and relax in one of the hotels above. Have a lazy sleep-in, enjoy some delicious brunch and just mooch around the town. You don't need to cram everything into one day, so spreading it out over a few days is ideal.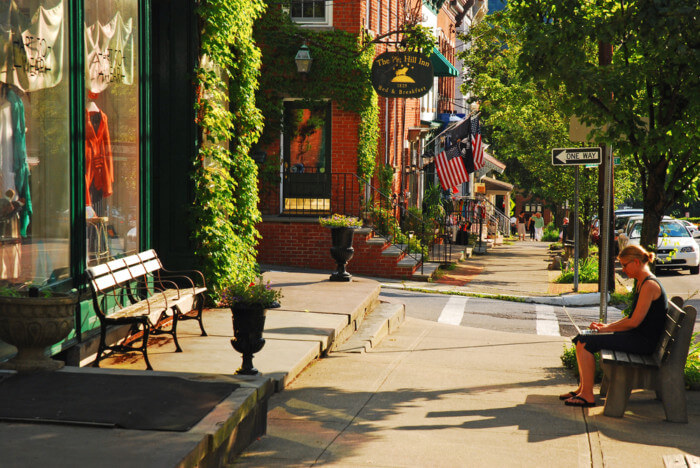 ---
What should I pack for Cold Spring, NY?
---
In the summer time in Cold Spring NY, you'll likely spend your time exploring shops, walking around the scenic streets, and sipping coffee in the sunshine. Maybe throw a bit of hiking in there for good measure. So a couple of comfortable outfits for exploring and 'sightseeing' and then an outfit for hiking would be ideal.
In the winter, expect it to be snowing, and cold. Cold Spring, NY is just as cold as Manhattan in the winter (if not more so) so make sure you've got plenty of layers and warm clothes with you!
I would certainly recommend packing a few useful bits for exploring the area.
Bring some comfortable shoes: as the weather in New York can vary considerably, make sure you pack some comfortable, sturdy walking shoes for your trip. The last thing you want is soaking wet feet taking your mind off things.
If you're taking a day trip, be sure to pack a portable charger. Cold Spring is full of photogenic spots, so make sure that you're not caught out with a flat phone battery when you're trying to line up that perfect shot.
I hope that this Ultimate Guide to Cold Spring, NY has been useful. This place certainly has something for everyone, whether you're a nature lover or prefer the quaintness of boutique shops. So, get planning!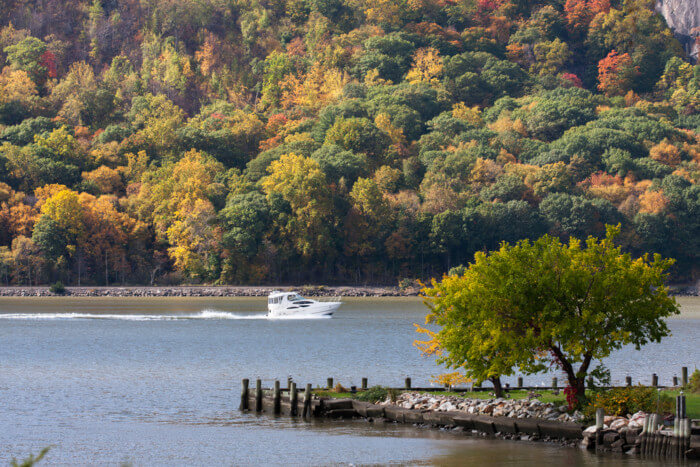 ---
The History of Cold Spring, NY
---
Serving as a home to settlers since 1730, Cold Spring has long been an industrial area on New York's stately map. Though it was a small trading area until the early 1800s, it soon became a central production spot for the United States Government. Producing artillery pieces from 1818, it saw a huge increase in output as military needs increased.
According to town lore, Cold Spring actually owes its name to George Washington, who took a sip from the spring and thought it was, well, cold. A little bit derivative, we know, but amusing nonetheless!

---
Hopefully this guide to Cold Spring, NY is useful and you've found lots of inspiration in this guide to Cold Spring NY!
There are so many wonderful things to do in Cold Spring NY, and there are lovely accommodation options, and wonderful places to eat in Cold Spring NY too!
Altogether it makes Cold Spring NY a fantastic place for a weekend getaway from NYC!