---
Are you looking for a guide to the most scenic neighbourhoods in Paris?
---
Paris is often heralded as one of the most beautiful cities on the planet. However, like any capital, it's architecture can vary. For all the cobbled streets and winding alleyways of Montmartre, you're sure to find an alleyway that smells like wee, and looks like the world has ended in it. Knowing where to find the best scenic neighbourhoods in Paris in key to enjoying your trip to this amazing city!
We know that you've come to Paris for it's beauty (and there's a lot of it to go around!) so we've made a quick fire list of the three most scenic neighbourhoods in Paris so that you can delight your eyeballs, and make all your friends at home jealous. 
---
Le Marais
---
Nestled on the right bank, in a crook of the Seine, straddling the 3rd and 4th Arrondissement is Le Marais, the first scenic neighbourhood to make our list of the most scenic neighbourhoods in Paris. The alleyways are pretty little streets that wind themselves into a centre smattered with ivy strewn courtyards, with amazing falafel places and sweet little boutiques.
Like a lot of Paris, Le Marais is super historic, and is home to many outstanding buildings of historic and architectural importance. From Hôtel de sens (in French, Hôtel doesn't just mean a Hôtel, but signifies an important building like "Somerset House" in London isn't actually a house. There's also the National Archives, which is beautifully located, and loads of little tucked away squares and gardens to sit in a while. 
I would also definitely recommend a visit to the gorgeous Place des Voges, in the summer recline on the grass with a baguette, a bottle of wine, and a good pal (or a good book). In the winter, head to one of the neighbouring cafés for a vin chard, and people watch!
---
Montmartre 
---
You've seen Amelie, your Parisian dream is sharp hills, flights of stairs, cobbled walkways, and the red green glow of Bruno Delbonnel's stunning cinematography. So, it makes sense that next up on our list of the most scenic neighbourhoods in Paris, and taking home the silver, is Montmartre, and I can tell you, it doesn't disappoint. Even on a dreary wet and wintry day, this neighbourhood shines, with its sweeping views of the city, iconic cafés and charming wiggly streets. 
You'll know La Maison Rose from Instagram (most scenic neighbourhoods in Paris are all over Instagram!), but I'd steer clear as its not quite as charming as it looks, and the owners are (quite rightly) very annoyed by people coming to take Instagram shots and nothing else. Head to soul kitchen instead for a far superior coffee and tasty home made food. 
Atop the hill are the meringue-like turrets of the Sacre Coeur, this almost Byzantine beauty offers an almost unrivalled view of Paris, though do be aware that it is quite a steep climb to the top. There is a funicular from Anvers metro station, though, and a really really cute road train that can take you all the way up!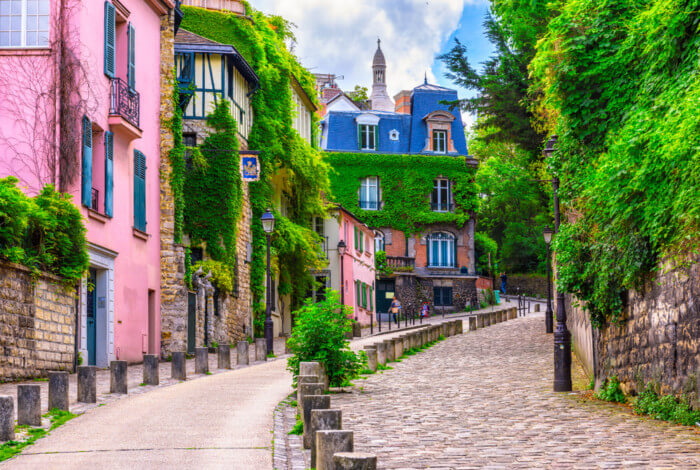 ---
St Germain
---
This Parisian neighbourhood is nothing short of iconic, and is, in our opinion, the most scenic neighbourhood in Paris. It's jam packed with famous cafés, like Café de flore, Les Deux Magots, and the Brasserie Lipp, and it's literary history is everywhere to be found. All it's avenues are beautifully wide, and leafy. During the 1950s and 60s this area was the epicenter of the existentialist movement, and so can't really be divorced from names like Simone de Beauvoir and Jean-Paul Sartre. Yes, it's a little further out of the city centre, but as far as scenic neighbourhoods in Paris, it's worth the extra travel time. 
It's home to l'Ecole des Beaux Arts, an internationally renowned art school, and the former apartment and studio of painter Eugène Delacroix (which is now a wonderful museum) so in terms of finding art and culture, this might just be the pinnacle of it.
If you're after literary Paris, as found in the work of Proust, Wilde, Dickens, Boris Vian, and countless others – here is where you'll find it!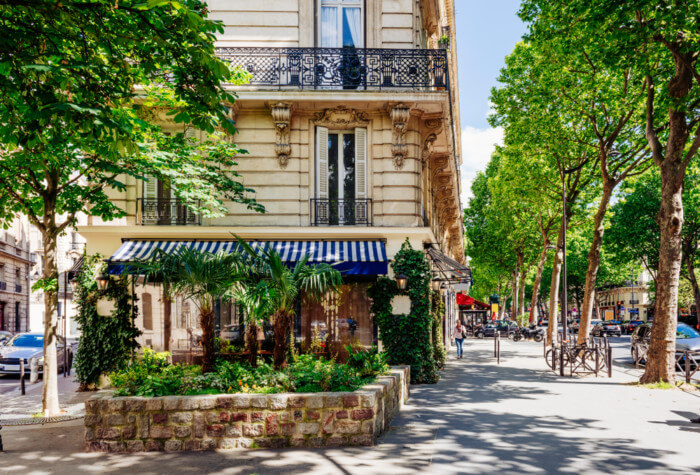 ---
19th Arrondissement
---
This Arrondissement is a little tucked away place in Paris' north east corner, and it's home to one of the city's most beautiful parcs: Buttes Chaumant. It's name means charming mounds, but it's a completely landscaped place with rolling hills, and waterfalls; meandering pathways and sweet little cafés. The area as a whole is gorgeous, but this is definitely a place for the gram.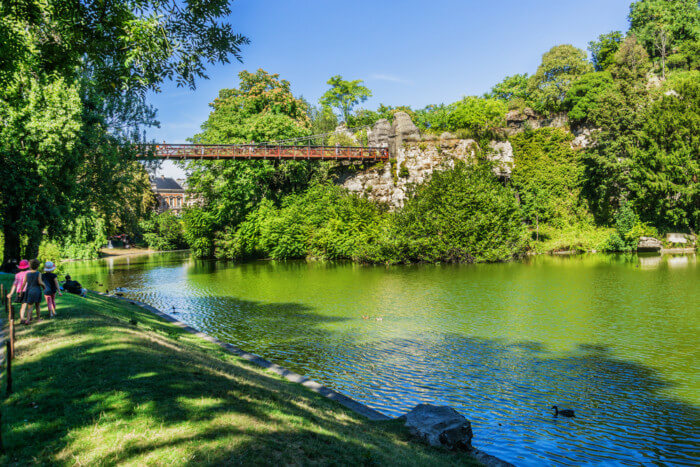 ---
7th Arrondissement
---
This is the typical 'touristy' neighbourhood in Paris, which is why we saved it for the bottom of our list of scenic neighbourhoods in Paris. Yes, it simply stunning – but it's super expensive to stop in and it's a little crowded at times with visitors and tourists.
But, saying that, it's beautiful. The iconic Eiffel Tower and its Champs de Mars park are at the heart of this neighbourhood, so of course it had to make the list of the most scenic neighbourhoods in Paris. There's everything you'd expect, beautiful cobbled streets, green spaces, cafes and little shop fronts. All in the shadow of the Eiffel Tower herself.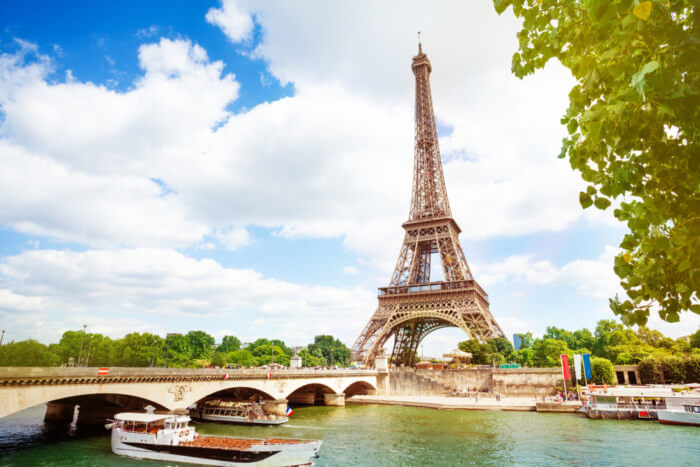 ---
Paris is so beautiful!
You're bound to find gorgeous nooks and crannies everywhere you look! So if you think there's a neighbourhood we've not given enough attention to, let us know!
---