The Portofino Bay Hotel is one of three premier onsite hotels at the Universal Orlando Report, and as the flagship hotel it offers what we think is the most luxurious stay of the three.
It also offers the most amenities, so with so much on offer we thought we'd sort you out with a guide to stopping at the Portofino Bay Hotel in Orlando so that you can make the most of your stay!
This hotel is one of the most luxurious and prettiest in the resort-areas, and it's no wonder it's so popular.
The hotel is themed loosely around the Italian town of Portofino, and the exterior of the hotel looks just like an Italian town. So it's really scenic and beautiful and a lovely place to spend time!
---
How far is the Portofino Bay Hotel from the parks?
---
The Portofino is one of the hotels onsite at Universal Studios.
It's really close when compared to external hotels and apartments, so it's a great location and a fantastic hotel to be based at. This is probably why it's such a popular choice!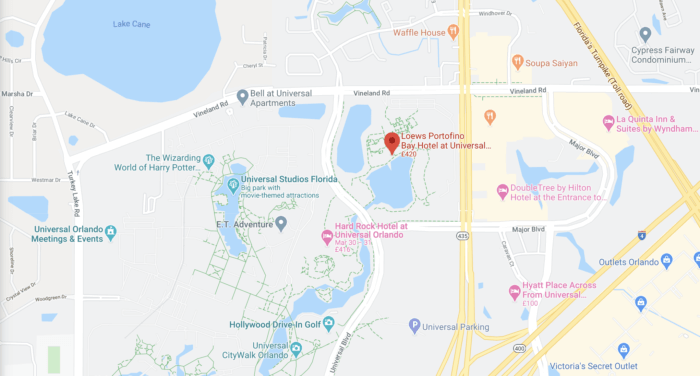 ---
How do you get to the parks from the Portofino Bay Hotel?
There are a few different transports methods to the parks from Portofino Bay Hotel.
Water taxi
Universal has a complimentary water taxi service, that starts about 30mins before early admission and keep running until 2:30am every. Single. Day.
Theme park shuttle
Basically the same concept as the water taxi, but it's a big shuttle bus that pics you up from the front of the hotel and serves all seven of the nearby hotel complexes.
There's no advantage to using this instead of the water taxi, unless you need to rent a wheelchair for the day from a park, as the shuttle drops you off closest to the wheelchair rental office of each park.
Garden Walkway
At just under a mile, this scenting walk will take you through to the parks and past other hotels. It's completely safe as it never touches any actual roads, and is completely beautiful as it's been completely landscaped.
Read more about Orlando: 40 things to do in Orlando for adults
---
What rooms are available at the Portofino Bay Hotel?
---
Every single room comes with some basics amenities that are available across the board, regardless of the kind of room you go for, so we'll lay them out for you here:
3 phones in every room. One at the desk, one at the bed and one in the bathroom. Each with dual voice lines, voicemail, and data ports.

Signature Cotton bathrobes 

On Demand movies in the room, along with movie checkout and a remote control TV with cable channels. 

A dvd player

Smart Room tech, so you can control the temperature even when you're not in your room!

Coffee maker with coffee

A clock radio 

A refreshment pantry 

In room safe

Iron and ironing board

Hair dryer and makeup mirror

High speed internet access

And a daily newspaper delivery 
---
Are different themed rooms available?
---
Taking in the basic room features and amenities above, the rooms vary a little – so we'll walk you through the kinds of rooms that are on offer at the Portofino Hôtel in Orlando.
Garden View Room
These rooms will allow you to relax with a gorgeous view of the hotels manicured grounds. Every room has a beautiful turn out, with marble and furnishings in an Italian style. They're all 450 square feet, allowing you to luxuriate in style. They come with either a king or a queen bed, and most rooms have a sofa and the option if a pull-out bed. You can also get connecting rooms to kings, queens, doubles and twins, too. 
Bay View Room
If you're idea of heaven is waking up to wide reaching sea views, then this room is the one for you! As Orlando is on the east coast you'll be treated to views of the sun rising over the glitter of the Atlantic Ocean. In terms of spec, these rooms are basically the same as the above.
Deluxe Rooms
Hang tight y'all were getting fancy in here! The deluxe rooms are elegantly appointed with Crown moulding and a separate tub and shower in the luxurious bathroom. You'll be treated to a view of either of the resorts elegant pools, and some increased living space of 490 feet. 
Despicable Me
kids' suites
This is the perfect opportunity to let the kids have some fun (and the grownups have some alone time and privacy). These suites come with a king bedroom for the adults and a separate room for the kids, and offers a full 650ft of living space so that you can all really spread out! All the kids' rooms have been given a full Despicable Me makeover – so the kids will be sure to think they've landed in heaven! The kids suites open only into the Adults' room and not into the hallway, but there's no option for further connecting rooms.
Portofino Suites
These suites offer plenty of space to relax away from the action. They have a 240ft parlour adjoining to a 450ft garden view bedroom, and a second adjoining bedroom can be requested to create a two bedroom suite. All suites come with their own full bathroom.
Villa suites
These rooms really allow you to live the highlife. They come with a casual seating area, a dining area, a kitchenette and an adjoining deluxe bedroom (see above). A second bedroom can also be added to create a 2 bedroom suite.
Club level deluxe Rooms
These rooms come with the option to upgrade your stay to have access to the Hotel's club lounges. This means you can enjoy the highest quality of European hospitality and service. All the rooms are deluxe rooms and come with all club benefits: a concierge service, free continental breakfast, snacks in the afternoons, hors d'œuvres in the evening and a sweet hour at night. Complimentary tea, coffee, and soft drinks all day, and beer and wine at night. You'll also get complimentary access to the fitness centre, and reduced rates in the pool cabanas. 
Balconies
There's no specific rooms with balconies and outside spaces – though they are available on request. 
---
What's outside your room?
---
There's actually loads to do around the Portofino hotel, it's a really nice place to be based while you're visiting Universal Studios and Orlando.
Piazzas
A guide to stopping at the Portofino Hitel in Orlando couldn't just tell you about the rooms! This one is absolutely full of spaces to relax in, unwind, and enjoy the scenery and ambiance. 
Harbour Piazza
Whilst there are several Piazzas at the hotel, the Harbour Piazza is the grandest of them all! Surrounding the glittering Portofino Bay, you'll find italianesque cobblestone streets and sidewalk cafes. 
Mandata Spa
This spa is a sanctuary within the hotel, where you can relax, unwind, and maybe even find the elixir of youth! Services include massages, skin care, beauty, body treatments, hydro massage, steam rooms, saunas, lounges, hair and nail care and refreshments. 
Villa Piazza 
Much like the harbour piazza except this one looks over the villa pools, and has gone for a more Italian countryside vibe.
Piazza centrale
The main hub of the hotel, and just outside the main lobby, the piazza centrale offers the vibe of a central square in an Italian village. 
Read more about Disney World: Why aren't there any mosquitoes in Disney World?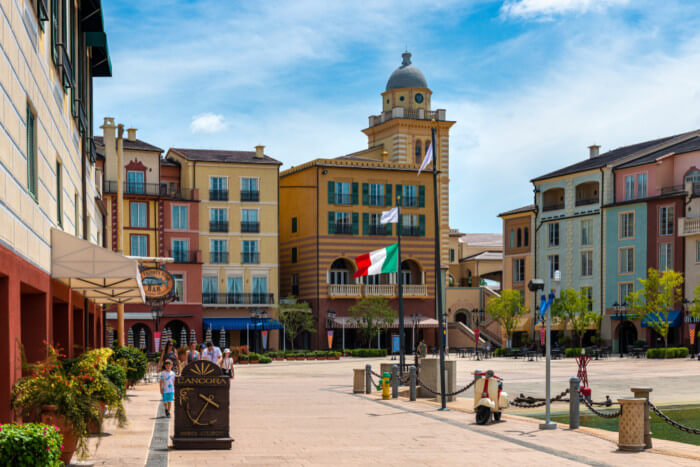 ---
Do they have a pool?
---
There are a few different pools at the Portofino Bay Hotel – and I love choice! Even when you're visiting Orlando for all the parks, sometimes you may want a day (or two) where you can just relax and switch off by the swimming pool. Here are the three pools at the Portofino Bay Hotel, and a guide to which you might want to use!
Beach Pool: zero entry, with white sand and a Roman aqueduct themed slide. There are Cabanas available for rent. 

Villa pool: a more private and luxurious bathing experience, with upgraded lounge chairs. Cabanas also available.

Hillside pool: even more private and relaxing, with a secluded vibe.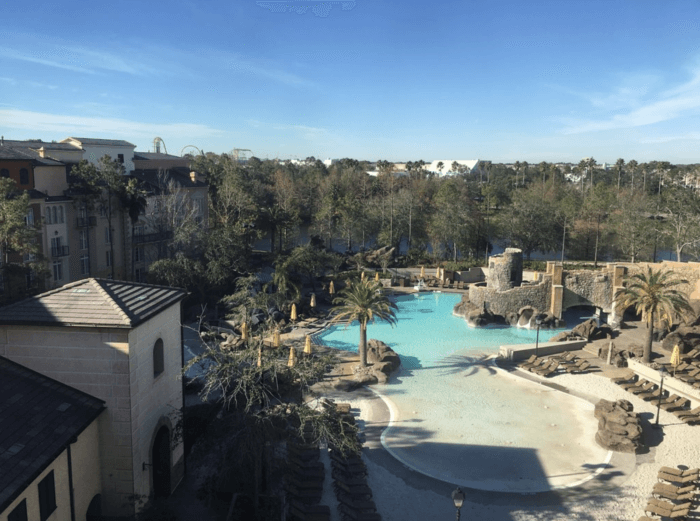 ---
Dining near Portofino Bay Hotel
---
There's loads of dining options near the Portofino Bay Hotel in Orlando, so you'll have loads of dining options right on your doorstep. Right outside the Portofino Bay Hotel you have a lovely area / walkway full of cafes, restaurants and bars. Here's some of the tops picks…
Trattoria del Parto
This is Portofino's three meal a day restaurant, and it's themed around Italy's colourful food festivals. It's open daily for breakfast, lunch, and dinner, and they have character dining from 6:30-9 on Friday nights. They've also got a kids dining room with kids sized tables and chairs and a play area so everyone can enjoy themselves!
Bice Ristorante
A slice of Italian tradition, and fine dining, Bice made its name in 1920s Milan and now has 26 international destinations. Not one to take small children too, unless they're well versed in fine dining etiquette, but a very stylish destination for families with older children or just for the grownups, even.
Mama Della's Ristorante
Dining at Mama Della's is like being welcomed into her kitchen and being fed alongside her family. Every room is reminiscent of the Italian countryside, and the food is classic homely Italian fare. Every night the restaurant is home to musicians who'll sing Italian classics whilst wandering around the restaurant as you eat. 
Sal's market deli and Gelateria
With a sensational selection of deli food from cured meats to cheese, Freshly made pizzas, and gelato to die for, Sal's is a really great rustic food environment. It's first come first serve and kids are definitely welcome. Hit up the Gelateria for great coffee and pastry as well!
The thirsty fish
This wine bar on the side of the harbour serves small plates and Friday night Jazz.
Bar American
A swish lobby bar, with elegant cocktails, classic martinis and mouthwatering hors d'œuvres. 
---
We hope this guide to stopping at Portofino Hotel in Orlando has been helpful! If you've any other questions we'll do our best to help in the comments!